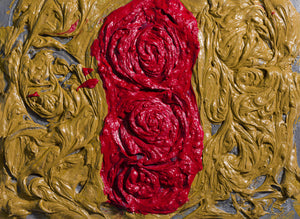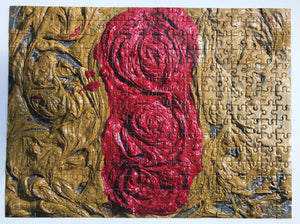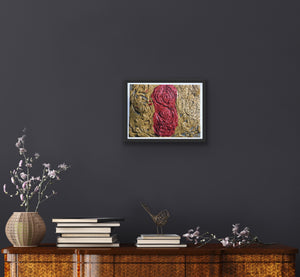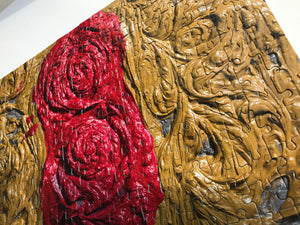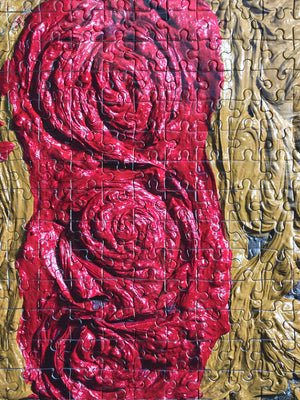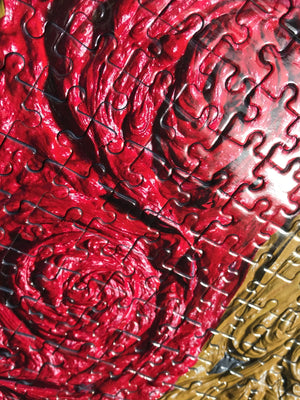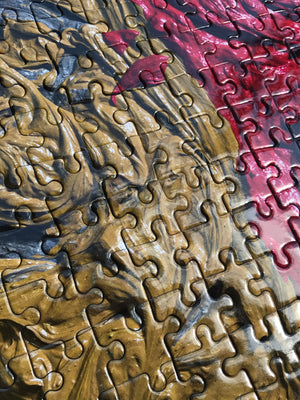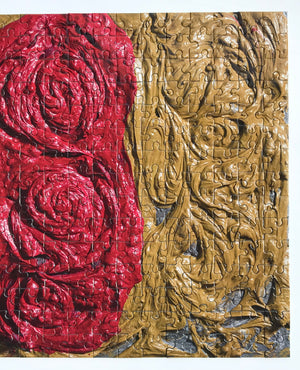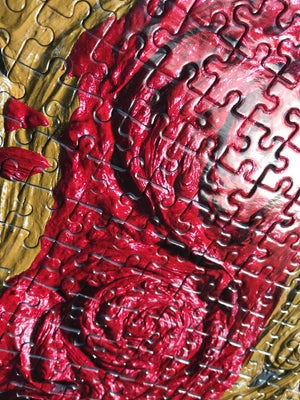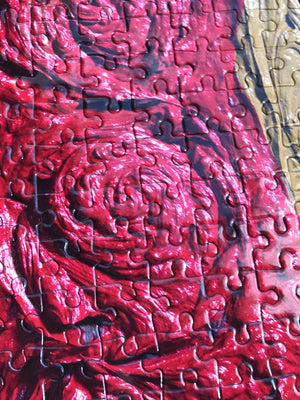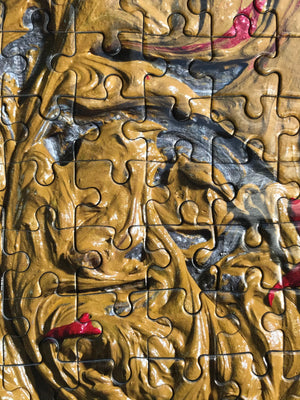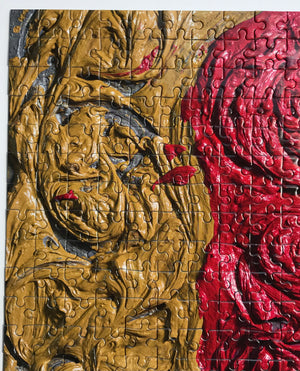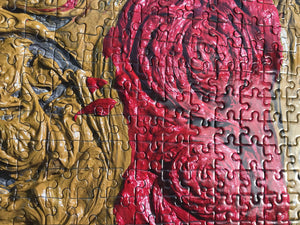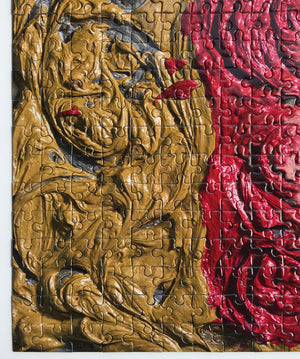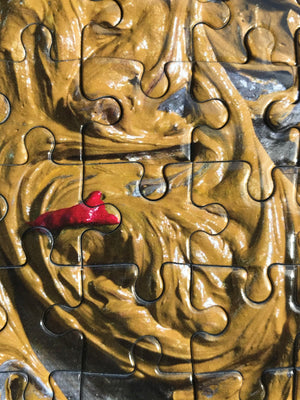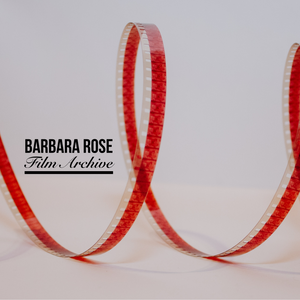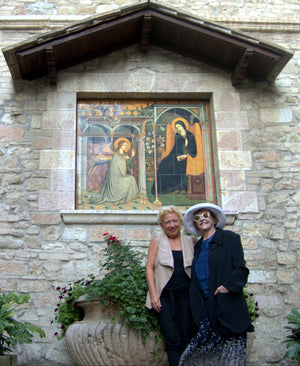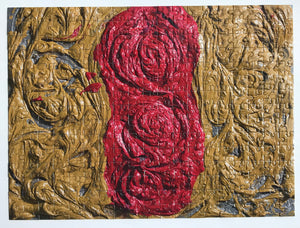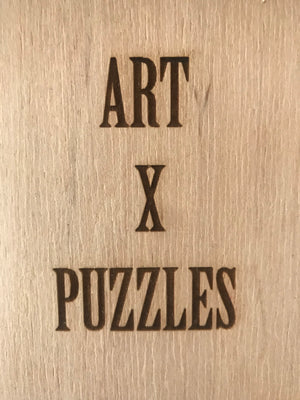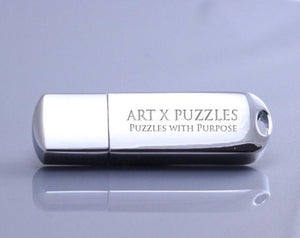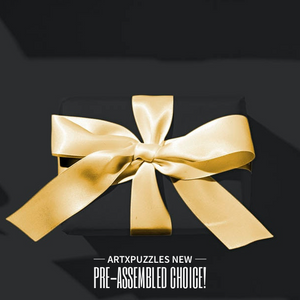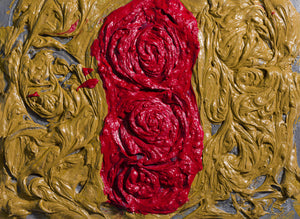 Artist Rosella Vasta Collector Edition Jigsaw Puzzle
B.1963 Live and works Corciano, Italy. 
Title: Demetra
Live Video of Jigsaw Puzzle: Click Here
Jigsaw Puzzle Size 12" x 16.5" (310mm×418mm) 285 Jigsaw Puzzle Pieces, ESKA Premium Board. FSC 100% Recycled Paper. Magnetic. Special Gloss Finish.
This Collector Edition arrives with a Pre-Assembled Option and separated onto 2 cardboard squares according to size. The AXP Collector Editions comes ready to slide together for a complete instant puzzle and/or to be broken down for puzzling fun and/or framing! 
Magnetic Quality: This extremely well-made puzzle has cleverly incorporated a very thin layer of material with gentle magnetic properties underneath all the pieces, allowing the puzzles to be more stable and secure as the puzzler puts them together.
Collector Edition of 11
Barbara Rose AXP Summer Capsule Collection: Summer AXP Capsule Collection is dedicated in memory to art critic/art historian Barbara Rose which is part of the ongoing AXP Capsule Collection Series. Our 2021 Global Curator Choice initiative by special invitation selected eight contemporary artists who were close personal friends of Ms. Barbara Rose during her career and lifetime. Click Here

Signature Details: Demetra, 2021,  30 x 40cm, oil on canvas.
Rossella Vasta is internationally recognized for the Table of Silence sculpture project for peace and tolerance in the world. She was noted in Florence Bienale in 2003. noted by juror Barbara Rose as the First Prize Winner. The artist defines her paintings "iconic abstraction."
Click Articles: 
Torneremo liberi. Con l'arte: Barbara Rose, Corriere Della Sera, May 2020
Painting After Postmodernism review by The Brooklyn Rail, Tom McGlynn, 2018
Coming to the Table for 9/11 by The Wall Street Journal, 2013
Table of Silence Project 9/11 performance review by New York Times, 2011
Paradiso Americano-Saggi sull'arte e l'antiarte 1963-2008 by Barbara Rose, Libri Scheiwiller, Milan, 2008
Identidad Femenina en la colección del ivam text by Barbara Rose, IVAM Istitut Valencia d'Art Modern, Valencia, 2011
Dedication to Barbara Rose:
Woman in hat with roses. At 17, I  depicted a woman with green eyes and a fair complexion, a slightly elongated face, wearing a wide-brimmed green hat with yellow roses, I titled it: Woman in hat with roses.
I had no idea who that woman was. Shortly after, I will have met Barbara Rose, she was the woman in the portrait I gave to her. The lifelong friend, was anticipated by that portrait, a prophetic form of telepathy that not even death can elude.
In this time of pandemic Barbara taught us to be resilient, writing to the chat of artists in quarantine - all friends - a text which is a legacy : "To artist friends in the name of Santa Rosalia of Palermo, who saved Palermo from the Plague, my thoughts today March 27, 2019 ... Our duty is to preserve historical memory...The task before us is the preservation of skills and values in a global culture dominated by ignorance and materialism, and based on the sacrifice of artists strong enough to transmit ethical values among themselves when all authority goes to the highest bidder and those who inherit the earth do so by stealing from those who create it". Rosella Vasta
Artist Certificate: Each puzzle comes with an artist certificate.
Biography:  Born in Palermo in 1962, Vasta has a master's degree in Philosophy and an Honorary Doctorate Degree in Humane Letters conferred by Cardinal Stritch Franciscan University. She has lived worked and exhibited internationally in USA, Germany, and Spain. Since the year 2000, Vasta has served as Director of the Pieve International School of Corciano (PG, Italy).
Vasta has been featured in the show, "Identidad Feminina" women of the XX century, curated by Barbara Rose at the contemporary art museum IVAM of Valencia, Spain. The artists collaborated with her installations twice with the Merloni Foundation for the UNESCO Creative Cities international meetings in Fabriano. She is part of the CORPO Permanent Collection of the Roberto Polo Museum in Toledo and has been included in the Exhibition/Manifesto  "Painting After Postmodernism- Belgium/USA/Italy" in its third venue in 2018 at the Reggia di Caserta (Royal Palace of Caserta Museum, Italy), curated by Barbara Rose. Vasta defines her paintings as "iconic abstraction" and the use she makes of color is specific to the subject matter. Her use of traditional mediums such as oil colors and mineral pigments in a non traditional way leads Vasta to discover new paths and new possibilities for painting to stay alive.
Italian Version: Click Here
Supports The Barbara Rose Film Archive