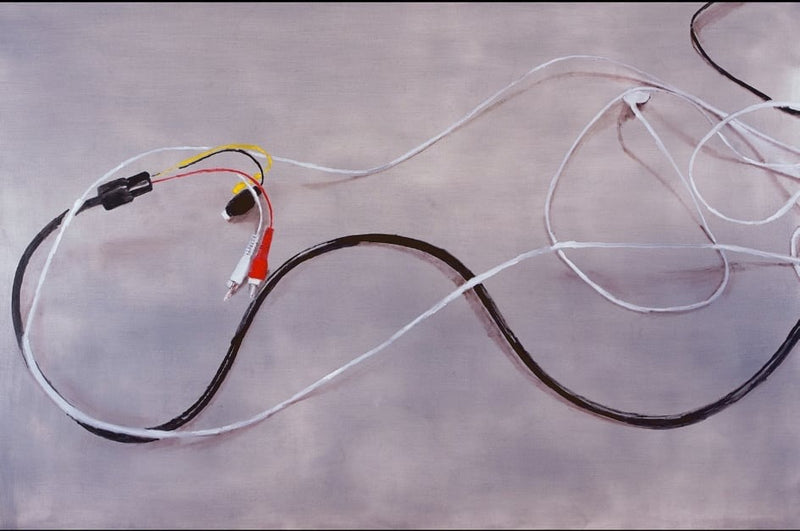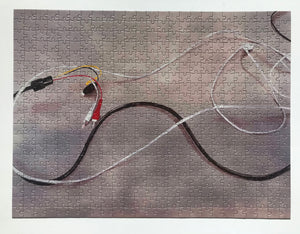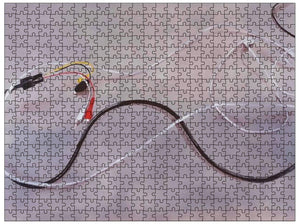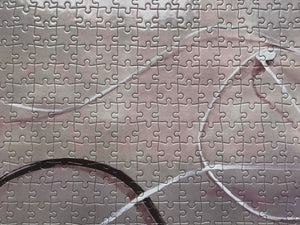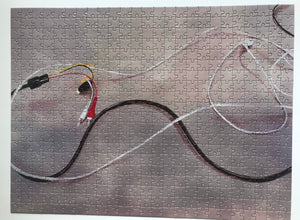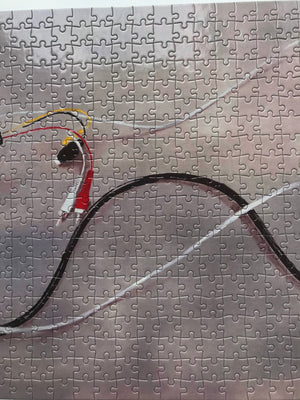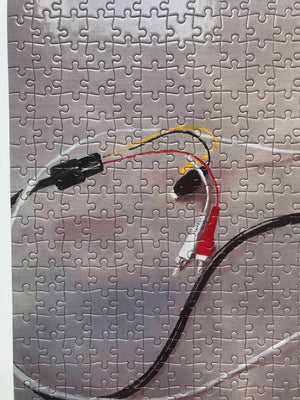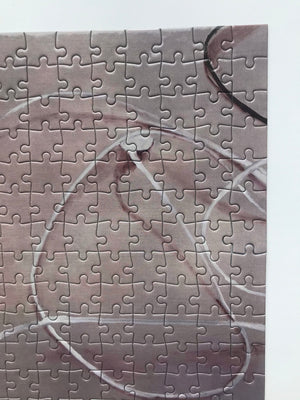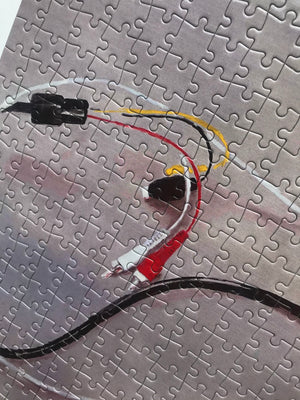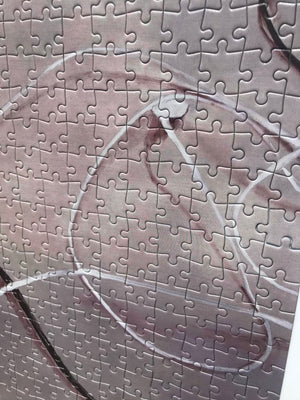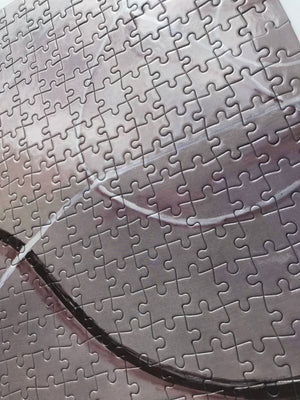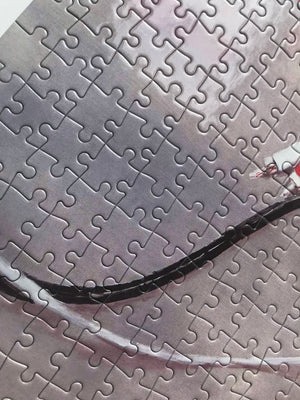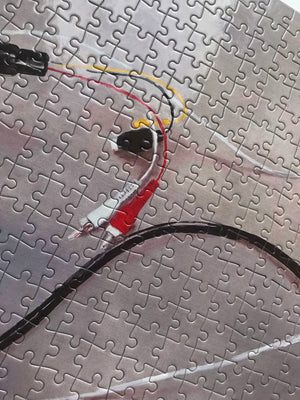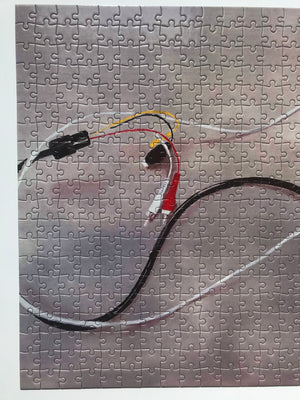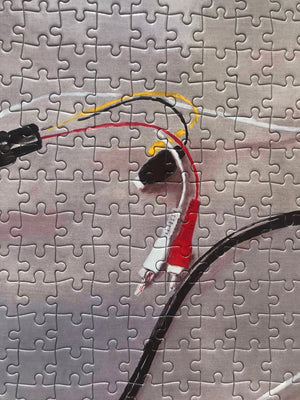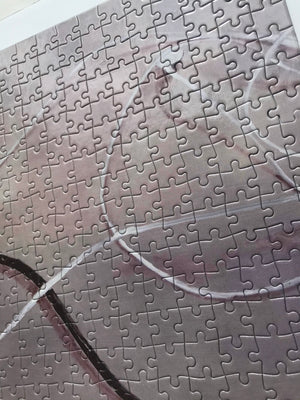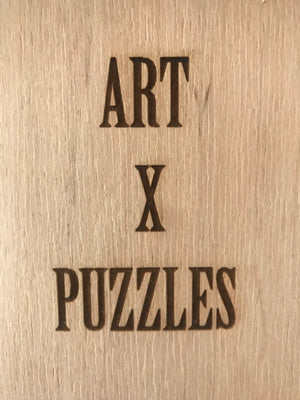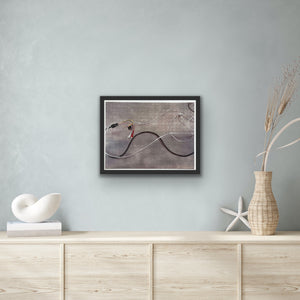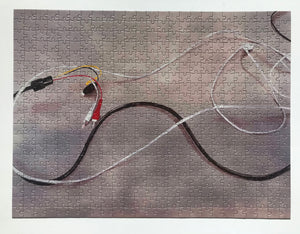 Artist Miltos Manetas Collector Edition Jigsaw Puzzle
b.1964 Athens, Greece and works and lives in Bogotá, Columbia.
Title: Untitled, Cable Paintings 

Live Video of Jigsaw Puzzle: Click Here 
Jigsaw Puzzle Size: (Horizontal) 18"x 24" (457mm×610mm) 500 Jigsaw Puzzle Pieces, ESKA Premium Board. Traditional Paper Jigsaw Puzzle.FSC 100% Recycled Paper, Gloss Finish.
This Collector Edition arrives with a Pre-Assembled Option and separated onto 2 cardboard squares. The AXP Collector Editions comes ready to slide together for a complete instant puzzle and/or to be broken down for puzzling fun and/or framing! 
The Collector Edition arrives in a specially custom-made wood box engraved with Art X Puzzles.
Level: Challenging
Collector Edition of 20 + 2 AP
Signature Details: Cables paintings (1997–ongoing) portraying a "family group in an interior" in a world where technology itself has become "our" family.
Over the past several years Miltos Manetas has experimented with a variety of media - from painting, photography, video and performance to computer-generated images - producing a body of work that is as visually diverse as it is conceptually intricate. Some of the most successful pieces include the performance/video, Satellites (1991-94), in which the artist, along with several other men, wanders around disguised as a quintessential old woman, hunched and aimless; the video Soft Driller (1995), an absurd mise-en-scène based on an event witnessed by Manetas of two men drinking coffee, smoking, and calmly trading insults; and an ongoing series of photographs called Dementia - ready-made scenes from everyday life of people in various forms of forgetfulness, isolation, or madness. In each of these projects, Manetas takes recognisable, often archetypal, fragments of reality and re-frames them in the context of art - an act that consciously refers back to the symbolic forms of representation used since the Renaissance to portray reality in a spirit of mimesis. FRIEZE MAGAZINE

Click Articles:
4 Questions to the Painter and Theorist Miltos Manetas by Fabio Pariante | Museum Week 
Miltos Manetas by Odom, Michael | ARTFORUM INTERNATIONAL
Make a Wilderness: Miltos Manetas: Interview by Chiara Moiloi | MOUSSE MAGAZINE
Special dedication to gallerist Yvon Lambert who represented the artist. In 1966, Yvon Lambert opened his first gallery on the rue de L'Échaudé in Paris, France where he began to exhibit American artists. He showed founders of conceptualism, minimalism and land art. For more click: Special Dedications

Artist Certificate: Each puzzle comes with an artist certificate.
Biography: Miltos Manetas (Greek: Μίλτος Μανέτας; born October 6, 1964 in Athens) is a Greek painter and multimedia artist. He currently lives and works in Bogotá.
Manetas has created internet art as well as paintings of cables, computers, video games and Internet websites since the late 1990s, notably since his participation in the 1995 Traffic (art exhibition) curated by Nicolas Bourriaud, which is often related to the beginning of the Relational art movement. Together with Mai Ueda, Manetas co-founded "Neen", an art movement which aimed to conflate the new technology of the time with art and poetry. Neen was launched at Gagosian Gallery, New York City in 2000.
Manetas presented the Whitneybiennial.com, an online exhibition that challenged the 2002 Whitney Biennial show. His work has been collected by Charles Saatchi and also Was collected by Rome's Maxxi in 2018. The Maxxi held a major solo exhibition for the artist that same year.