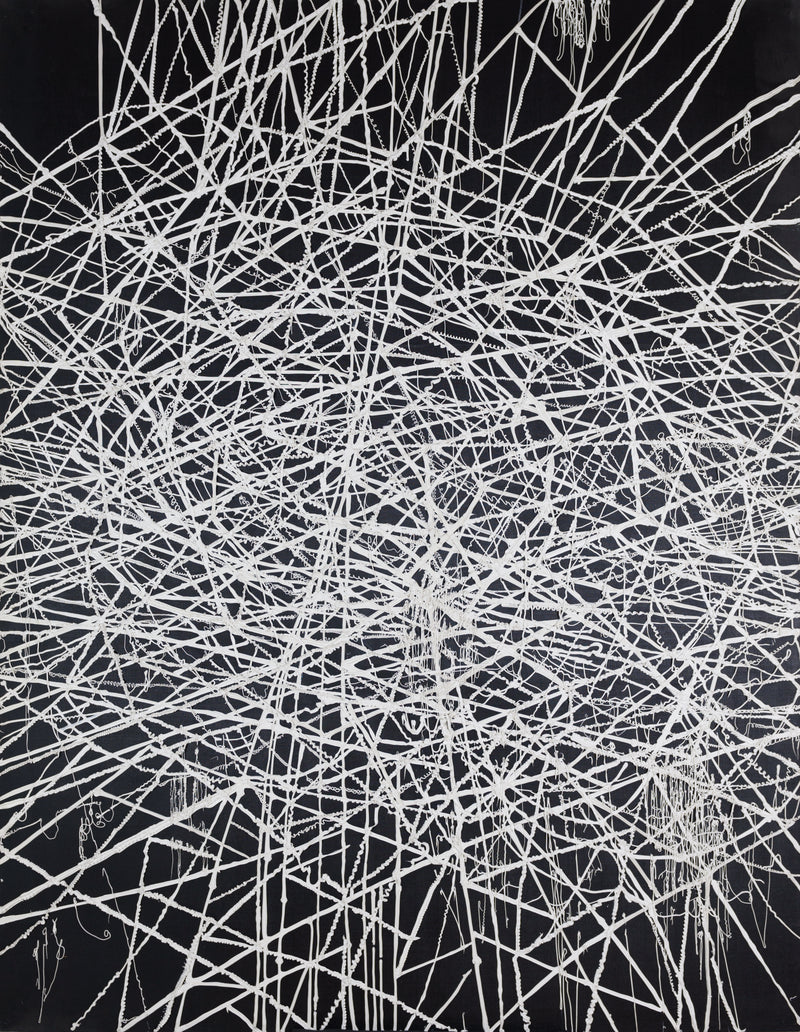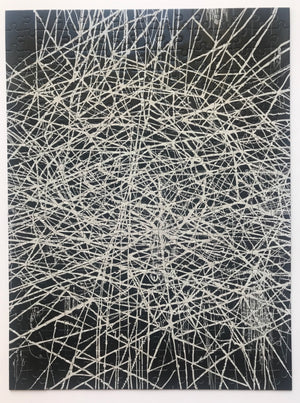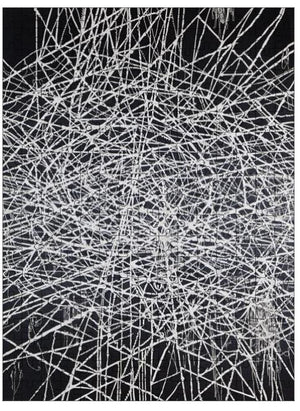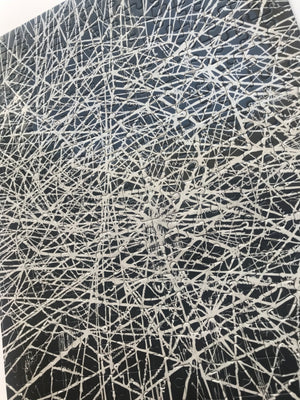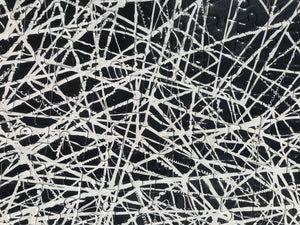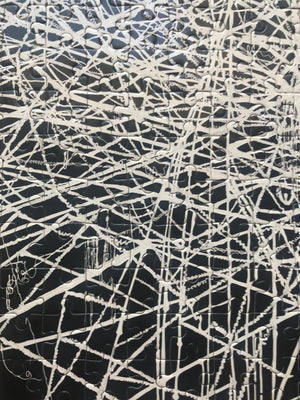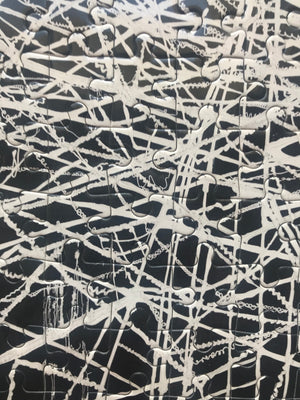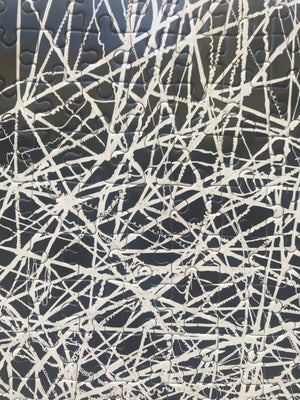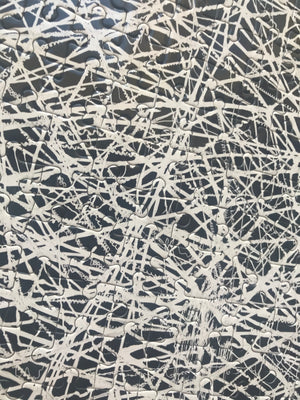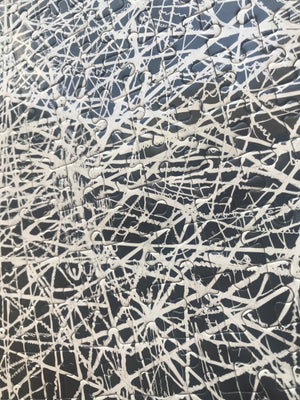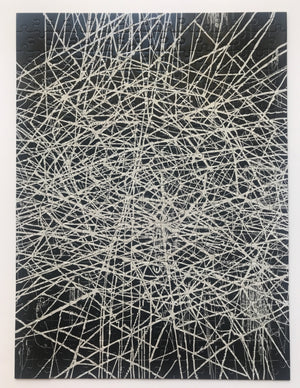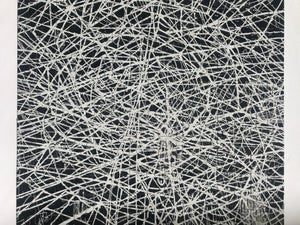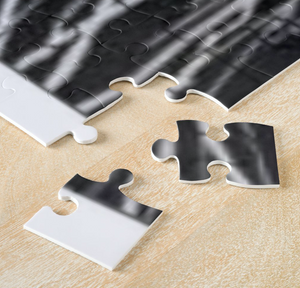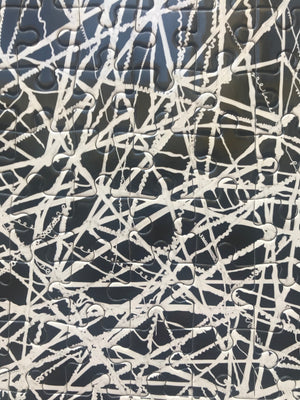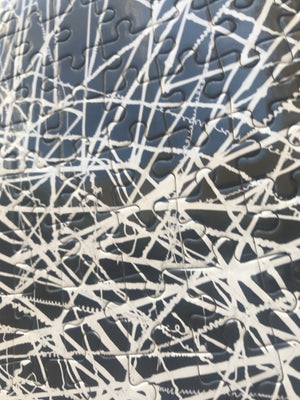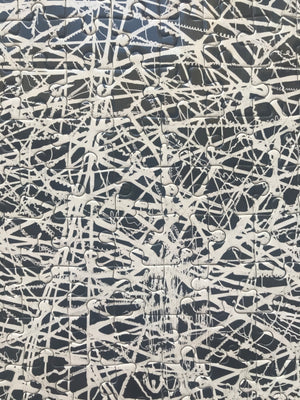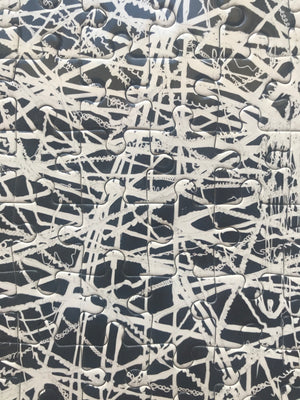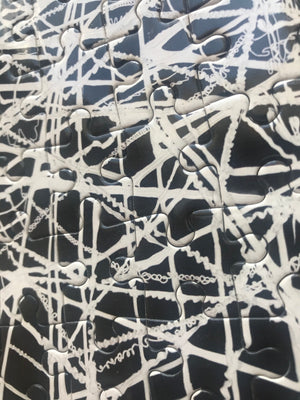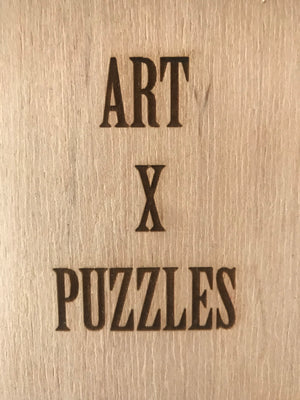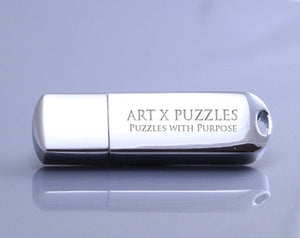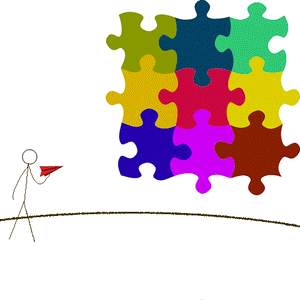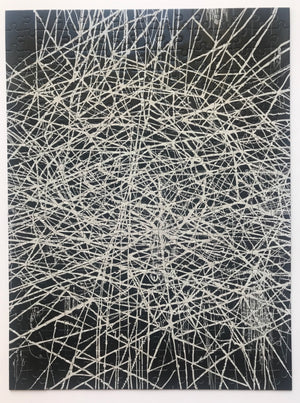 Artist Melvin Martínez Collector Edition Jigsaw Puzzle
b. 1976  San Juan, Puerto Rico lives and work in Puerto Rico.
Title: (Tejidos Mexico)
Live Video of Jigsaw Puzzle: Click Here 
Jigsaw Puzzle Size: (Horizontal) 12"x 16.5" (310mm x 418mm) 285 Jigsaw Puzzle Pieces, ESKA Premium Board. FSC Recycled Paper, Gloss Finish. 
This Collector Edition arrives with a Pre-Assembled Option and separated onto 2 cardboard squares. The AXP Collector Editions comes ready to slide together for a complete instant puzzle and/or to be broken down for puzzling fun and/or framing! 
This special puzzle comes with a special flare of black and white straight from the artist's painting. This 285 piece will keep you scrambling in your puzzling making for hours of fun! The gloss finish will refresh your senses and challenge those with curiosity, making this puzzle a collector's item for many generations. 
The Collector Edition arrives in an especially custom-made wood box engraved with Art X Puzzles.
Collector Edition of 20 + 2AP
Level: Fun/Complex
Signature Details: Original artwork titled (Tejidos Mexico) Medium: Acrylic over canvas Size: 118"x 96" Year: 2013  
"Each writer creates his precursor," wrote Jorge Luis Borges. "His work modifies our conception of the past, as it will modify the future"(365). Likewise with painters. And one reason why Melvin Martínez counts as a painter is that he is showing us, in a new way, why Jackson Pollock still matters. Or perhaps it would be better to say the same thing in a different way: He is reminding us that the legacy of Jackson Pollock is still up for grabs-can still be, in Borges's word, modified. Barry Schwabsky
Click Articles: Melvin Martinez: Material Sensations and Artificial Flesh of Color by Barry Schwabsky
Special dedication to gallerist Yvon Lambert who represented the artist. In 1966, Yvon Lambert opened his first gallery on the rue de L'Échaudé in Paris, France where he began to exhibit American artists. He showed founders of conceptualism, minimalism and land art. For more click: Special Dedications
Artist Certificate: Each puzzle comes with an artist certificate.
Biography:
Deeply invested in the history and materiality of his medium, Melvin Martinez produces mixed media paintings, as well as sculptures and installations about painting. Through his work, he negotiates his place in the continuum of painters, while inviting us to (re)consider how we view this ever-evolving art. Artists like Jackson Pollock and Mark Rothko, and such game-changing movements as Pointillism, fuel his work. "[My] paintings renegotiate [my] debt to the optics of Pointillism, anarchy of Abstract Expressionism, resplendence of Color Field painting or embodied summons of gestural abstraction," he has said. Martinez slathers so much paint—in a riot of colors, and mixed with materials like glitter, crumpled newspaper, and costume jewelry—onto his large-scale canvases that their surfaces appear frosted, at once irresistible and grotesque. The abstract compositions reflect an artist who honors his forebears, while also breaking new ground.
Melvin Martinez was born in San Juan, Puerto Rico, in 1976; and studied art at San Juan Arts School (Puerto Rico), where he received a BFA in 2005. This young and prolific artist, the winner of 2005 Castellon Paint Prize (Spain) in his work (Wonderland/ El Pais de las Maravillas), has shown his works in many of the most prestigious museums of Spain and is part of many important collections of The United States, Europe and Latin America. Espai D'Art Contemporani, Duesseldorf Quadrinale, Yvon Lambert "Tribute at Cezanne" and Alconrn's Art Center are some of the places where the work of Melvin, who lives and works in San Juan has been shown.

COLLECTIONS

Irish Museum of Modern Art, Dublin, Ireland
Museo de Bellas Artes, Castellón, Spain
Espai D'Art Contemporani, Castellón, Spain
Museum Collection Lambert, Avignon, France
Museum of Ponce, Puerto Rico
Museum of Contemporary Art, Puerto Rico
Valencia Arte Contemporáneo, Valencia, Spain
Harn Museum of Art, University of Florida, Gainesville, FL
Palm Springs Art Museum, Palm Springs, CA
The Rubell Family Collection