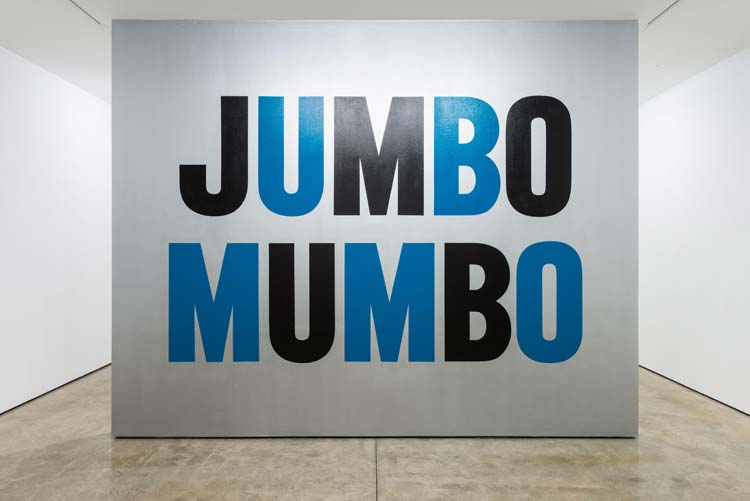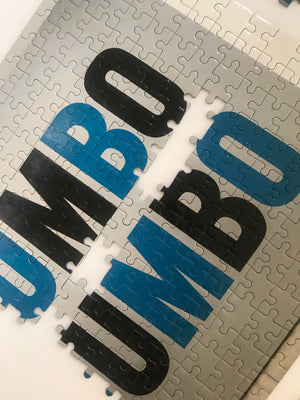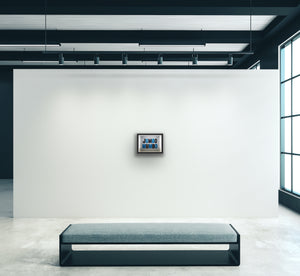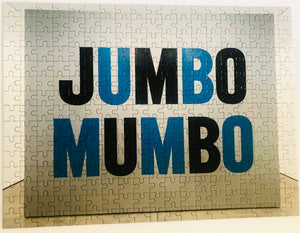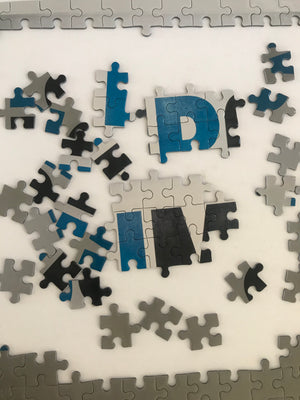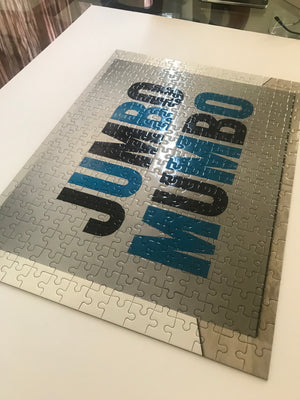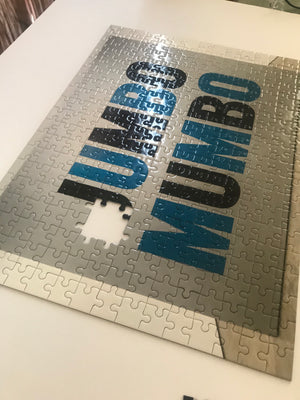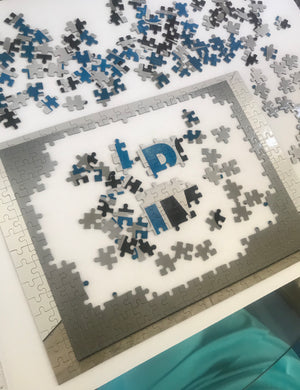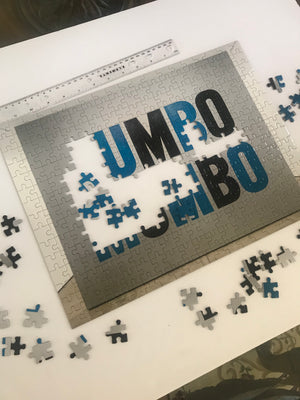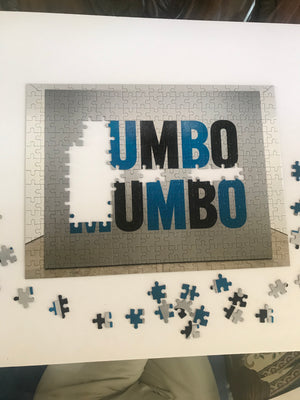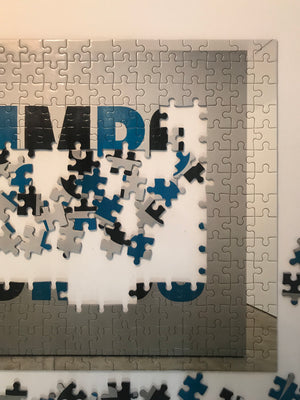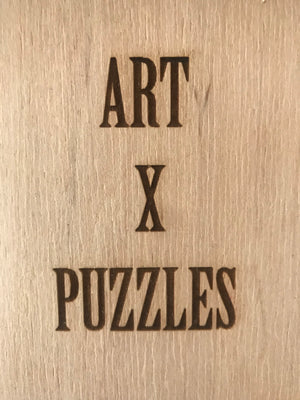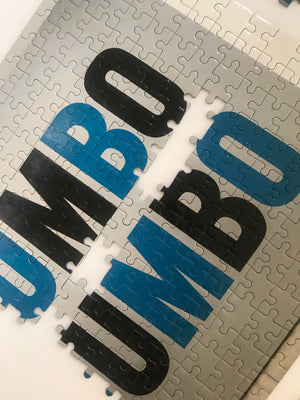 Artist Kay Rosen Collector Edition Jigsaw Puzzle
American, b. 1943 Corpus Christi TX, currently lives and works in New York and Gary Indiana.
Title: BIG TALK, installation view 2017
Live Video of Jigsaw Puzzle: Click Here 
Jigsaw Puzzle Size:  (Horizontal) 12"x 16.5" (310mm × 418mm) 285 Jigsaw Puzzle Pieces. ESKA Premium Board. Traditional Paper Jigsaw Puzzle. FSC 100% Recycled Paper, Gloss Finish. 
This Collector Edition arrives Pre-Assembled Option and separated onto 2-5 cardboard squares. The AXP Collector Editions comes ready to slide together for a complete instant puzzle and/or to be broken down for puzzling fun and/or framing! 
The Collector Edition arrives in a specially custom-made wood box engraved with Art X Puzzles.
Collector Edition of 20 + 2AP

Level: Challenging
Signature Details: 
Original Artwork Details: Kay Rosen, Big Talk, 1985/2017, acrylic paint on wall, 12' x 15', installation view Lora Reynolds Gallery. ©1985 Kay Rosen
BIG TALK's text rearranges the phrase mumbo jumbo - meaningless blather spoken by people in positions of authority - as jumbo mumbo, which suggests mumbo jumbo magnified. The similar structures of the two words, stacked one above the other, enable them to be painted in alternating blue and black colors and to be read in both ways - not only as senseless talk, but as BIG senseless talk. 
BIG TALK, was made as a small painting on board in enamel sign paint in 1985. Since then it has been executed in the following venues as a public artwork: 
Your Message Here (Billboard Exhibition), 1990, Randolph Street Gallery, Chicago, curated by Randolph Street Gallery and Group Material 
Kay Rosen: Lifeli[k]e, 1998-1999, wall painting, L.A. MoCA and Otis College of Art and Design, mid-career survey curated by Connie Butler and Terry R. Myers
Kay Rosen: Big Talk, 2004, (an exhibition of the artist's wall paintings), Dunedin Public Art Gallery, Dunedin, New Zealand, curated by Justin Paton 
Kay Rosen: Jumbo Mumbo, 2017, exhibition title and wall painting, Lora Reynolds Gallery 
Click article here: Kay Rosen's Writing on the Wall | Rosen employs a visual idiom of protest that relies more on wordplay than imagery. by Louis Bury | Hyperallergic
Special dedication to gallerist Yvon Lambert who represented the artist. In 1966, Yvon Lambert opened his first gallery on the rue de L'Échaudé in Paris, France where he began to exhibit American artists. He showed founders of conceptualism, minimalism and land art. For more click: Special DedicationsArtist Certificate:
Each puzzle comes with an artist certificate.
Biography: 
Kay Rosen's investigation into the visual possibilities of language has been her primary focus since 1968 when she traded in the academic study of languages for the study of language-based art. Through paintings, drawings, murals, prints, collages, and videos, Rosen has sought to generate new meaning from everyday words and phrases by substituting scale, color, materials, composition, graphic design, and typography for the printed page.
While political issues often form the bedrock of Rosen's artwork, she insists that her work is driven not by politics, but by language, and she follows it to whatever place it takes her. Rosen loves the physical act of drawing and painting, and materially her paintings and drawings are intensively rendered; however, she considers language to be found material, conceptually placing her in the more passive role of a cognitive observer and enabler of language. The writer Rhonda Lieberman described her as a revealer of language who "shows it doing things that are totally above, beyond, and/or below its function as a mode of communication."
Rosen's work has been described as sculpture, poetry, architecture, and performance. Roberta Smith once called her a "writer's sculptor" and Eileen Myles called her the "poet of the art world." In a 2014 piece for Art In America, Rosen wrote: "The linguist in me wanted meaning to be carried by the structure of the words, not type style; the inner painter insisted that color convey meaning; the sculptor in me obsessed about the construction of letterforms through materials and process; and any poetic instincts strove for efficiency."
Kay Rosen has been the subject of numerous articles, reviews, and group and solo exhibitions, including in 1998 a two-venue mid-career survey entitled Kay Rosen: Li[f]eli[k]e, curated by Connie Butler and Terry R. Myers at the Los Angeles Museum of Contemporary Art and Otis College of Art Design. She has been the recipient of awards that include a Guggenheim Foundation Fellowship in 2017 and three National Endowment for the Arts Visual Arts Grants. Her work is included in many institutional and private collections. Rosen taught at The School of the Art Institute of Chicago for twenty-four years. She was born and raised in Corpus Christi, Texas and lives in New York City and Gary, Indiana.