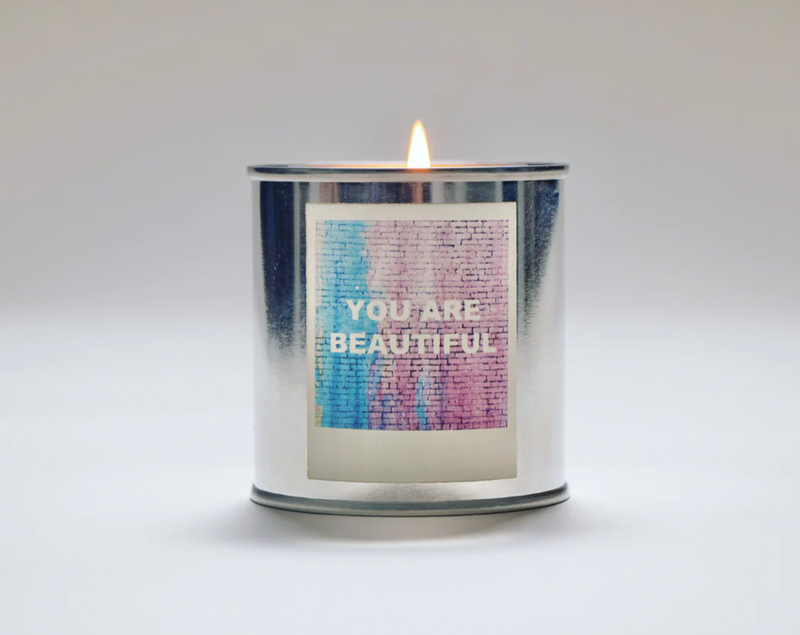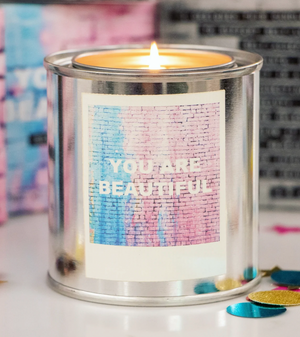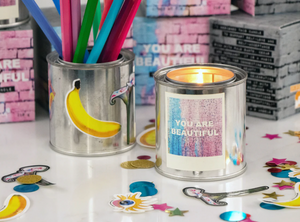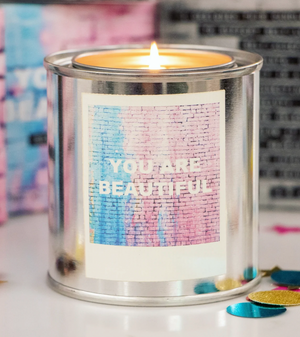 You are Beautiful Scented Candle by Michael Angelo
A soul cleansing rush of mystical Palo Santo is kissed by a bright burst of joyful Bergamot and hugged by sacred Cedar to inspire peace and self acceptance. Third eye opening Clary Sage, soulful Sandalwood and a punch of Black Pepper ignite an inner fire while earthy Musk balances yin and yang and grounding Elemi encourages the release of old ideas. "YOU ARE BEAUTIFUL" is a clean, clear, woody, floral fragrance intended to raise the vibration of those open to embracing the magic of their intentions.
The proprietary soy blend wax is hand poured in California. The 7.4 oz/210 g candle offers approximately 60 hours of burn time.

Packaged to inspire imagination, the carton design brings Michael's monumental "YOU ARE BEAUTIFUL" Polaroid to life, layering color and calm, strength and beauty, peace and activation throughout the design. It is a reminder to discover beauty in unexpected places.
Inside the box, an upcycleable aluminum container adorned with a personalisable "YOU ARE BEAUTIFUL" Polaroid houses pink and blue waxes which swirl like cotton candy clouds at sunset. The box includes 3 exclusive stickers by Michael to further decorate the vessel for future use and encourages sharing of user creations via social media with the hashtag #showmeyourcan.

"I designed this candle to support self-love and self-acceptance. It is a magic spell for anyone who wants to connect with their intrinsic beauty." says Michael.

10% of the selling price benefits The Ali Forney Center, a NYC based non-profit which exists to protect homeless L.G.B.T.Q. youths from the harms of homelessness and empower them with the tools to be independent.

TOP: Bergamot/Elemi/Black Pepper/Clary Sage
HEART: Palo Santo/Incense/Sandalwood
BASE: Musk/White Wood/Cedarwood