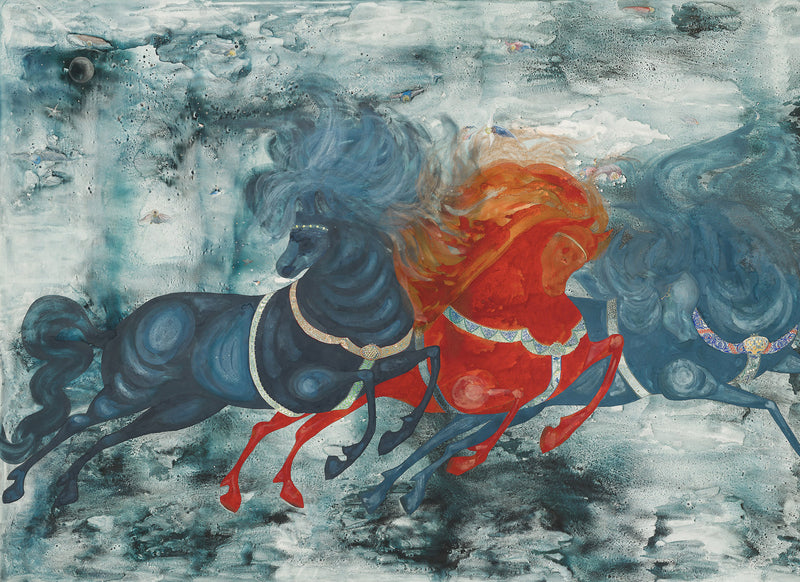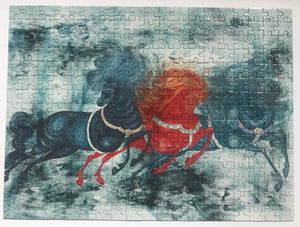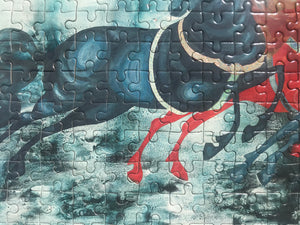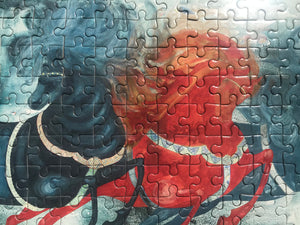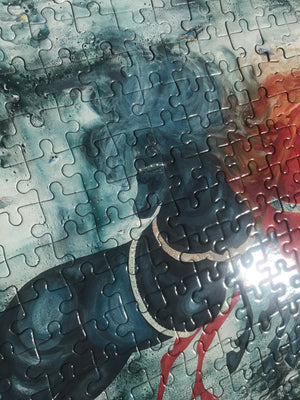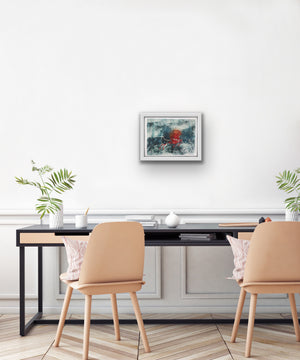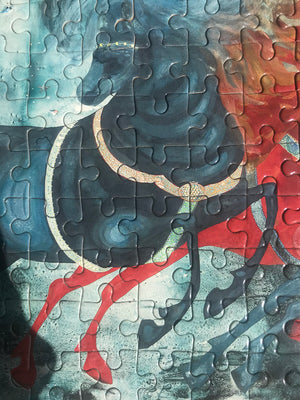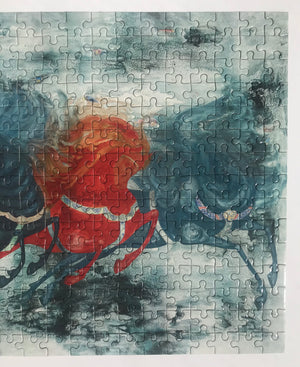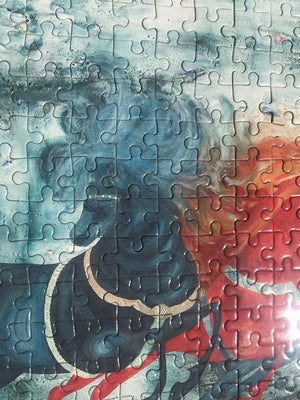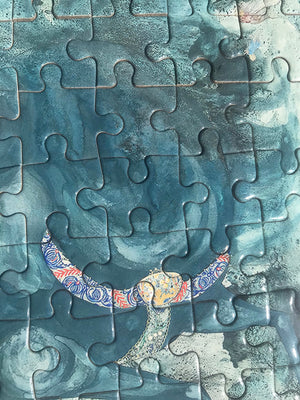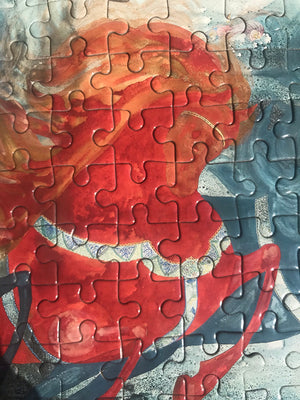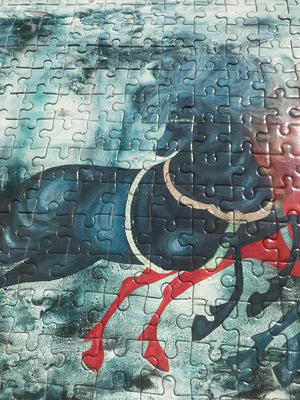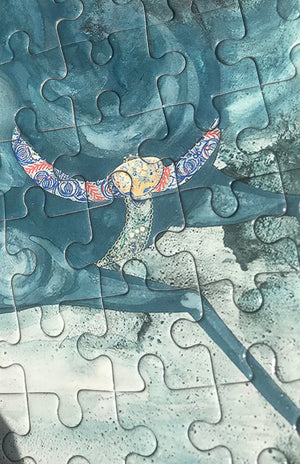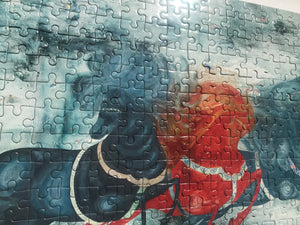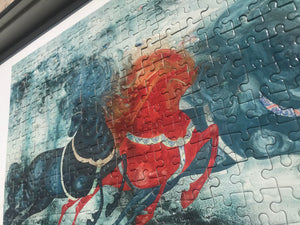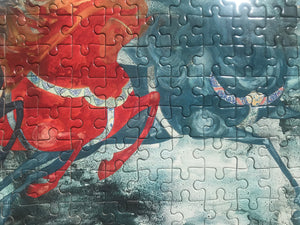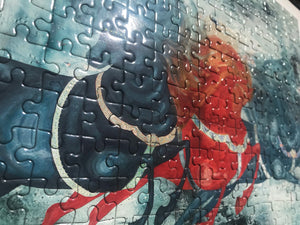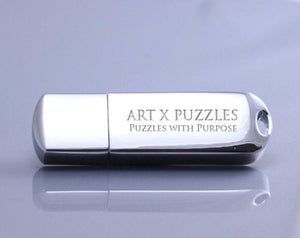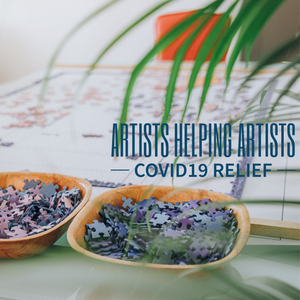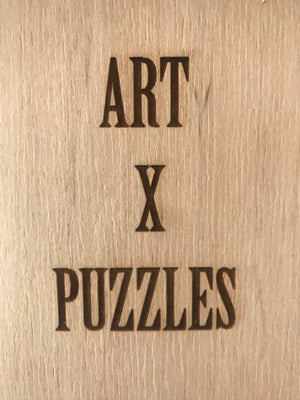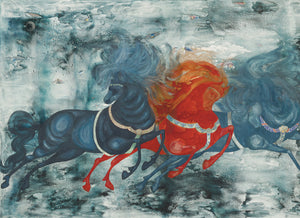 Artist Veronica Smirnoff Collector Edition Jigsaw Puzzle
Title: Troyka
Live Video of Jigsaw Puzzle: Click Here (Coming Soon!)
Jigsaw Puzzle Size:  (Horizontal) 12"x16.5" (310mm x 418mm) 285 Jigsaw Puzzle Pieces, ESKA Premium Board. FSC 100% Recycled Paper, Magnetic Layer.
Magnetic Quality: This extremely well-made puzzle has cleverly incorporated a very thin layer of material with gentle magnetic properties underneath all the pieces, allowing the puzzles to be more stable and secure as the puzzler puts them together.

Collector Edition of 10 
Level: Fun
Signature Details: Original Artwork: Troyka, 120 x 180cm, Egg Tempera on Wood, 2018  
The word Troyka or troika (which means "threesome" in Russian) is also used to describe a trio of three individuals and a traditional carriage drawn by three horses. It has become symbolic and widely referenced in folklore, literature, painting and movies (such as Doctor Zhivago). The artist explores these ideas in a critical and personal way by transporting the iconic image to the realm of fantasy.

"Ancient, modern; religious, secular; particular, universal. Grounded in the Russian icon tradition, but drawing on a huge diversity of influences, from pre-Renaissance portraiture to media culture, the hauntingly unique art of Veronica Smirnoff inhabits a fantastical world of its own." notes writer James Lawrence
In the artist's words: "The magic of daring to relate something always happens in the mental space. It is a test of imagination which allows us to move freely in the realm of fantasy, reluctant to question the lack of mental connection between the incomprehensible things that eventually make sense and teach us something about the real world." MOUSSE Magazine 
Article Links: 
Artist Veronica Smirnoff: Modern Spirit or Old Soul by James Lawrence | Russia Beyond
Quickfire Artist Spotlight Series: Artist Veronica Smirnoff: Venice and Mystical Water Dreams by Rachel Vancelette | Metropolitan Magazine
Veronica Smirnoff "Take of Bright and Brittle" at Galleria Riccardo Crespi, Milan | MOUSSE Magazine
Artist Certificate: Each puzzle comes with an artist certificate.
Biography: Constantly reassembling and alluding to pre-renaissance and icon painting, folklore and Asian tradition, paintings are constructed with traditional elements - the fragility of gesso and solidity of wood, with pigment ground from semi-precious stones, mixed with egg yolk and wine to make the paints. The wooden supporting boards are made of oak in Russian monasteries and blessed. Layer by layer, the surface is encrusted with texture and then sanded down to its sedimentary surface. Smirnoff is fascinated by the idea of the "Icon" as the object of worship and its close relation to "popular art" with a wide repertoire of signs: the flat moulding of figures, conventional space and the abstract effects of colours.
Her work is influenced by elements of the folk imagination, transformed into a universal concept. Through jarring cultural identities, the present and the past often gives way to intuition as opposed to appropriation, testing the authenticity of images and not consciously following a particular narrative.
Maintaining a symbolic appearance is a red herring. A platform for the constant quest for style, engendering a different sensibility through the use of historical languages; a montage of imagery nods to the allegorical discourse resonating with complexities of reality and offering vignettes of contrasting logic, anecdotal and not didactic.
Veronica Smirnoff is a British artist of Russian origin, (born Moscow, Russia, 1979). She gained a BA from the Slade School of Art and a post-graduate diploma from the Royal Academy of Arts. She had her first solo show with Galleria Riccardo Crespi in Milan (2008). Smirnoff has exhibited in Moscow, Paris, Berlin, New York and London. She was selected for the John Moores Painting Prize UK (2010). She lives and works in London.