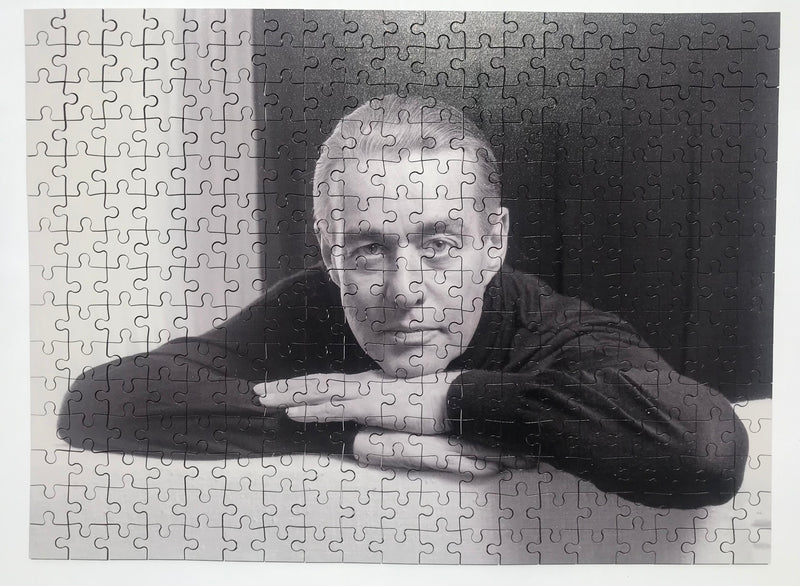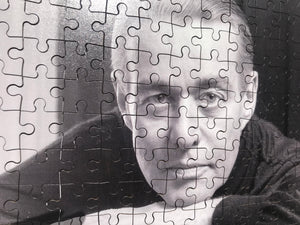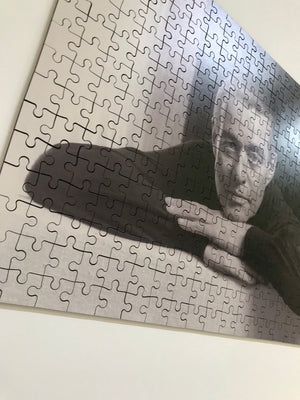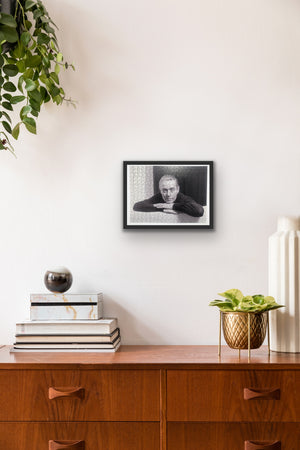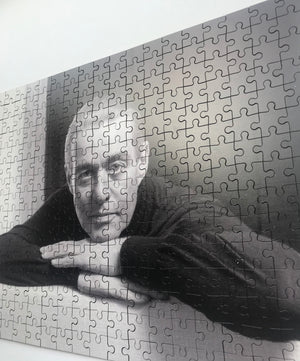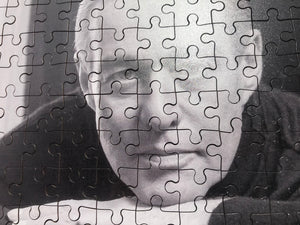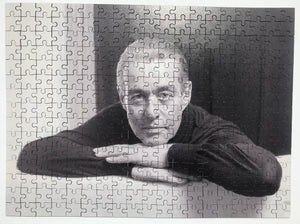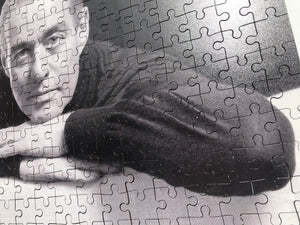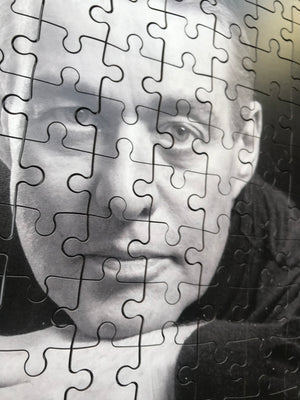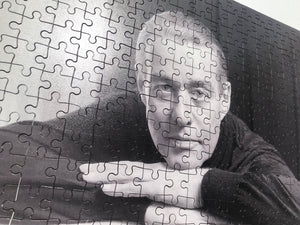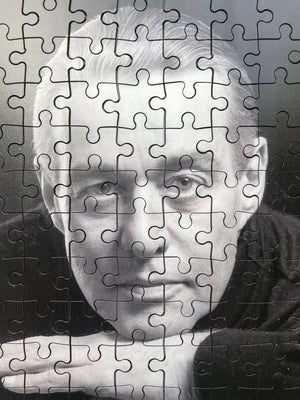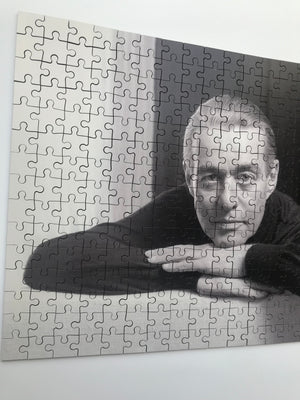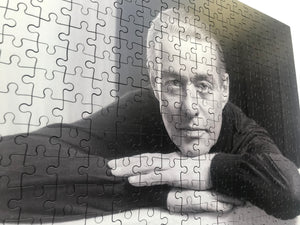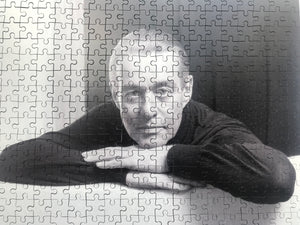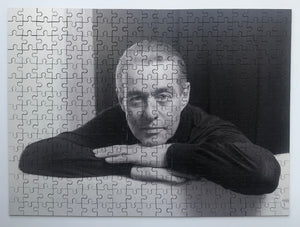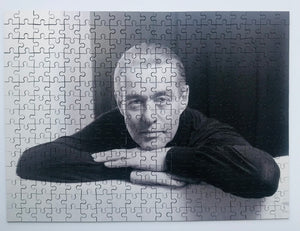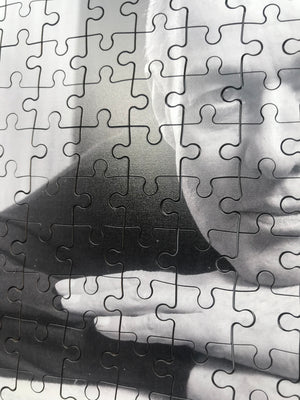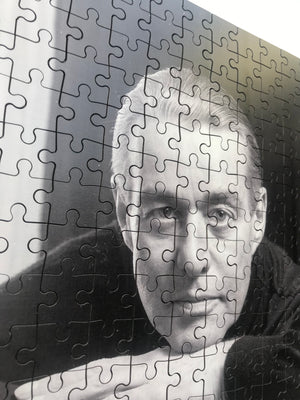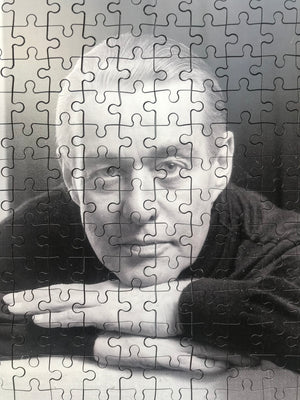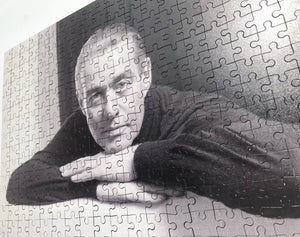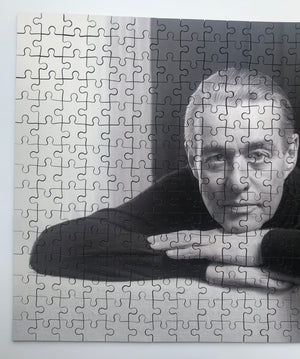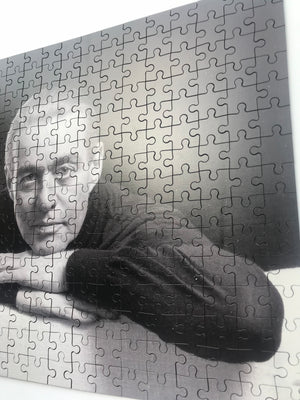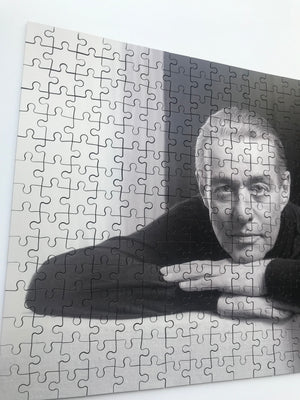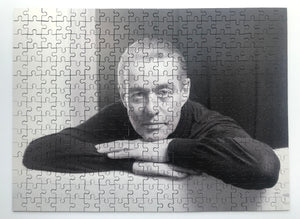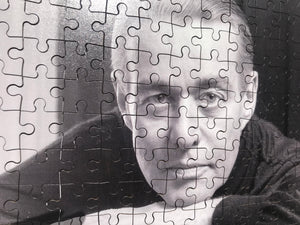 Halston Archive "With Love" Collection | Artist Lesley Frowick Wooden Collector Edition Jigsaw Puzzle
The Halston Archives: Halston Style on Display
Lesley Frowick lives and works in New Braunfels, Texas and at large. 
Title: Portrait of Halston
Jigsaw Puzzle Size: 12" x 16.5" (310mm x 418mm) 285 Jigsaw Puzzle Pieces. Traditional Wooden Jigsaw Puzzle. Premium direct UV technology printing onto the surface of the beautifully crafted wood. The wood contains a campfire scent among the pieces, and each piece produced by top laser-cut technology
This Collector Edition arrives with a black frame and pre-assembled. The jigsaw puzzle can be broken down and taken out of frame for puzzling and/or table display. It arrives with a special handcrafted engraved ARTXPUZZLES box denoting "With Love" Halston, and is accompanied by a silver/glass USB drive which holds additional information including the Halston Archive Artist Certificate, Puzzle Images, Halston Story pertaining the photograph and much more. 
Collector Edition of 3 + 2 AP
Level: Challenging
Signature Details: Introducing the newly announced AXP Capsule Collection titled "With Love" in memory of the designer Halston. The new "With Love" Series is an ongoing series of bespoke AXP Collector Editions for the 2021 season, each presenting important and historical images donated from The Halston Archives. Each selection is specifically curated and selected by photographer Lesley Frowick, with a major percentage of proceeds going to support The Halston Archives Fashion Scholarship Initiative to benefit 'rising star' fashion students worldwide.
Roy Halston Frowick, known worldwide as simply Halston, was one of the most influential American designers of the 20th century. He helped define '70s style with his elegant yet sexy red carpet dresses that were staples during the disco era, especially among the group of diverse models dubbed the "Halstonettes."
"Curious about what Halston might design today and how they would be sustainable, Frowick said he was irreplaceable. "A lot of his 'being' people don't know about, but they want to know about that," she said." WWD
"There are also plans to develop a business that could potentially sustain the scholarship fund and be under the label "With love, Halston." Frowick said.  The first scholarship will be bestowed on Halston's alma mater, Indiana University." WWD
Original Artwork: 
The last official portrait of Halston at 101, 1988.  11X14 Silver Gelatin Print 
 Halston invited me to live with him while I was attending the program at The International Center of Photography in 1984.  He always loved to give struggling artists a helping hand and what a gift it was for me. His generosity continued when he suggested to famed jewelry designer Elsa Peretti that she hire me to travel to Japan with her to record her trip and shoot portraits of her beloved craftsmen.  These portraits were displayed at her retrospective exhibit at Mitsukoshi in Tokyo.  Following that incredible trip Halston asked me to shoot his portrait that he then submitted to the Des Moines Art Center when he donated all of his Warhol collection. I don't think either of us knew it would be the last portrait of Halston.   
Click Articles:
Talk "Halston, Famous American Designer and my Uncle" | American Center Moscow
Halstons Heritage: Interview with Lesley Frowick by Sarah Lolley | Maniac Magazine
My Uncle Halston, discussion with The Museum of Fine Art Houston
The Fashions and Styles Halston on View at the Nassau County Museum of Art 
Biography: Frowick brings the unique perspective of working closely with her uncle Roy Halston Frowick known as Halston, and his frenetic, high fashion milieu in the 1980s. Currently Frowick is a freelance photographer who has completed multiple  books on Halston, including an insightful biography on the life of Halston published with Rizzoli.  She was Executive Producer of the definitive Halston documentary that premiered at Sundance and is currently in discussion about another Halston entertainment project. She has worked in the National Geographic Creative division at NatGeo, and organized multiple Halston exhibitions including Halston and Warhol: Silver and Suede at The Warhol Museum in 2014  and a Halston Retrospective exhibition at the Nassau County Museum 2017. Lesley is the founder and director of The Halston Archives that was given to her by her uncle Halston months before his death with the directive to write his story "you'll have everything you need". 
               AS SEEN IN NYPOST ALEXA GUIDE