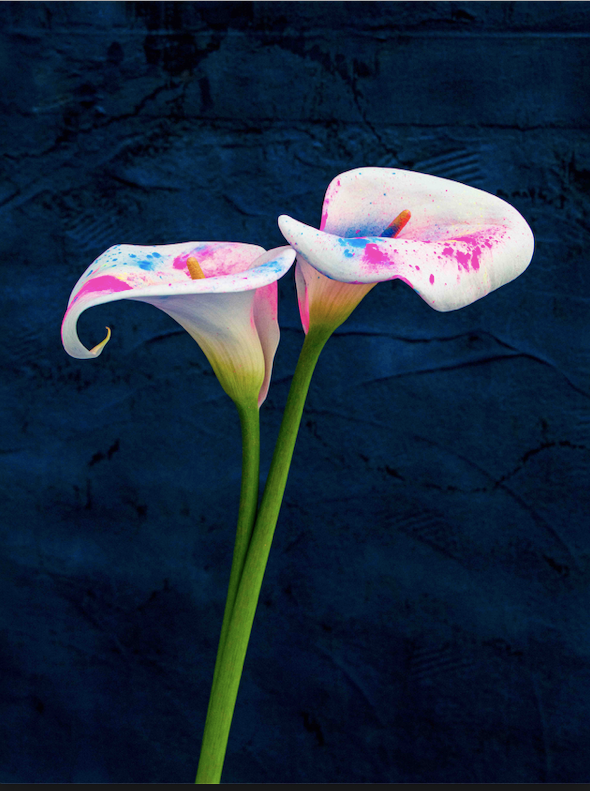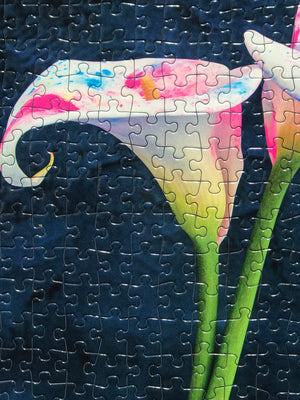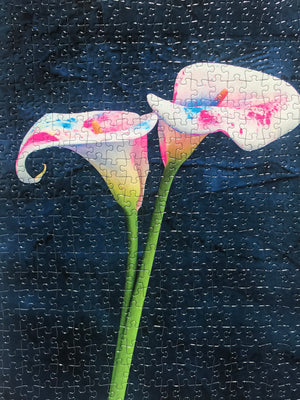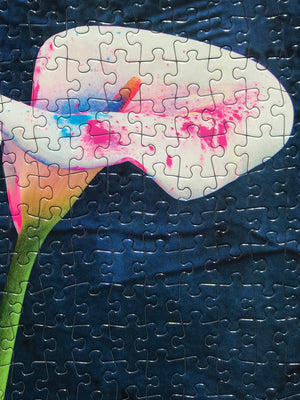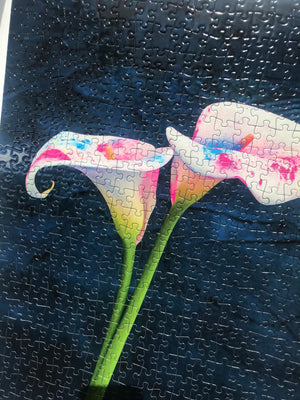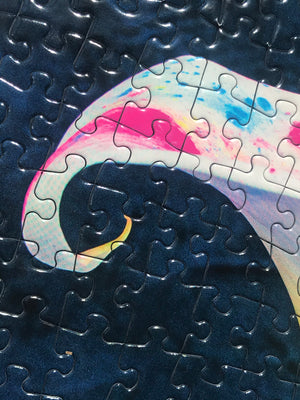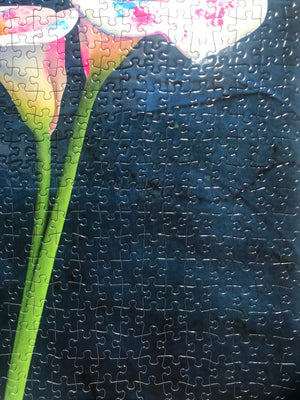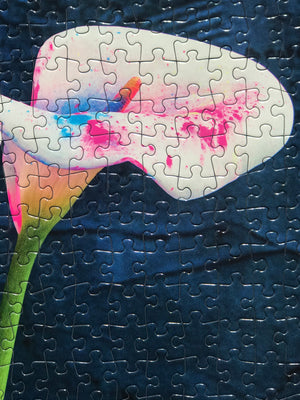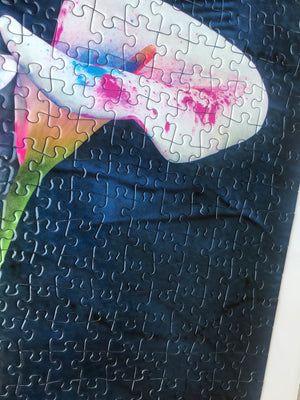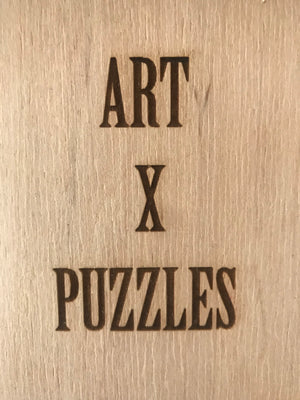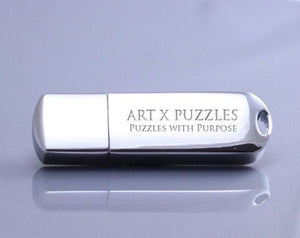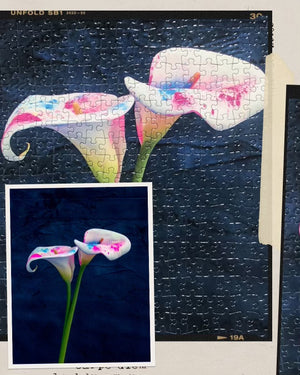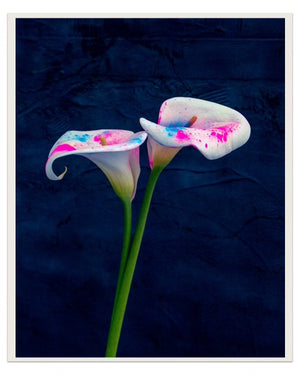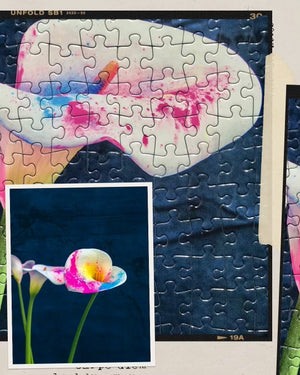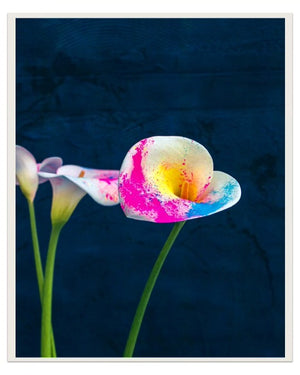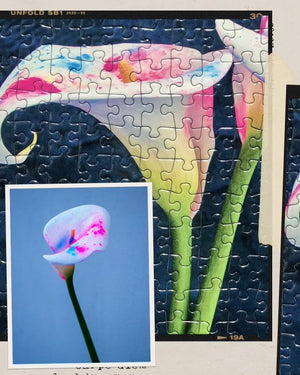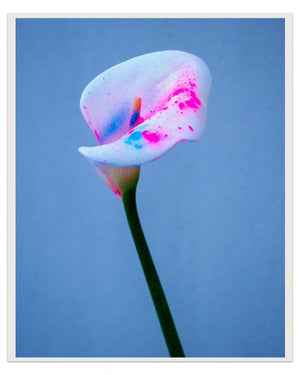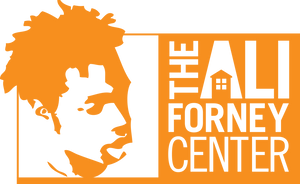 Artist Michael Angelo Collector Edition Jigsaw Puzzle
Title: THEY ARE GENDERFUL
Jigsaw Puzzle Size:  24" x 18" (609.6mm x 457.2mm) 500 Jigsaw Puzzle Pieces, ESKA Premium Board, FSC 100% Recycled Paper, Magnetic Layer.  
Collector Edition of 3

Level: Complex
Limited Collector Edition Jigsaw Puzzle + Edition #1 Artist Print  
This Collector Edition arrives with a Pre-Assembled Option and separated onto 2 to 5 cardboard squares according to size. The AXP Collector Editions comes ready to slide together for a complete instant puzzle and/or to be broken down for puzzling fun and/or framing! 
Magnetic Quality: This extremely well-made puzzle has cleverly incorporated a very thin layer of material with gentle magnetic properties underneath all the pieces, allowing the puzzles to be more stable and secure as the puzzler puts them together. The edition arrives in a specially handcrafted engraved wooden box with Art X Puzzles and Artist's Name, supporting Artist Charity Choice: The Ali Forney Center.
AXP BLIND BOX: Each one arrives with a very special surprise 'artist print" signed by the artist himself. The AXP Blind Box is a type of packaging that keeps its contents hidden and reveals itself only to the person who opens it! The boxes themselves are identical in every way, yet no one knows what special 'artist gift' remains inside until they are opened!
Contemporary Artist Michael Angelo's unique AXP Blind Box contains an individually released Edition #1 artist print from his new 2021 series. Each artist print arrives individually wrapped in each box as a special surprise- so the question is now....which one of the three prints will you get?
Did you know one of his photographs recently appeared in Town & Country Magazine? Scroll to bottom of product page for the three beautiful artist prints.
Signature Details: THEY ARE GENDERFUL digital photograph, pigment and white lilies, 2021. Artist Michael Angelo's reflection on gender, inspired by Robert Mapplethorpe and Georgia O'Keefe asks viewers to consider the consequences of the gender binary and invites them to bear witness to the genderful (i.e. full of gender) spectrum.
The renaissance great Michaelangelo stated: "Every beauty which is seen here by persons of perception resembles more than anything else that celestial source from which we all are come." Contemporary artist Michael Angelo carries this concept with a passion for multiple creative processes and endeavors at his world-renowned NYC beauty studio Wonderland Beauty Parlor. Mr. Angelo brings a unique perspective to the ideas and ideals of beauty today, reflected in his design, his art and throughout his inspired environments. The artist continues to uplift and reminds us of the importance of seeing beauty during the most challenging times. Through his artwork, he notes that beauty is intrinsic and that we all have access to that which is truly beautiful. 
"After stepping inside Wonderland Beauty Parlor in Manhattan's Chelsea neighborhood, you're guaranteed to experience two things: first, a complete inability to focus on any one spot in the meticulously designed and intimate space; second, an infectious smile courtesy of Wonderland's owner, designer, and lead hairstylist, Michael Angelo. Not to mention he's been one of the biggest names in the fashion and beauty industries for years. It's all a treat for the eyes, like your most fabulous friend's living room."- COVETEUR
Click Articles:
Are All Celebrites Painting Now? A List Artist are on the rise by Olivia Hosken 
TOWN & COUNRY
Inside a New York Hair Salon Filled With Scratch & Sniff Wallpaper & Vintage Treasure: Michael Angelo's Wonderland Beauty Parlor is beloved by Fashion Insiders by Hannah Baxter | Coveteur
Artist Certificate: Each puzzle comes with an artist certificate. (Glass and Silver Engrave USB Drive) 
Biography: Michael Angelo is an artist, designer, writer, creative director and beauty guru... a truly modern renaissance man. His internationally acclaimed Wonderland Beauty Parlor is where his work in beauty, film, photography and graphic design are born. His creations reflect a perspective informed by decades of discussion about the superficial, the banal and the beautiful. 
His collection of the world's first scratch-n-sniff wall coverings for Flavor Paper, called "The Fruit Cocktail Collection," benefited the Human Rights Campaign and is included in the permanent collection of the Smithsonian Institution's Cooper-Hewitt National Design Museum where it has been included in the exhibitions "The Senses: Design Beyond Vision" and "Wall Stories: Children's Wallpaper and Books".  It has been exhibited in multiple incarnations of The Museum of Ice Cream.
Angelo's photographic exhibition The Lipstick Portraits, debuted at 401 Projects in New York City with praise by outlets such as Interview, The Daily Beast and Vogue Italia. Proceeds from print sales supported the development of vocational training in the field of beauty for vulnerable women and girls in Southeast Asia, and Angelo was honored with the Global Action Forum Media Award. Work from this project was exhibited at the Museum of Sex and remains on view at the Nobel Prize Museum in Stockholm. His film work includes the short films Carlos Christo and Reflecting Adrianne, for which Angelo won the 2014 Manhattan Film Festival Award for Best Alternative Short Film.
ARTIST CHARITY CHOICE: The Ali Forney Center