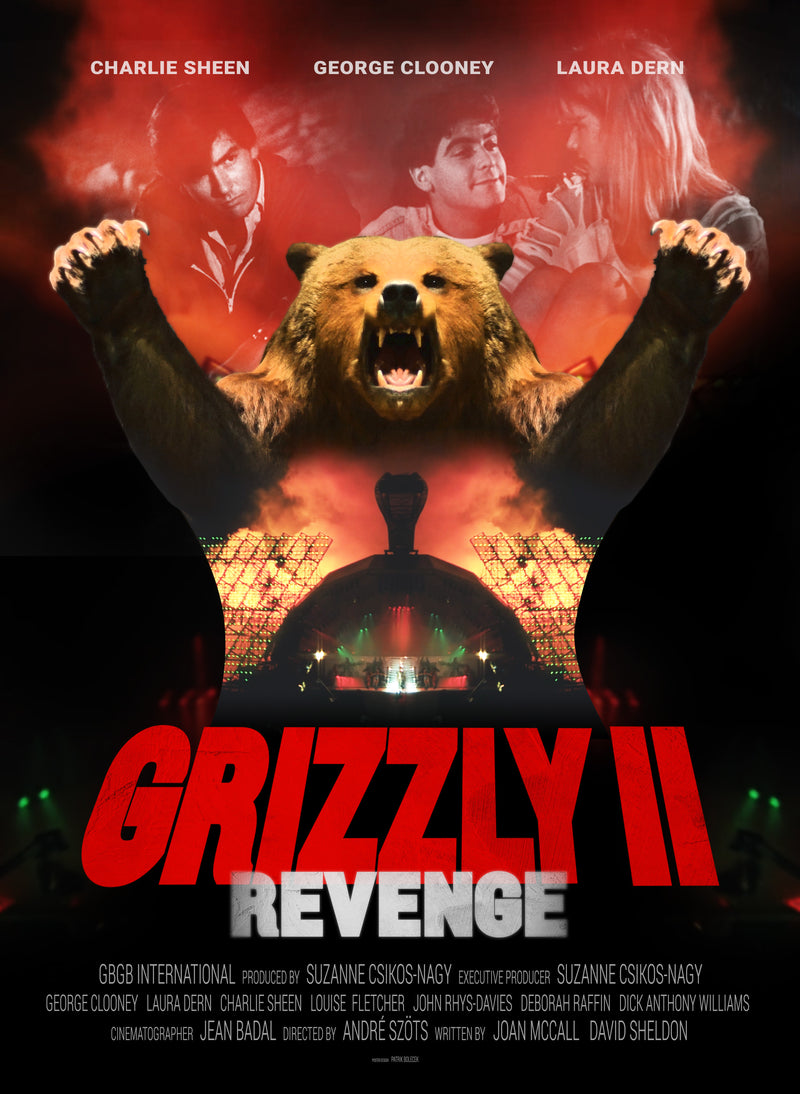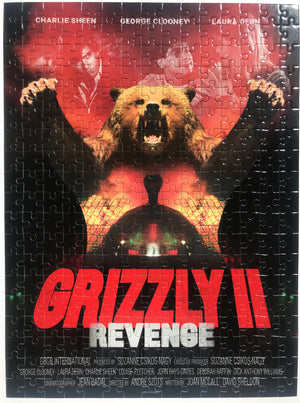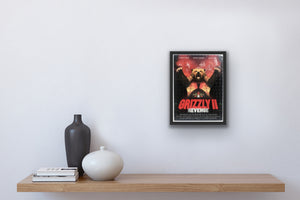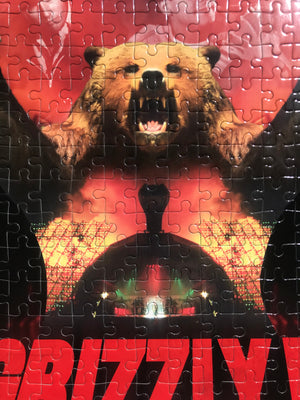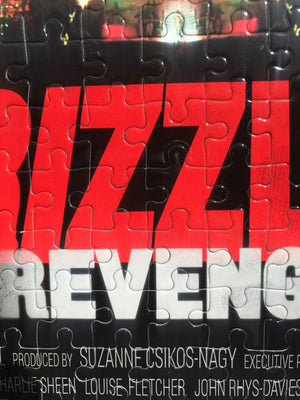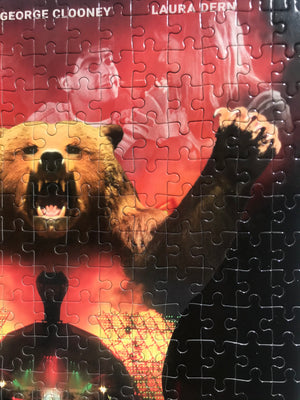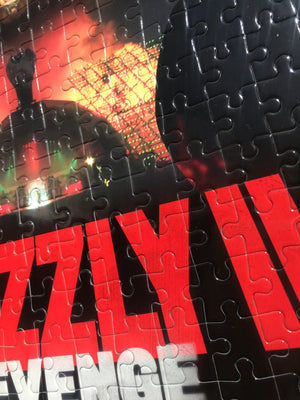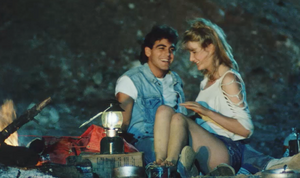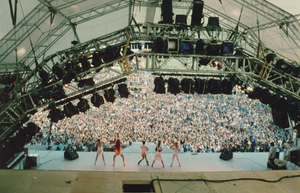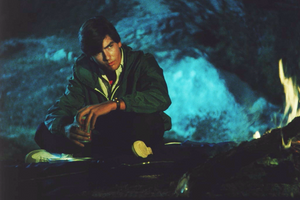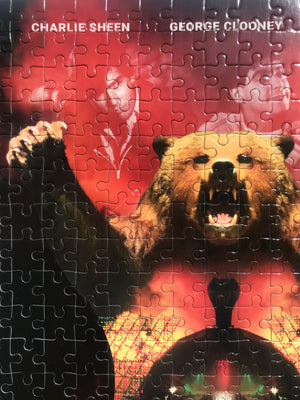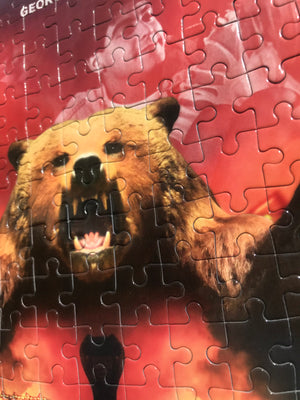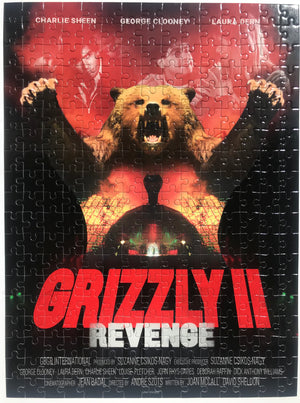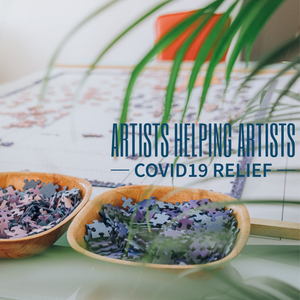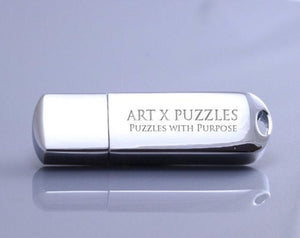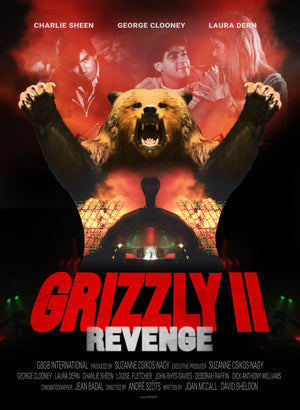 Designer Patrik Bolecek | Grizzly II Revenge Movie Poster Jigsaw Puzzle
Title: GRIZZLY II REVENGE

Live Video of Jigsaw Puzzle: Click Here 
Jigsaw Puzzle Size: 12" x 16.5" (310mm×418mm) 285 Jigsaw Puzzles Pieces, ESKA Premium Board. FSC 100% Recycled Paper.
This Collector Edition arrives Pre-Assembled and separated onto 2 cardboard squares. The AXP Collector Editions comes ready to slide together for a complete instant puzzle and/or to be broken down for puzzling fun and/or framing! Arrives with a special engraved USB drive that holds the artists certificate and more!
Collector Limited Edition of 3 + 2AP
Level: Complex
Signature Details | Original Artwork Details: Grizzly II, Movie Poster, Size 27" x 40", Paper Stock. (Movie Display Poster) Designer: Patrik Bolecek | Executive Producer: Suzanne Csikos Nagy
Artist Certificate: Each puzzle comes with an artist certificate.
Revenge (sometimes stylized Grizzly II. Revenge, also known as GRIZZLY II REVENGE: The Predator and Grizzly II. The Concert) is an American action thriller horror film directed by André Szöts. It is a sequel to the 1976 film Grizzly that was directed by William Girdler and David Sheldon. 
Originally filmed in Hungary in 1983, the release was put on hold for many decades. The film premiered at the 2020 Hollywood Reel Independent Film Festival and was released on January 8, 2021 through video-on-demand. Suzanne Csikos Nagy is the Executive Producer and Producer. David Sheldon and wife Joan McCall wrote the Grizzly II screenplay.  Important Hollywood actors George Clooney, Laura Dern, Charlie Sheen among the cast. Click Here 
"Going to the Russian headquarters to obtain the location for an American movie for a Woodstock-size rock concert in Hungary was unheard of. The event was taking place in 1983 when Hungary was behind the iron curtain.

After getting the permit, we started to build a gigantic stage with a Phoenix bird imitating Yellowstone National Park where we were waiting for 40-50 thousand visitors for the concert. My American partner had me do everything alone during pre-production. He sent us the Rolling Stone stage and the entire concert scaffold including the workers from England to build the stage. He got first-grade casting for this film.
George Clooney, Laura Dern, Charlie Sheen, Louise Fletcher, John Rhys-Davies, Deborah Raffin, and Dick Anthony Williams were among the casts. The first day of shooting was the most important event—a Woodstock-style concert where a gigantic grizzly bear attacks people. It was a fantastic and mesmerizing day. Everything worked out– the weather, the rock bands, the 40,000 audiences." Suzanne Csikos- Nagy, Executive Producer/Producer.
Click Articles:

What Do George Clooney, Nazareth, and a 16-Foot Mechanical Bear Have in Common? by Brian Raferty  | The Ringer
John-Rhys-Davies remembers the 'fantastically mad' making of Grizzly II Revenge by Clark Collis |Entertainment Weekly
George Clooney, Laurar Dern & Charlie Sheen Start in 'Grizzly II', Released Years After It Was Shot by Breny Furdyk | ET CANADA
"Grizzly II: Revenge' Review: Bear Atrocity by Jeannette Catsoulis | NYTIMES
Authentication Certificate: Each puzzle comes with an authencity certificate.

Biography: Suzanne Csikos-Nagy (creator of the feature film) was born in Hungary. She moved to New York in 1978. She is an entrepreneur running successful businesses. She owned an art gallery until 2017 and since 2018 she started working on the Grizzly 2 movie. She is also an accomplished environmental artist exhibiting globally.
Biography: Patrik Bolecek Patrik's expertise is in product & design strategy, which allows him to envision and deliver brand platforms, experiences in ways that few others can embody. The human narrative of the business in the tangible experience of the product. He thinks of brands holistically as the intersection of business, products, services and experiences, and not just as communication platforms. That said, Patrik carries a wide vision.