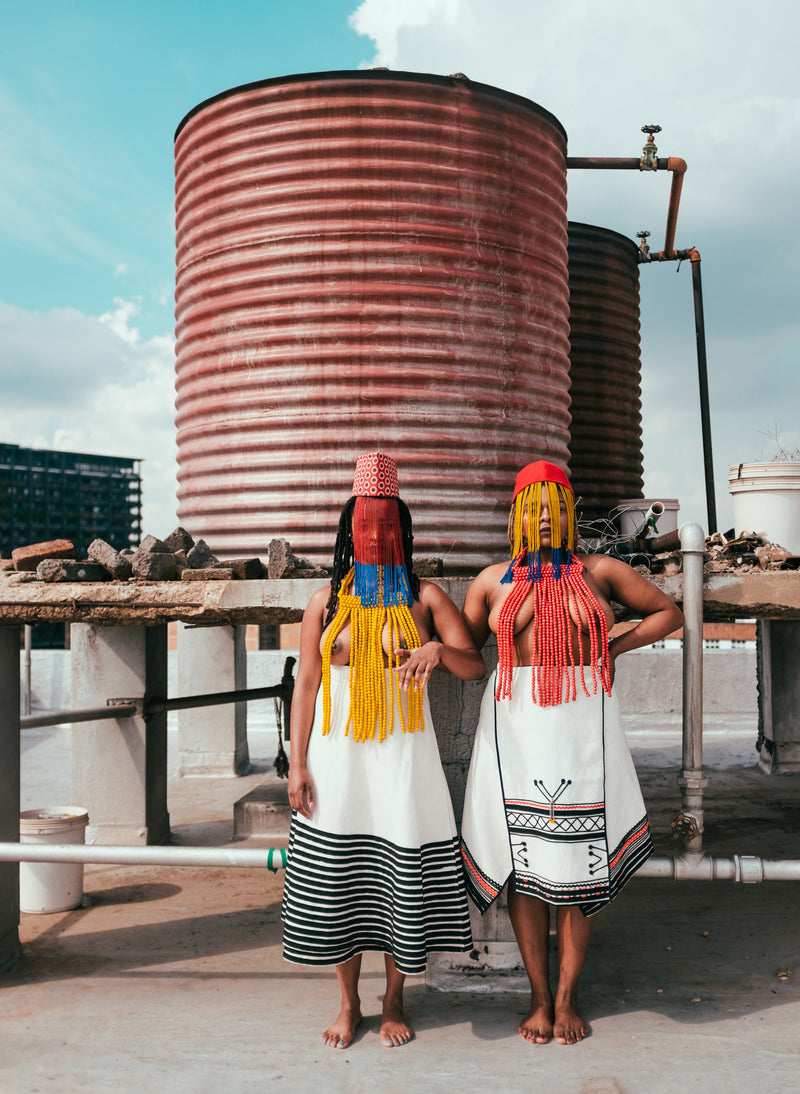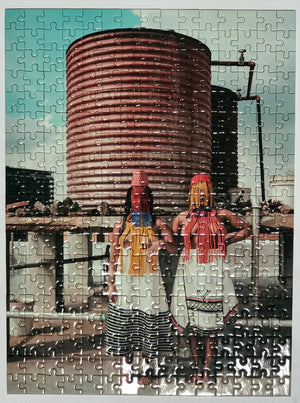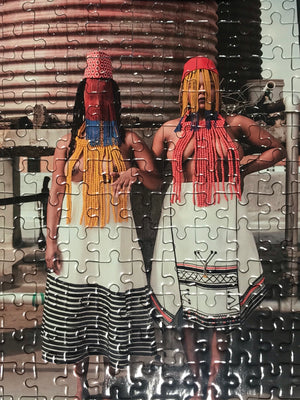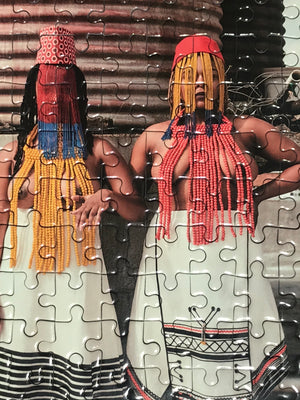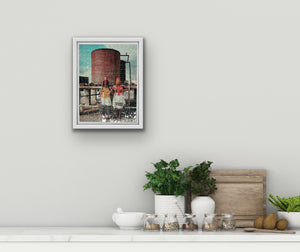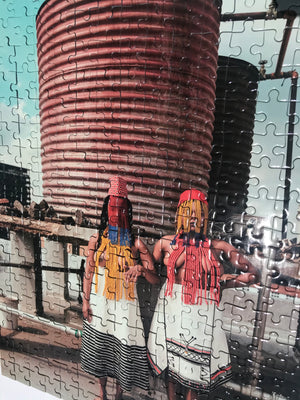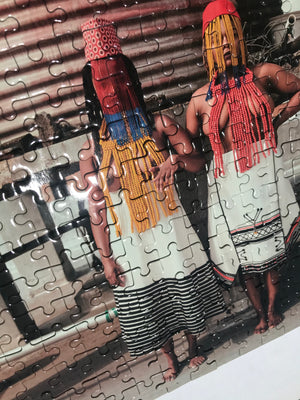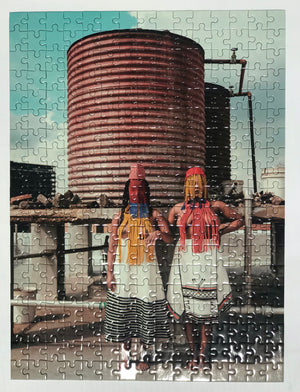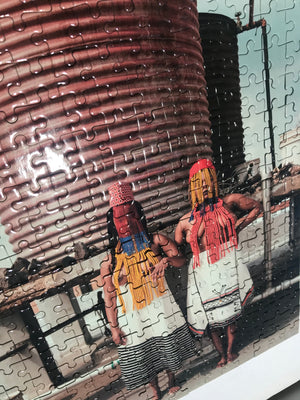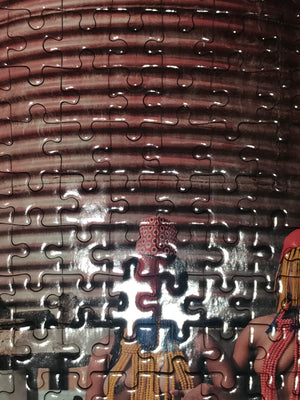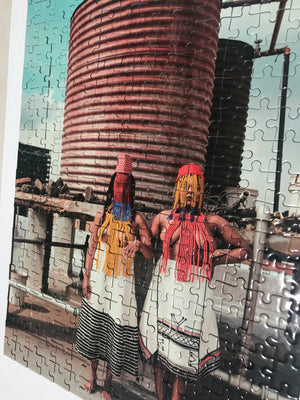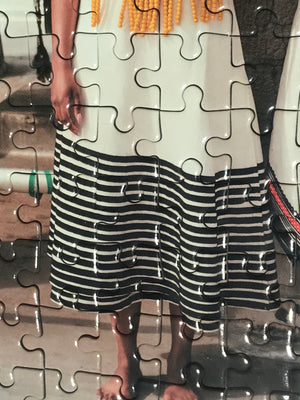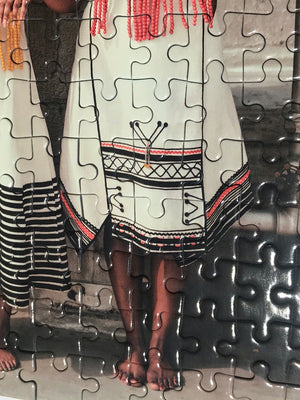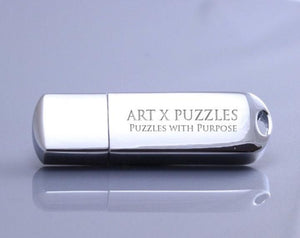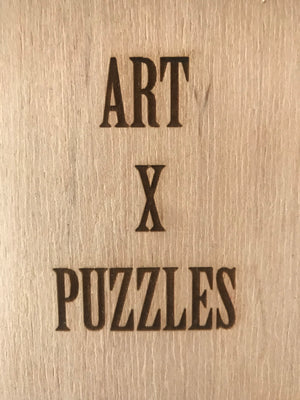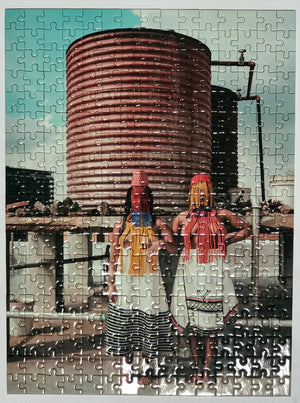 Artist Nicole Rafiki Collector Edition Jigsaw Puzzle
b. 1989 D.R. Congo, works and lives in Oslo, Norway and Johannesburg, South Africa
Title: "Babidi Mbapite (Two is Better Than One)"
Live Video of Jigsaw Puzzle: Click Here

Jigsaw Puzzle Size: (Horizontal) 12"x 16.5" (310mm x 418mm) 285 Jigsaw Puzzle Pieces, ESKA Premium Board. Magnetic Layer. FSC 100% Recycled Paper. Gloss Finish.
This Collector Edition arrives with a Pre-Assembled Option and separated onto 2 cardboard squares. The AXP Collector Editions comes ready to slide together for a complete instant puzzle and/or to be broken down for puzzling fun and/or framing! 
Magnetic Quality: This extremely well-made puzzle has cleverly incorporated a very thin layer of material with gentle magnetic properties underneath all the pieces, allowing the puzzles to be more stable and secure as the puzzler puts them together.
The Collector Edition arrives in a specially custom-made wood box engraved with Art X Puzzles.
Collector Edition of 10 
Level: Challenging
Signature Details:
"I can't remember the first time I picked up a camera, but I remember the first time I shot some editorial images for my story about underaged sex workers in a Congolese diamond mining village. It just made me feel like exploring the art of visual storytelling because words alone could not express what I was trying to tell." Nicole Rafiki
Click Articles: 
Nicole Rafiki's Images Merge the Contemporary with the Traditional to Challenge Stereotypes by Rufaro Samanga  | Okay Africa
The Crown/ Congolese Artist, Nicole Rafiki, Reveals the Secret Behind Her Latest Project | African Global Radio
Artist Certificate: Each puzzle comes with an artist certificate.
Biography:
Nicole Rafiki is a Congolese journalist turned creative photography based in Norway. She gradually shifted gears as she discovered that she had more interest in telling stories through photography and writing. As an interdisciplinary artist, she uses symbolism to re-imagine and challenge the stereotypical depiction of spaces, contexts and the people who are affected by global migration.
As an artist with a diverse culture, Rafiki works her historic and artistic background into her art. She says in an interview with OkayAfrica, "I use art to inform, engage and heal. Because it is too easy to fall into the trap of promoting idealism or clichés, I make it a point to be critical and analytical in my work."
Rafiki has recently released her Crown series with images radiant with bright colors was inspired by a trip to Lagos. The images of urban attire complemented by traditional African elements illustrates the double role that many young African women have in their communities. With a yellow backdrop, symbolizing their power, historical achievements, hope and optimism for the future.