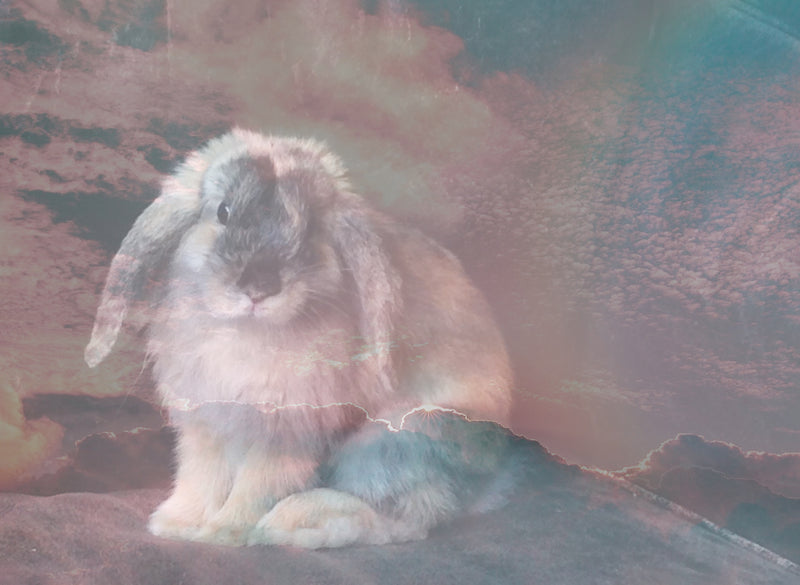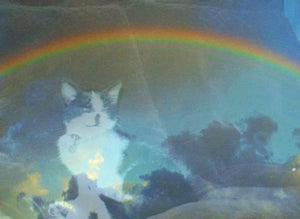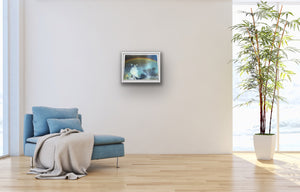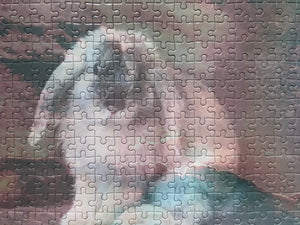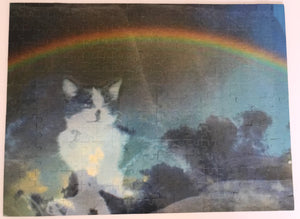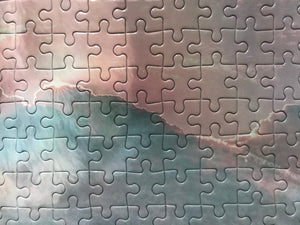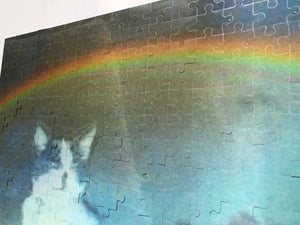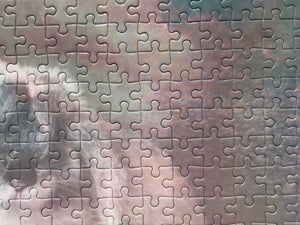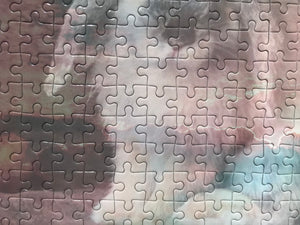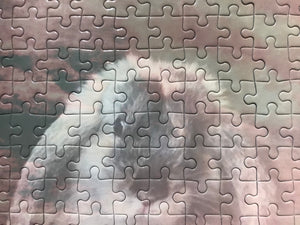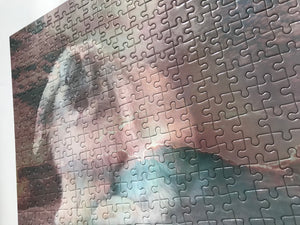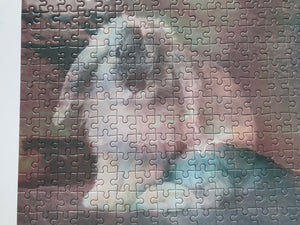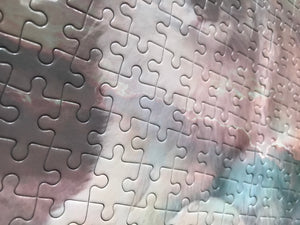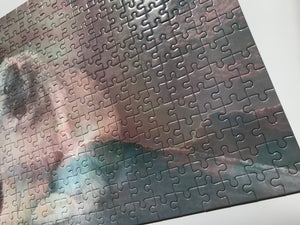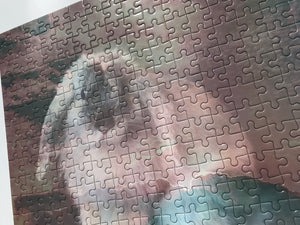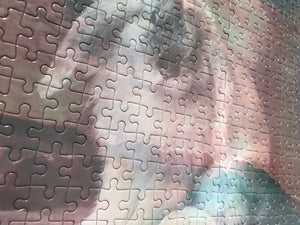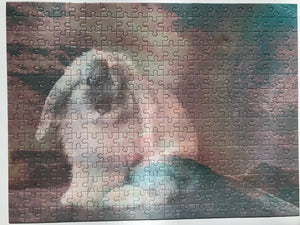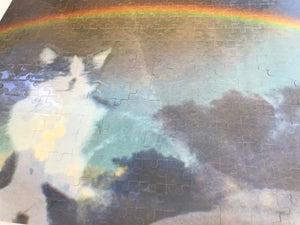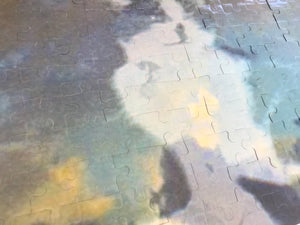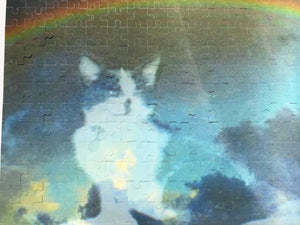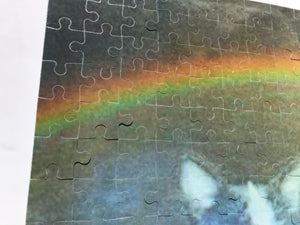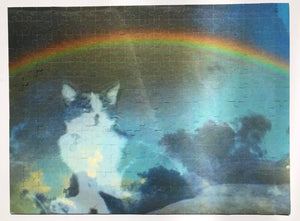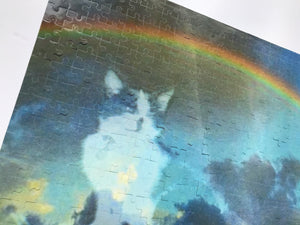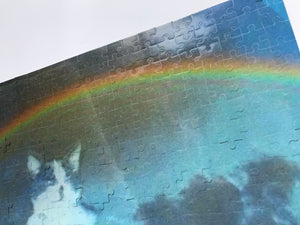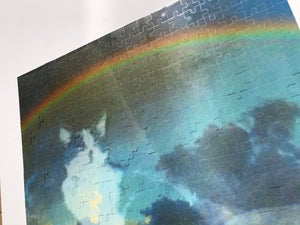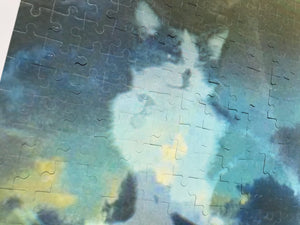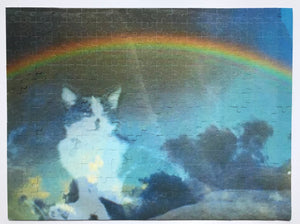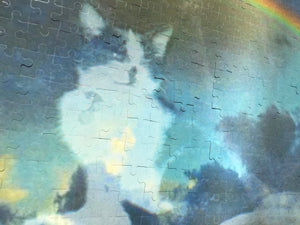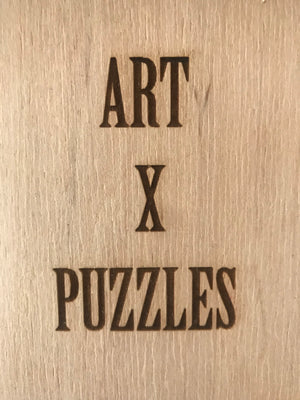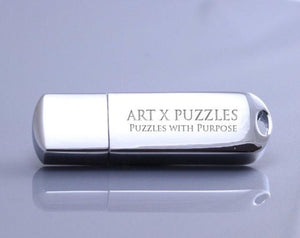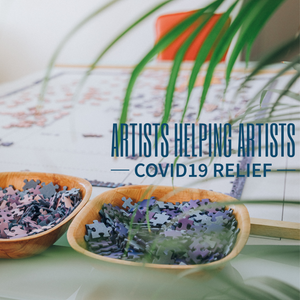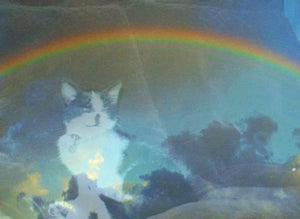 Artists Adrian Wong Collector Edition Jigsaw Puzzle
b.1980 Chicago. Lives and works in Hong Kong and Los Angeles
Title: Front of Puzzle: Omar Backside of Puzzle: Snoopy
Live Video of Jigsaw Puzzle: Click Here
Jigsaw Puzzle Size: 12" X 16.5" (310mm×418mm) 285 Jigsaw Puzzle Pieces, ESKA Premium Board. FSC 100% Recycled Paper. Gloss Finish.
Double-side Jigsaw Collector Edition
This Collector Edition arrives with a Pre-Assembled Option and separated onto 2 cardboard squares. The AXP Collector Editions comes ready to slide together for a complete instant puzzle and/or to be broken down for puzzling fun and/or framing! 
Collector Edition of 20 + 2A Level: Challenging 
Signature Details: Original Artworks: Omar (2017), 2020, archival pigment print, 36" x 48" | Snoopy (ca. 1992), 2020, archival pigment print, 36" x 60"
Credits: Courtesy of Artist
After the sudden passing of Omar, a beloved pet rabbit, Wong employed his conceptual practice to move through the grieving process. Enlisting the services of Lynn Schuster, a renowned animal telepath, the artist attempted to summon his rabbit from beyond the rainbow bridge. In the course of the séance, Omar's spirit manifested in a variety of forms: a zebra, a lion, a cheetah, a dog, a horse, a pig, a guinea pig, and most notably, a piebald cat insistent on calling attention to itself—claiming to have previously lived as Snoopy, the childhood companion of the artist's wife. Snoopy shared that its spirit (reincarnated as Omar's) was intertwined with the artist's and that they were destined to travel together through space and time. Since this revelation, Wong has collaborated on an extensive body of work with Omar/Snoopy—facilitated by Schuster—including paintings, sculptures, videos, performance, and installed environments, most recently on view at the 2020 Armory Show. This two-sided puzzle offered by Art x Puzzles incorporates photographs of the two animals, Omar on one side and Snoopy on the reverse. 
Megan Connolly Curator Choice Capsule Collection
Click Articles: 
Adrian Wong: Carrie Secrist Gallery | ARTFORUM
Rodentia in Absentia | RANDIAN
Excavated Aprocrypha:The Art of Adrian Wong \ LEAP
Artist Certificate: Each puzzle comes with an artist certificate.
Biography: 
Wong was born and raised in Chicago, Illinois in 1980. Originally trained in psychology (MA, Stanford '03), he began making and exhibiting work in San Francisco while concurrently conducting research in developmental linguistics. He continued his post-graduate studies in sculpture (MFA, Yale '05). Wong relocated his studio to Hong Kong in 2005, but recently returned to Chicago, where he currently teaches at the School of the Art Institute of Chicago. His work has been exhibited at The Drawing Center (New York), Kuandu Museum (Taipei), Kunsthalle Wien, Kunstmuseum Bern, Kunstverein (Hamburg), Museum of Modern and Contemporary Art (Seoul), Palazzo Reale (Milan), Saatchi Gallery (London), and Witte de With Center for Contemporary Art (Rotterdam)—and can be found in public and private collections worldwide, including the 21C Collection (Chicago), DSL Foundation (Paris), K11 Art Foundation (Shanghai), Kadist Foundation (San Francisco), M+ Museum (Hong Kong), Sifang Museum (Nanjing), and the Uli Sigg Collection (Lucerne).
Wong was awarded the Daniel and Mildred Mendelowitz Memorial Fellowship for the Arts in 2003. He received the Videotage FUSE Fellowship in 2006, the AiR Association/Triangle Arts Trust Residency Programme in 2008 and Detour Design Exchange Tokyo in 2010. Wong won the Sovereign Asian Art Prize in 2013. Absolut Art Bureau selected Wong to create a bar for Art Basel Hong Kong "Wun Dun an Art Bar" that "revives, rekindles and re-imagines an older, more romantic Hong Kong of Suzy Wong, opera lounge singers and awkward waiters" in 2013.
ARTIST CHARITY CHOICE: Animal Welfare Institute