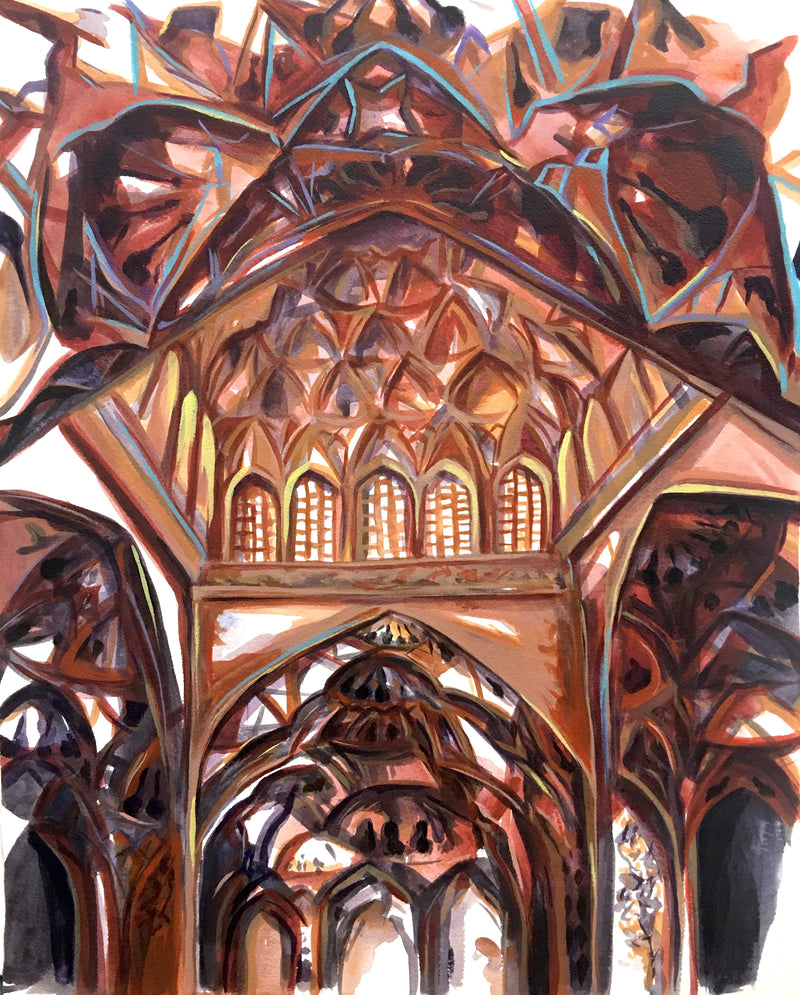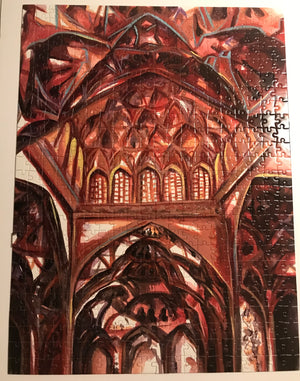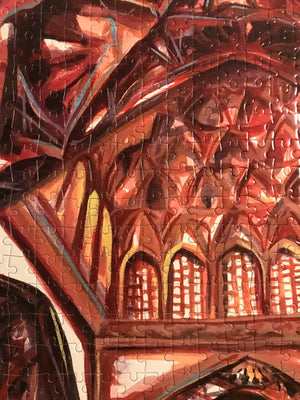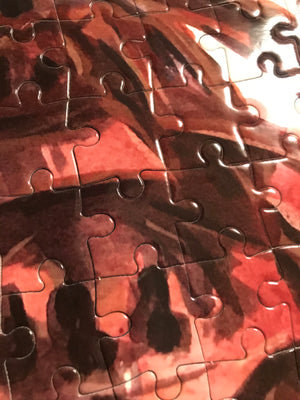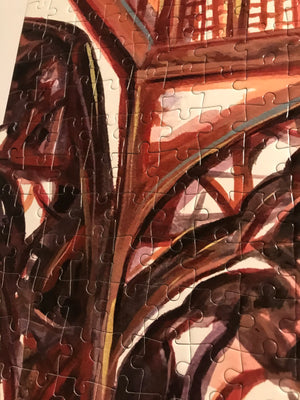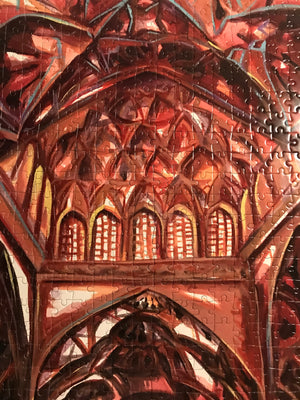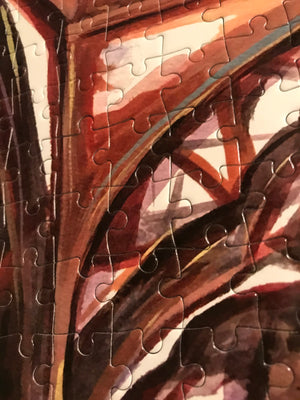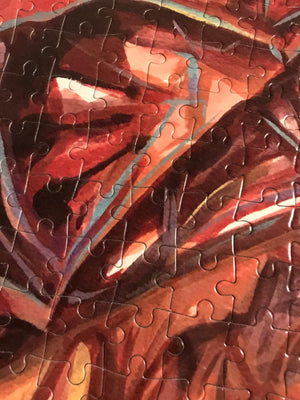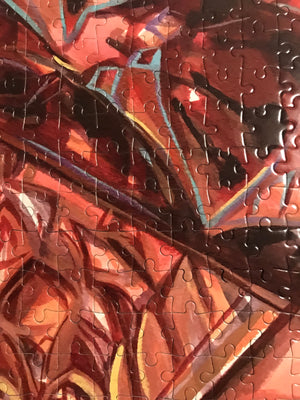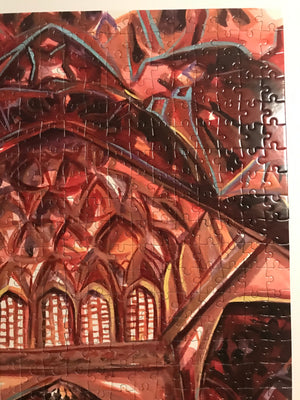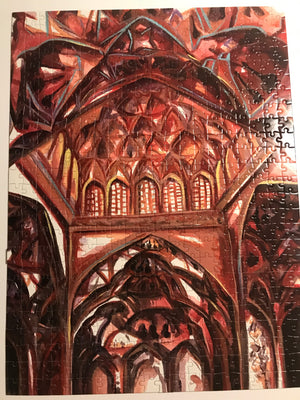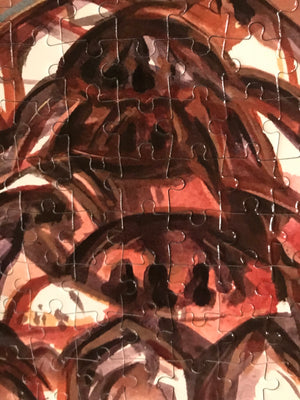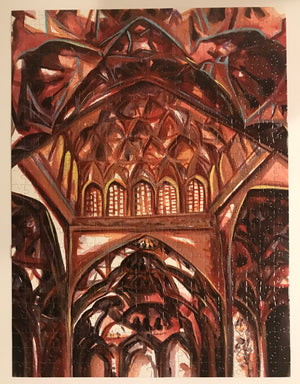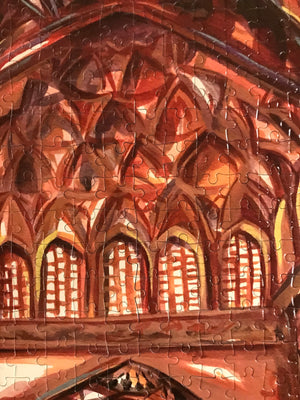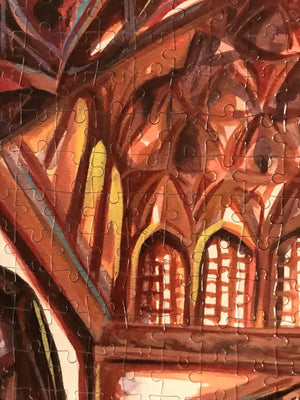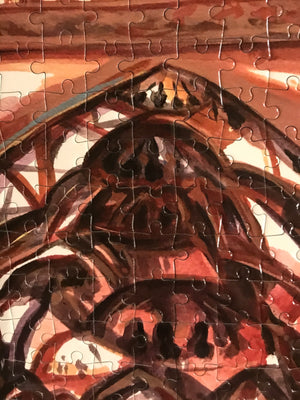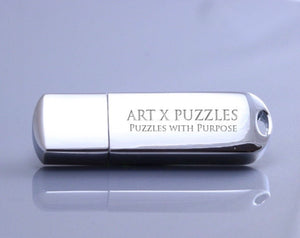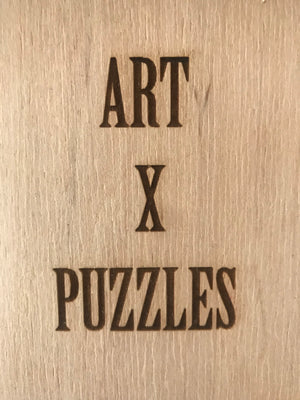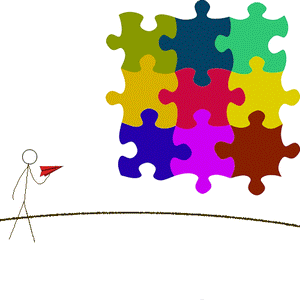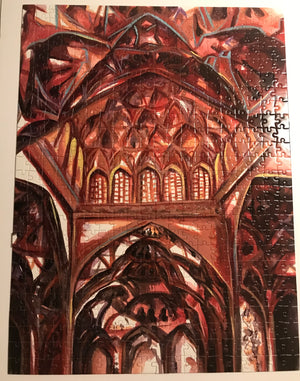 Artist Zahra Nazari Jigsaw Puzzle
b. 1985 lives and works in New York City
Title: Beyond the Visible World 
Live Video of Jigsaw Puzzle: Click Here 
Jigsaw Puzzle Size: (Horizontal) 12"x16.5" (310mm x 418mm) 285 Jigsaw Puzzle Pieces, ESKA Premium Board
The Collector Edition arrives in a specially custom-made wood box engraved with Art X Puzzles.
Collector Edition of 20 + 2AP

Level: Complex/Challenging
Signature Details: The complexity, beauty, and power of Persian architecture are depicted in the Music Room located on the sixth floor of the Ali Qapu Palace in Isfahan, Iran. It was built by order of Shah Abbas the Great in the early part of the seventeenth century. The distinct inventiveness and beauty of this space have been an inspiration in my work for a long time.

The ceiling of the Music Room is layered with stucco and carved with intricate shapes of vases and long-necked bottles. As the royal musicians performed on the ground floor, Shah Abbas sat on a stage on the sixth floor, listening while observing festivities in the square below. The sounds traveled upward through hollow tubes built into the walls and were then dispersed around the Music Room through the niches engraved into the stucco. The carvings were calculated to produce echoes and as a result, expand the musical sound quality. I have been intrigued by the layering of design, the idea of music flowing upward with its resonance echoing throughout the Music Room interior, and the silhouettes of the stucco patterns. The original piece is part of a larger project sponsored by the Lower Manhattan Cultural Council (LMCC). This project will be exhibited in Spring 2021 in Manhattan, New York. 
Artist Certificate: Each puzzle comes with an artist certificate.
Biography:
Zahra Nazari was born in Hamedan, Iran to a family of architectural enthusiasts. Her brother is an architect and her father frequently brought her to architectural dig sites to admire ancient history and artifacts.
Throughout her entire life, she has pursued a career as a visual artist on the foundation of this inspiration from her youth. She left Iran in 2011 in order to pursue her Master's studies in art in the US. She has since traveled the world to take inspiration from architecture in many other cultures.
Her large-scale abstracted architectural paintings and installations are formed by ideas about identity, immigration issues, and how globalization is changing our perceptions. She has given artist talks and participated as a panelist at institutions including NYU, Columbia University, Cooper Union and Pratt Institute in New York City. She has been interviewed by and published in Hamptons Art Hub, ZH Magazine, Hyperallergic, and many more. Her work is included in private and public collections throughout the US, Canada, and Asia.

Ms. Nazari has been a recipient of many awards such as: the AIM Fellowship from the Bronx Museum, NY; the Creative Engagement Grant from the Lower Manhattan Cultural Council, NY; an Artist Residency from Sculpture Space Residency in Utica, NY; the Mentoring Program from New York Foundation for the Arts, NY (NYFA); a Visiting Artist Fellowship from Massachusetts Museum of Contemporary Art, MA (Mass MoCA); an Artist Residency Fellowship from The Cooper Union School of Art in New York City, and; an Artist Residency from the Vermont Studio Center, VT. 
Nazari has exhibited both nationally and internationally in galleries and museums: the Bronx Museum, NY; Samuel Dorsky Museum of Art, NY; MANA Contemporary, NJ; Spartanburg Art Museum, SC; Masur Museum of Art, LA; New York Academy of Art, NY; Denise Bibro Fine Art, NY; Boccara Art Gallery, NY; Painting Center, NY; A Center for Contemporary Art, NJ; Governors Island Art Fair, NY; Galerie Myrtis, MD; Illinois Institute of Art, IL; Manifest Gallery, IL; Woman Made Gallery, IL; China Millennium Monument, Beijing, China; Xuancheng Museum, Anhui, China; Lite-Haus Galerie, Berlin, Germany; Saba Institution, Tehran, Iran, and; Baran Gallery, Tehran, Iran.