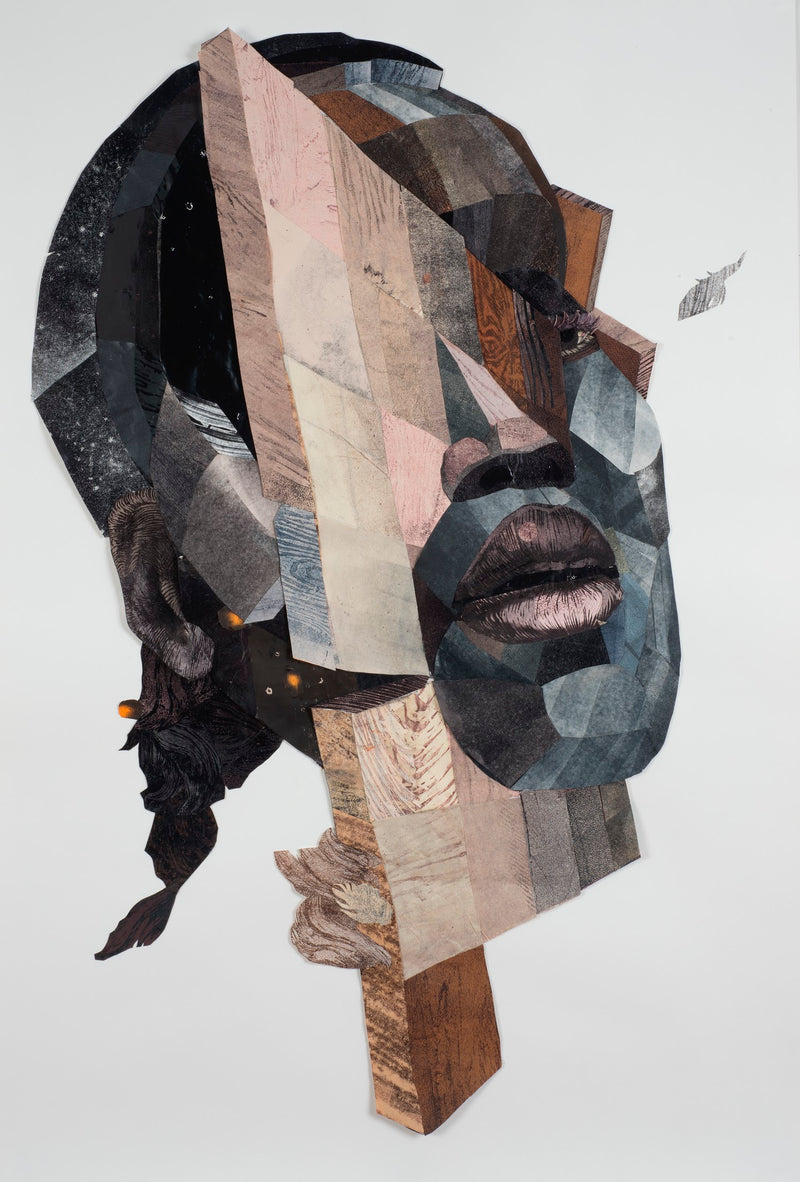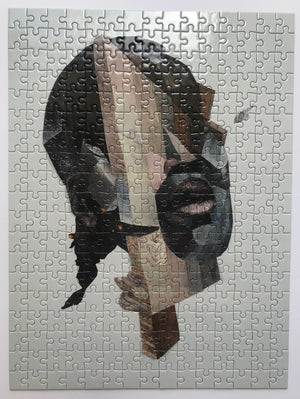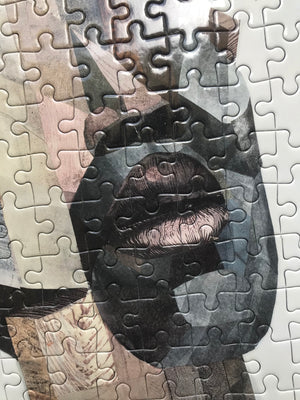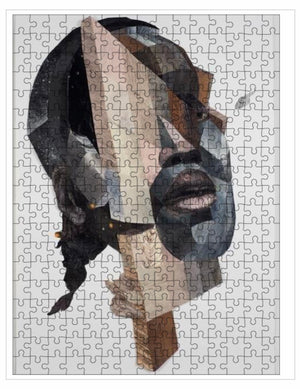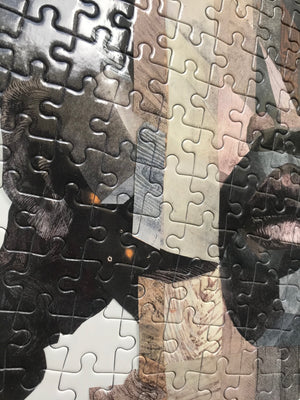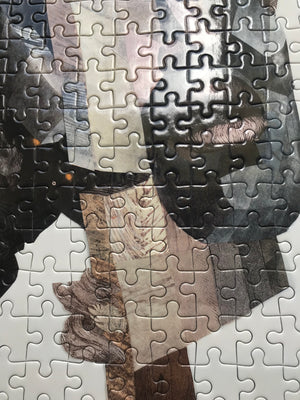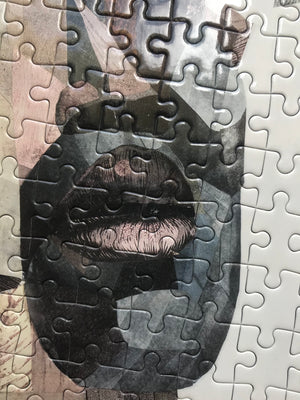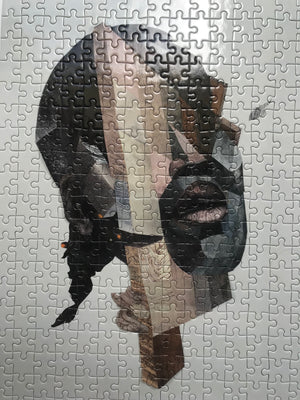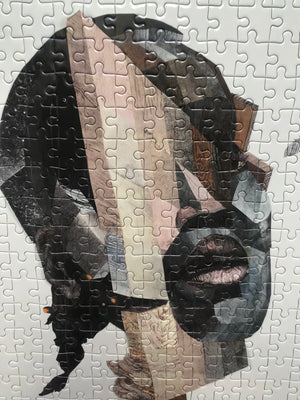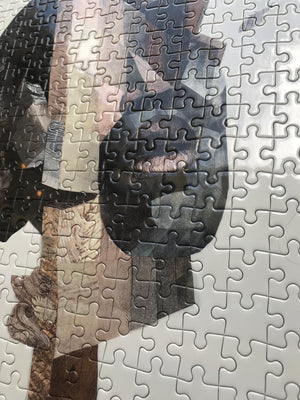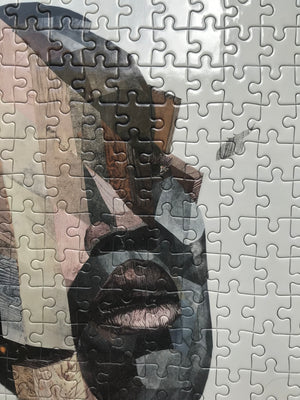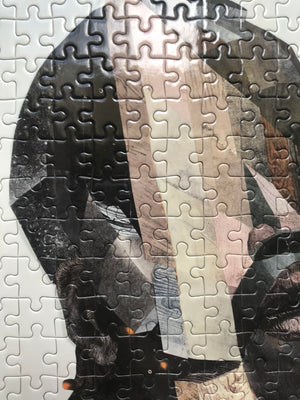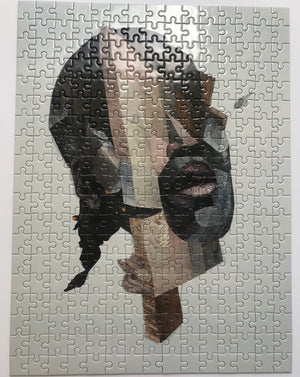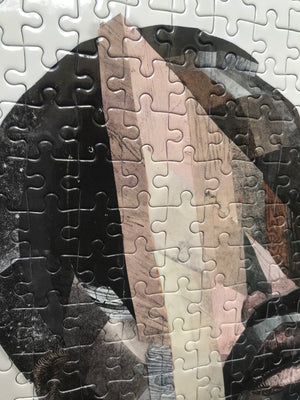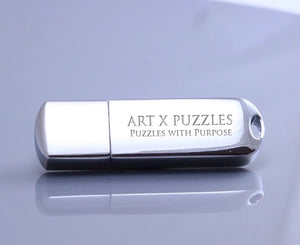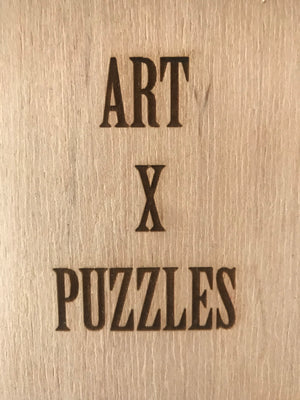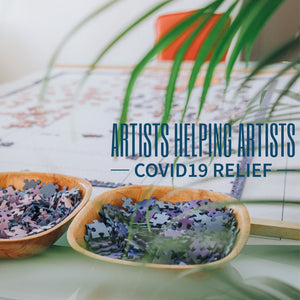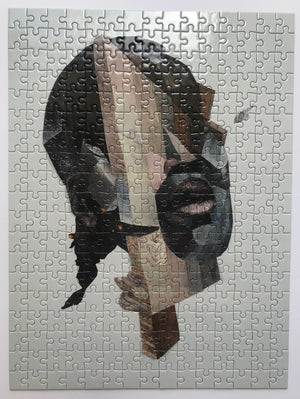 Artist Yashua Klos Jigsaw Puzzle
b. 1977 Chicago lives and works in Brooklyn NY.
Title: Become a Ghost
Live Video of Jigsaw Puzzle: Click Here 
Jigsaw Puzzle Size: 12" x 16.5" (310mm x 418mm) 285 Jigsaw Puzzle Pieces, ESKA Premium Board. Traditional Paper Jigsaw Puzzle.
Collector Edition of 20 + 2AP
Level: Challenging
Signature Details: Original Artwork: Become A Ghost, Collage with Ink and Woodblock Prints on Archival Paper, 33.25 x 50.5 inches. Image courtest of the artist.
Curatorial Spotlight: Curator Alaina Simone's selection of contemporary artists for Art x Puzzles: Puzzle with Purpose.
Click here for ART X PUZZLES: Curator Choice  
Click Articles: Contemporary Art has a bright future and Yashua Klos is making it happen by Melissa Hunter Davis | Sugarcane Magazine
Artist Certificate: Each puzzle comes with an artist certificate.
Biography: Yashua Klos (b. Chicago, IL) attended Northern Illinois University (Dekalb, IL) and L'Atelier Neo Medici (Monflanquin, FR). He received his MFA from Hunter College. His work uses formal collage construction and innovative printmaking techniques to address issues of identity, race, memory and community in expansive wall installations. In Klos' multi-layered work, collage is more than a medium—it's a metaphor for the "fragmentation of African American identity." Inspired by his autobiographical memories growing up with a single mother on Chicago's South Side, Klos challenges signs of marginalization, male blackness and urban mythology. Juxtaposing and twisting elements to create imagined three-dimensional spaces, figures and landscapes, Klos' style is built of fractured impressions and angled perspective.
Klos' work has appeared in exhibitions at Carnegie Mellon University (New York, NY), California African American Museum (Los Angeles, CA), Goodman Gallery (Johannesburg, AF), Studio Museum of Harlem (New York, NY), Memphis College of Art (Memphis, TN), Deitch Projects (New York, NY), Museum of Science and Industry (Chicago, IL), Weatherspoon Museum (Greensboro, NC) and Abrons Art Center among many other prominent galleries and institutions. He was a visiting artist lecturer at the School of Art Institute of Chicago, Museum of Art and Design (MoAD), a Smithsonian Affiliate (San Francisco, CA). His work has been featured in Modern Painter, Hyperallergic and The New York Times among other international publications. He is an upcoming artist-in-residence at Joan Mitchell Foundation (New York, NY) slated for 2021. He has participated in artist residencies at The Bemis Center for Contemporary Art (Omaha, NE), Vermont Studio Center (Johnson, VT) and Skowhegan School of Painting & Sculpture (Skowhegan, ME). He lives and works in Brooklyn, NY.