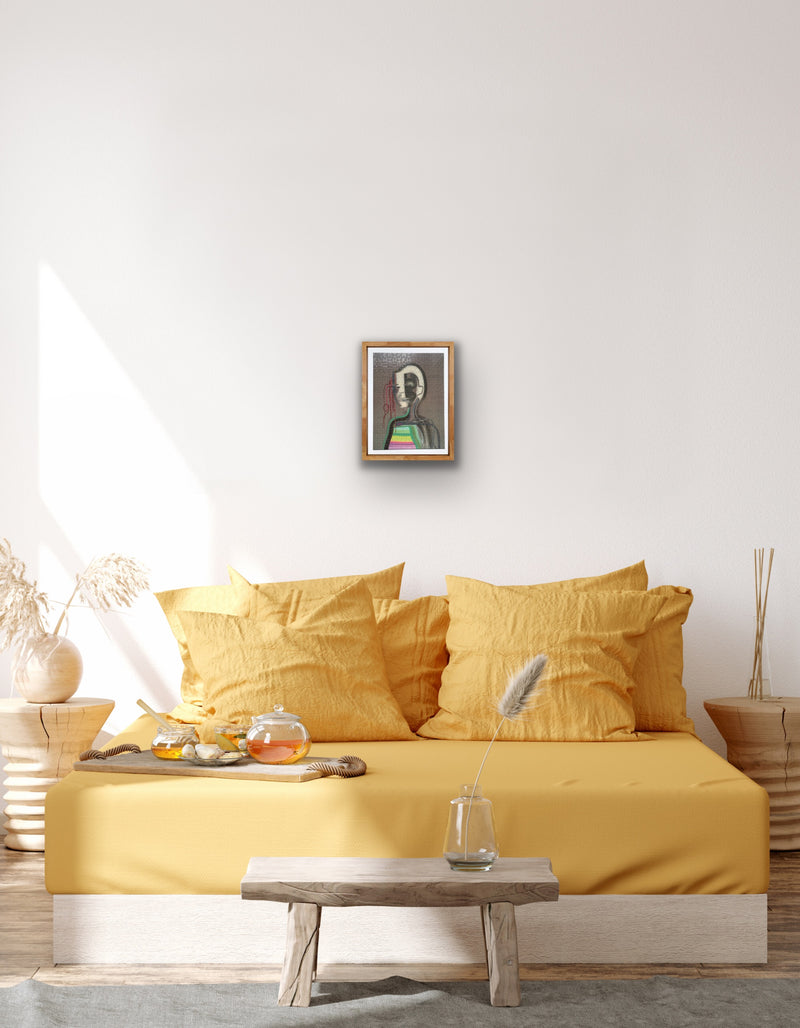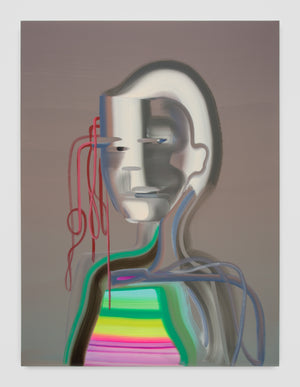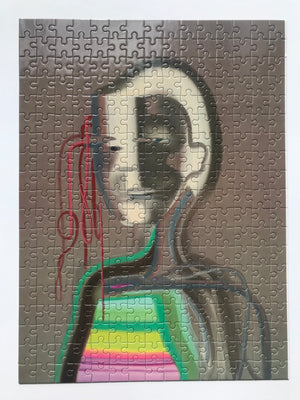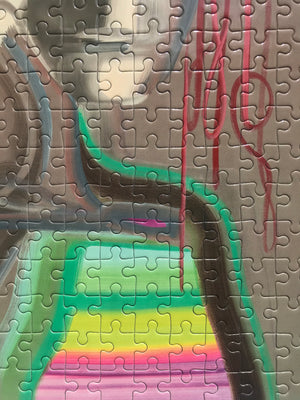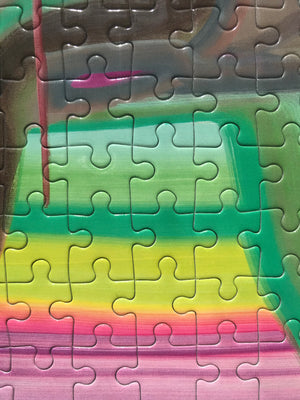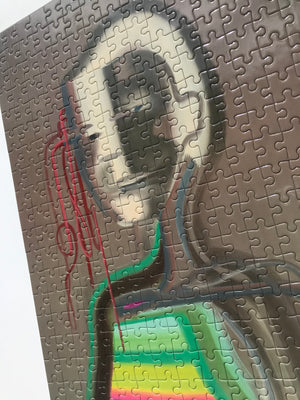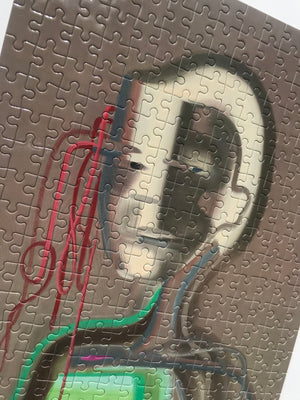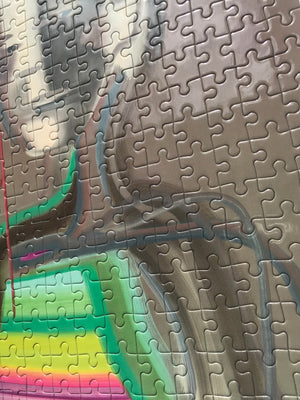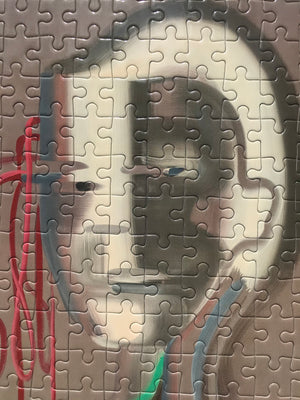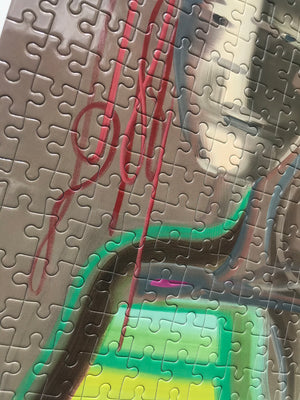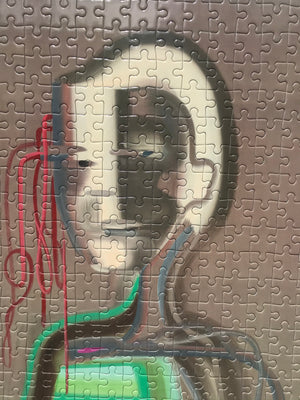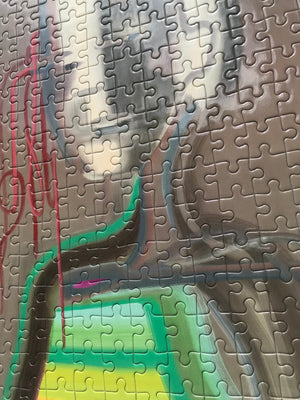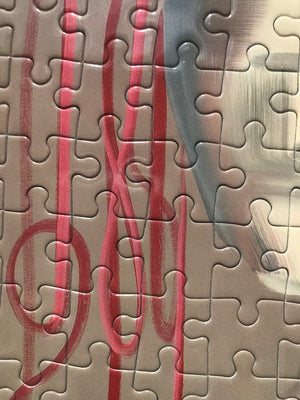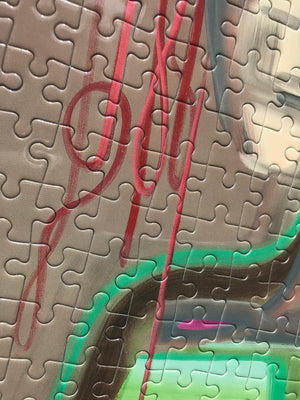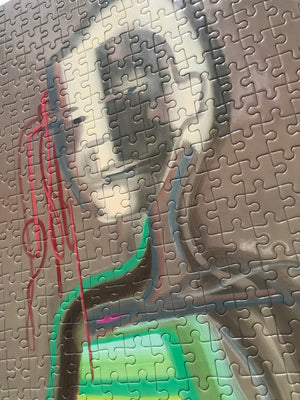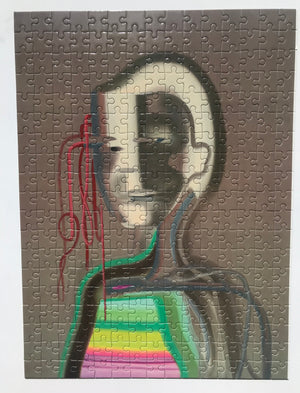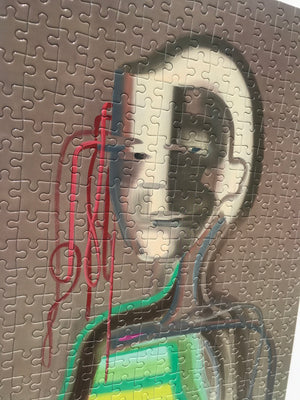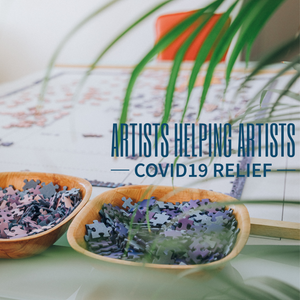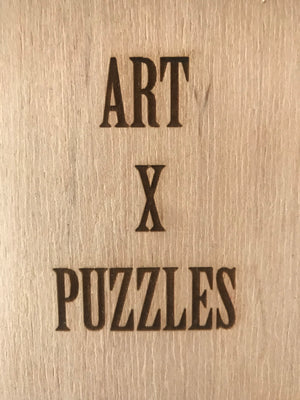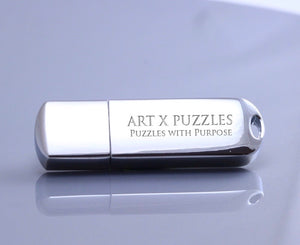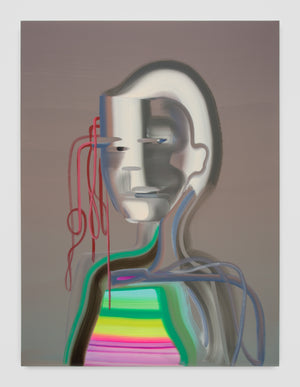 Artist Wanda Koop Collector Edition Jigsaw Puzzle
Can be found at the Dallas Art Museum Store!
B.1951 Lives and works in Winnipeg, Manitoba, Canada
Title: Heartbeat Bot #3  
Live Video of Jigsaw Puzzle: Click Here
ARTXPUZZLES presented her edition at the MARFA INVITATIONAL APRIL 22-25th, 2021
Jigsaw Puzzle Size: 12" x 16.5" (310mm x 418mm) 285 Jigsaw Puzzle Pieces, ESKA Premium Board. FSC 100% Recycled Paper. Gloss Finish. 
This Collector Edition arrives with a Pre-Assembled Option and separated onto 2 cardboard squares. The AXP Collector Editions comes ready to slide together for a complete instant puzzle and/or to be broken down for puzzling fun and/or framing! 
Collector Edition of 30 + 2AP
Level: Challenging
Signature Details: 
Original Artwork: Heartbeat Bot #3, 2019  Acrylic on canvas, 36 x 48 inches Photo: William Eakin
The American poet Charles Olson wrote that space is the whale that threatens to swallow up North Americans. Wanda Koop, one of Canada's most accomplished painters, has turned that whale inside out; she has been consuming space for over four decades. In large-scale paintings and mixed-media events that incorporate video, music and dance, she has fashioned bodies of work that are beautiful, monumental and mesmerizing. An exhibition of her paintings is as much an environment as an installation.
Curator Choice Capsule Collection by Christopher Eamon
Artist Certificate: Each puzzle comes with an artist certificate.
Click Articles:
An Interview with Wanda Koop | WHITEHOT MAGAZINE
The Colorful Activism of Wanda Koop | OFFICE MAGAZINE
The pieces fit perfectly at DMA's new Wanda Koop Exhibition "Dreamline" is well deserved first U.S. museum show for the veteran Canadian painter by Benjamin Lima | DALLAS NEWS
Biography: Wanda Koop is an internationally acclaimed Canadian interdisciplinary artist who lives and works in Winnipeg, Manitoba. She is widely regarded as one of Canada's most distinguished and inventive painters
Koop is an inveterate world traveller, motorcycling through the United States in her youth and recently taking an ocean freighter up the St. Laurence Seaway. She has also lived in Paris, Rotterdam, Tokyo and New York City.

Over the course of her career, she has had over 60 one-person exhibitions throughout Canada, as well as in Great Britain, The Netherlands, Germany, India, Brazil, China, Japan, and Italy (the latter was in conjunction with the 2001 Venice Biennale). The National Gallery of Canada together with the Winnipeg Art Gallery mounted a major survey exhibition of her work in 2010-2011.
Born in Vancouver, British Columbia, the daughter of Russian Mennonite immigrants, Koop moved to Winnipeg, Manitoba as a young child and has lived there ever since. In 1972 while still a student at the School of Art, the University of Manitoba, she was invited to participate in a major exhibition at the Winnipeg Art Gallery. The inquiry into the nature of painting which engaged her in that early work became the focus of her practice and her exploration of the medium has attracted significant critical and curatorial attention. Her work has been featured in Artforum, Art Papers, Border Crossings, Canadian Art, frieze and MOMUS and she has been the subject of two acclaimed documentary films.
Wanda Koop has been the recipient of numerous awards. She received the Queen Elizabeth II Golden and Diamond Jubilee Medals, and the Japan Fund Award from the Canada Council, she was appointed a Member of the Order of Manitoba and in 2006 was appointed a Member of the order Of Canada, the highest civilian honour given to Canadians. She holds honorary doctorates from Emily Carr University of Art and Design in Vancouver, the University of Winnipeg and the University of Manitoba.
Her work is held in numerous public and private collections, including the National Gallery of Canada, the Musée des beaux-arts, and the Musée d'art contemporain de Montréal, the Winnipeg Art Gallery, the Shanghai Museum of Modern Art, the Reykjavik Museum, Iceland, and the Dallas Museum of Art.
In addition to her highly successful painting career, Koop is recognized for her community work and social activism. In 1993 she co-created the Rotterdam Apartment Cooperative to help Canadian artists live and work in The Netherlands, with additional residences in Canada for Dutch artists. An integral member of the Winnipeg arts community, Koop has made a measurable impact in her city. In 1998 she founded Art City as a storefront art centre. The goal of Art City is to bring together contemporary visual artists and inner city youth to explore the creative process. Art City is not just about art, it is about belonging, creating opportunities, developing life skills, and enhancing self-respect within a disadvantaged community.
Artist Charity Choice: First Responders Children's Foundation