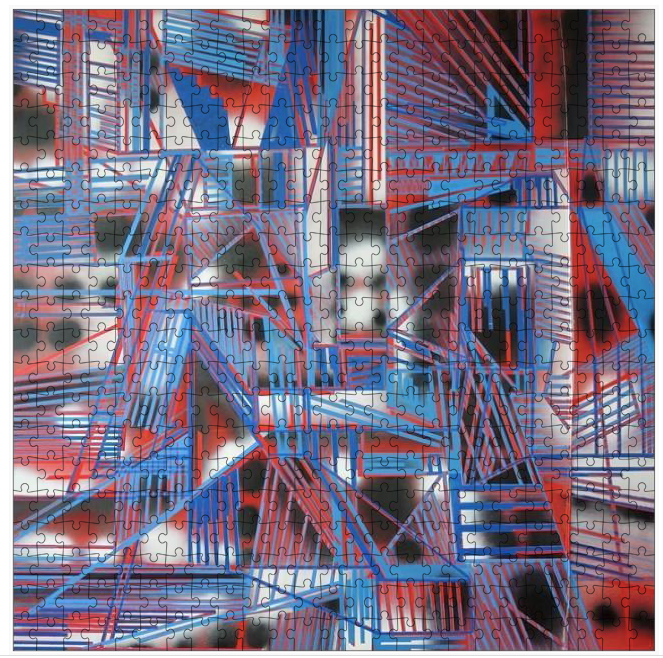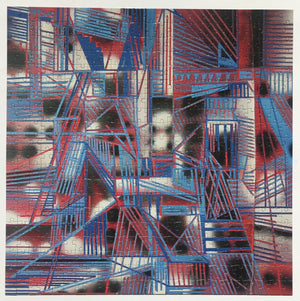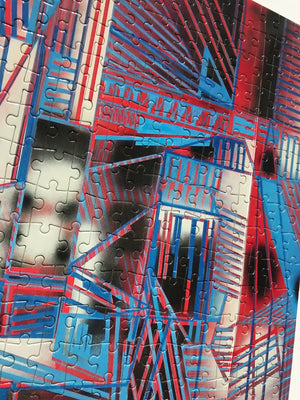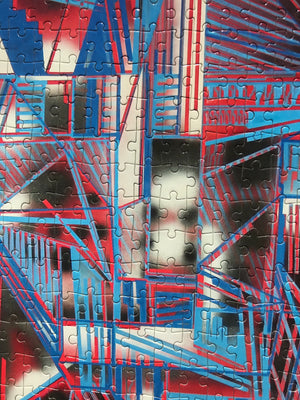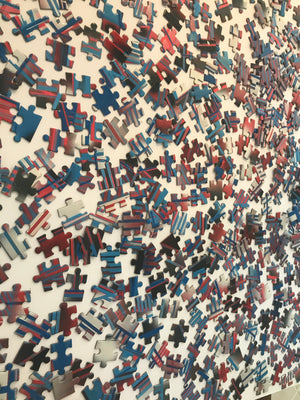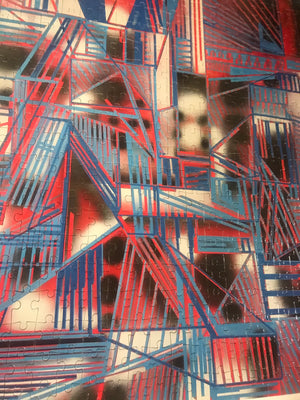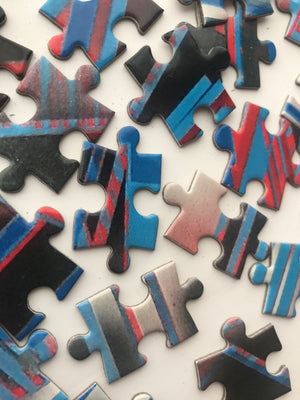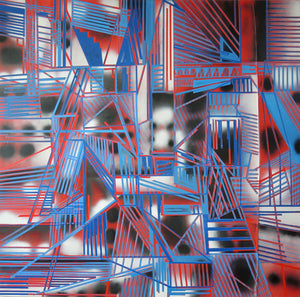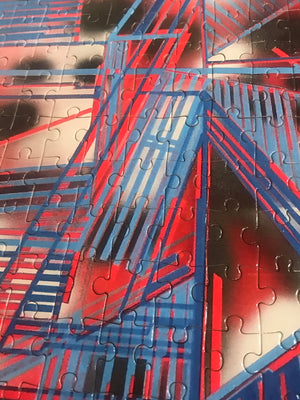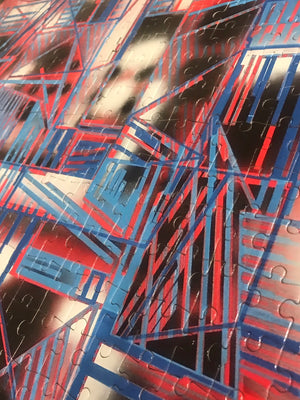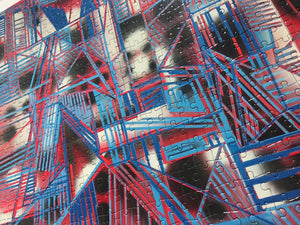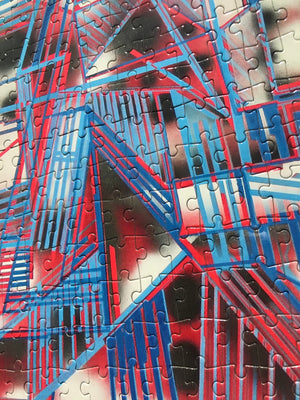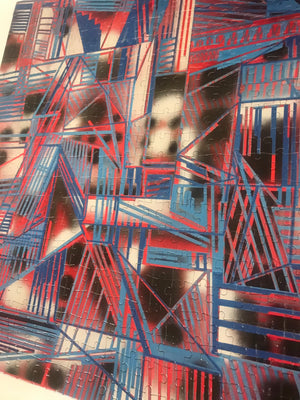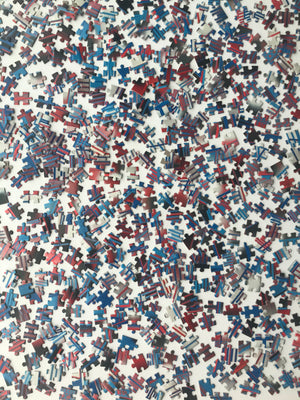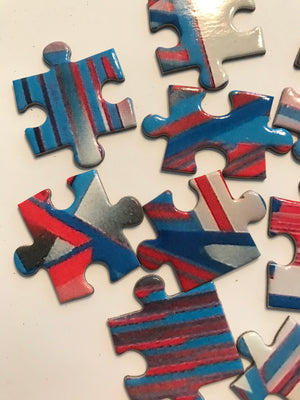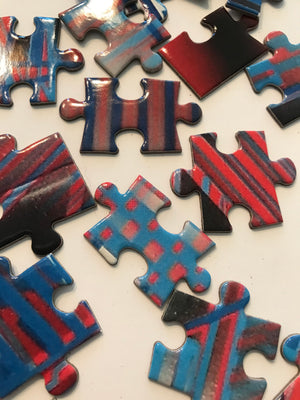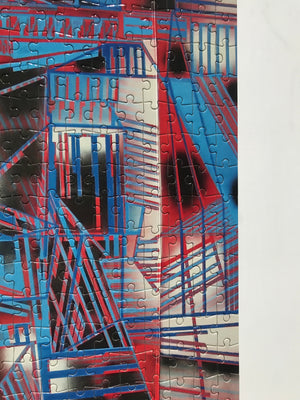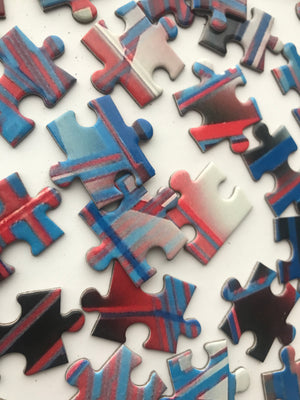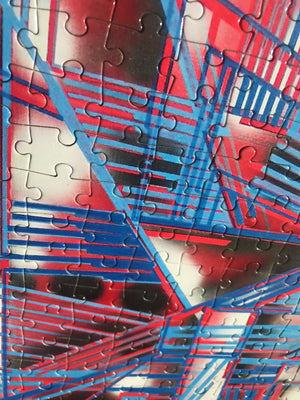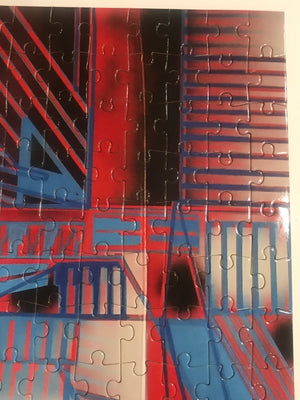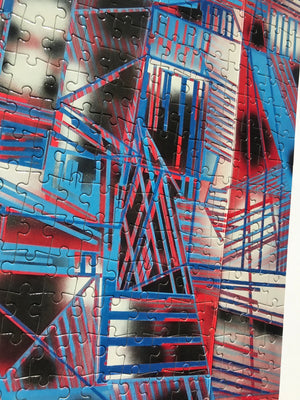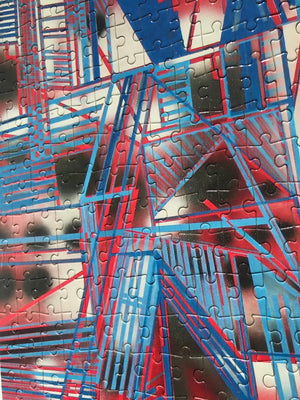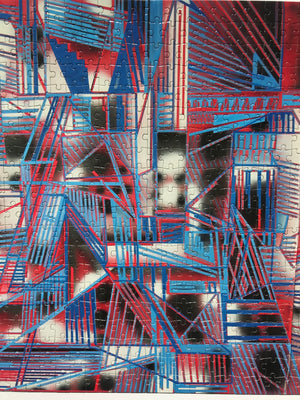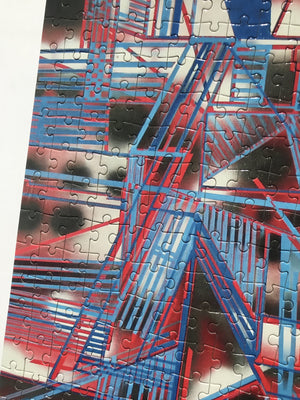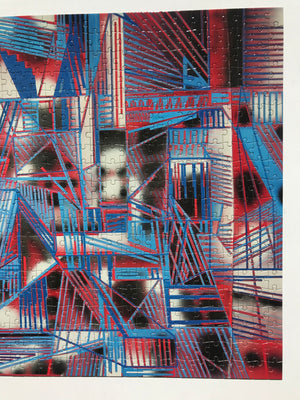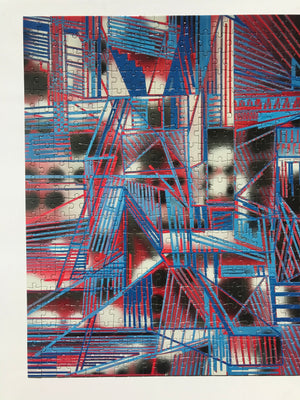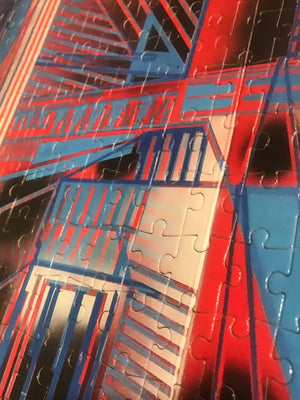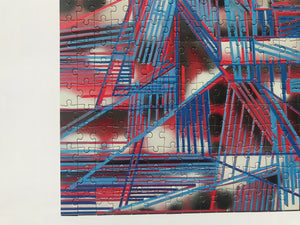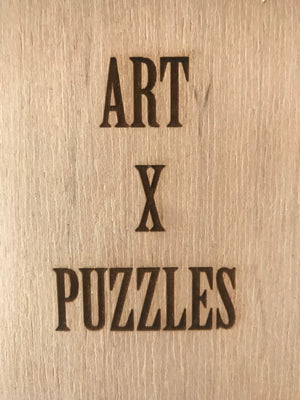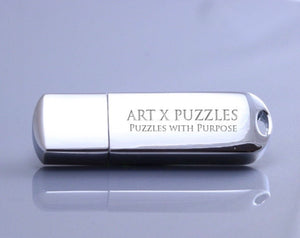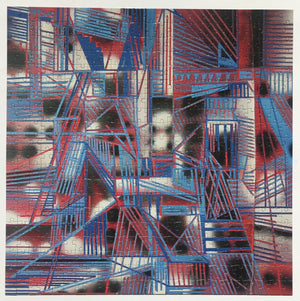 Artist Vargas-Suárez Universal Collector Edition Jigsaw Puzzle
Vargas-Suarez Universal Website 
b. 1972 Currently working between New York, Houston, Texas and Bishkek, Kyrgyz Republic in Central Asia (Kyrgyzstan).
Live Video of Jigsaw Puzzle: Click Here 
Title:Vector Assembly Sequence II
Jigsaw Puzzle Size: 19" x 19" (482.6mm x 482.6mm) Square,  500 Jigsaw Puzzle Pieces, ESKA Premium Board, Traditional Paper Jigsaw Puzzle. 

The Collector Edition arrives in a special custom-made wood box engraved with ARTXPUZZLES.
Collector Edition of 20 + 2AP
Level: Complex
Signature Details: Vector Assembly Sequence II
"This painting is an improvised composition using layers of "vectors" and shifting positive and negative space. The safety red color in the background and the two blues tones are colors used for labeling laboratory and factory safety equipment. The black and white "gaseous blobs" and amorphous shapes reference chemical reactions as well as optical phenomena associated with various states of matter." Vargas-Suarez Universal
VSU installations, wall drawings and paintings seem a result of intensive scientific-style research. To create his works–large-scale wall paintings, installations, sound-installations and drawings–the artist utilizes different materials. His wall paintings, permanent or temporary, are made on real walls or their photographic reproductions.  The artist paints and draws on pictures of buildings and fashion models, surfaces which are otherwise difficult to obtain as a canvas.
Click Articles: 
Vargas-Suárez Universal-Cosmodrome Vectors, A Trip to Baikonur with Vermeer By Ekaterina Rietz-Rakul and Steve Schepens | ARTPULSE Magazine
Vargas-Suárez Universal by Rocío Aranda-Alvarado | BOMB MAGAZINE

Whitney Museum of Art Collection
Art in Mexico with Vargas-Suárez Universal | Sama Gazette
Artist Certificate: Each puzzle comes with an artist certificate.
Biography: Vargas-Suarez Universal is an artist currently living and working between New York; Houston, Texas and Bishkek, Kyrgyz Republic in Central Asia (Kyrgyzstan). He was born in Mexico City and raised in the Houston, Texas suburb of Clear Lake City, adjacent to the Johnson Space Center (NASA). From 1991 to 1996 he studied astronomy and art history at the University of Texas at Austin and moved to New York City in 1997. He is primarily known for large-scale murals, paintings, drawings, and sound recordings. He sources American, Russian, European, Canadian and Japanese spaceflight programs, astronomy, and aerospace architecture to create commissioned, studio-based and public artworks for museums, galleries, private and public spaces. Vargas-Suarez has conducted post-studio research at NASA Ames Research Center, Mountain View, CA; Arecibo Observatory, Puerto Rico, Kennedy Space Center, Cape Canaveral, FL; Johnson Space Center, Houston, TX; Gagarin Cosmonaut Training Center, Korolyov (Moscow), Russia; and the Baikonur Cosmodrome in Kazakhstan. His writings have been published by Right Brain Words, New York; Edizioni Charta, Milano and The MIT Press, Cambridge, MA.
Selected collections include: The Museum of Modern Art Library, Whitney Museum of American Art, El Museo del Barrio, Queens Museum of Art, Brooklyn  Museum of Art, Dieu Donne Papermill, Inc. Archives (all in New York); Jersey City Museum, NJ; Rhode Island School of Design Museum of Art, RI; Baltimore Museum of Art, MD; Mexic-Arte Museum, Austin,TX; Palazzo delle Papesse Centro Arte Contemporanea, Siena, Italy; Centro Atlantico de Arte Moderno (CAAM), Las Palmas de Gran Canaria, Spain; DA2 (Domus Artium, 2002) Salamanca, Spain; Museo de Arte Contemporáneo de Castilla y León (MUSAC), León, Spain, Winzavod Contemporary Art Centre, Moscow, Russian Federation, JPMorgan Chase Art Collection and the UBS Art Collection.