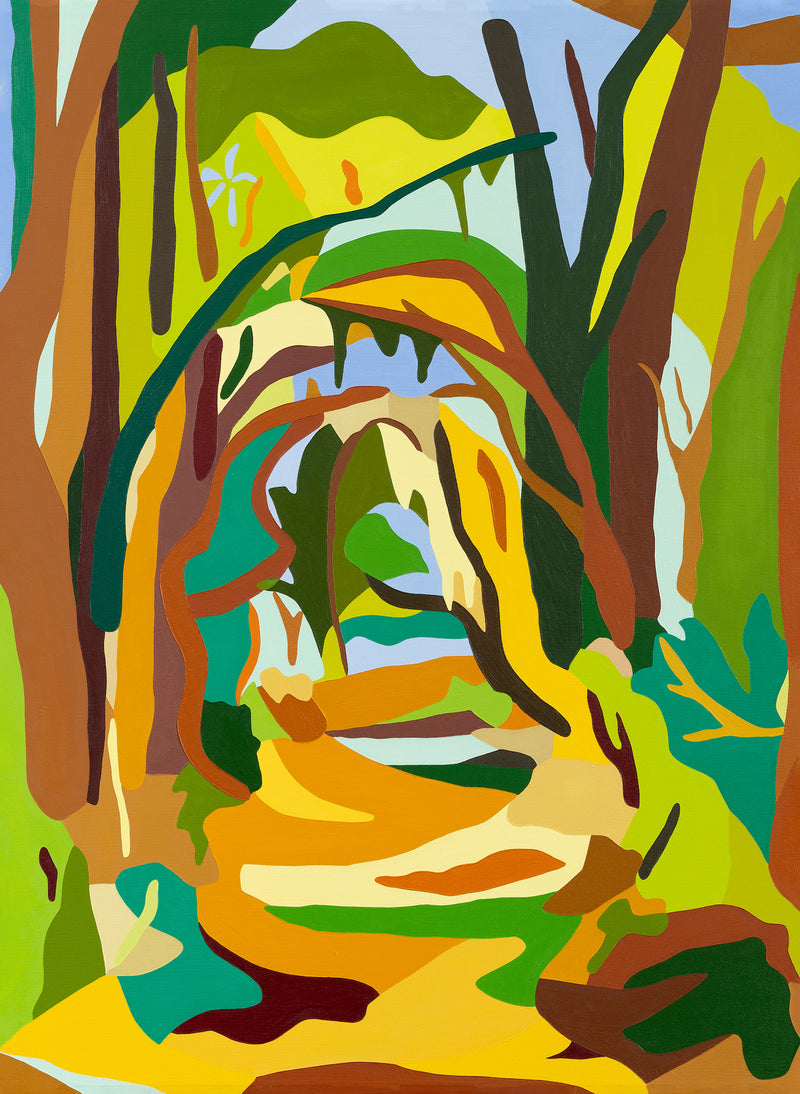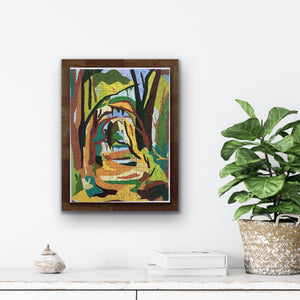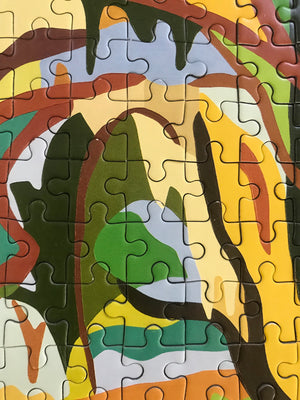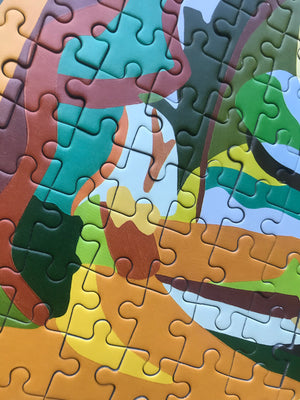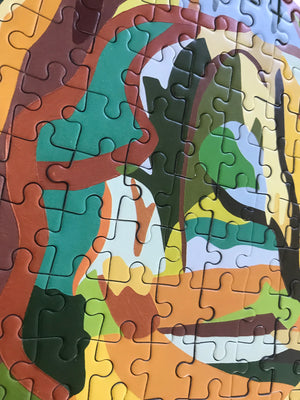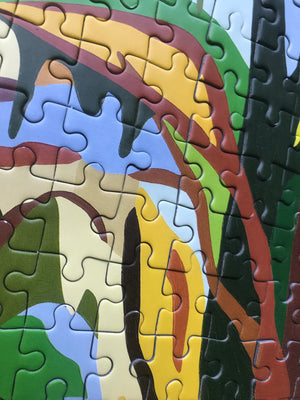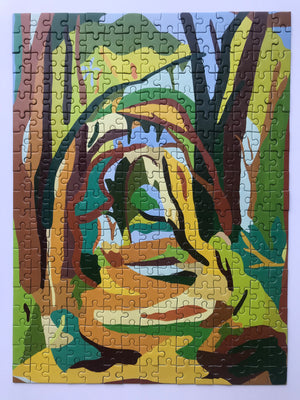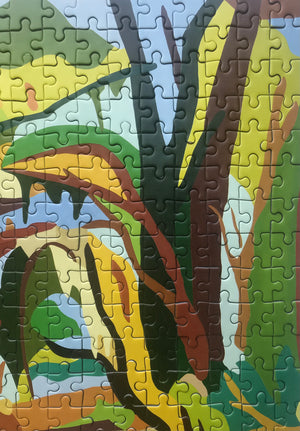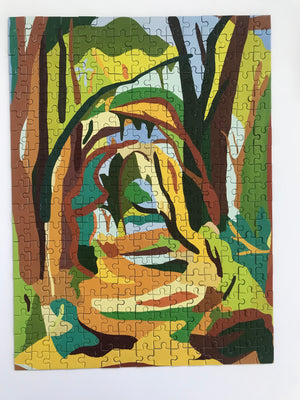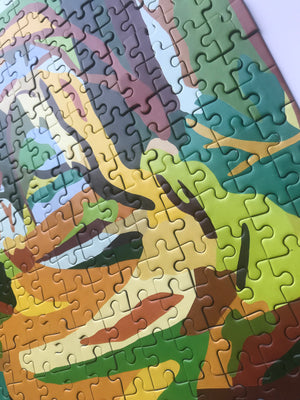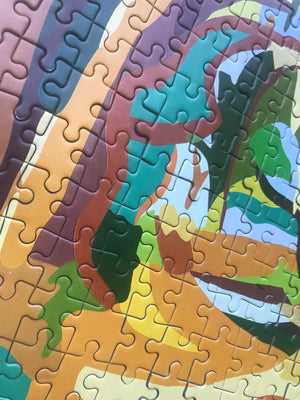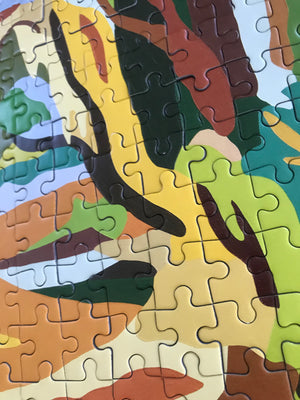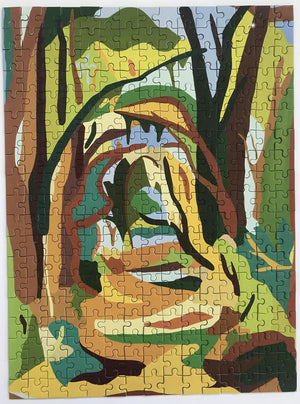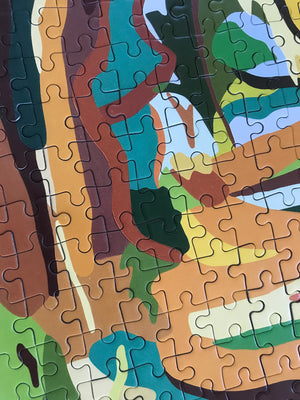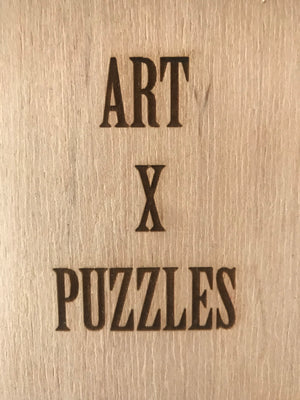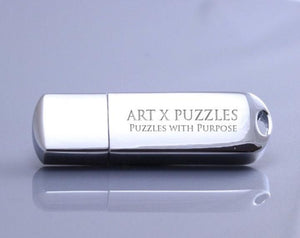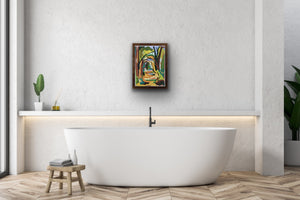 Artist Tessa Perutz Collector Edition Jigsaw Puzzle X Verbier 3-D Foundation
b. 1988, Chicago, lives and works in Brussels and New York 
Title: Path at Eucalyptus Trail #2 (Redwood Regional Forest, Oakland, CA)
Live Video of Jigsaw Puzzle: Click Here 
Jigsaw Puzzle Size: (Horizontal) 12" x 16.5" (310mm x 418mm) 285 Jigsaw Puzzle Pieces, ESKA Premium Board. FSC 100% Recycled Paper, Magnetic Layer.
This Collector Edition arrives with a Pre-Assembled Option and separated onto 2 cardboard squares. The AXP Collector Editions comes ready to slide together for a complete instant puzzle and/or to be broken down for puzzling fun and/or framing! 
Magnetic Quality: This extremely well-made puzzle has cleverly incorporated a very thin layer of material with gentle magnetic properties underneath all the pieces, allowing the puzzles to be more stable and secure as the puzzler puts them together.
Collector Edition of 10 + 2AP
Level: Challenging
Signature Details: Path at Eucalyptus Trail #2 (Redwood Regional Forest, Oakland, CA), 2020 oil on canvas 100 x 80 cm 39.5 x 31.5 in
Tessa Perutz's artworks function as psychological landscapes, touring the fields and valleys of the earth as well as the inner mind. Her works are a testimony to spontaneous exploration: pinpointed with anecdotes, hasty jottings and existential ponderings, Perutz' oeuvre is shaped by processes of conceptualization and intuition, organically intertwining & informing one another. A recent shift has been made into exploring the body itself as a landscape, depicting human curvature in mirroring the earth's natural peaks and valleys. But instead of the female figure, so often depicted in the history of art making by male artists, the gaze is shifted to the male form. This is a female-forward contribution to realigning male-driven historical trajectories.
The joining of traditional landscape painting with a contemporary formality proves to be a powerful combination in Perutz's work. The works are highly aware on a historical level but also emotionally free in a contemporary sense.
 Click Articles: 
Tessa Perutz: ARTFORUM

Tessa Perutz: MAAKE Magazine
Brussels emerges as Europe's epicenter of contemporary art by Ceil Miller Bouchet | Washington Post
Chicago-Born Artist Tessa Perutz Paints People as if They were Lush Landscapes- See Here Otherwordly Work Here by Caroline Goldstein ARTNET
Verbier 3-D Foundation Capsule Collection: Click Here
Artist Certificate: Each puzzle comes with an artist certificate.
Biography: Tessa Perutz received her BFA from The School of the Art Institute of Chicago and now lives & works in Brussels and New York. Recent solo exhibitions include "Tessa Perutz" at Fiebach Minniger, Cologne; "Chateau de Sable" at Baronian Xippas, Brussels; "Homme Allongé" at Ballon Rouge Club, Brussels; "Jardin du Midi" at Marie-Laure Fleisch, Brussels; "La Lune Lavande" at Stems Gallery, Brussels; "Sans Souci" at Verbier 3-D Foundation, Verbier, CH; "Karma Solaire" at Pablo's Birthday, New York. Recent group exhibitions include The Drawing Center, New York, The Museum of Contemporary Art Antwerp; Atlanta Contemporary; Jack Hanley Gallery, New York; Museum of Contemporary Art Detroit; Milk Studios, New York; among others. Press includes features in Artforum, The Washington Post, Modern Painters, ArtInfo, Milk Magazine, and Hart Magazine.