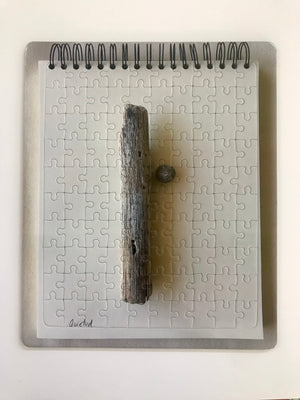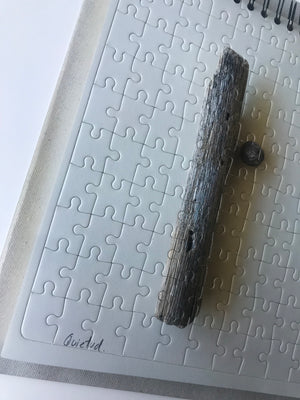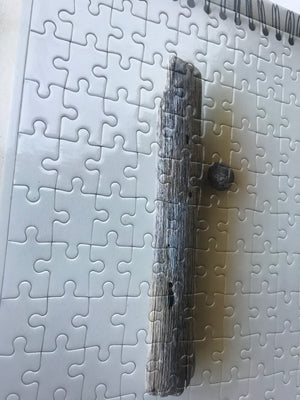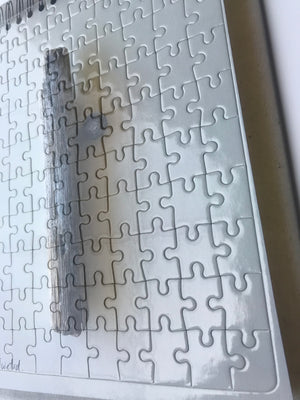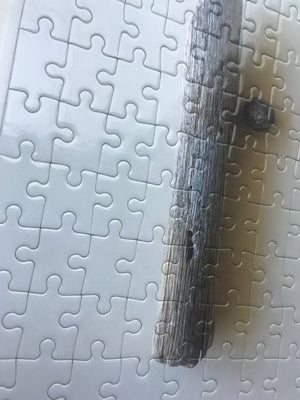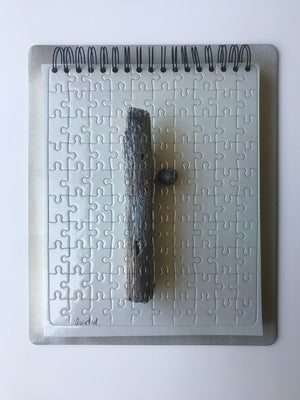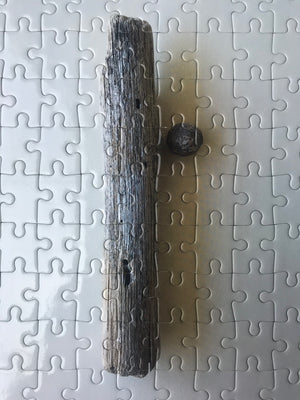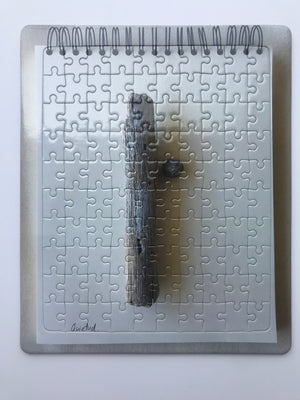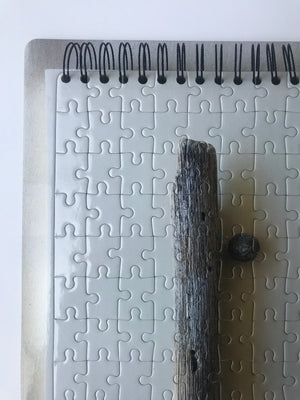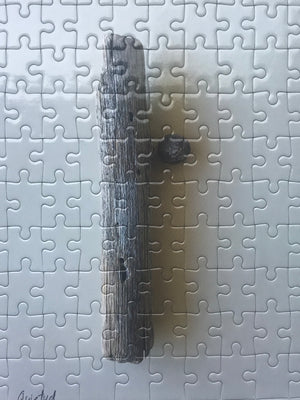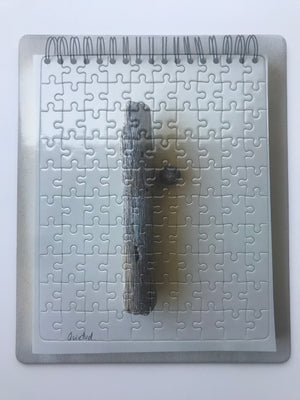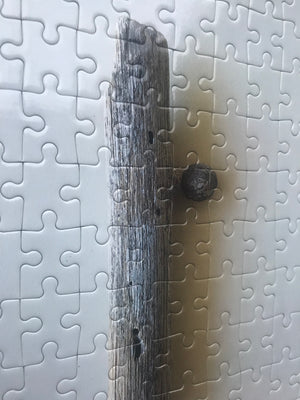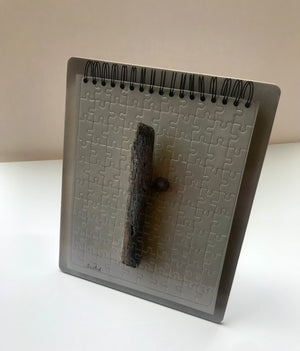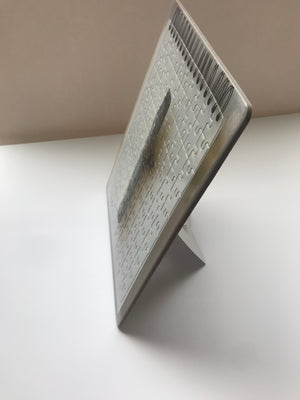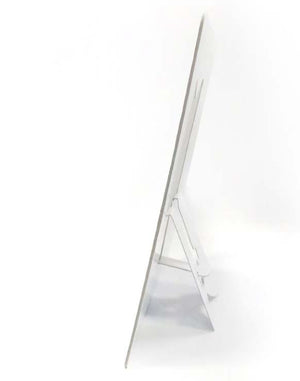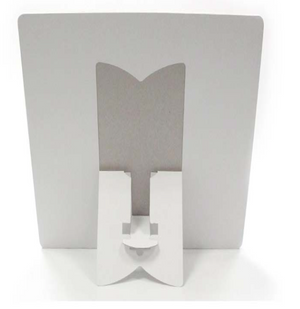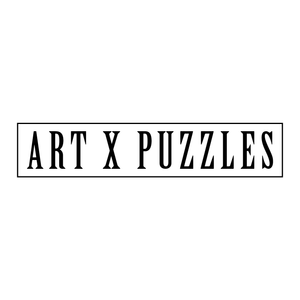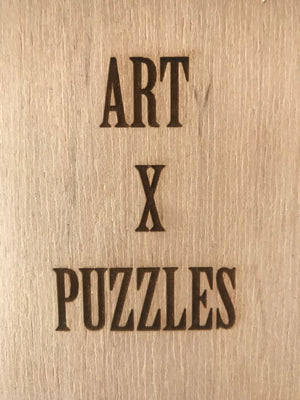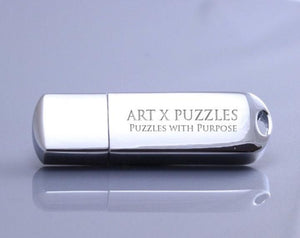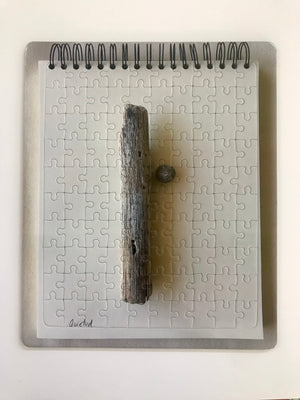 Artist Tania Candiani Collector Edition Jigsaw Puzzle
b.1974 Mexico, currently living and working in Mexico 
Title: Quietud. Pictogramas
Live Video of Jigsaw Puzzle: Click Here
Jigsaw Puzzle Size: 10" x 8" (254mm x 203mm), Puzzle frame with stand measures 3/4" (20mm) in width, 100 Jigsaw Puzzle Pieces, ESKA Premium Board, FSC 100% Recycled Paper. Gloss Finish.
Collector Edition of 10 

Level: Challenging
Signature Details: Original Artwork:  Quietud. Pictogramas Medium: Mixed Media Year: 2017
Tania Candiani's artistic practice spans sculpture, sound, film and performance to examine innovations of the past and present. Often responding to specific sites and local histories, she reanimates forgotten narratives, protagonists, and material traditions in order to honor the human labor invested in social change, and to poetically call for a more just and inclusive future. For the past two decades, she has focused on examining the breakthroughs and failures of dominant cultural, economic, scientific, and technological structures. Whether commenting on US-Mexico border law, gender inequality, scientific theory, or workers' rights, she creates objects and actions that provoke empathy, critical nostalgia, and reflection on the commodification of time, land, and labor.
The work of Tania Candiani has been developed in various media and practices that maintain interest in the complex intersection between phonetic, graphic, linguistic, symbolic, and technological languages. She has worked with different association narratives from rearranging, remixing, and playing with correspondences between technology, knowledge, and thought, using the idea of ​​organization and reorganization as discourse, and critical thinking and empirical research as material for production.
Tania Candiani's work has explored various lines and social phenomena that link aesthetics and language. 
Click Articles:
Tania Candiani | Frieze 
John Simon Guggenheim Foundation: Tania Candiani
Tania Candiani " I am intrigued about how science's vision carries idea of collective futures" | Collide Interviews
Omar Lopez-Chahoud Curator Choice Capsule Collection
Artist Certificate: Each puzzle comes with an artist certificate.
Biography: The translation between diverse systems of representation is key in the materialization of her body of work. Candiani has created interdisciplinary working groups in various fields, consolidating intersections between art, design, literature, music, architecture, and science, with an emphasis on early technologies and their history in the production of knowledge. Her projects are related to crafts, labor, tradition, sound, synesthesia, rhythm, and translation. She has a special interest in projects developed for a specific site because of the precise historical-social links that they trigger. Candiani uses historical records and archives as materials, just as if it were a fabric, which leads her to intuitive forms of materialization.
She has been a fellow of the National System of Art Creators of Mexico since 2012; in 2011 she received the Guggenheim Grant for the Arts and in 2018 the Research Grant for Artists awarded by the Smithsonian Institution. Represented Mexico at the 56th Venice Biennale. Her work has been exhibited in museums, institutions, and independent spaces around the world and is part of important public and private collections. Among her books are Five variations of phonic circumstances and a pause (2014); Inhabits Intervened (2015); Possessing Nature. Pavilion of Mexico. Venice Biennale (2015) and Chromatic (2019). Member of the National System of Art Creators for the National Fund for Culture and the Arts.