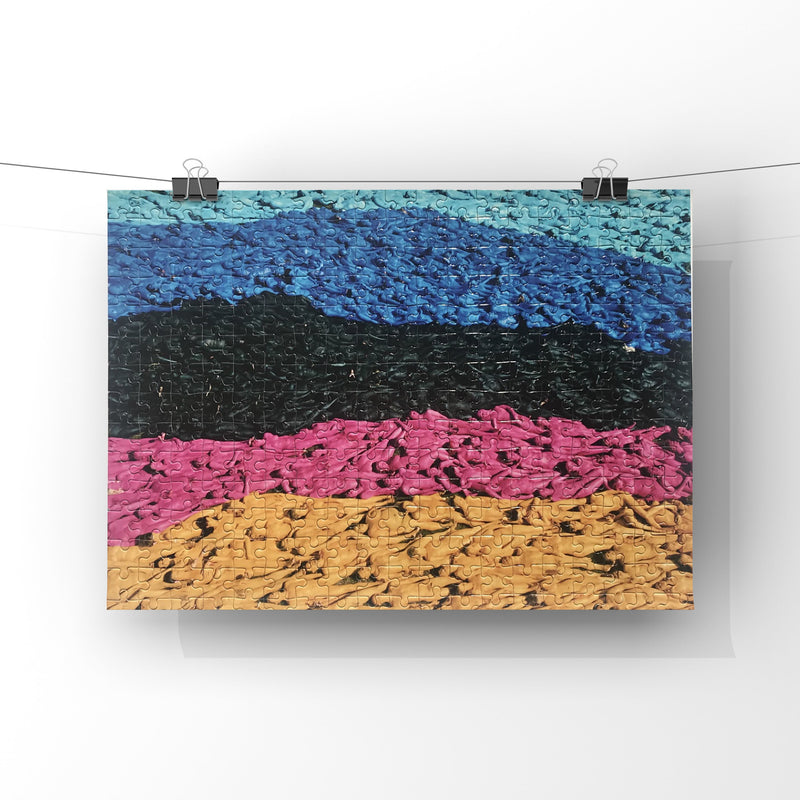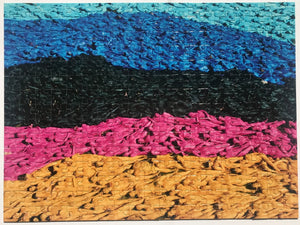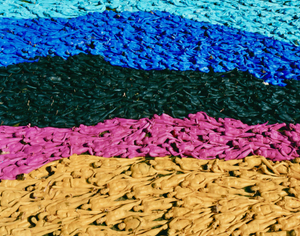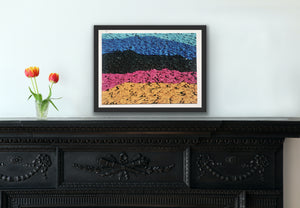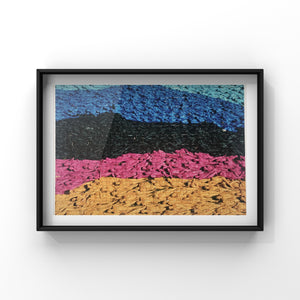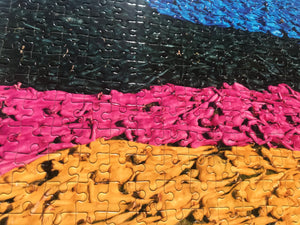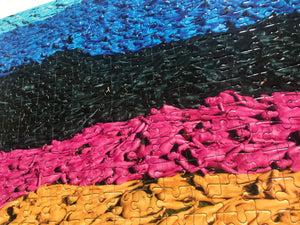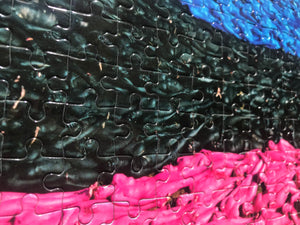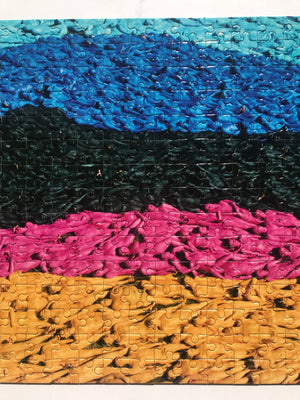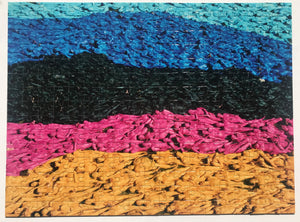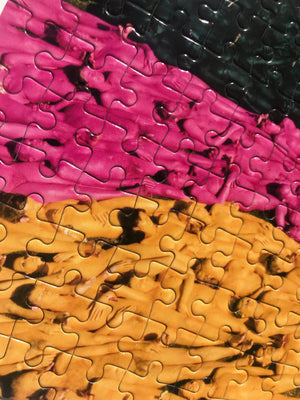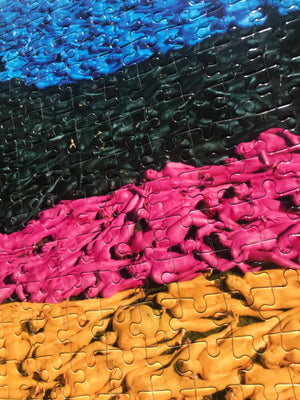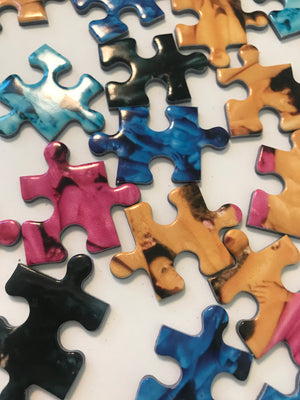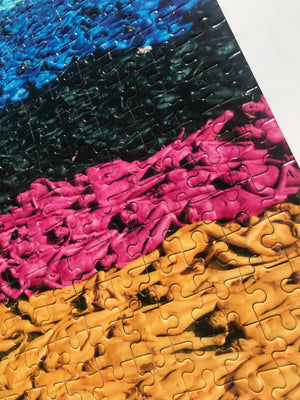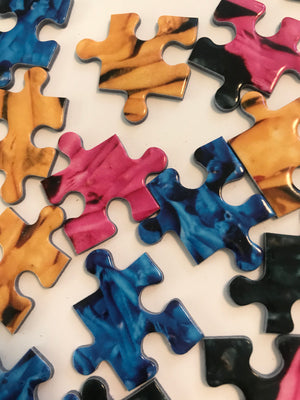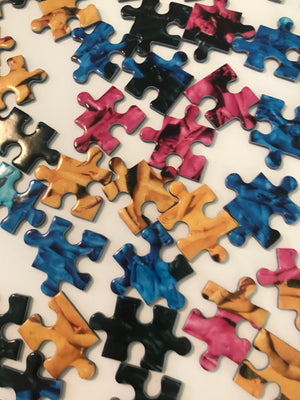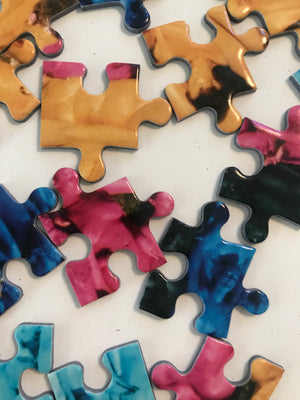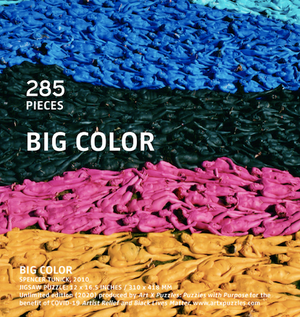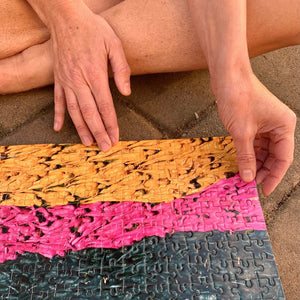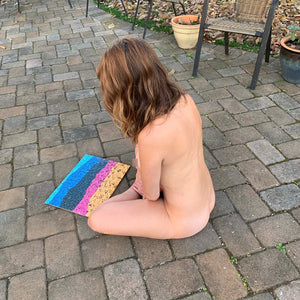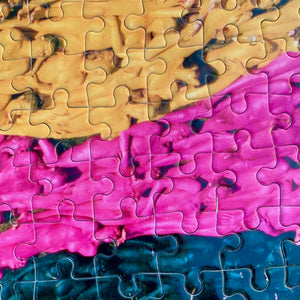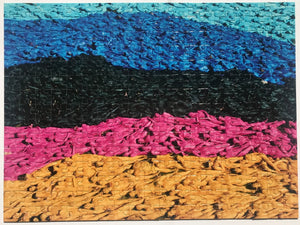 Artist Spencer Tunick Puzzle: Unlimited Collector Edition Jigsaw Puzzle
b.1967, lives and works in the Lower Hudson Valley, NY.
Title: Big Color
Live Video of Jigsaw Puzzle: Click Here 
Jigsaw Puzzle Size: (Horizontal) 12"x 16.5" (310mm x 418mm) 285 Jigsaw Puzzle Pieces, ESKA Premium Board, FSC 100% Recycled Paper. Gloss Finish. 
Unlimited Collector Edition (2020) produced by Art X Puzzles for the benefit of COVID-19 Relief organizations. The jigsaw puzzle arrives in a traditional cardboard puzzle box with the contemporary artwork image.
Level: Complex
Signature Details: Big color 7 (Herefordshire, England) 2010, Pigment Print  
The photograph used for the puzzle is a multitude of people covered in colored body makeup (paint).  Each person was given a small jar of paint which they then applied themselves, to their own bodies. The artist was then able to make movable human abstract paintings in a performative manner. This communal process of art-making which included the general public in the art, is very uplifting and often therapeutic to the participant. Tunick strives to create work that is informed by that understanding and continues to visually explore bodies holistically as forms of breaking barriers. 

Spencer Tunick's photographs complicates purely erotic associations of the naked body. He photographs installations of small and large groups of naked people in natural and urban landscapes, such as Times Square, the Dead Sea, and the Sydney Opera House. In 2007, The artist organized a photographic installation of more than 18,000 participants, who laid down nude in loosely organized rows, covering Mexico City's Zocalo Square and the arid deserts of Mexico. His photographs constitute impromptu social events that, in spite of the awkwardness of public nudity, encourage positive attitudes toward the naked body. Tunick has said that his work is "about the freedom to own your body." The government does not own your body. It's definitely the body being touched with the environment and the social order of things. 

Spencer Tunick, the New York-based artist known for his photographs of mass outdoor nude gatherings, hosted a one-off installation in Hull as the British city and marked 2017 year as the U.K.'s second City of Culture. The unique display was entitled Sea Of Hull, and found its inspiration from East Yorkshire city's maritime history, with participants wearing body paint—and nothing else—to resemble the colors of the sea. Hundreds of people volunteered to strip down in the name of art and paint their bodies for the one-time event. 
Click Articles: 
Spencer Tunick artistic nude shoots amid lockdown by Oscar Holland \ CNN
Behind the Scenes of a Nude Photography Project in Quarantine by Kate Storey | Esquire Magazine

Spencer Tunick Articles | The Guardian
Artist Certificate: Each puzzle comes with an artist certificate.
Biography:
Artist Spencer Tunick has been documenting the live nude figure in public, with photography and video, since 1992. Since 1994, he has organized over 100 temporary site-related installations that encompass dozens, hundreds or thousands of volunteers, and his photographs are records of these events. The individuals en masse, without their clothing, grouped together, metamorphose into a new shape. The bodies extend into and upon the landscape like a substance. Tunick stages scenes in which the battle of nature against culture is played out against various backdrops, from civic center to desert sandstorm, humans are returned to a pre-industrial, pre-everything state of existence. These group masses, which do not underscore sexuality, often become abstractions that challenge or reconfigure one's views of nudity and privacy. The work also refers to the complex issue of presenting art in permanent or temporary public spaces. More on Spencer Tunick:
Click Here