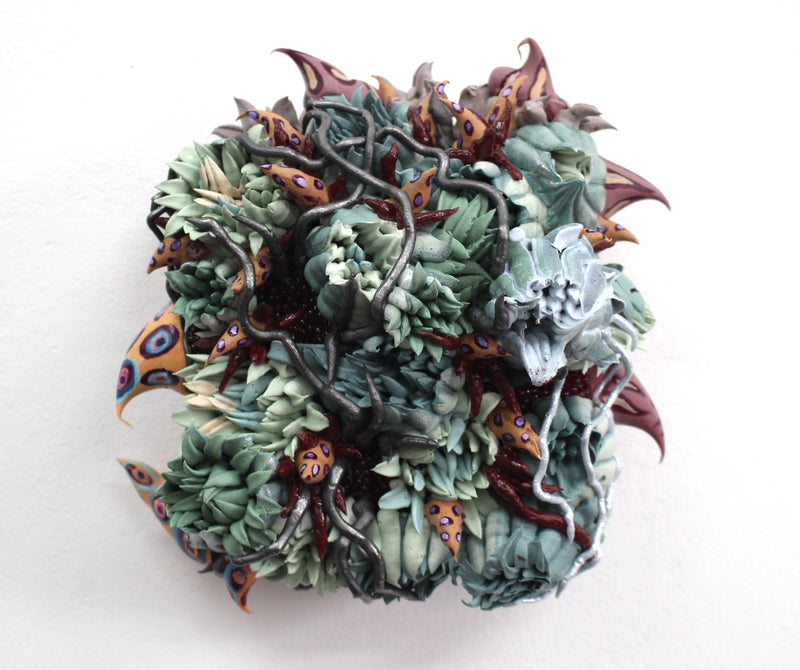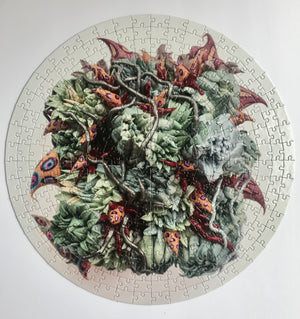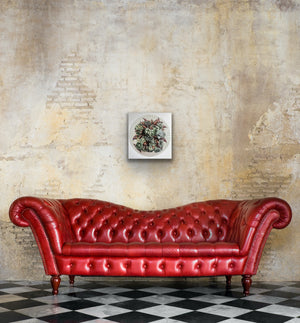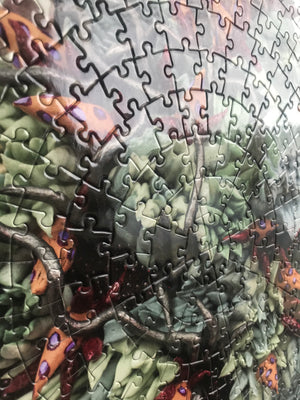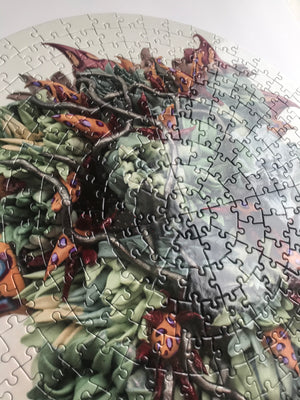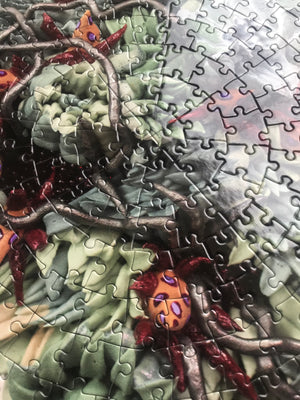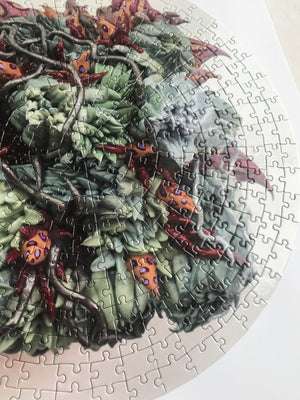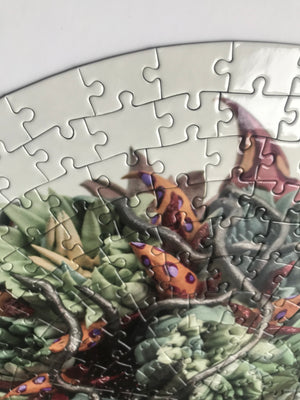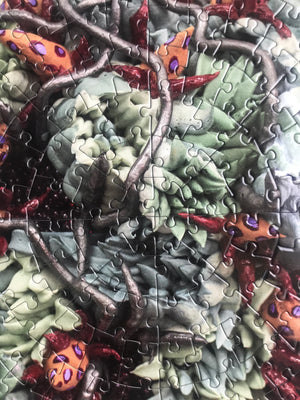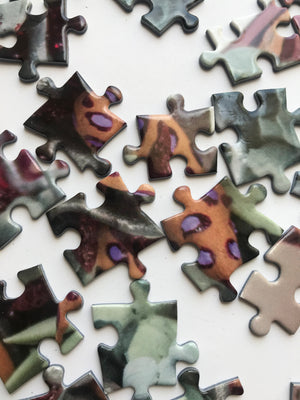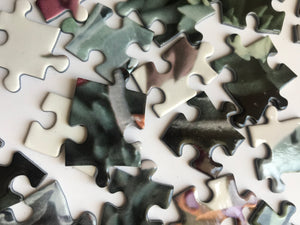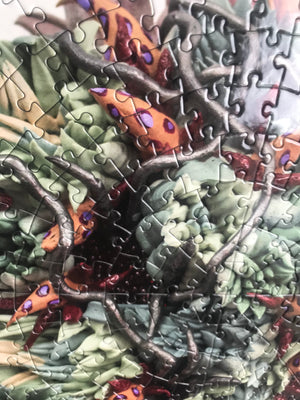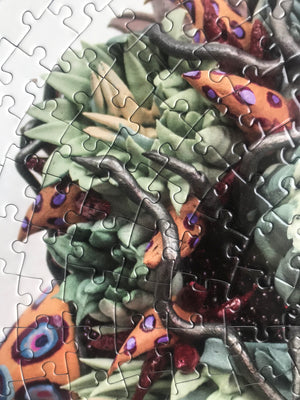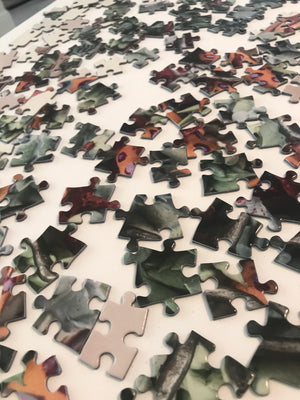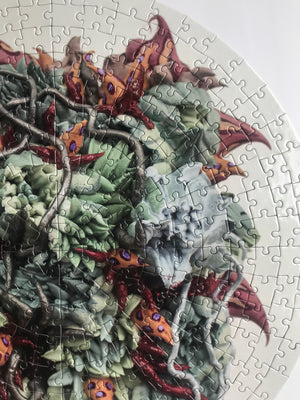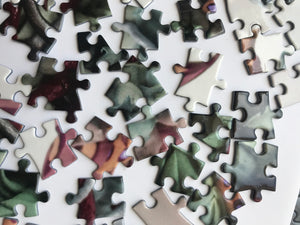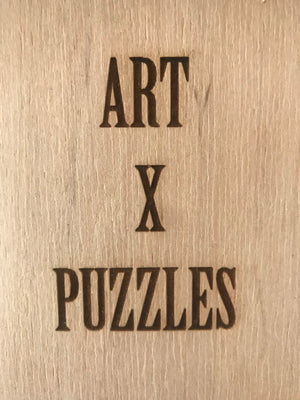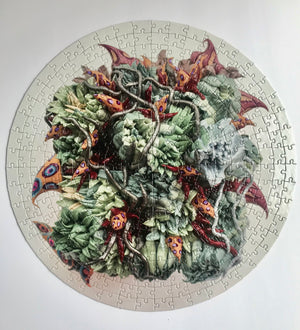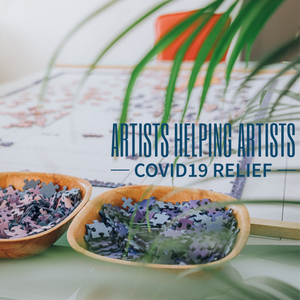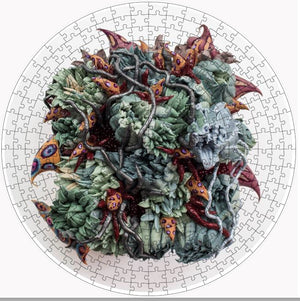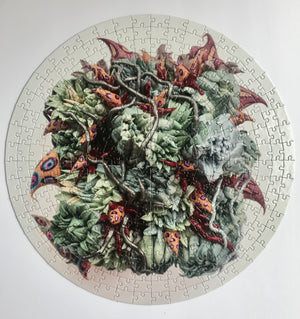 Artist Seren Morey Collector Edition Jigsaw Puzzle
b. 1969, lives and work in New York City | United States
Title: Phage, 2020

Live Video of Jigsaw Puzzle: Click Here 
Can be found on AMAZON US: Seren Morey
Jigsaw Puzzle Size: 19" Round Custom-made Jigsaw Puzzle, 300 Jigsaw Puzzle Pieces, ESKA Premium Board. FSC 100% Recycled Paper. Gloss Finish.
This Collector Edition arrives Pre-Assembled Option and separated onto 2 cardboard squares. The AXP Collector Editions comes ready to slide together for a complete instant puzzle and/or to be broken down for puzzling fun and/or framing! 
The Collector Edition arrives in a specially custom-made wood box engraved with Art X Puzzles and the Artist's Name.
Level: Fun
Collector Edition of 20 + 2AP
Signature Details: Phage, 2020, 8 x 7.5 x 5 in. Ultralight acrylic and pigment dispersions on panel.
Statement on Phage: This is a piece that involves my signature style of sculptural painting through extrusion. The title is derived from bacteriophage, a ubiquitous virus that is sometimes used as an alternative to antibiotics. My work has always been a balance of reverence and fear of nature so the appropriation of turning the virus idea into something that could be perceived as beautiful was a natural manifestation. In this new era of virus awareness, this is a piece that reflects an effort to accept and coexist with the science before us.
Click Article: Seren Morey: Growing Roses with Thorn by Etty Yaniv | Art Spiel
Seren Morey by Brainard Carey |WYBCX Yale Radio
Artist on Coping: Seren Morey | Art Spiel
Artist Certificate: Each puzzle comes with an artist certificate.
Biography:  Born in Massachusetts, Seren Morey is a contemporary visual artist that started her career as a student at Bard College in New York and went on to continue her painting education by earning an MFA from Pratt Institute in NYC. Initially an art instructor upon graduation at the Pratt Insitute, Morey became inspired in her teachings of light, color, and design. Noted for her work today in exquisite 3D painting, Morey produces art in a variety of mediums, including sculptural resin.
Interested in how emotions form neurological networks within the human body, Morey finds the flesh and bone-like qualities of her materials to be fundamental for obtaining both vulnerability and science in her creations. Inspired by biology, Morey creates artworks that include vivid self-portraits and other internal landscapes, along with topographical maps, where she aims to create a meeting point for the conscious and subconscious.
With a vision to evolve her work into biological and botanical hybrids that have a life of their own, Morey creates repetitions and patterns in her work that reflect the energy among all things mysterious, ordered, and connected found in nature and science. The result is pieces that both fascinate and shock her viewers with their intricate designs full of splendor, color, and life. Morey currently lives and works in Brooklyn, New York and is a partner in Guerra Paint and Pigment in NYC, a specialty resource store for artists.