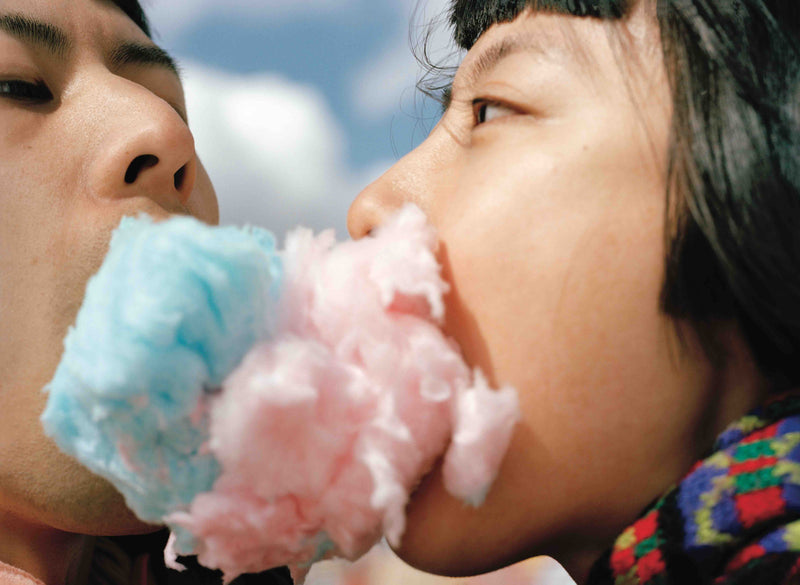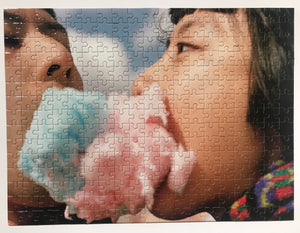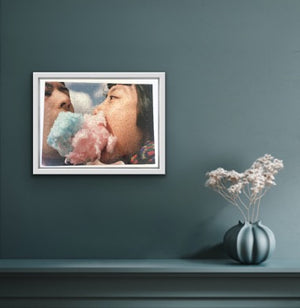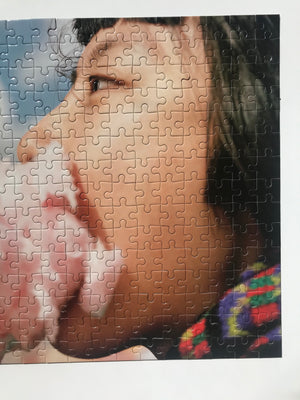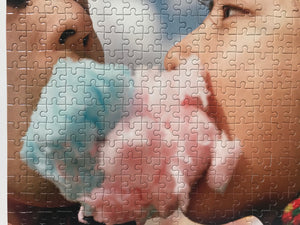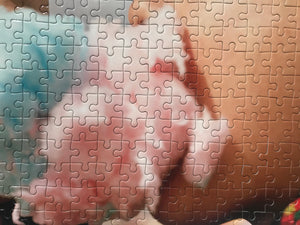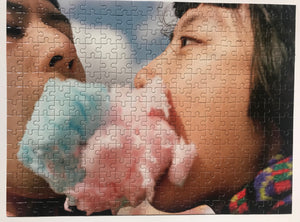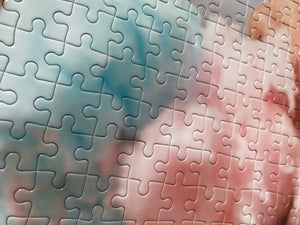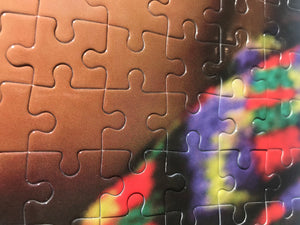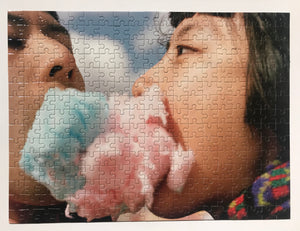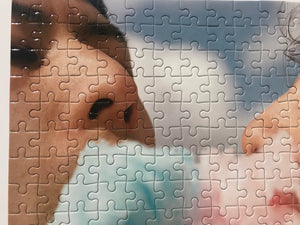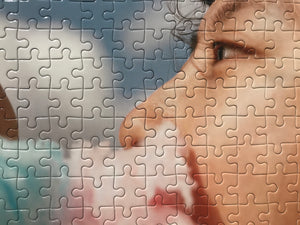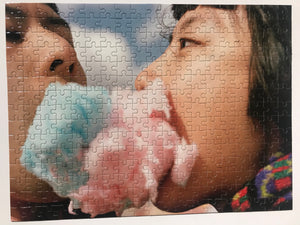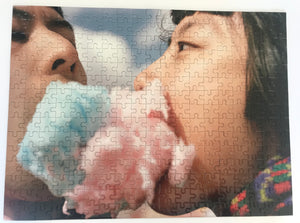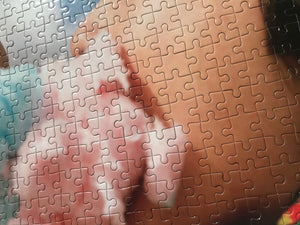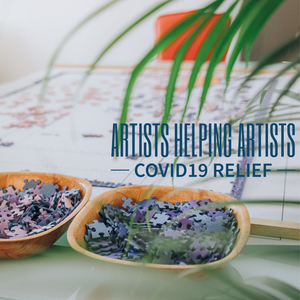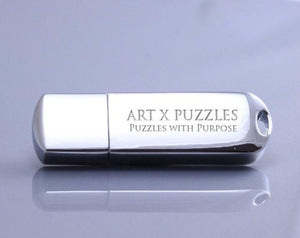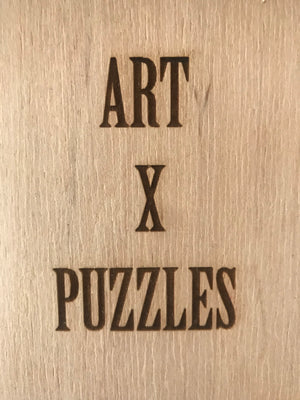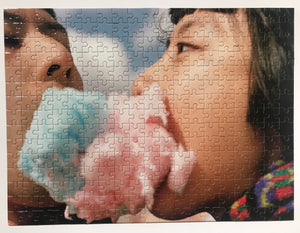 Artist Pixy Liao Collector Edition Jigsaw Puzzle
b. 1979 Shanghai, China lives and works in Brooklyn, New York. 
Title: Things We Talk About
Live Video of Jigsaw Puzzle: Click Here
Jigsaw Puzzle Size: 12"x 16.5" (310mm x 418mm), 285 Jigsaw Puzzle Pieces, ESKA Premium Board FSC 100% Recycled Paper.
This Collector Edition arrives Pre-Assembled Option and separated onto 2 cardboard squares. The AXP Collector Editions comes ready to slide together for a complete instant puzzle and/or to be broken down for puzzling fun and/or framing! 
Collector Edition of 20 + 2AP
Level: Challenging
Signature Details: Original Artwork: 'Things We Talk About', 30" x 40", c-print, 2013    
 From the series "Experimental Relationship (2007- Now)

"I started the long-term project "Experimental Relationship" in 2007, one year after dating my partner Moro. For me, this project is a notebook on my thought about heterosexual relationships based on my own life. What interests me is how to create different images through our collaboration." – Pixy Liao
我的长期项目"实验关系"是从2007年,我和我的伴侣MORO开始约会之后开始的。 对我来说,这个项目是以我自己生活为原型进行的关于异性恋关系的笔记。 我感兴趣的是如何通过我们两个人的合作来创建不同的图像。
Experimental Relationship (2007- Now)
"As a woman brought up in China, I used to think I could only love someone who is older and more mature than me, who can be my protector and mentor. Then I met my current boyfriend, Moro. Since he is 5 years younger than me, I felt that the whole concept of relationships changed, all the way around. I became a person who has more authority & power. One of my male friends even questioned how I could choose a boyfriend the way a man would choose a girlfriend. And I thought, "Damn right. That's exactly what I'm doing, & why not!" I started to experiment with this relationship. I would set up all kinds of situations for Moro and me to perform in the photos. My photos explore the alternative possibilities of heterosexual relationships. They question what is the norm of heterosexual relationships. What will happen if man & woman exchange their roles of sex & roles of power? Because my boyfriend is Japanese, and I am Chinese, this project also describes a love and hate relationship. This project is an ongoing project which grows with our real relationship but is never meant to be documentation." Pixy Liao Website
"Pixy Yijun Liao's body of artistic work straddles the line between the personal and the public arenas and sparkles with wit and humor. As well as producing a broad range of sculptures and performance videos, Liao uses her photographic skills to call into question the common perception of a number of modern concepts, such as the nature of " the couple," "the artist," and the "female experience." Liao draws inspiration from experiences taken from her own life and features herself and people from her inner circle – for example, her partner, who is part of the long-term project Experimental Relationship (2007- now) - to produce her meticulously-arranged signature images. These are often full of fun and frivolity, but can also border on dark. Liao's work has been inspired by the New American Color Photography of the 20th century, and her curiosity drives her to re-examine hierarchy and gender identity within relationships, as well as the multicultural societies and communities which are part of her own life."BRIC Arts Media
Megan Connolly Curator Choice Capsule Collection
Click Articles:
Experimental Material: Desire and Intimacy in the Work of Pixy Liao, Luise Guest Yishu: | Journal of Contemporary Chinese Art
 6 Photographers to Look Out For at the Arles Festival, Daphné Anglès | New York Times
 'I was much more dominant': Pixy Liao's surreal photography disrupts relationship stereotypes, Christina Catherine Martinez | CNN
Artist Certificate: Each puzzle comes with an artist certificate.
Biography:
Pixy Liao was born 1979 in Shanghai and currently lives in Brooklyn. She is the recipient of an NYFA Fellowship in photography, Santo Foundation Individual Artist Awards, Jimei x Arles International Photo Festival Madame Figaro Women Photographers Award, En Foco's New Works Fellowship and LensCulture Exposure Awards, etc. She has done artist residencies at Light Work, Lower Manhattan Cultural Council, Center for Photography at Woodstock, University of Arts London, School of Visual Arts,  Pioneer Works, and Camera Club of New York.
Liao has participated in exhibitions and performances internationally, including the Rencontres d'Arles in Arles (France); Asia Society (Houston); National Gallery of Australia (Sydney); the Museum of Sex (New York); and UCCA Center for Contemporary Art (Beijing). Liao holds an MFA in photography from the University of Memphis.