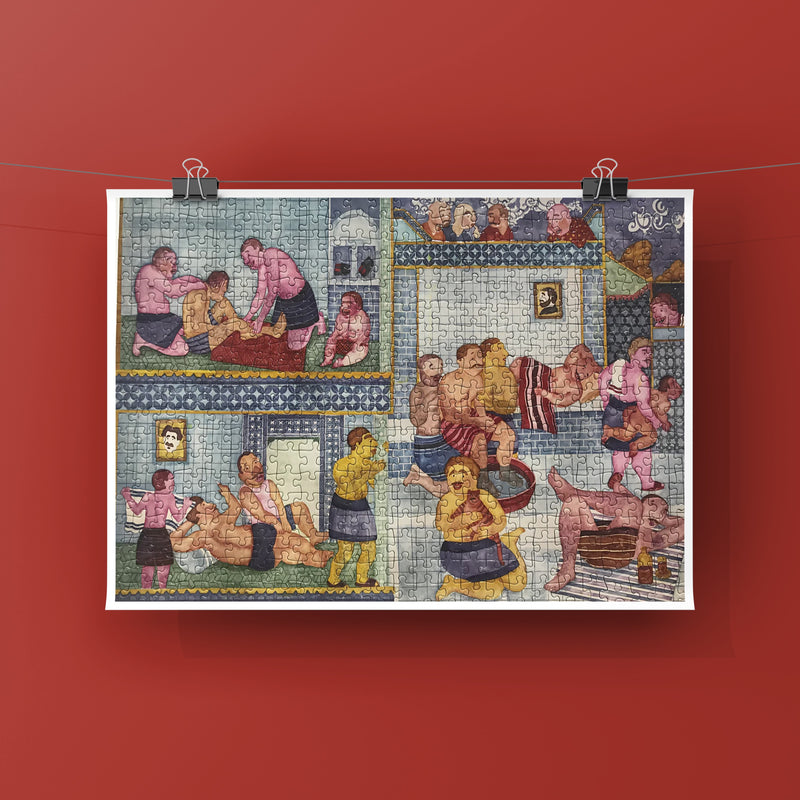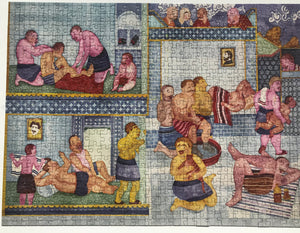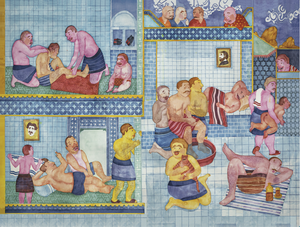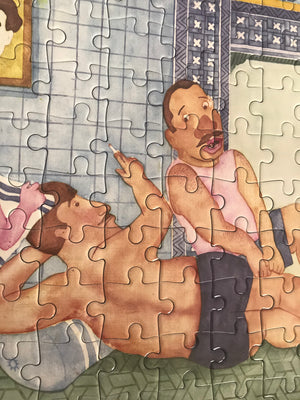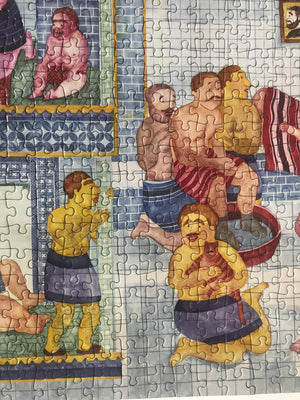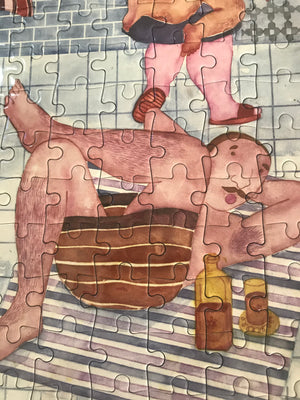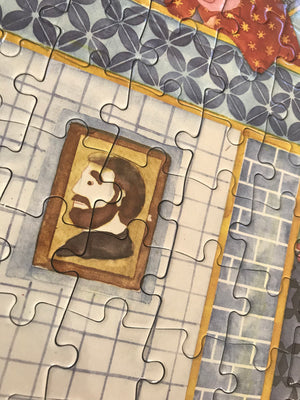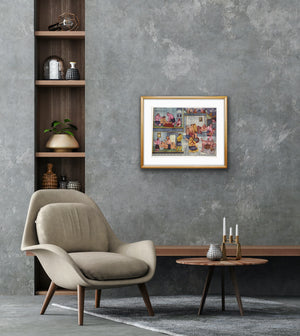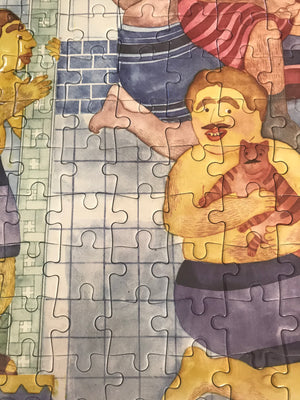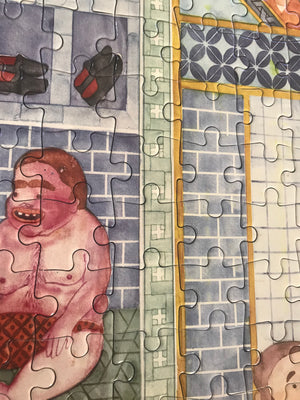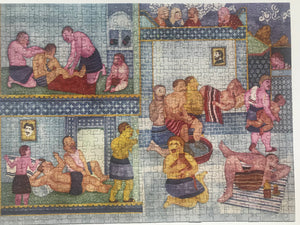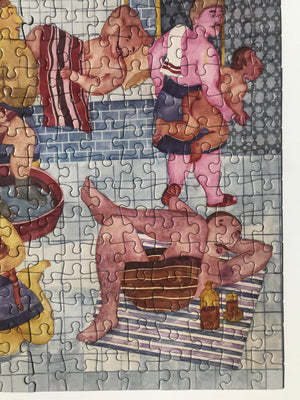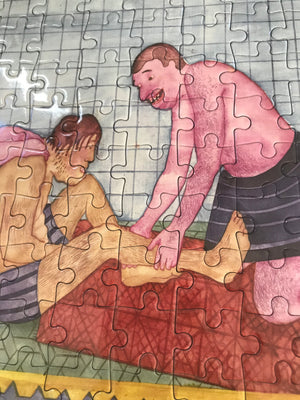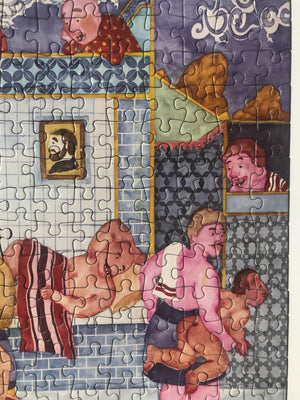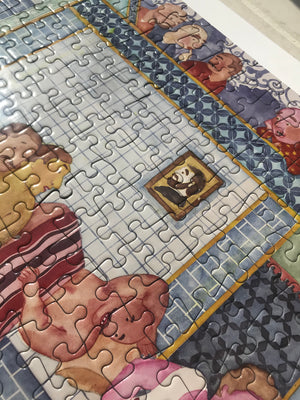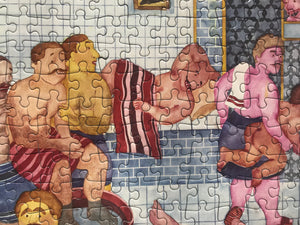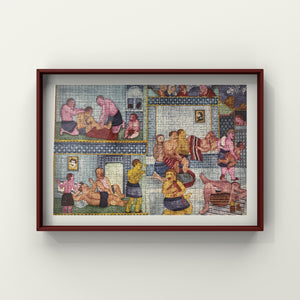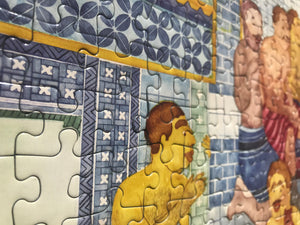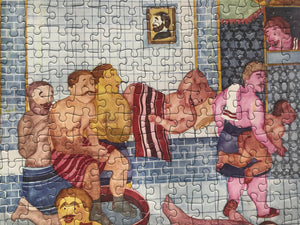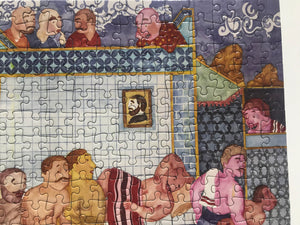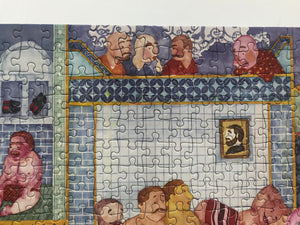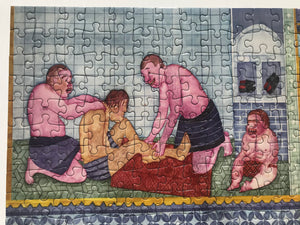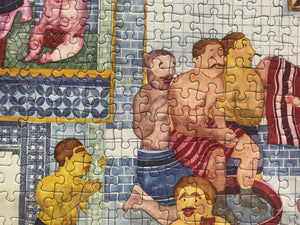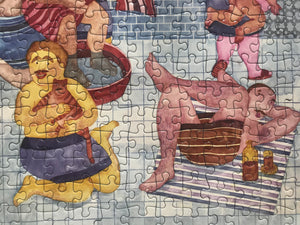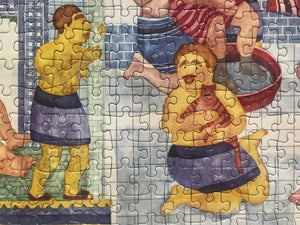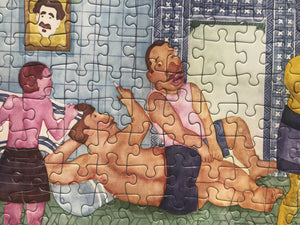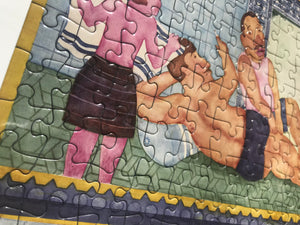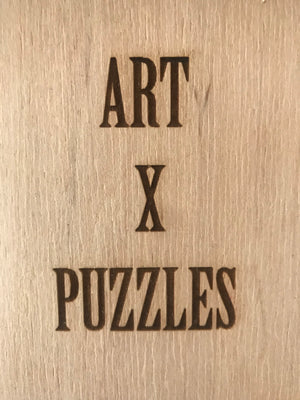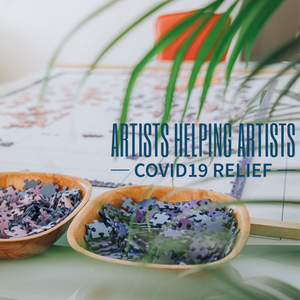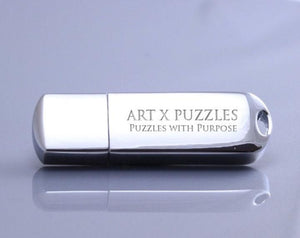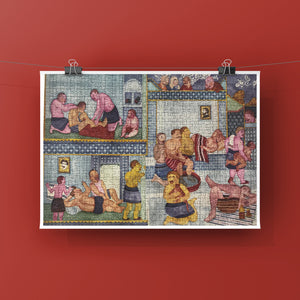 Artist Orkideh Torabi Collector Edition Jigsaw Puzzle
As seen as the MCA Chicago Museum Store!
b. 1979 Iran, live and works in Chicago.
There is one framed edition left!
Title: Peach House's 5 Bucks Morning Special

Jigsaw Puzzle Size: 18"x 24" (457mm×610mm) 500 Jigsaw Puzzle Pieces, ESKA Premium Board. FSC 100% Recycled Paper. ! 
Collector Edition of 20 + 2AP
Level: Complex
Signature Details: Original Artwork Peach House's 5 Bucks Morning Special" 2020, Fabric dye on stretched cotton 85" x 54" in.
Credits: Courtesy of the artist and Western Exhibition Gallery 
Orkideh Torabi's work features a bathhouse scene in which men have gathered to socially interact with one another. The characters that feature in her work are inspired by the people she encountered during her upbringing in Iran. The painting appears in a split-scene style that replicates the form of Persian miniature painting, which frequently positioned views of interior and exterior spaces side by side. In this painting Torabi depicting men in the given scene looking through windows or into alternative areas of the bathhouse while some of them are relaxing, getting massages, and gossiping. The title features the word "peach." In Farsi, people use this term to refer to a young and attractive woman.
Torabi is not interested in representing women as victims. She, instead, employs a storytelling approach to mindfully depict the men in amusing positions and settings as a means of rebalancing the power dynamic that characterizes patriarchal societies. Her paintings of men delve into topics related to aspects such as gender-based power dynamics and freedom of expression. 
Megan Connolly Curator Choice Capsule Collection
Click Articles:
MCA Chicago Atrium Project  (For this exhibition, in which her work is presented at a larger scale than it has been before, Torabi's work on cotton fabric has been transferred to vinyl.)
Orkideh Torabi Emerging Artists by Galerie Editors | Galerie Magazine
In her paintings, the glorious awkwardness of men failing to have fun by David Pagel | LATIMES
Toxic Masculinity Get a Makeover Courtesy of Iranian Artist Orkideh Torabi by Louise Benson | ELEPHANT MAGAZINE
How Iranian Painter Orkideh Torabi Found Her Voice by Molly Elizalde | Lenny Letters
Orkideh Torabi's Latest Solo Show Laughs at Patriarchy |JUXTAPOZ

Artist Certificate: Each puzzle comes with an artist certificate.
Biography: Orkideh Torabi imagines herself as a director who, through her paintings, seeks to rebalance patriarchal societies using humor. Rendered with clown-like expressions, bulbous features, unnatural skin hues, and tacked-on mustaches, her unabashedly humorous paintings imbue the protagonists with an emasculated and clown-like state of being. She juxtaposes her cartoonish images of contemporary men against vivid patterns that are influenced by Persian miniatures, small yet highly detailed illustrations that have been an integral part of Iranian culture for centuries. In doing so, Torabi makes explicit that the past and present become interwoven. Using fabric dye on cotton fabric through an idiosyncratic transfer process that generates saturated surfaces, Torabi's paintings have a batik or watercolor-like fluidity in which her men revel. 
Orkideh Torabi (b. 1979, Tehran, Iran) received her MFA from the School of the Art Institute of Chicago in 2016 and she received her MA and BA from The University of Art in Tehran. Torabi's solo shows include Western Exhibitions, Chicago, Horton Gallery, New York, Richard Heller, Los Angeles. She's been included in group shows at Fredericks & Freiser, New York, Nino Mier Gallery, Los Angeles and Andrew Rafacz Gallery, Chicago. She was a top nominee for Galerie Magazine's "Emerging Artist Award" in 2019 and her work has been written about in the Los Angeles Times, Juxtapoz, Hyperallergic and Chicago Reader Magazine. Her work is the collections of The Smart Museum in Chicago, Hall Art Foundation in Vermont, CC Foundation in Shanghai, The Progressive Art Collection and The Microsoft Art Collection in Redmond, WA. Torabi lives and works in Chicago. 
ARTIST CHARITY CHOICE: Animal Welfare Institute