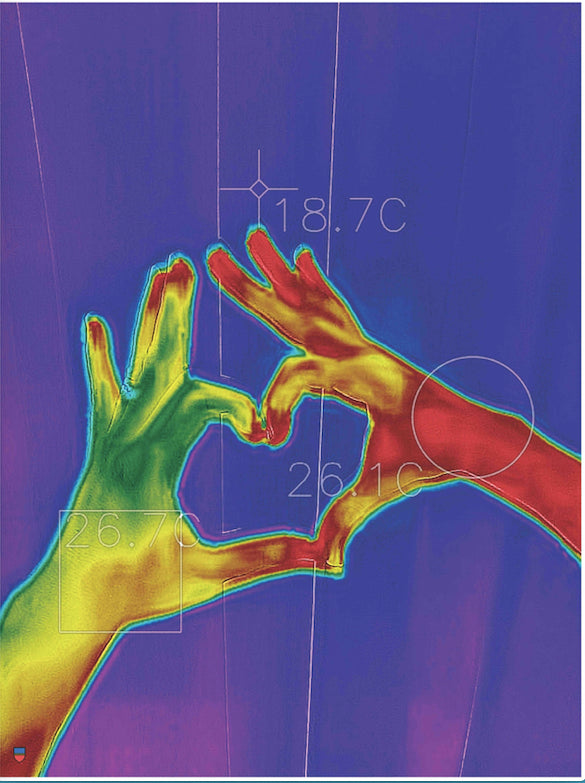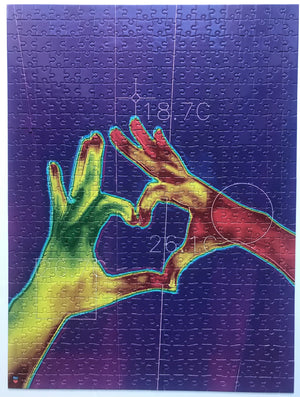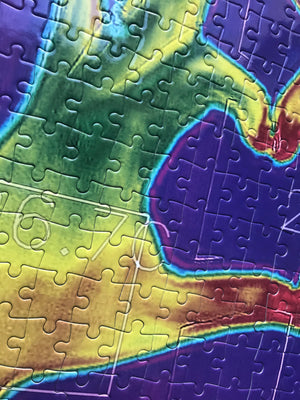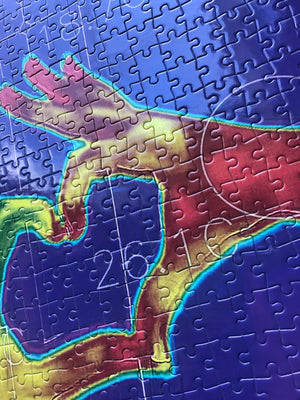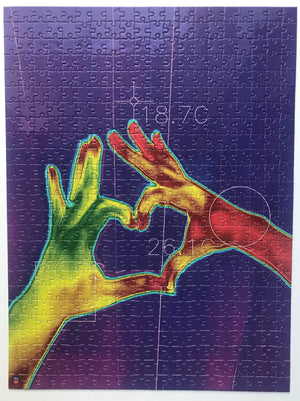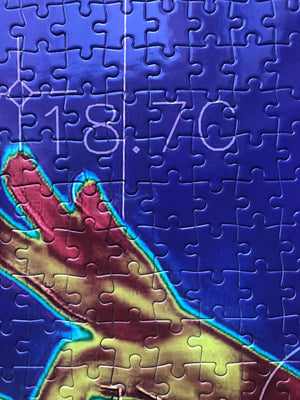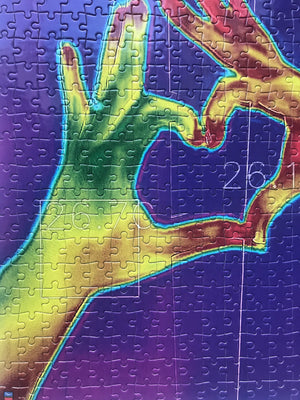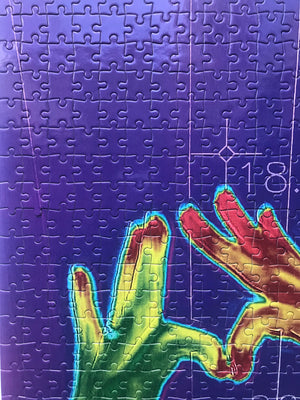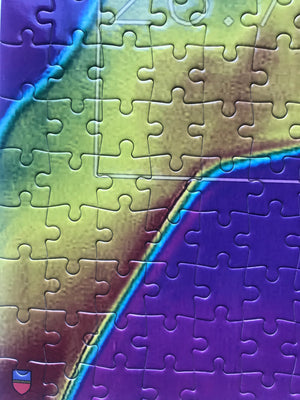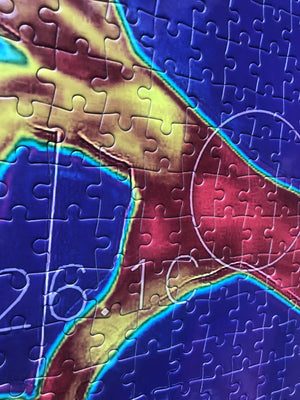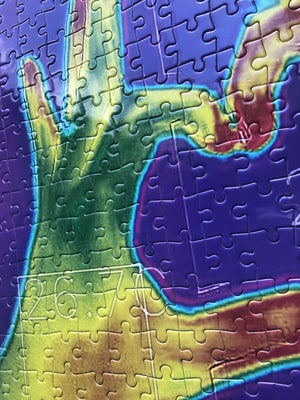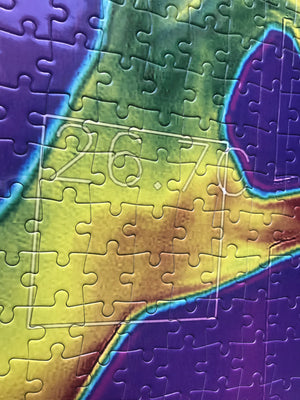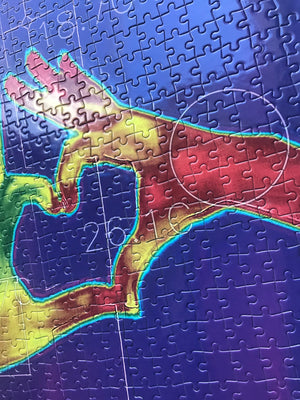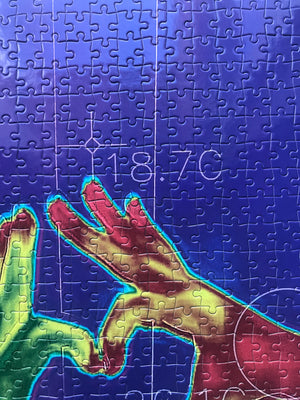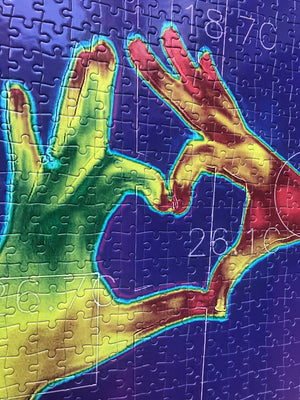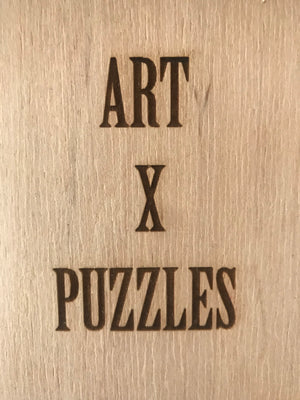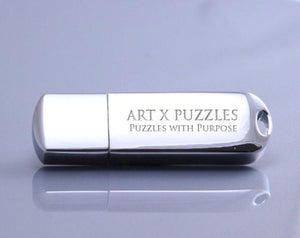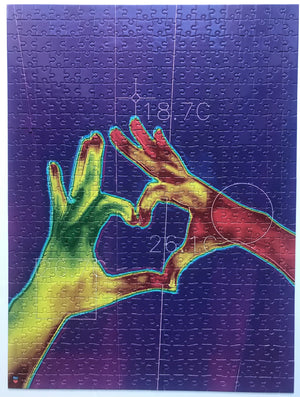 Artist Mircea Cantor Puzzle Collector Edition Jigsaw Puzzle
b. 1977 Romania lives and works "on earth"
Live Video of Jigsaw Puzzle: Click Here 
Title: LOVE
Jigsaw Puzzle Size: 18" x 24" (457mm x 610mm) 500 Jigsaw Puzzle Pieces, ESKA Premium Board. FSC 100% Recycled Paper, Magnetic Layer.
This Collector Edition arrives Pre-Assembled Option and separated onto 2-5 cardboard squares. The AXP Collector Editions comes ready to slide together for a complete instant puzzle and/or to be broken down for puzzling fun and/or framing! 
Magnetic Quality: This extremely well-made puzzle has cleverly incorporated a very thin layer of material with gentle magnetic properties underneath all the pieces, allowing the puzzles to be more stable and secure as the puzzler puts them together.
Collector Edition of 20 + 2AP
Level: Challenging
Signature Details: "Today, as always, I trust the Hand, my creativity, ART, inspiration". Mircea Cantor describes thus the hand as an extension of creative thinking, presented as his self-portrait and his workshop at the same time. In the chosen image, the artist's hand opens up in its performative value to underline the conceptual nature of the gesture and it seems, in its purest simplicity, a possible symbol of our current events." Centre Pompidou
Best known for his evocative, metaphorical videos and mixed-media installations, Mircea Cantor makes work reflective of a broad worldview that is at once optimistic and trenchantly critical. In his works, he examines competing ideologies, war, displacement, the self and the other, and multivalence. Keenly aware of the multitude of meanings that a word or an object can contain, he deliberately mixes materials and uses language playfully, producing poignant, challenging works that defy neat categorization. He also refuses to be neatly defined, as he explains: "We know who we are, so why not go deeper? Let's stand for something other than our nationality. [. . .] [My] objects speak of the great openness in which we can live today, beyond national categories." Cantor won the Marcel Duchamp Prize in 2011.

Click Articles/Publications:
Current 2021 Exhibition: Villa Medicis Academie de France a Roma | ART CLUB:32
"Started in 2016 under the curatorial direction of Pier Paolo Pancotto, the Art Club series presents the work of international contemporary artists at Villa Medici, in a spirit of openness to the most varied forms of creation. From 20th May to 19th September 2021, Art Club #32 invites Mircea Cantor.
Drawing on a universal iconographic and iconological repertoire represented by images and simple gestures from everyday life, Mircea Cantor develops a reflection on the historical and cultural components that shape reality and on the various semantic nuances that articulate it. This process of observation often stems from the artist's individual experience, first in Romania and then in France, and is expressed through many linguistic forms, some of which are represented in Rome on the occasion of his individual debut at Villa Medici. There are a number of works, some of which were conceived for the occasion and distributed in various rooms throughout the gardens of the Accademia." Villa Medici
Mircea Cantor- Unattainable Worlds by Selina Ting | InitiArt Magazine
Mircea Cantor: The Need For Uncertainty | Cornerhouse Publications
Mircea Cantor: Tracking Happiness | ARTPULSE
Faith and the Human Experience by Dallas Jeffs |Artist Run Website
Artist Certificate: Each puzzle comes with an artist certificate.
Biography: Born in Romania 1977, Mircea Cantor lives and works on Earth. Mircea Cantor seeks to dress the uncertainty and complexity of life with simple gestures. His work unfolds on media as diverse as photography, sculpture, video, drawing and installation. « Your Ruins Are My Flag » at the Giuliani Foundation in Rome in 2017, « Adjective to your presence » at Maison Hermès – Le Forum de Tokyo in 2018, « Vânătorul de imagini » at the Musée de la Chasse et de la Nature in Paris in 2019 are among his latest personal exhibitions. Mircea Cantor Exhibitions: Click Here