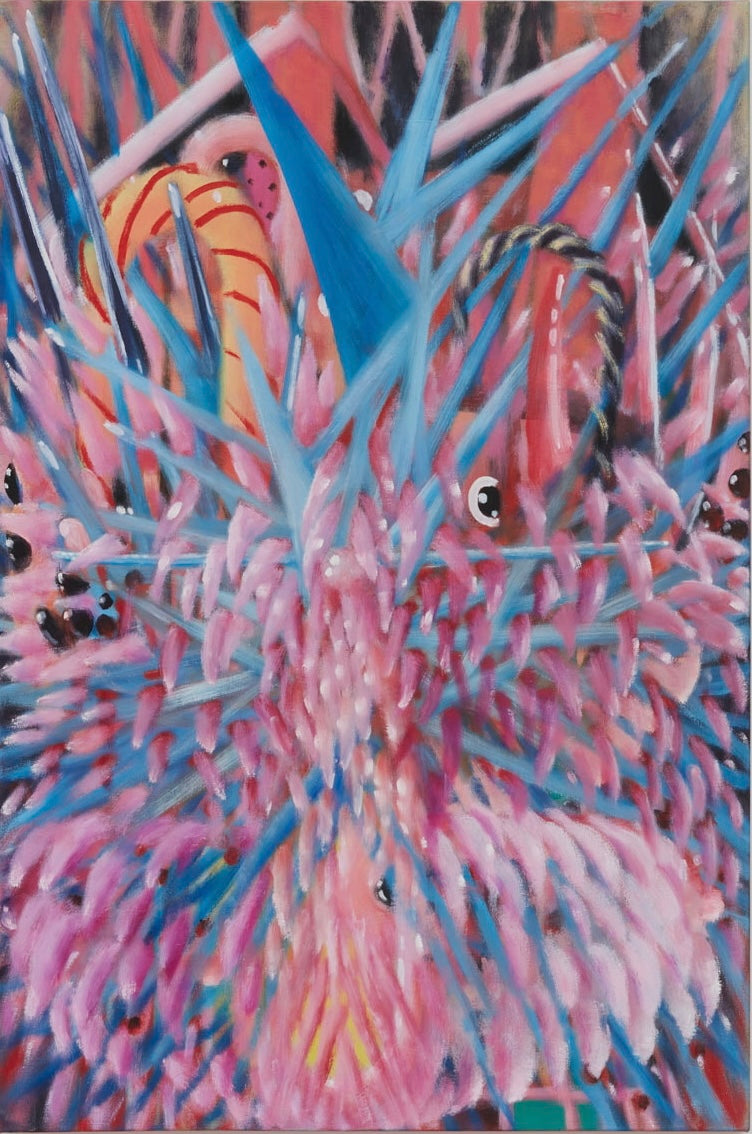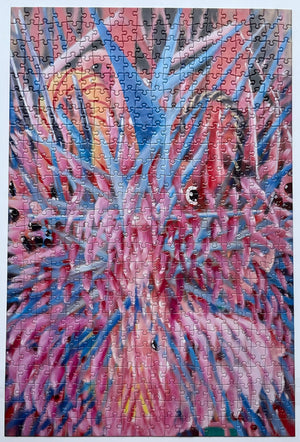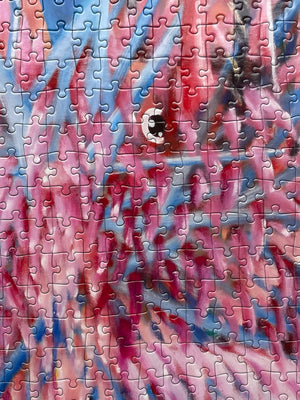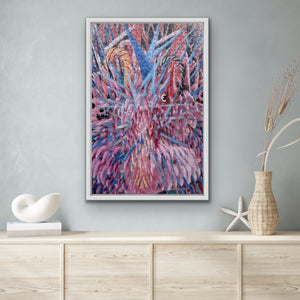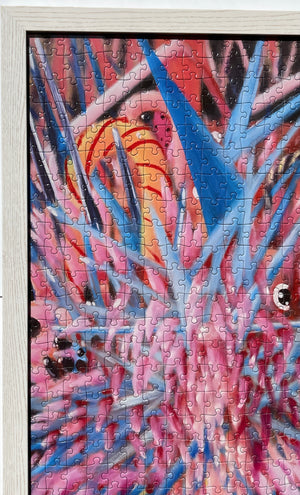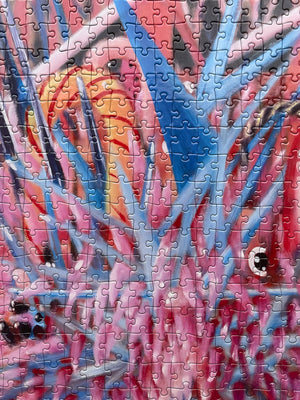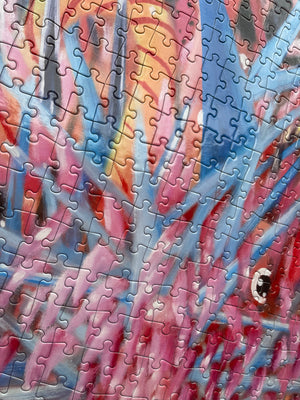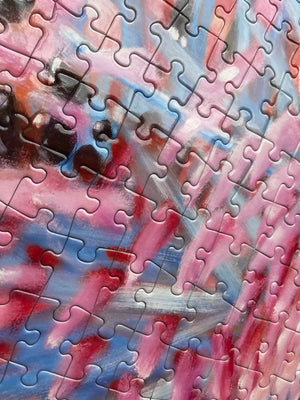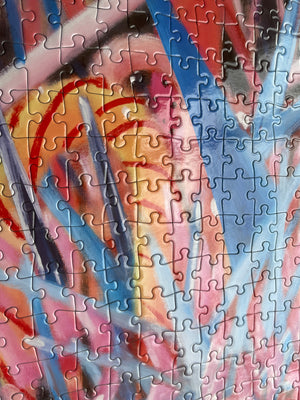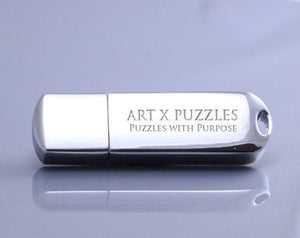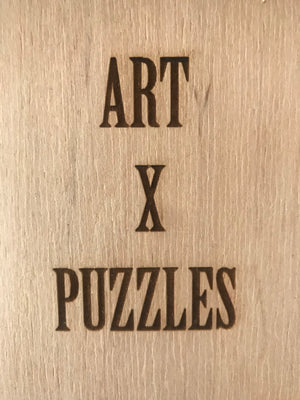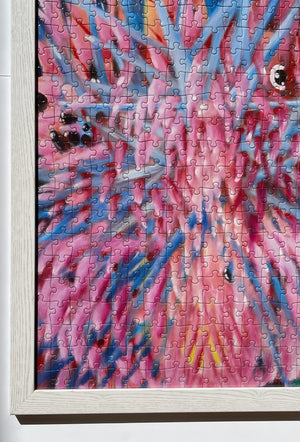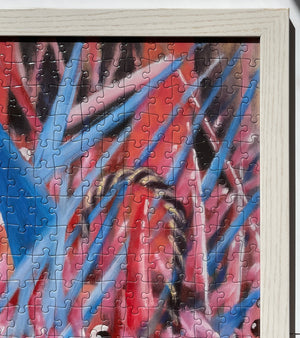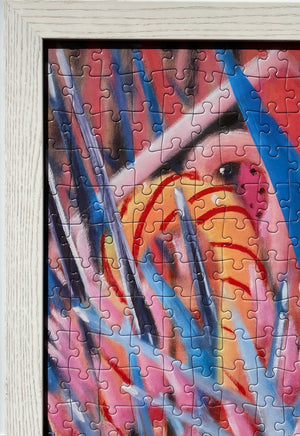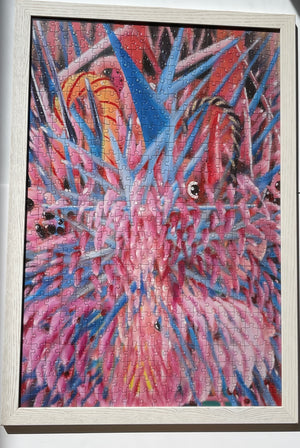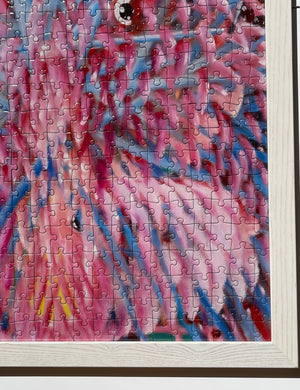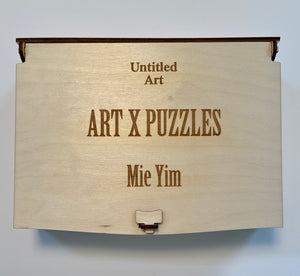 Artist Mie Yim Collector Edition Jigsaw Puzzle X UNTITLED ARTFAIR X NEST
b. 1963 South Korea | Lives and work in New York City.
Live Video of Jigsaw Puzzle: Click Here
Title: Frottage

Jigsaw Puzzle Size:  20" x 30" (508mm x 762mm) 500 Jigsaw Puzzle Pieces, ESKA Premium Board. FSC 100% Recycled Paper. Gloss Finish.
This Collector Edition arrives with a Pre-Assembled Option and separated onto 2 cardboard squares. The AXP Collector Editions comes ready to slide together for a complete instant puzzle and/or to be broken down for puzzling fun and/or framing! 
Collector Edition of 10 + 2AP
Level: Challenging 
Signature Details: Original Artwork: "Frottage", 60 × 40 inches, oil on canvas, 2020. Credits: Artist and Monica King Projects
"I hope my paintings have open ended interpretations and multiple readings, but she hit the nail right on the head. I'm curious what people will think when they see my work as they get to learn what my intensions are now. I hope to keep some mystery still." Mie Yim for ART SPIEL
Click Article: 
Mie Yim- Her Gut Eye by Etty Yaniv | ART SPIEL
Studio Sunday: Mie Yim | Artisrunwebsite.com
Drawing of Migration and Pandemic: In her dozens of pastels on handmade paper, Mie Yim seems to start each one over, never attempting to make a variation on a theme by John Yau | HYPERALLERGIC
Artist Certificate: Each collector edition jigsaw puzzle comes with an artist certificate.
Biography: Yim has had a number of solo exhibitions including at Villa Magdalena in Donostia-San Sebastian, Spain and Marcia Wood Gallery, Atlanta, Ga. both in 2021. Yim's work has also been presented in solo exhibitions at Olympia Gallery, The Chashama space at the Durst foundation, Ground ɥoor Gallery, Lehmann Maupin, Michael Steinberg,Gallery all in New York, NY. Also at In Arco, Turin, Italy. Numerous group exhibitions include the Drawing Center, Feature, Ise Cultural Foundation, Mitchell Algus Gallery, BRIC art center, Mark Borghi Gallery, all NYC. Other places such as Johnson County Community College, and the Weatherspoon Art Museum, Marcia Wood Gallery, Atlanta, The Arts Center at Western Conn. University. She is a recipient of Pollock Krasner Foundation Grant in 2020, The Lillian Orlowsky and William Freed Grant 2018, The New York Foundation of the Arts Painting Fellowship 2015 and Artist in the Market Place, Bronx Museum. She has a BFA in Painting from Philadelphia College of Art as well as a year abroad at Tyler School of Art in Rome, Italy.