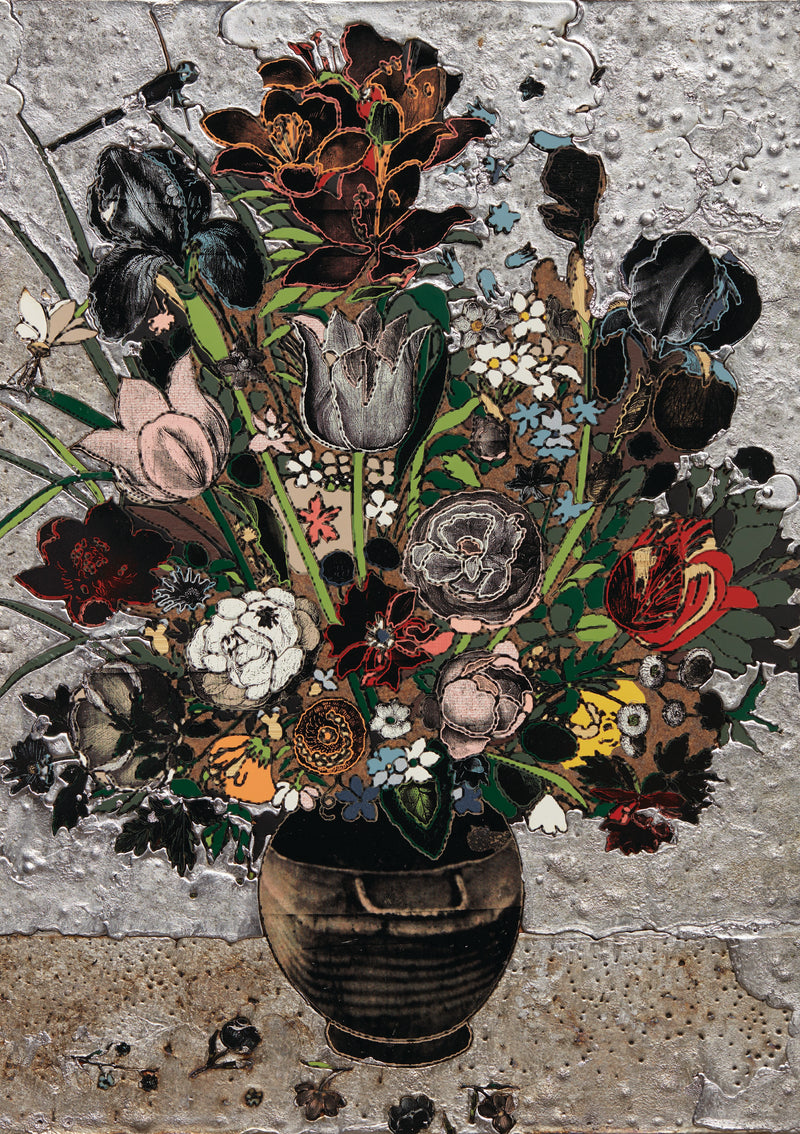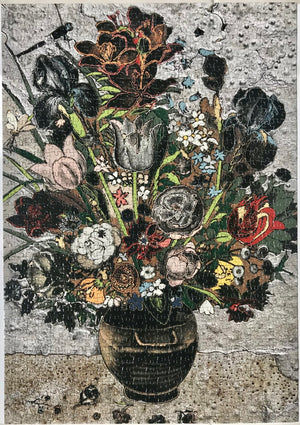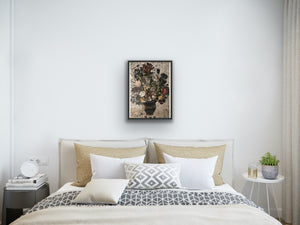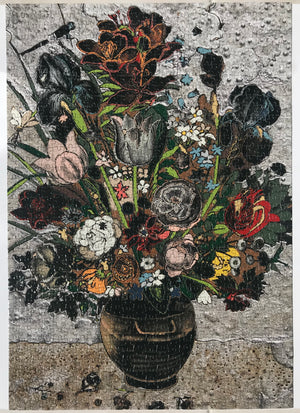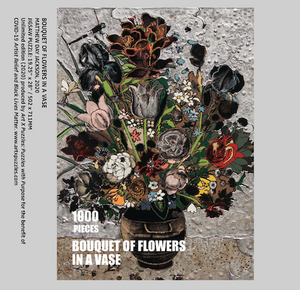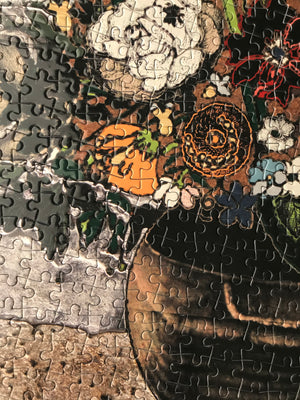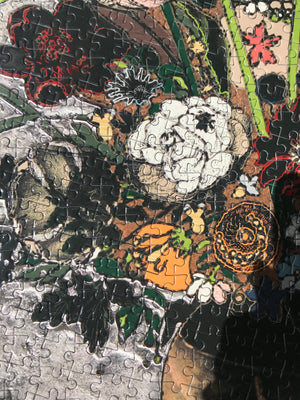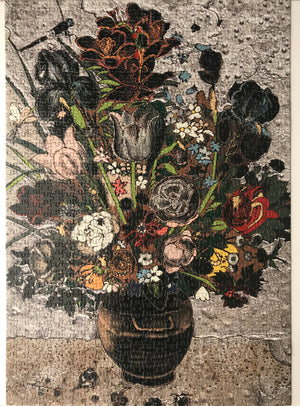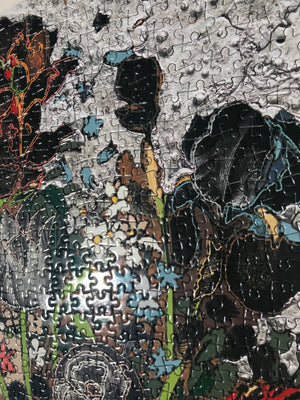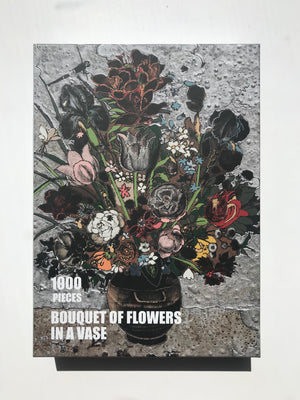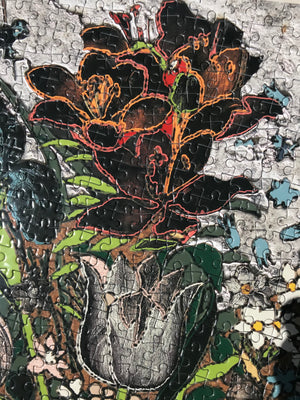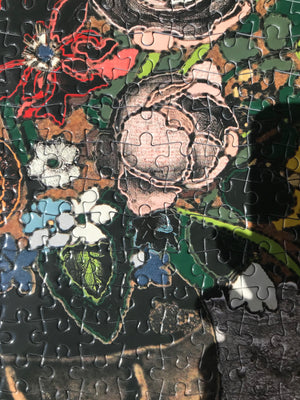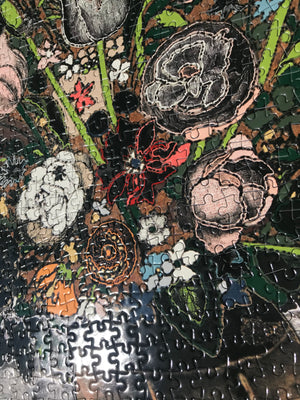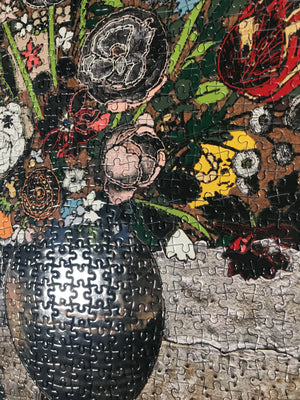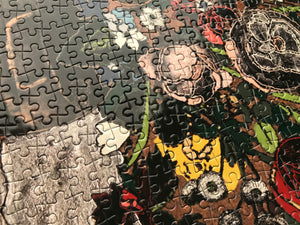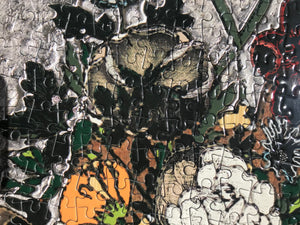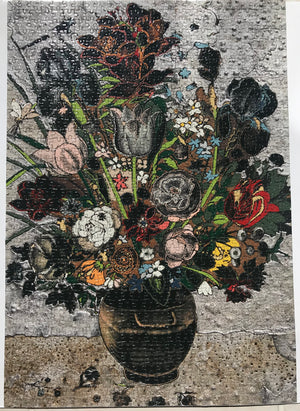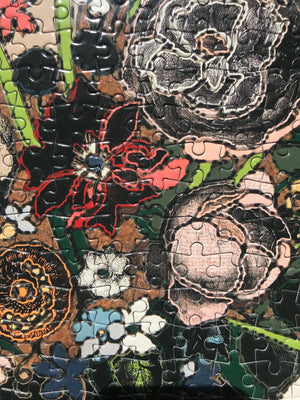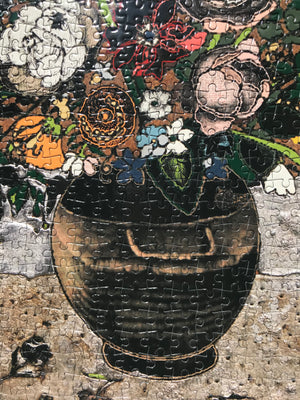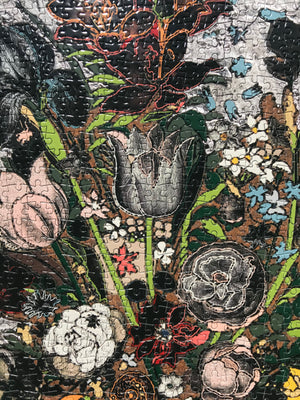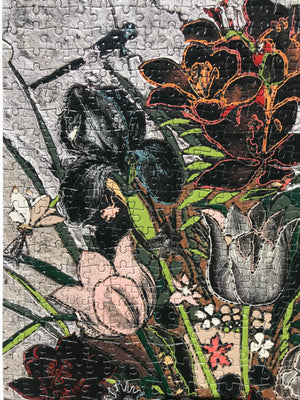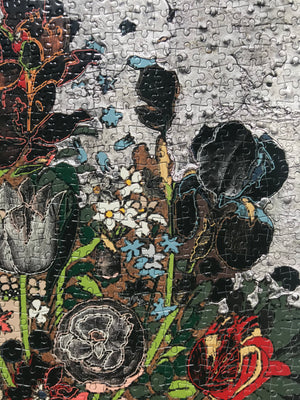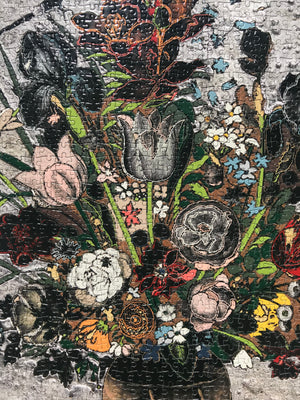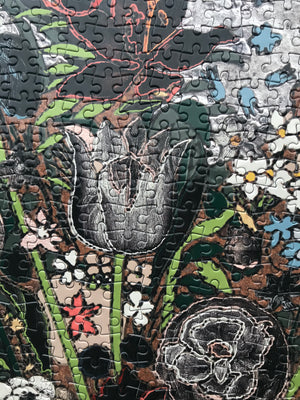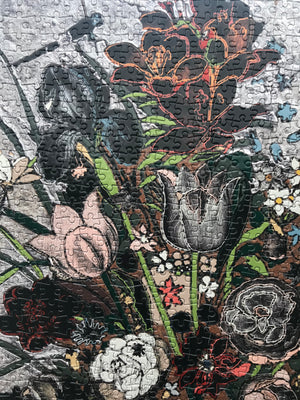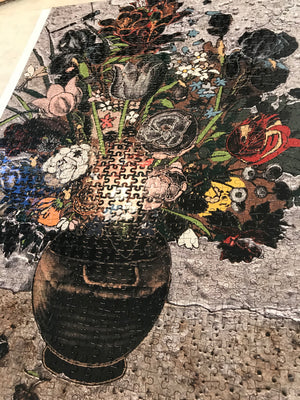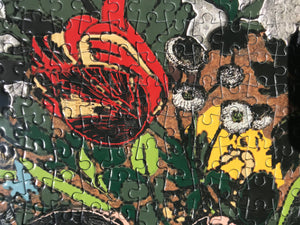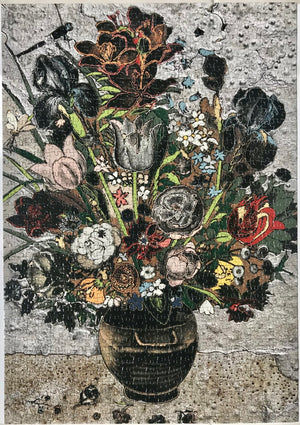 Artist Matthew Day Jackson Puzzle: Unlimited Collector Edition Jigsaw Puzzle
b. 1974, Panoroma City, Los Angeles, currently lives and works in New York, NY
Title: Bouquet of flowers in vase
Live Video of Jigsaw Puzzle: Click Here 
Jigsaw Puzzle Size: 19.75" x 28" (502mm x 711mm) 1000 Jigsaw Puzzle Pieces, ESKA Premium Board. Traditional Paper Jigsaw Puzzle.
Unlimited Collector Edition
Level: Challenging
Signature Details:  
Original Artwork: Bouquet of flowers in vase, 2017
Photo Credit: Matthew Koening, Courtesy of Hauser & Wirth and the artist
Jackson encloses the delicate form of the screen-printed and in-laid flora within a poured lead surround. This metal has associations of poison or death and, in this manner, the artist signals a memento mori ingrained in the fabric of the work itself.
'I am interested in exploring how certain ideas, forms, images, narrative structures and traditions are manifest in the present. The process by which they are severed and dismembered from the past is how they are enlivened.' Utilizing the conventions of still life and the reclining nude figure in combination with precise use of material and form, Jackson critiques these traditions, their cultural placement and his own authorship in relationship to these ways of working.' states Jackson
The series of still life 'paintings' are direct representations of Jan Brueghel the Elder's and Younger's genre defining series of flower paintings from the 16th and 17th centuries, made during a time of Dutch colonial expansion and exploitation. The significance of these works for the artist is their simultaneously beguiling and prosaic qualities; they are both an exuberant expression of nature's bounty and a visual manifestation of power and wealth. While the era was one of burgeoning scientific knowledge, Jackson signals the pitfalls of the ceaseless misuse and abuse of the natural world. This concern ties into the American environmental movement and issues of sustainability that have been explored in Jackson's previous works. If Brueghel's paintings are a celebration of nature as a divine gift to humanity, Jackson presents an alternative to this view since for the artist, 'each work is a meditation on exploration, the past found in the present, and is a critical discourse of technology and our persistent tendencies to open Pandora's Box.'
Hauser & Wirth excerpts from the artist's exhibition, 'Still Life and the Reclining Nude'. Video on installed artwork: EXHIBITION VIDEO
Click Articles:
Matthew Day Jackson, Fetish objects, totems and mementos; historical signs and the paranormal by Graham T. Beck | FRIEZE, Issue 135
On a relationship between creation and play, from a conversation with Brandon Stosuy | The Creative Independent
Artist Certificate: Each puzzle comes with an artist certificate.
Biography: Matthew Day Jackson creates all-encompassing works in a wide range of media that make connections between seemingly disparate themes and narratives, from impressionist painting to the surface of the moon; art history to rap music; nuclear testing to paranormal activity. Jackson's work also addresses his theory of the "Horriful," the belief that everything one does has the potential to evoke both beauty and horror at the same time. In Jackson's mixed-media sculptures, installations and assemblages, history does not follow a linear progression, but exists in and alongside the present.