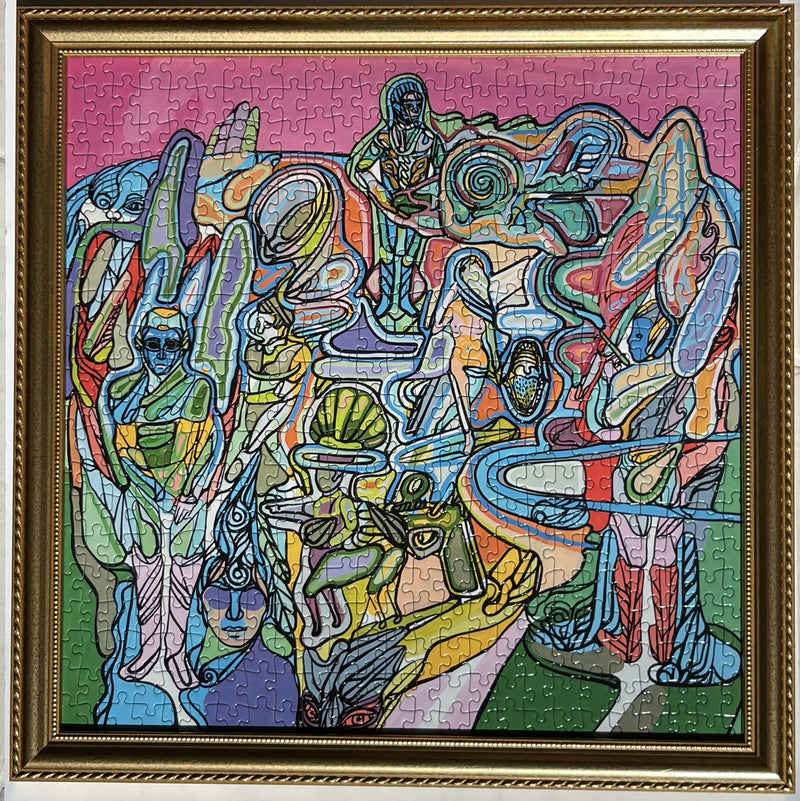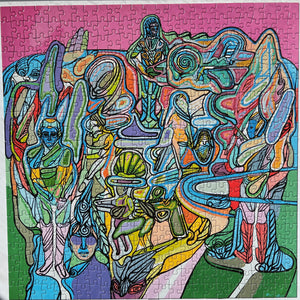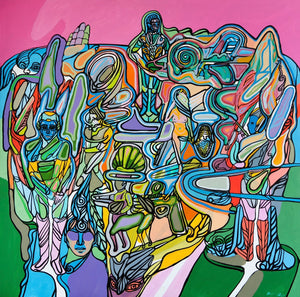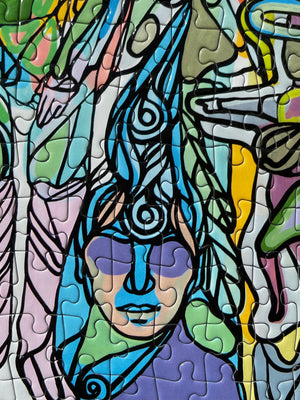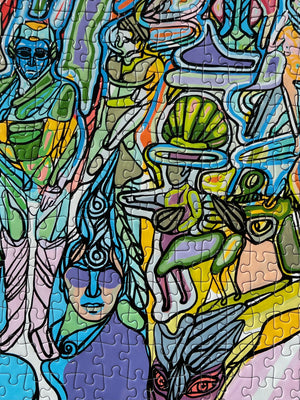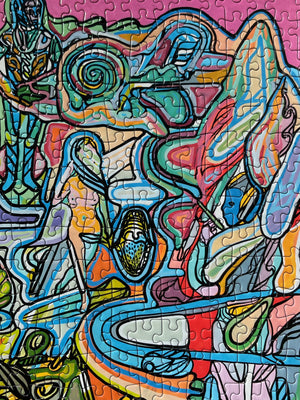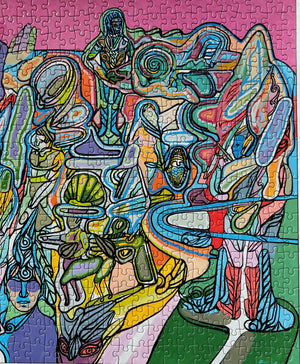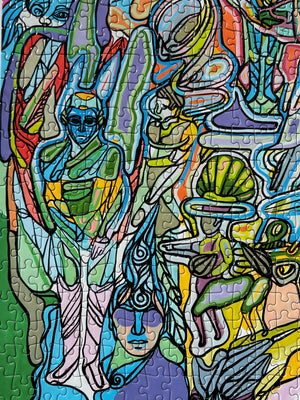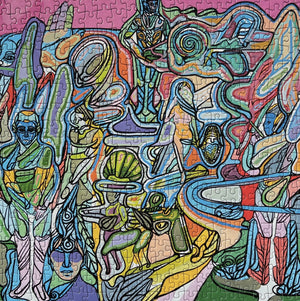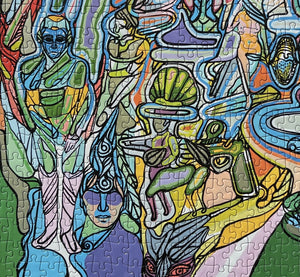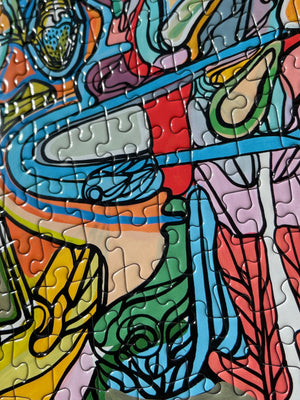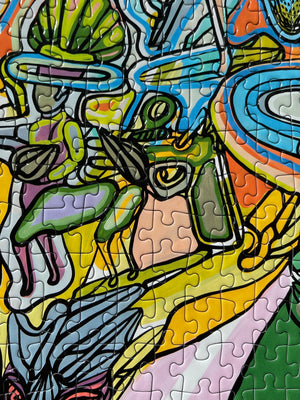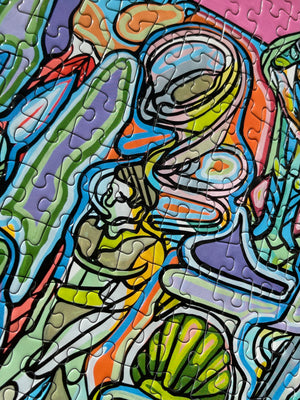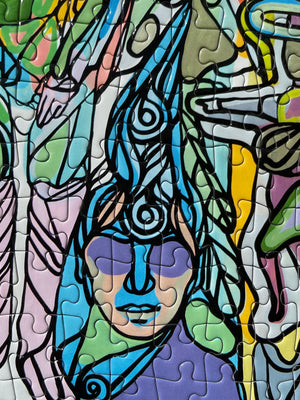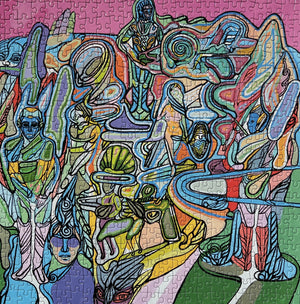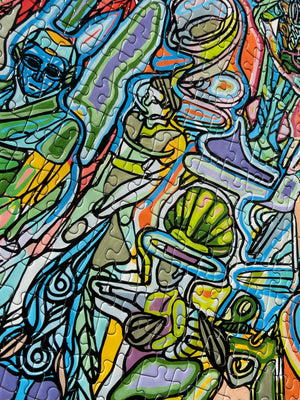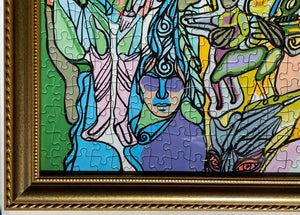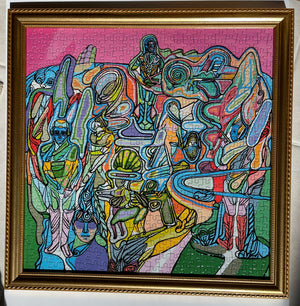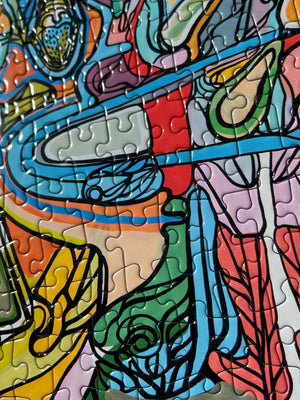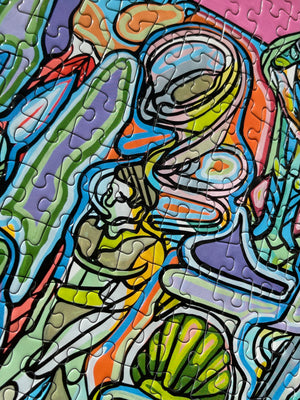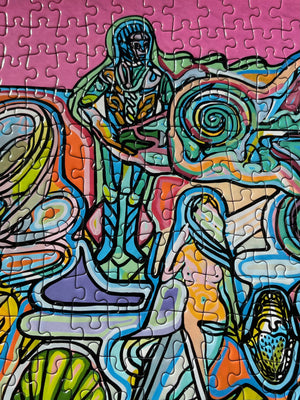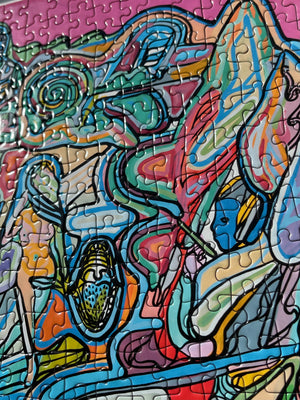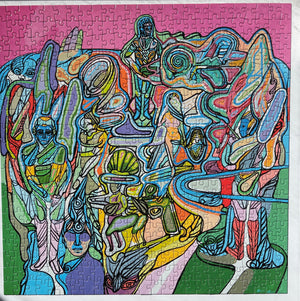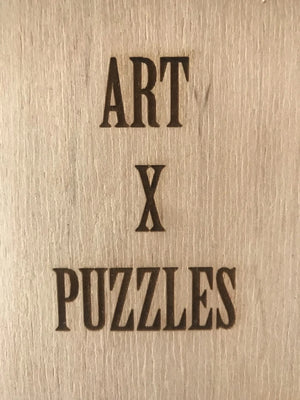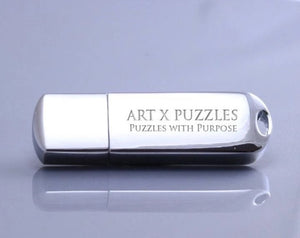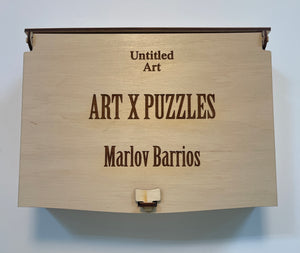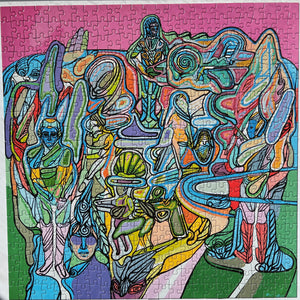 Artist Marlov Barrios Collector Edition Jigsaw Puzzle X UNTITLED ART FAIR X NEST
 b.1980 Guatemalan. Lives and works in Guatemala. 
There is one framed edition left at our Miami Store Location in Wynwood. Arrived in a beautiful gold frame as noted in images. 
Title:  La Creación de los Planetas
Jigsaw Puzzle Size: 19"x 19" (482.6mm×482.6mm) 500 Jigsaw Puzzle Pieces, ESKA Premium Board.  FSC 100% Recycled Paper.! 
Collector Edition of 10 + 2AP
Level: Complex
Signature Details: Original Artwork: Title: La Creación de los Planetas Year: 2016 Size: 150 x 150 cms Medium: Painting, Acrylic on canvas. Credits: Artist and La Galeria Rebelde.
"This joins the leitmotiv of the work of this prolific artist for whom the current world is a space-time where cultures but also temporalities are mixed, coexist, compete …" – Christina Chirouze Montenegro, Curator –, Blackqube Magazine

Click Article:
FEATURING MARLOV BARRIOS & "MIMESIS" AN EPHEMERAL MURAL | BLACKQUBE MAGAZINE
El artista Marlov Barrios pintó un mural en Maison de l'Amérique Latine en París, Francia by Leslie Garcia | Guatemala.com
Artist Certificate: Each puzzle comes with an artist certificate.
Biography: Marlov Barrios is a multidisciplinary artist, printmaker, draftsman, photographer, painter, sculptor, muralist and curator. He studied Architecture at the University of San Carlos in Guatemala and Engraving at La Esmeralda School of Drawing, Painting and Engraving in Mexico City. He is the co-founder of Taller Experimental de Gráfica de Guatemala, an association for the teaching and promotion of printmaking. Barrios is the founder of the collective La Torana, in which he participated in the 1st triennial of the Caribbean, in the Dominican Republic, and in the Biennale of Pontevedra, in Spain (2010). In 2012, he co-founded La Ruleta, a space for the promotion of contemporary art in Guatemala City.
Barrios presented several individual exhibitions, in many cultural spaces in Guatemala City, but also in Mexico, Costa Rica (notably the "Plus Volta" exhibition at the Museum of Contemporary Art and Design) and in El Salvador ("Médulas" exhibition at the MARTE Museum). His retrospective "El Eco y la Avalancha" at the Municipal Cultural Center of Guatemala City, brought together one hundred and twenty pieces covering nineteen years of artistic trajectory.