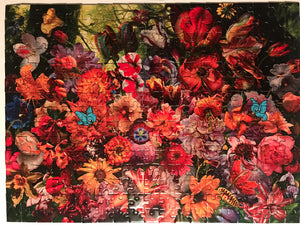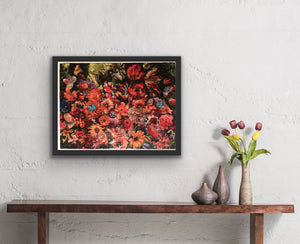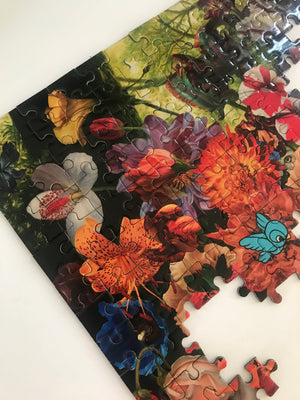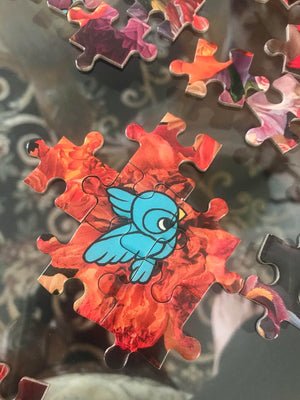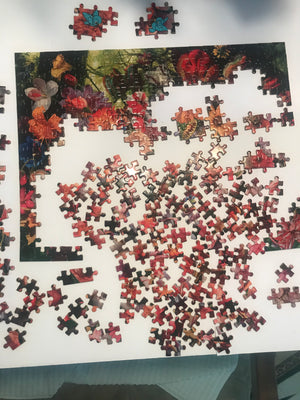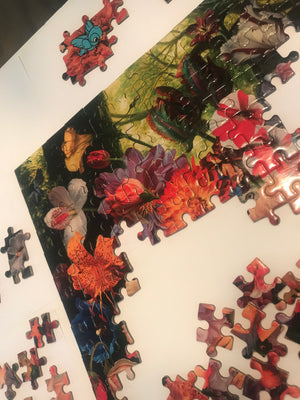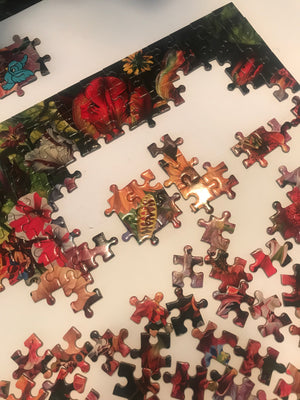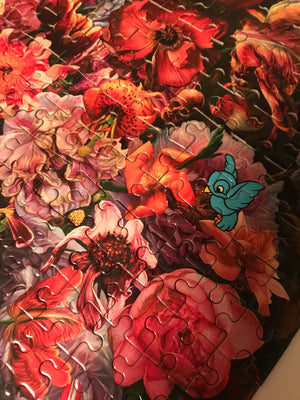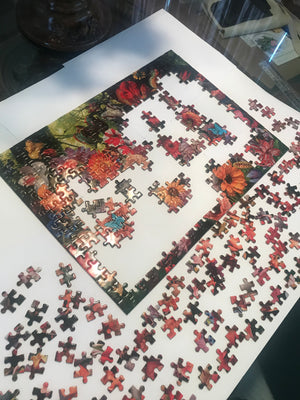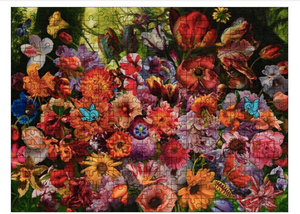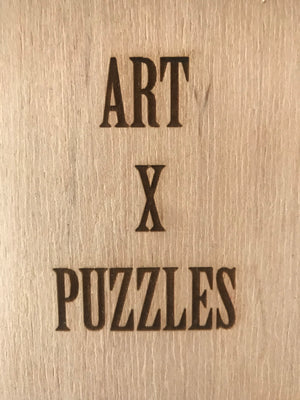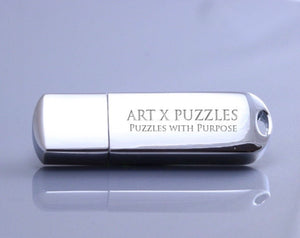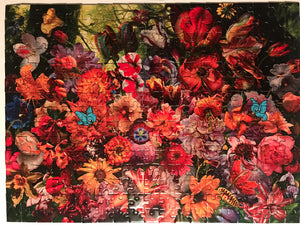 Artist Marc Dennis Collector Edition Jigsaw Puzzle
b.1972 in Danvers, MA. Currently lives and works in New York City, NY | United States
Title: "America" 2019
Live Video of Jigsaw Puzzle: Click Here
Jigsaw Puzzle Size: (Horizontal) 12"X 16.5" (310mm×418mm) 285 Jigsaw Puzzle Pieces, ESKA Premium Board, FSC 100% Recycled Paper. Magnetic Jigsaw Puzzle. Gloss Finish
This Collector Edition arrives Pre-Assembled option and separated onto 2 cardboard squares according to size. ( Click on left Jigsaw Puzzle or Pre-Assembled for your choice!)  The AXP Collector Editions comes ready to slide together for a complete instant puzzle and/or to be broken down for puzzling fun and/or framing! 
Magnetic Quality: This extremely well-made puzzles have cleverly incorporated a very thin layer of material with gentle magnetic properties underneath all the pieces, allowing the puzzle to be more stable and secure as the puzzler puts them together.
The Collector Edition arrives in a specially custom-made wood box engraved with Art X Puzzles.  Level: Challenging

Collector Edition of 20 
Signature Details: Original Artwork: Title: "America" Date: 2019  Medium: oil on linen  Dimensions: 68 x 84 inches

"The artist, who has a penchant for hyper-realist painting, creates compositions where images hide within images, engaging his viewers in a game of pop cultural and art historical references that seems to have no beginning and no end. This kind of painting rewards those who pause to search for the interrelated clues within each piece and in Dennis's over-all body of work, though the narratives are open-ended and the riddle can never truly be solved." noted by writer Nastia Voynovskaya
Biography: Marc Dennis is an American artist known for his hyper-realistic paintings that celebrate the subversive potential of beauty and sexuality and explore the charged subjects of identity, pleasure and power.
Interested in transformative possibilities Dennis merges various movements throughout the western art historical canon, with modern tropes in order to create fresh paintings rich with hype and narrative where elements of the Renaissance, Pre-Raphaelites, Grimm's Fairy Tales and Disney intersect.
Marc's artistic inspiration is also drawn from his many adventures and personal experiences, ranging from his days camping in the El Yunque rainforest as a child in Puerto Rico to his somewhat troubled teen years, street fighting and multiple arrests, to his highly influential time on the Pine Ridge Indian Reservation in Wanblee, South Dakota, where he lived for a time in a teepee on the property of Richard Moves Camp, the Wicasa Wakan or Holy Man of the Oglala Lakota.
His adventures include having lived in Rome, Venice, Israel and Egypt; and spending three grueling weeks trekking the back trails of the Andes Mountains in Peru. And last but certainly not least Marc's creative drive is fueled from his heartfelt connection of being a father to two kids, a ten-year old daughter, and an eight-year old son.
Born in Danvers, Massachusetts in 1972, Dennis was one of five sons and grew up in and around Boston, Puerto Rico, New York and New Jersey. His father was born and raised in Havana, Cuba in an orthodox Jewish family (often referred to as a "Jewban"), and immigrated to Dorchester, Massachusetts when he was 16. His mother was born and raised in the tough neighborhood of Roxbury, Massachusetts in a reformed liberal Jewish family.
Marc received his B.F.A. from Tyler School of Art of Temple University in Philadelphia, PA and his M.F.A. from The University of Texas at Austin. He was the first studio art major in UT Austin history to receive a Presidential Full Tuition Scholarship.
ARTIST CHARITY CHOICE: FIRST RESPONDERS CHILDREN'S FOUNDATION