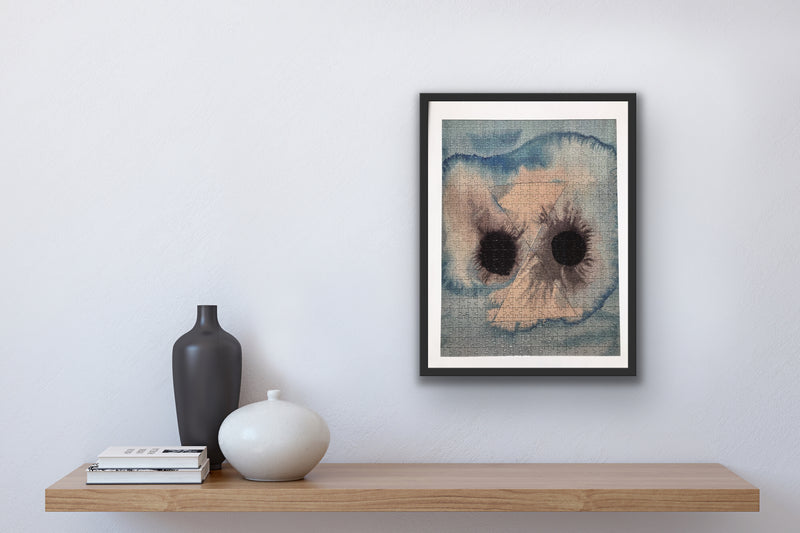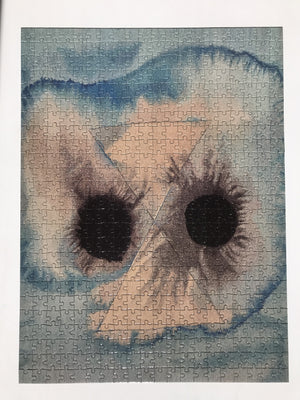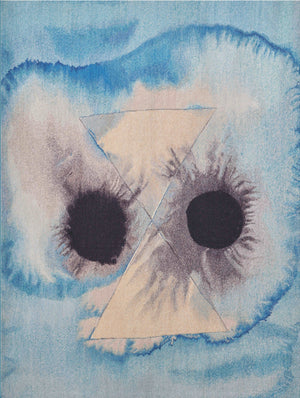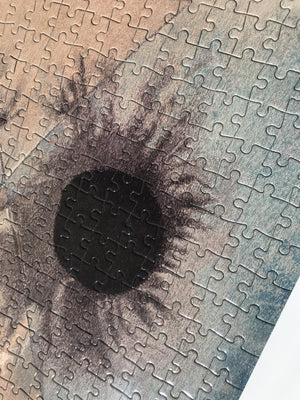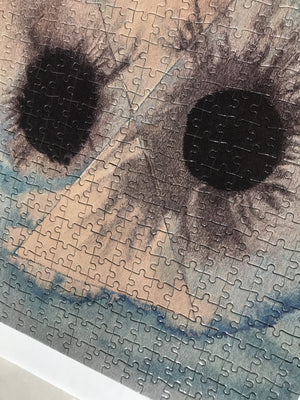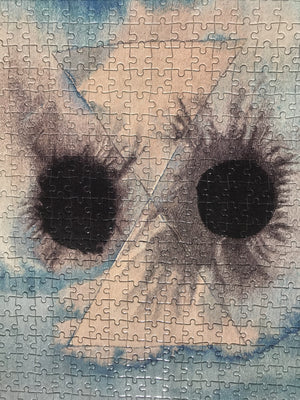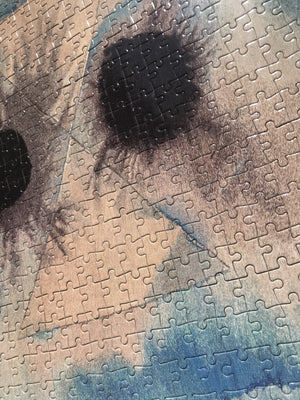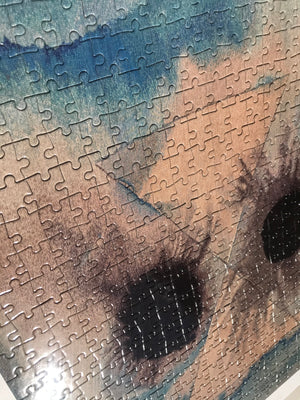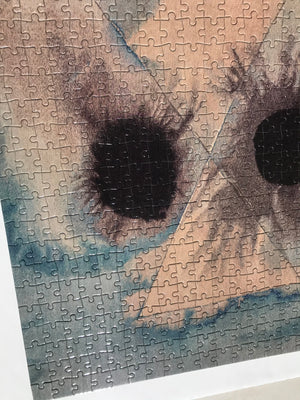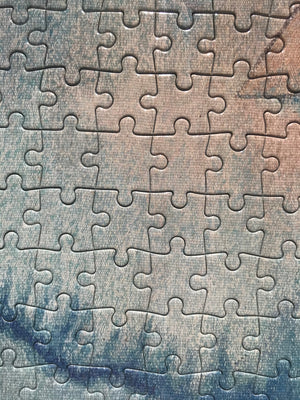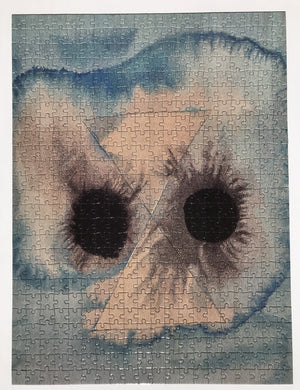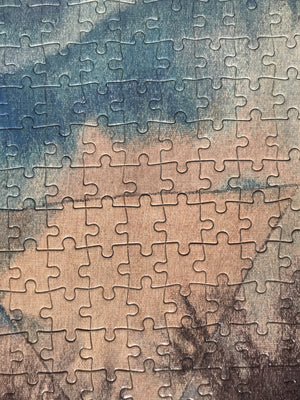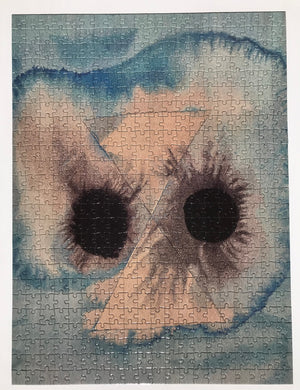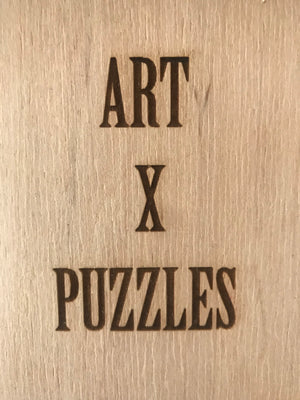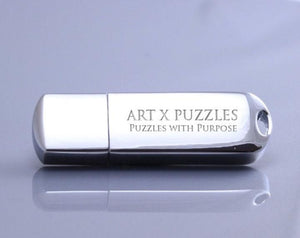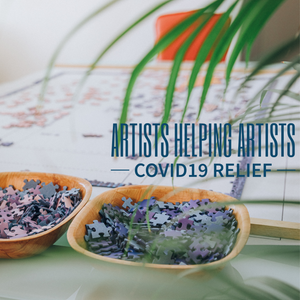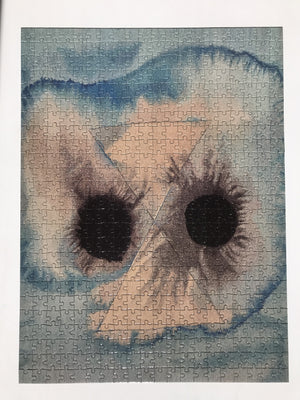 Artist Mai-Thu Perret Collector Edition Jigsaw Puzzle
b.1976 Geneva currently works and lives in Geneva, Switzerland 
Title: News from Nowhere I
Live Video of Jigsaw Puzzle: Click Here 
Jigsaw Puzzle Size: 24" x 18" (609.6mm x 457.2mm) 500 Jigsaw Puzzle Pieces, ESKA Premium Board, FSC 100% Recycled Paper. FSC 100% Recycled Paper, Gloss Finish.
This Collector Edition arrives with a Pre-Assembled Option and separated onto 2 cardboard squares. The AXP Collector Editions comes ready to slide together for a complete instant puzzle and/or to be broken down for puzzling fun and/or framing! 
Collector Edition of 20 + 2AP
Level: Challenging 
Signature Details: News from Nowhere I, 2019, Haute lisse hand woven wool tapestry, 215 x 147 cm ( 84 5/8 x 57 7/8 in.)
Courtesy of the artist and Simon Lee Gallery, London and Hong Kong.
Citing influences such as utopian feminist literature, art theory, Russian Constructivism, and the Arts & Crafts movement, Mai-Thu Perret's diverse body of work encompasses sculpture, painting, video, and installation. Since 1999, Perret has worked on a series called "The Crystal Frontier," which documents her participation in a women's commune based in New Mexico. Through diary entries, abstract paintings, and artisanal objects, Perret constructs a piecemeal narrative describing life at the commune. By focusing on the fragment as a narrative device, Perret invokes the pastiche technique employed in postmodern literature and demonstrates her interest in the structure of language. Her relationship with language and narrative is epitomized in text works such as Society is a Hole (2009), in which ambiguous musings are spelled out in bright pink lettering, inviting the viewer to fill in the gaps in the implied narrative.
Curator Choice Capsule Collection by Christopher Eamon 
Artist Certificate: Each puzzle comes with an artist certificate.
Click Articles:
Interview With Artist Mai-Thu Perret: Switzerland's Utopian Feminist by Cassandra Naji | The Culture Trip
Escape the Brexit Blues with the Artist Mixing Fairy Tales, Zen Gardens, and Feminist Separatism Artist Mai-Thu Perret on the connection between witchcraft, feminism, and how it all relates to her major new installation in the UK by Philomena Epps | GARAGE
Interview with Mai-Thus Perret by Timothee Chaillou | The White Review
Biography: Mai-Thu Perret (b. 1976, Geneva, Switzerland) is known for her multidisciplinary practice that engages feminist politics, literary texts and homemade crafts, alongside a range of 20th century avant-garde and radical art movements, from Constructivism and Dada to Bauhaus design. Demonstrating an interest in Eastern religions, the occult and the natural world, Perret has described her practice as 'more like a symphony than a single voice', a notion supported by her fictional narrative, The Crystal Frontier, first realised by the artist in 1999. This ongoing chronicle follows the progress of a group of women who form an autonomous commune in the remote desert of South Western New Mexico in an attempt to escape the shackles of capitalism and patriarchal convention.
Since its inception, Perret's unique project has evolved across installation, performance, sculpture, textiles and the written word, all produced from the perspective of the commune's members. The artist's interest in ancient civilisations and their 'new age' interpretation has seen the creation of invented relics, blending traditional, artisanal and spiritual practices with a postmodern aesthetic. Set within a context that is as much motivated by social and political principles, as it is by formal modes of art making, The Crystal Frontier gives rise to a critical questioning of personal and communal identities. Perret's continually expanding fiction explores how both personalities and objects function within the cultural and social systems they inhabit, the nature of utopia, and the compelling power of revolution and ritual.