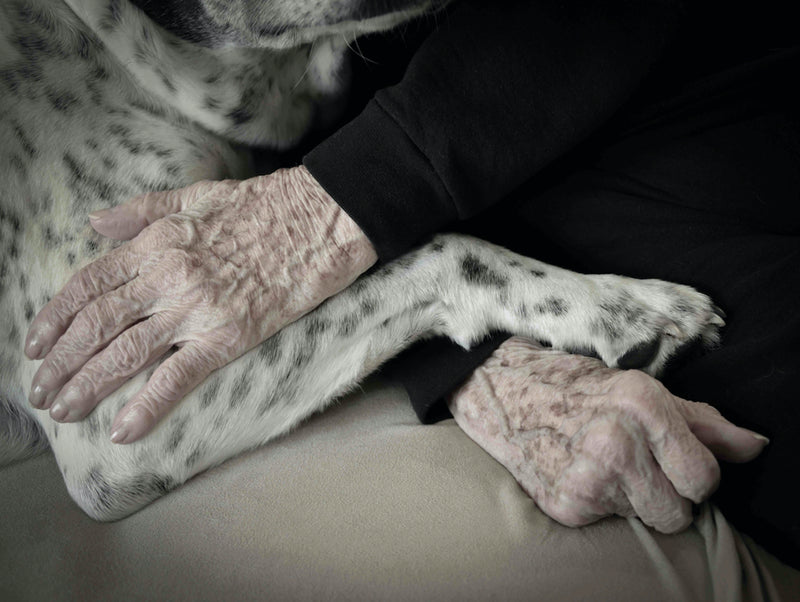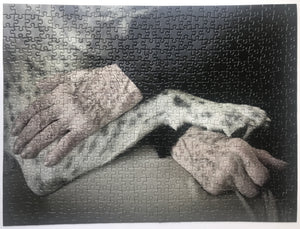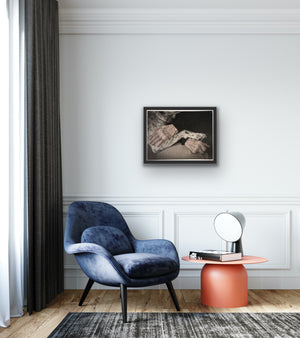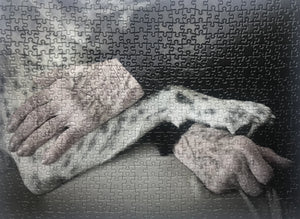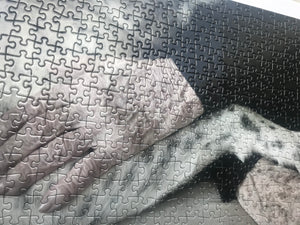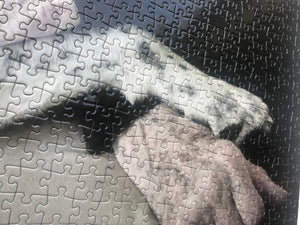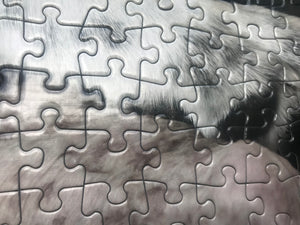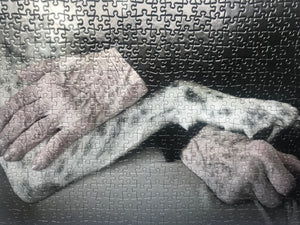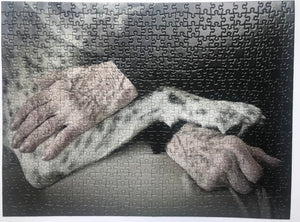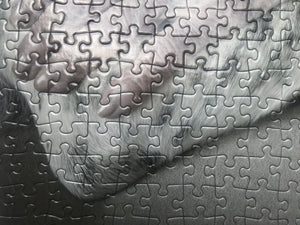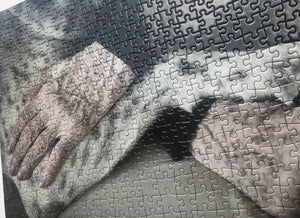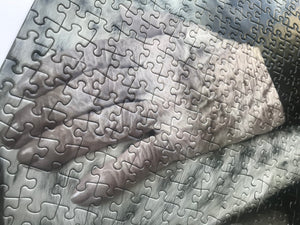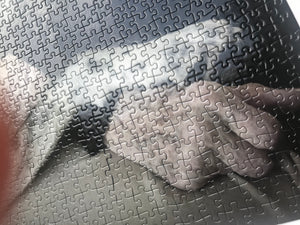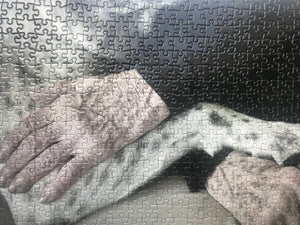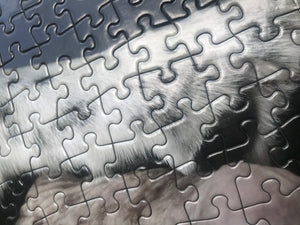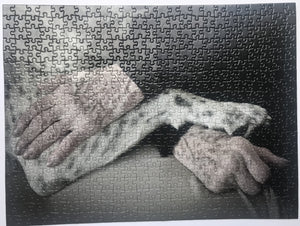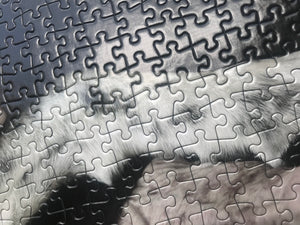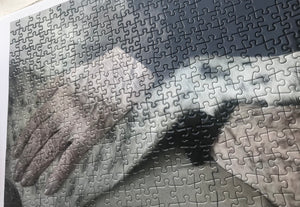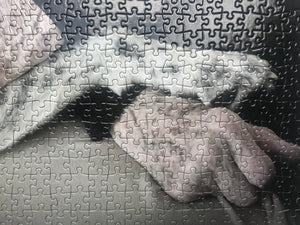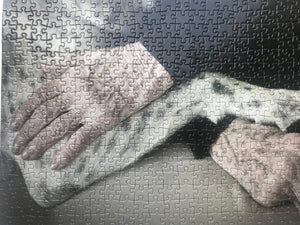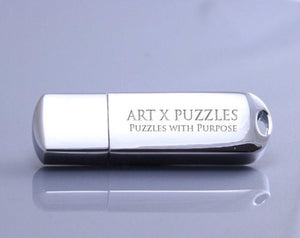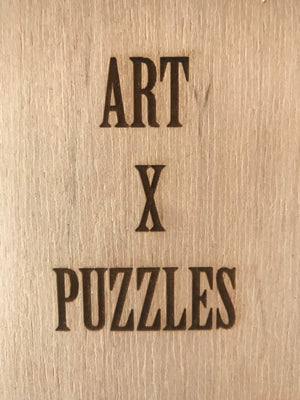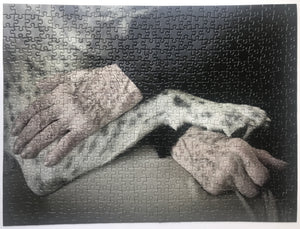 Halston Archive "With Love" Collection | Artist Lesley Frowick Collector Edition Jigsaw Puzzle
Halston Fashion Archive: Halston Style on Display Website

Lesley Frowick lives and works in New Braunfels, Texas and at large. 
Live Video of Jigsaw Puzzle: Click here 
Title: Covid-19-A dogs love

Jigsaw Puzzle Size: 18" x 24" (457mm x 610mm) 500 Jigsaw Puzzle Pieces, ESKA Premium Board. FSC 100% Recycled Paper, Magnetic Layer. Special Linen Gloss Finish.
This Collector Edition arrives Pre-Assembled Option and separated onto 2-5 cardboard squares. The AXP Collector Editions comes ready to slide together for a complete instant puzzle and/or to be broken down for puzzling fun and/or framing! 
Magnetic Quality: This extremely well-made puzzle has cleverly incorporated a very thin layer of material with gentle magnetic properties underneath all the pieces, allowing the puzzles to be more stable and secure as the puzzler puts them together.
Collector Edition of 10 + 2 AP
Level: Fun
Signature Details: Introducing the newly announced AXP Capsule Collection titled "With Love" in memory of the designer Halston. The new "With Love" Series is an ongoing series of bespoke AXP Collector Editions for the 2021 season, each presenting important and historical images donated from the Halston Archive. Each selection is specifically curated and selected by photographer Lesley Frowick, with a percentage of proceeds going to support the Halston Archive Scholarship Initiative to benefit 'rising star' fashion students worldwide.

Roy Halston Frowick, known worldwide as simply Halston, was one of the most influential American designers of the 20th century. He helped define '70s style with his elegant yet sexy red carpet dresses that were staples during the disco era, especially among the group of diverse models dubbed the "Halstonettes."
"Curious about what Halston might design today and how they would be sustainable, Frowick said he was irreplaceable. "A lot of his 'being' people don't know about, but they want to know about that," she said." WWD
"There are also plans to create a collection of mostly accessories that could potentially be under the label "With love, Halston." The plan is to develop a business, Frowick said. The yet-to-be-named collection would help sustain the scholarship fund. The first scholarship will be bestowed on Halston's alma mater, Indiana University." WWD
Original Artwork: "In the year 2019 suddenly the world was knocked off its feet by the Novo Coronona virus and our household was not spared. First my son fell ill, then me and finally my 87 year old mother was the last to succumb.   Day after day she lay in bed suffering with classic symptoms of fever, aches and low oxygen with our faithful dog Ziggy always by her side. Shortly after an ER stay I started taking photographs in order to record what I thought might be her last days. 
Through her herculean will to survive (she is also a cancer survivor) and the love of our Ziggy, she managed to slowly slip out of Covid's deadly grasp.  She was gifted another year on earth in order to celebrate her 88th! While our family was lucky, my heart goes out to all those millions who were not as fortunate. I was so moved by the moodiness of light and the gentle intertwined spotted paws mixed with aged hands. I feel this image evokes the silent unconditional love that only womans best friend can provide. Ziggy rocks!"  Lesley Frowick
Click Articles:
Talk" Halston, Famous American Designer and my Uncle | American Center Moscow
Halston's Hertiage: Interview with Lesley Frowick by Sarah Lolley | Maniac Magazine
My Uncle Halston, discussing with The Museum of Fine Art Houston
The Fashions and Styles Halston on View at the Nassau County Museum of Art 
Biography: Frowick brings the unique perspective of working closely with her uncle  Roy Halston Frowick known as Halston, and his frenetic, high fashion milieu in the 1980s. Currently Frowick is a free-lance photographer who has completed multiple  books on Halston, including an insightful biography on the life of Halston published with Rizzoli.  She was Executive Producer of the definitive Halston documentary that premiered at Sundance and is currently in discussion about a Halston Broadway musical. She has worked in the National Geographic Creative division at NatGeo, and organized multiple Halston exhibitions including Halston and Warhol: Silver and Suede at the The Warhol Museum in 2014  and a Halston Retrospective exhibition at the Nassau County Museum 2017.