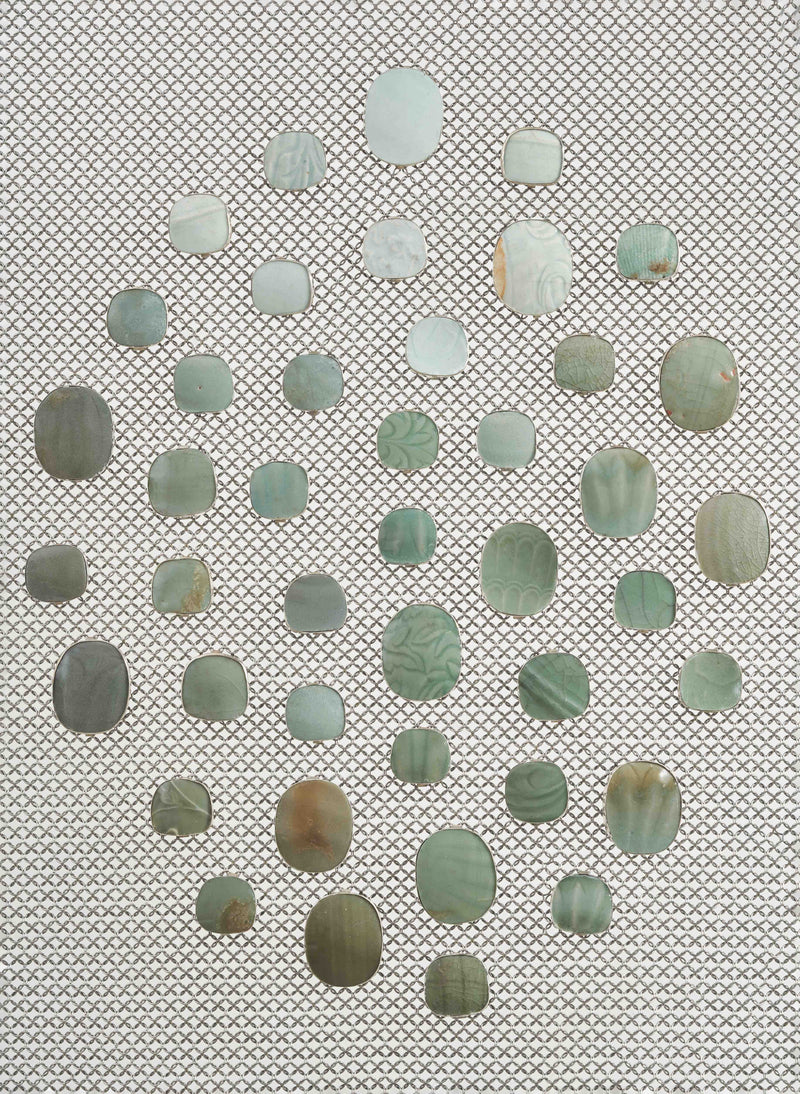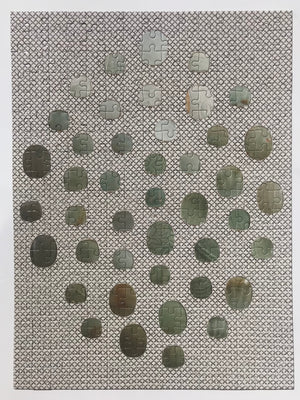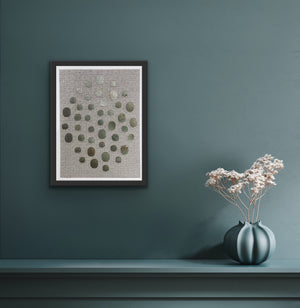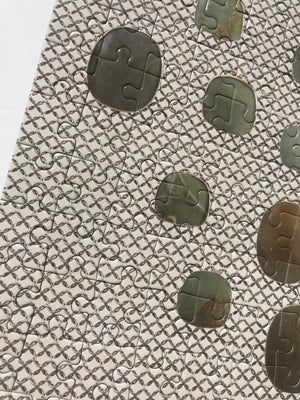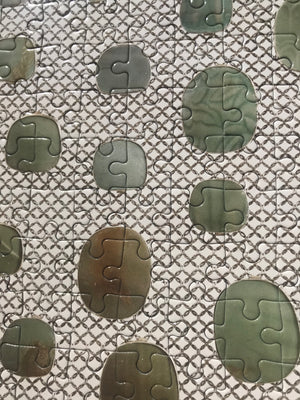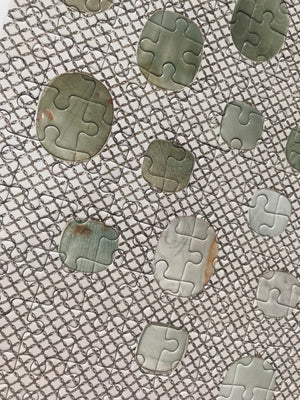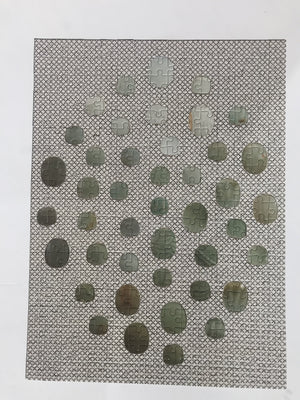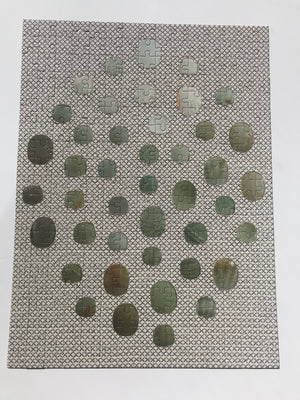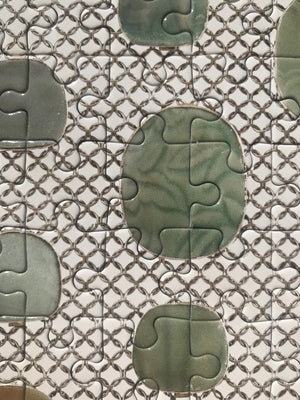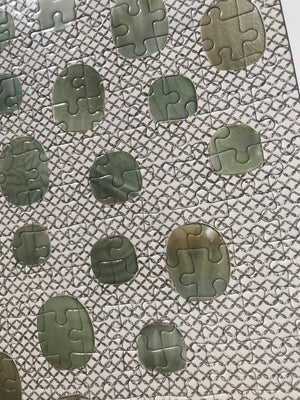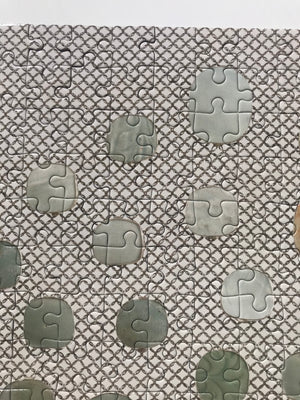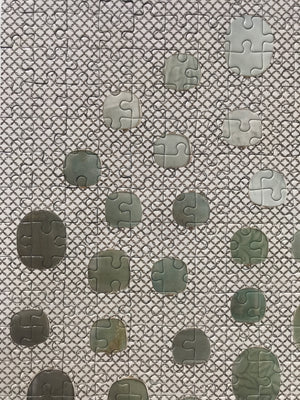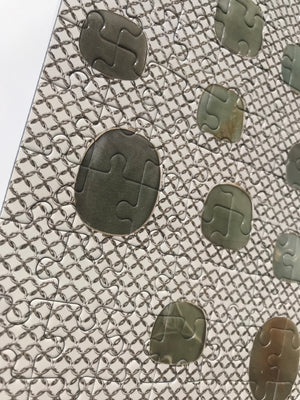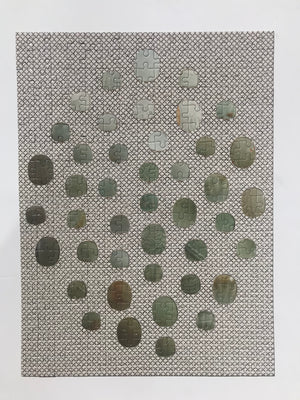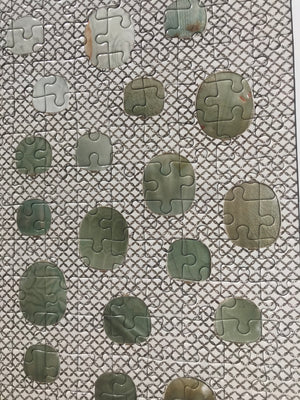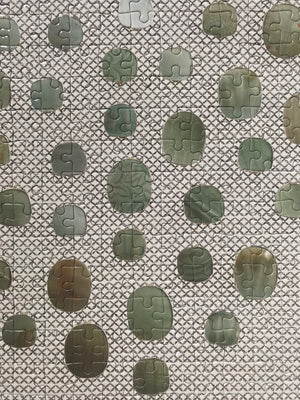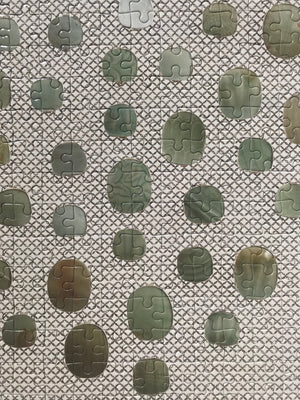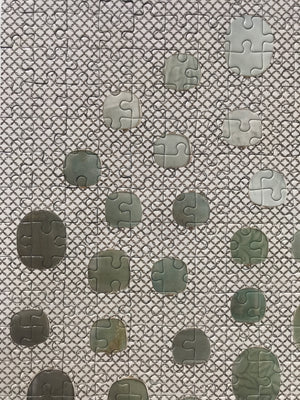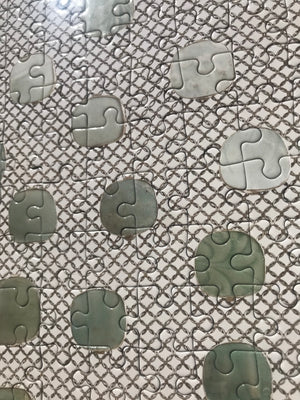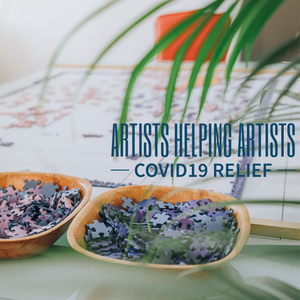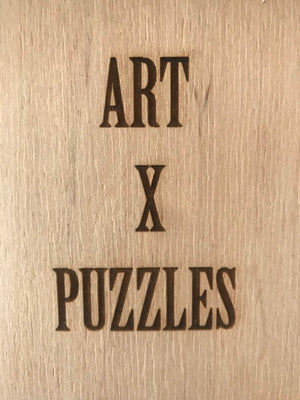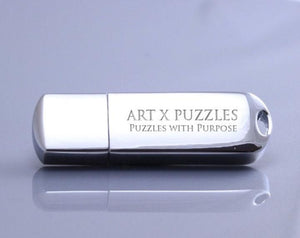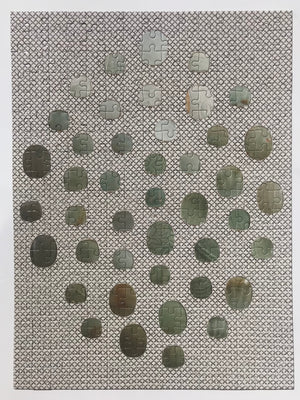 Artist Leelee Chan Collector Edition Jigsaw Puzzle
b.1984 lives and work in Hong Kong.  
Title: Celadon Weaver
Live Video of Jigsaw Puzzle: Click Here
Jigsaw Puzzle Size: 12"x 16.5", 285 Jigsaw Puzzle Pieces, ESKA Premium Board.FSC 100% Recycled Paper. Gloss Finish.
This Collector Edition arrives with a Pre-Assembled Option and separated onto 2 cardboard squares. The AXP Collector Editions comes ready to slide together for a complete instant puzzle and/or to be broken down for puzzling fun and/or framing! 
Collector Edition of 20 + 2AP
Level: Complex
Signature Details: Original Artwork: 'Celadon Weaver' 2020, Medium: ceramic shards (Qingbai ware, Longquan ware and Yaozhou ware) from Song to Ming dynasties (10th to 17th centuries AD), 925 silver, stainless steel chain mail and steel stand, 70 x 33 x 177 cm
Credits: Capsule Shanghai
"Celadon Weaver (2020) was a site-specific sculpture for an exhibition inside an antique shop on Hollywood Road in Hong Kong, which has been an important street for antique trading internationally since the 1970s.
It was inspired by my childhood upbringing surrounded by ancient Chinese artifacts, particularly my experience of learning Chinese ceramic ware authenticity through studying ceramic shards with my father.

Celadon Waver explores the connection between the archaeology of the past and my own archaeology of the present. I incorporated ceramic shards in different shades of green of Qingbai, Longquan and Yaozhou ware dating from the Song to Ming dynasties (9th to 12th centuries AD). 
The shards were polished into oval discs and embedded in silver bezels, which were then connected to a chain mail resembling a piece of fabric flowing over a clothes rack, which was prompted by the textiles and Ming dynasty (1368-1644) clothes rack in the antique shop in the exhibition.  
The overlooked piles of ceramic shards transform into unique bezels reinvigorating their intriguing details and jade-like effects that unfold upon closer inspection. The monochromatic glazes, humble shapes and undulating carved motifs of the ceramic shards reflect the sedate beauty and overarching world view of Song dynasty aesthetics and philosophy." – Leelee Chan 
Leelee Chan's sculptures reflect her experience with the extreme urbanization in Hong Kong and are almost always comprised of dumpster detritus household ephemera, and mundane objects from her daily life not generally considered memorable or worth preserving. Derived from an impulse to interrogate these objects' status and value, Chan imaginatively explores their transformative potential and reconfigures each item according to its unique quality. She purposefully integrates these objects with natural and industrial elements such as mother of pearl tiles and seashells, artificial plants and greenery, asphalt and rocks, while preserving each material's open dignity. Her sculptures evoke Modernist architecture and anthropomorphic shapes embedded with playful and meticulous details that slowly unfold upon close inspection. Chan's process-based approach embraces unexpected forms that generate a new living entity driven by their own internal logic — poetic, idiosyncratic, and universally intimate. Chinese Verison: Click Here
Leelee Chan Discusses her process for Celadon Weaver
Megan Connolly Curator Choice Capsule Collection
Click Articles:
Contemporary relics from sculptor Leelee Chan showcase her passion for making art from found objects by Anina Bhargava | South China Morning Post
Assume Form: Leelee Chan interview by Chiara Moioli | Mousse Magazine
Lee lee Chan Material World: The winner of the Art Basel/BMW Art Journey award is off on her travels, undaunted. by Kristina Foster | FT 
Egg Cartons, Scavenged Chandeliers and Broken Teacups: Leelee Chan at Capsule, Shanghai by Ingrid Chu | Frieze
Artist Certificate: Each puzzle comes with an artist certificate.

Biography: Leelee Chan was born in 1984 in Hong Kong. She received her MFA in painting from the Rhode Island School of Design (RISD) in 2009 and her BFA from the School of Art Institute of Chicago in 2006. She currently lives and works in Hong Kong. Her work was exhibited internationally including Tai Kwun Contemporary (Hong Kong), Ullens Center for Contemporary Arts Dunes (Qinhuangdao, China), Capsule Shanghai (Shanghai, China), Downs and Ross (New York, USA), Blindspot Gallery (Hong Kong), Mine Project (Hong Kong), Neptune (Hong Kong), Artemis Project Space (York, UK), The Dorado Project (New Jersey, USA), Flux Factory (New York, USA), Parallel Art Space (New York, USA), Sol Koffler Gallery (Providence, USA). Her work has been covered by Frieze, Artforum, Mousse Magazine, South China Morning Post, Art Asia Pacific, the Financial Times, Cotonoha, and Ocula. Her work is featured in the collection of M+ Museum, Hong Kong and in the JPMorgan Chase Art Collection.
ARTIST CHARITY CHOICE: First Responders Children's Foundation