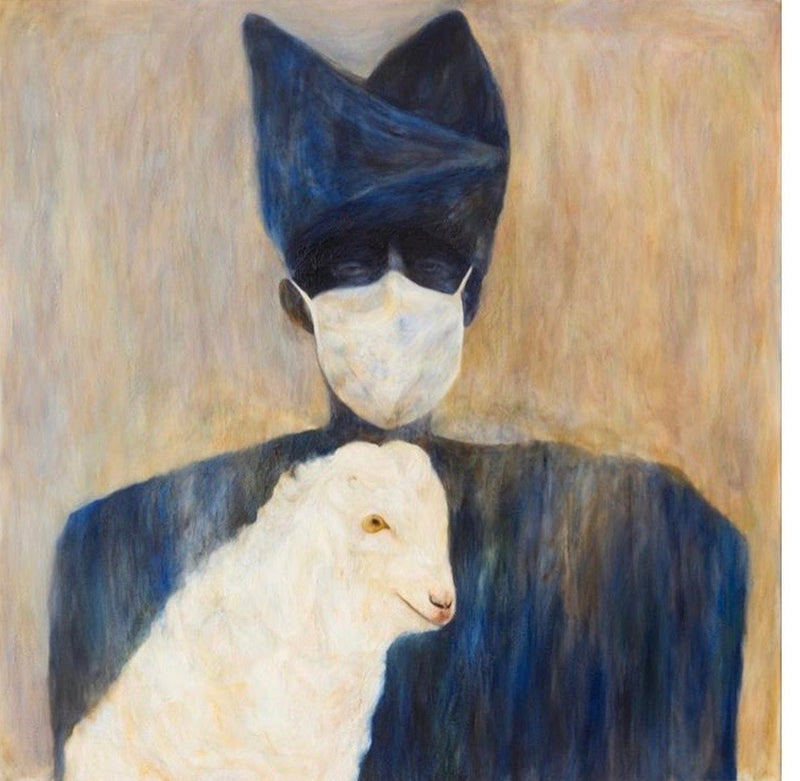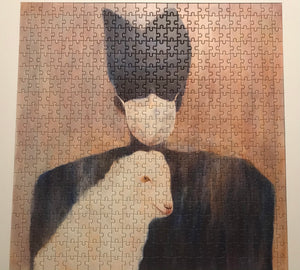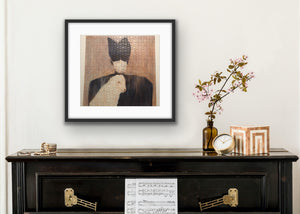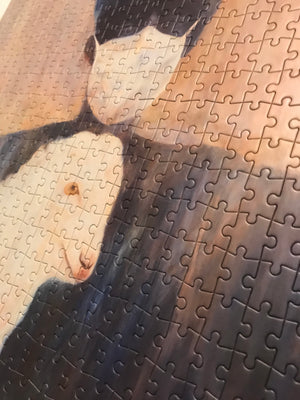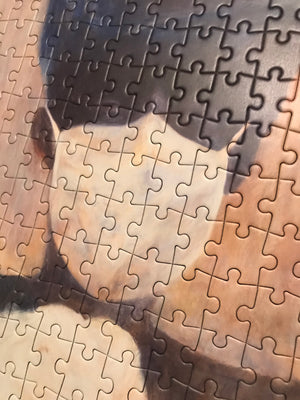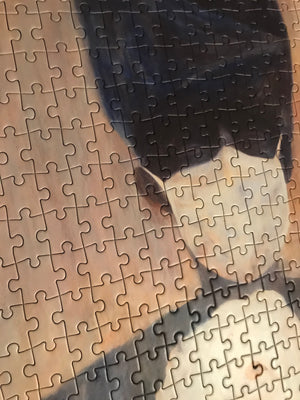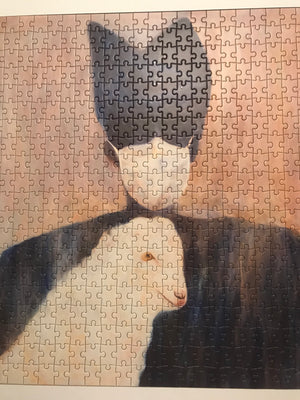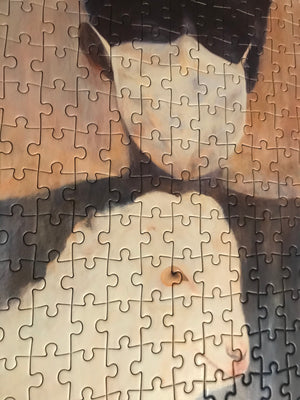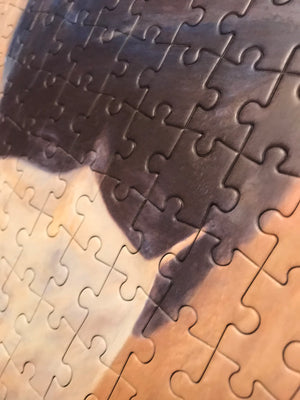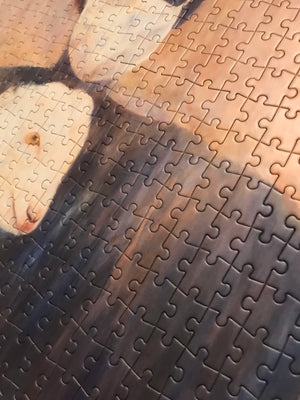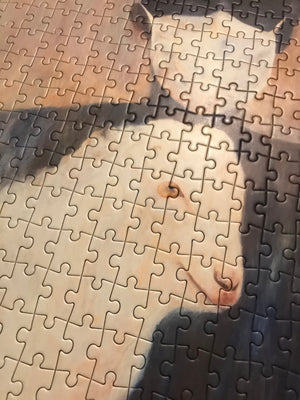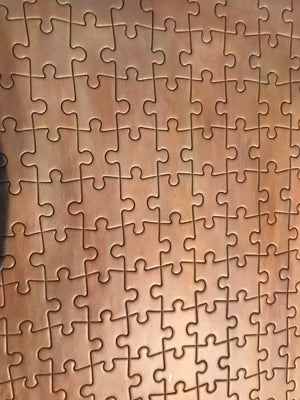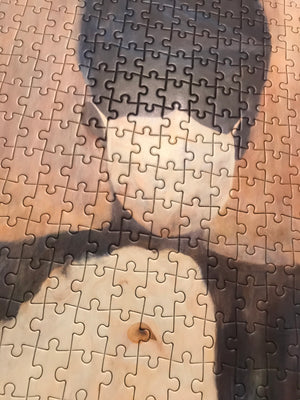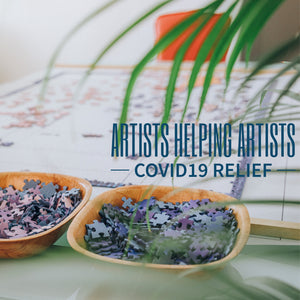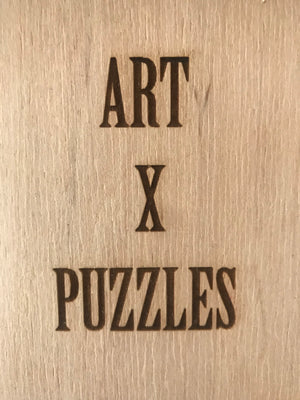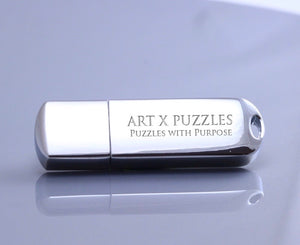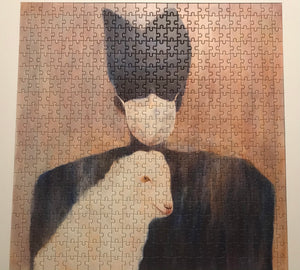 Artist Kharis Kennedy Collector Edition Jigsaw Puzzle
b. 1976  lives and works on the island of St. John in the U.S. Virgin Islands
Title: Woman with Goat and Surgical Mask

Live Video of Jigsaw Puzzle: Click Here 
Jigsaw Puzzle Size: 19" x 19" (482.6mm×482.6mm) 500 Jigsaw Puzzle Pieces ESKA Premium Board. FSC 100% Recycled Paper. 
This Collector Edition arrives with a Pre-Assembled Option and separated onto 2 cardboard squares. The AXP Collector Editions comes ready to slide together for a complete instant puzzle and/or to be broken down for puzzling fun and/or framing! 
Collector Edition of 20 + 2AP
Level: Challenging
Signature Details: Original Artwork: Woman with Goat and Surgical Mask, 2018, oil and glue mixed with pigment on linen, 40 x 40 inches. Image courtesy of the artist and Monica King Contemporary.
Curatorial Spotlight: Curator Alaina Simone's selection of contemporary artists for Art x Puzzles: Puzzle with Purpose.
Click here for ART X PUZZLES: Curator Choice  
Artist Certificate: Each puzzle comes with an artist certificate.
Biography: 
Kharis Kennedy (b. Los Angeles, CA) received her B.A. and B.F.A. from the University of Washington (Seattle, WA). She is a multimedia, interdisciplinary artist working in painting, installation, video and performance. Kennedy approaches the body and objects as sites of knowledge and repositories of awareness to reveal inner truths by investigating society's innermost obsession with consumerism, consumption and self-indulgence. The abstracted psychological revelations of her work inform the struggle for reparation and healing within society and herself. She sources imagery from her subconscious through broad layered interlaced themes reflected by her portrayal of animals and symbolism. Conceptually, Kennedy references gender, status, aging, power, and control as constructs of identity. Her awareness of the intricacies of privilege communicate powerful insights to reveal conflicting feelings and her ongoing investigation of public and personal identity.
Her work has been featured internationally in exhibitions and happenings at the Caribbean Museum Center for the Arts (St. Croix, USVI), A.I.R. Gallery (New York, NY), Watermill Center (Watermill, NY), SculptureCenter (New York, NY) and Intersect Aspen (Aspen, CO) among other prominent public and private institutions. She has been featured in Vice, Hyperallergic and The New York Times among other publications. In 2016, Kennedy co-founded and participated in a multi-experiential exhibition and performance series, Take FIVE: A Survey of Race, Identity, Power, Gender and the Environment in St. Croix, USVI to create dialogue in her local art community.  Her work is represented by Monica King Gallery (New York, NY). She lives and works in St. John, USVI.
ARTIST CHARITY CHOICES: BLM and First Responders Children's Foundation