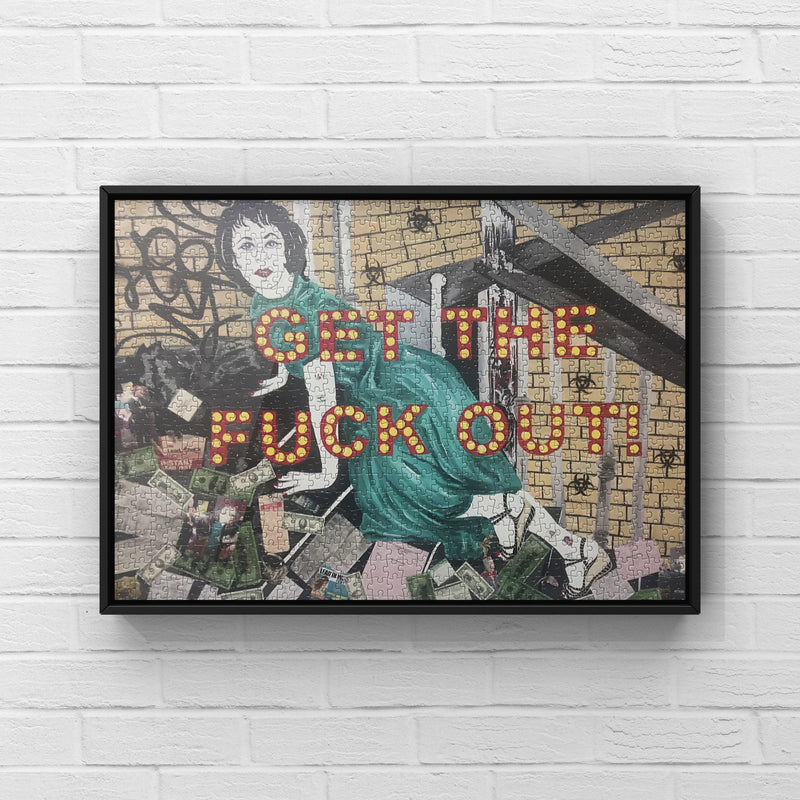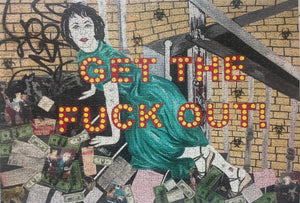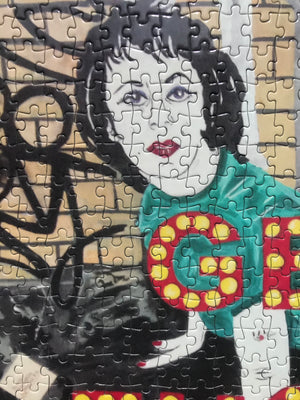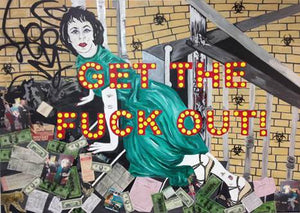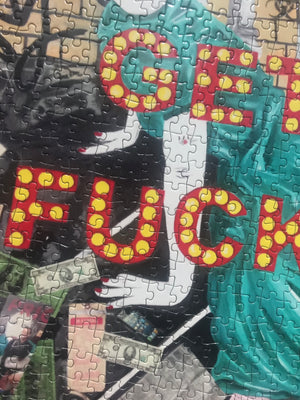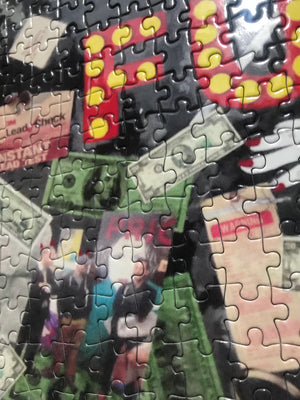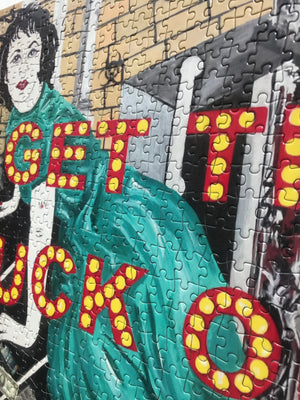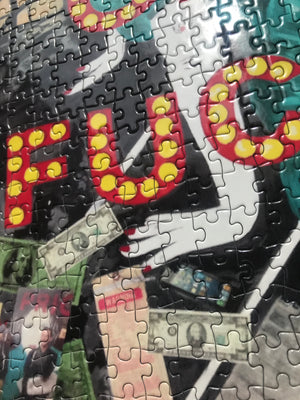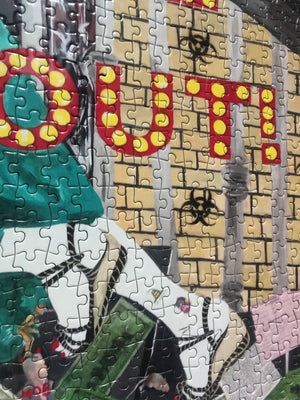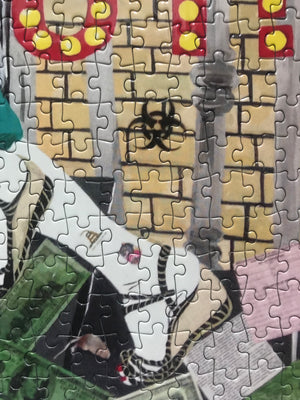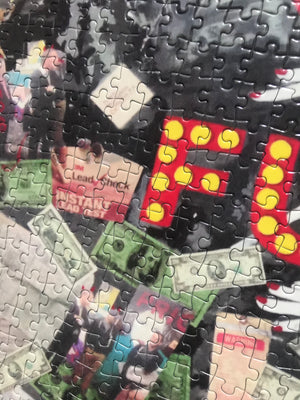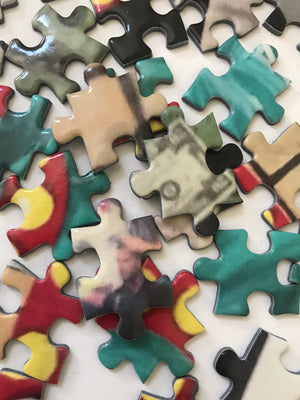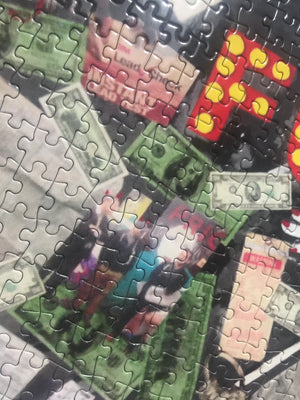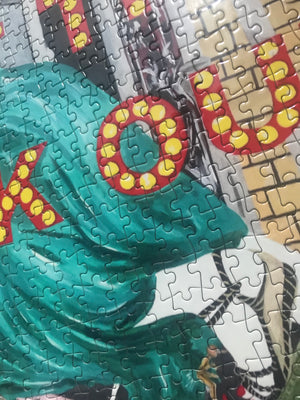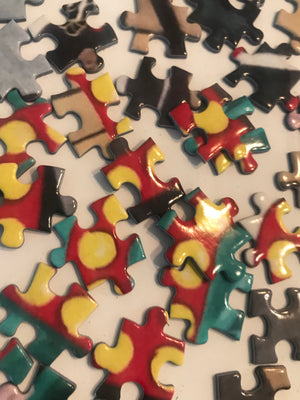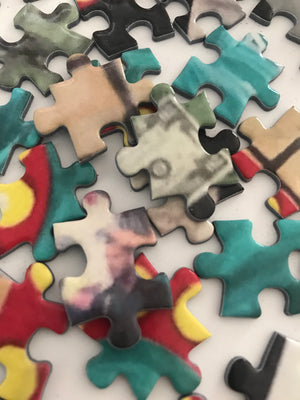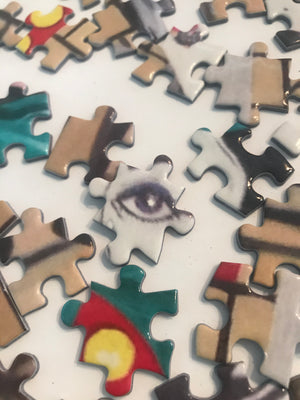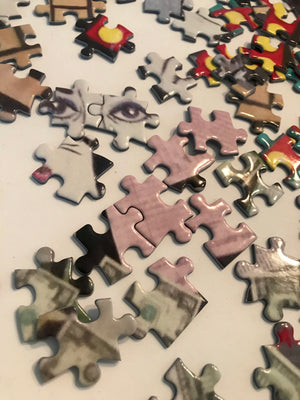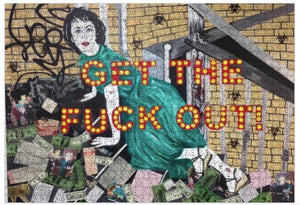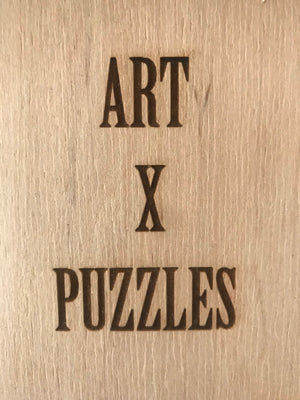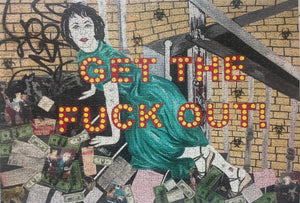 Artist Kathe Burkhart Collector Edition Jigsaw Puzzle
b. 1958,  Martinsburg WV, currently lives and works in New York City and Amsterdam
Title: Get The Fuck Out
Live Video of Jigsaw Puzzle: Click Here 
Jigsaw Puzzle Size: 19.25"x 28"  (489mm x 711mm) 1000 pieces | ESKA Premium cardboard puzzle thickness (1.9mm) FSC 100% Recycled Paper. Gloss Finish.
This Collector Edition arrives with a Pre-Assembled Option and separated onto 2 cardboard squares. The AXP Collector Editions comes ready to slide together for a complete instant puzzle and/or to be broken down for puzzling fun and/or framing! 
The Collector Edition arrives in a specially custom-made wood box engraved with Art X Puzzles.
Collector Edition of 20 + 2AP

Level: Complex
Signature Details: 
Original Artwork: 'Get the Fuck Out': from the Liz Taylor Series (Elephant Walk) 2017. 
Acrylic, fake money, digital prints, legal documents, NYC housing violations, temporary tattoos on canvas. Size: 80" x 60" 
Kathe Burkhart created this work in response to the traumatic experience of being forced out of her Loft Board protected live-work loft of thirty years in Williamsburg, Brooklyn at the hands of ruthless landlords, and contains images of the space and documents pertaining to the seven years of litigation she engaged in to save it. 

"It is no exaggeration to say that wherever the current generation of young female painters may be headed, chances are Ms. Burkhart has already been there." -- Holland Cotter, The New York Times
"The bulk of the works feature Liz Taylor, who serves as both a post-feminist icon and the artist's alter ego. Rather than the typical vision of a progressive feminist, Burkhart offers Taylor—she of the multiple marriages, plastic surgeries, and religions—as her own model of the modern woman: a gorgeous, fucked-up, diva mess… In the same way that Joan Crawford and Judy Garland—talented women scarred by lives of baroque excess—serve as gay icons, Liz, Burkhart suggests, might serve as an alternative beacon for women who don't relate to mainstream models of feminism, from the white middle-class edicts of Gloria Steinem or Catherine McKinnon to the New Agey go-girl televangelism of Oprah."-- Martha Schwendener, Artforum 
Click Article: In the Studio with Kathe Burkhart by Jane Ursula Harris
Artist Certificate: Each puzzle comes with an artist certificate.
Biography:
Kathe Burkhart is an American/Dutch interdisciplinary artist, painter, writer, and art critic, best known for her ongoing Liz Taylor series, an ongoing self-portrait project in which the late iconic actress serves as the artist's double. 

Kathe Burkhart (American, born 1958) is an interdisciplinary artist and writer. Working since the early '80s, Burkhart has consistently and candidly engaged gender roles, sexuality, celebrity, and language to, in her words, "articulate a radical female subject." Ongoing from 1982, her Liz Taylor Series of large-scale, richly saturated paintings combines appropriated portraits of actress Elizabeth Taylor with profane language, shattering both female stereotypes and conventions of representation. Ms. Burkhart has been widely exhibited nationally and internationally, including The Whitney Museum, Venice Biennale, PS1 Contemporary Art Center/MoMA, Kunsthalle Fribourg, the New Museum, Brooklyn Museum, Weatherspoon Museum, Neuberger Museum, Banff Centre for the Arts (Canada) SMAK Museum, (Gent, Belgium) Flash Art Museum, Galleria d' Arte Moderna, Bologna (Italy) and the Groningen, Zwolle and Helmond Museums (Netherlands) among many others. She has had 44 solo exhibitions, among them Participant Inc., Mary Boone Gallery, Mitchell Algus Gallery, and Feature Inc., NYÇ. Her works are included in the collections of the Whitney Museum of American Art, the Art Institute of Chicago, the Stedelijk Museum, Amsterdam, among others.