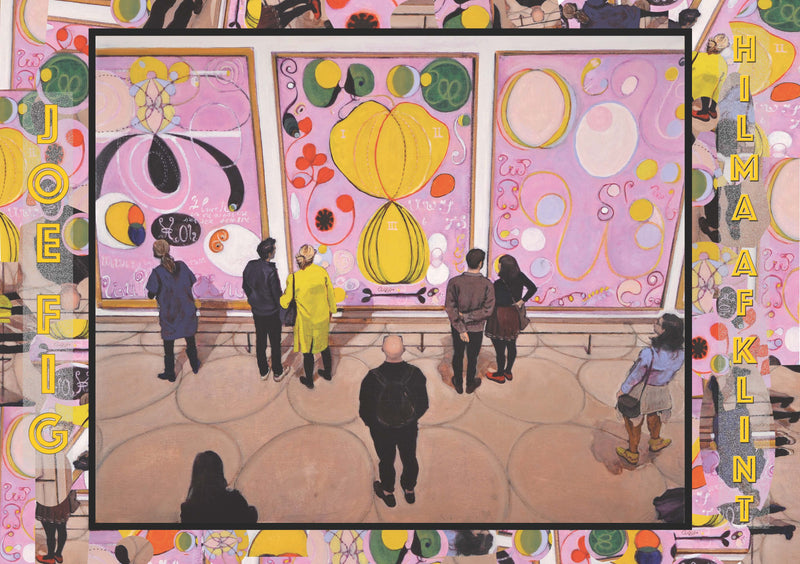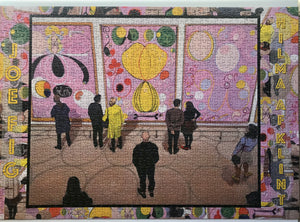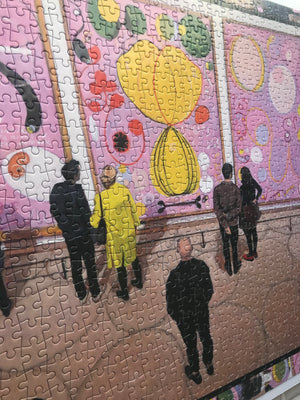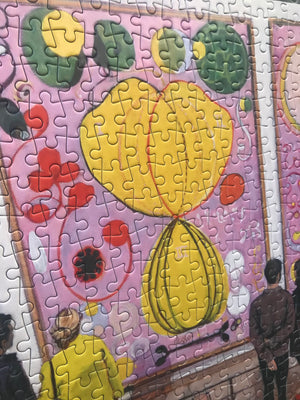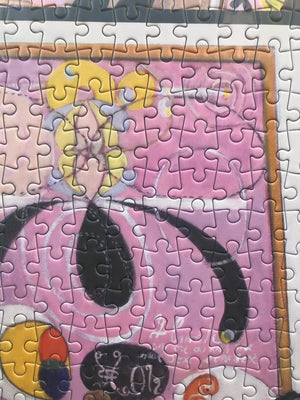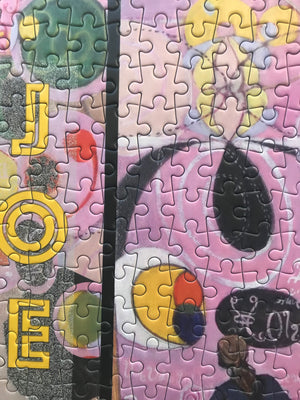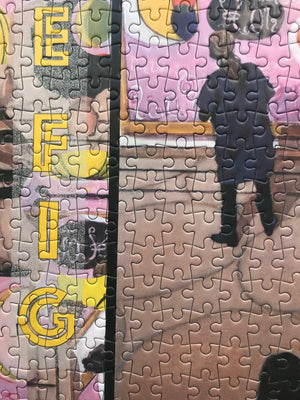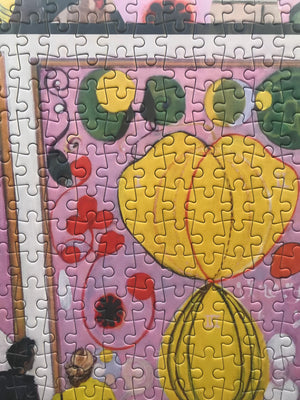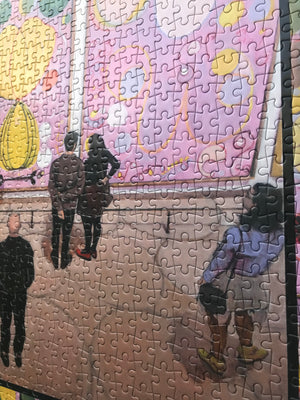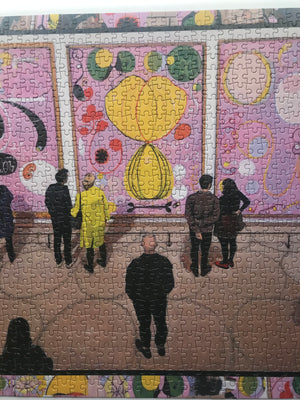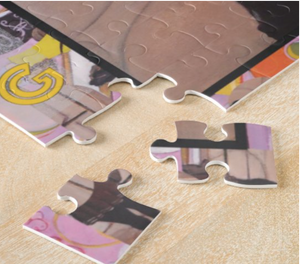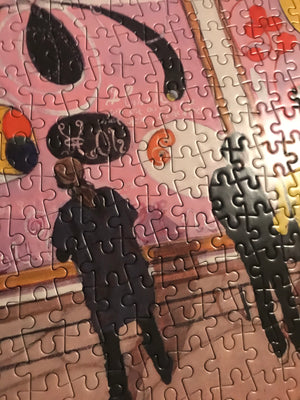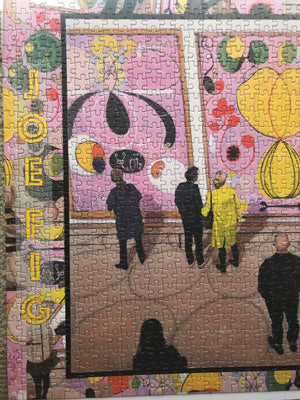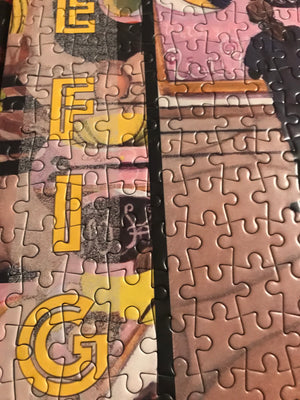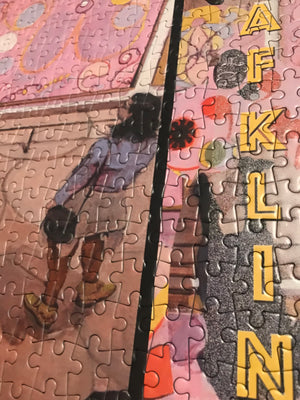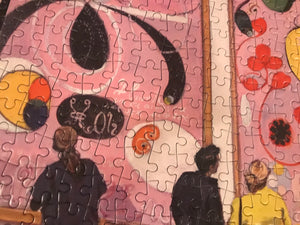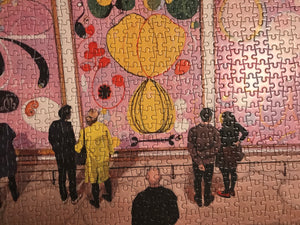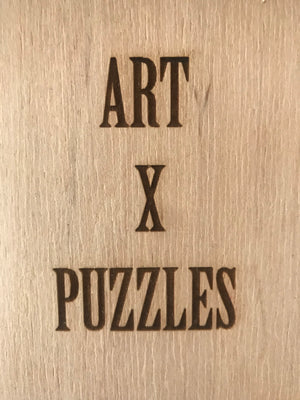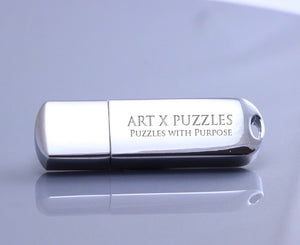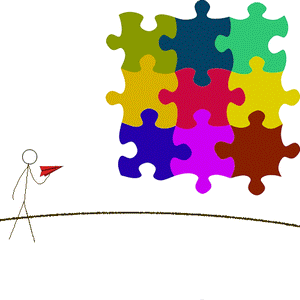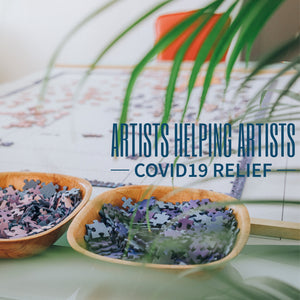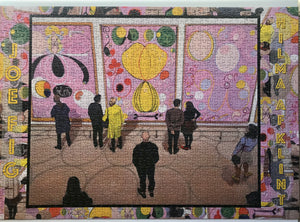 Artist Joe Fig Collector Edition Jigsaw Puzzle
b.1986, Seaford NY lives and work in Sarasota, FL and Westbrook, CT
Title: Hilma af Klint/Guggenheim Puzzle
Live Video of Jigsaw Puzzle: Click Here 
Jigsaw Puzzle Size:  19.75" x 28" (502mm x 711mm) 1000 Jigsaw Puzzle Pieces, ESKA Premium Board. Traditional Paper Jigsaw Puzzle.
Collector Edition of 20 + 2AP
Level: Challenging
Signature Details: 
Hilma af Klint: The Ten Largest, Adulthood  # 6, 7 & 8 / Guggenheim 18 ¼" x 22", Oil on Linen, 2019.
The painting depicted in this puzzle is part of the current series entitled, Contemplation. This series focuses on people in museums and galleries in moments of serious contemplation, with an appreciation for the quiet joy of looking and seeing. The series furthers Fig's exploration of the creative process and of artist's in their studios, often depicted contemplating works in progress. This series takes those art works out of the studio and into the public realm. The evolution of an artwork from the studio to a public space then makes it part of the record and opens it to broader critique, criticism and contemplation. For those involved in the art world, there is no greater joy than the appreciation of experiencing art in person. Unfortunately, during this time of COVID, it really has become evident how much that is missed.
Exhibition "Contemplation" by Joe Fig at Cristen Tierney Gallery September 1-October 17,  2020
Click Articles: 
Joe Fig by Johanna Fateman  | New Yorker
Joe Fig: A Book, a Show and a Talk by Paul Laster |Whitehot Magazine
Artists at Work (Very Tiny Ones) by Benjamin Genocchio \ New York Times
Artist Certificate: Each puzzle comes with an artist certificate.
Biography: Joe Fig is known for work that explores the creative process and the spaces where art is made. His work is exhibited nationally and internationally with over thirty solo and fifty group exhibitions. He is the author of Inside the Painter's Studio and Inside the Artist's Studio (Princeton Architectural Press), which shares an intimate view inside the studios of today's leading artists. His work can be found in numerous museums and leading private collections including the Parrish Art Museum, Norton Museum of Art, New Museum and the Toledo Museum of Art. His work has been featured in The New York Times, Artforum, Art in America, ArtNews and Modern Painters as well as several international magazines. Joe is the Department Chair of Fine Arts and Visual Studies at Ringling College of Art and Design.  He is represented by Cristin Tierney Gallery in New York where his exhibition Contemplation is on view thru October 17, 2020.