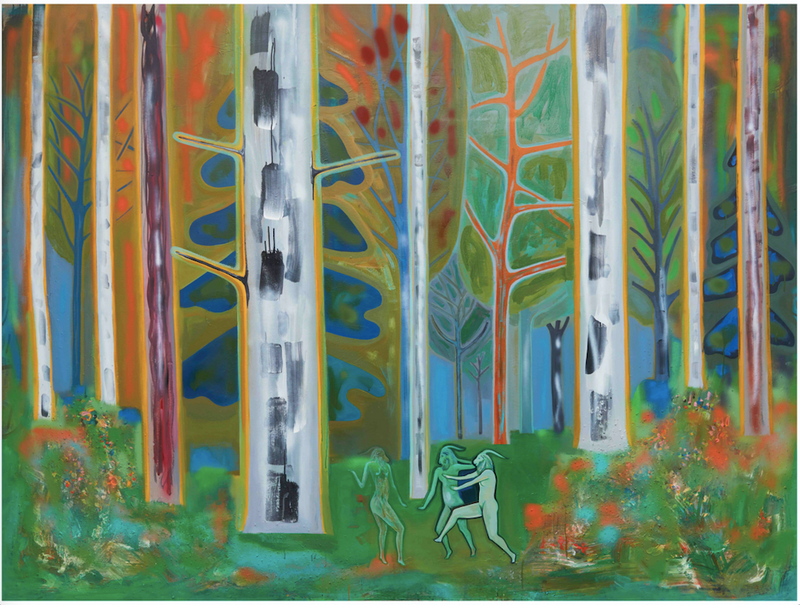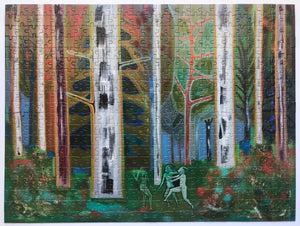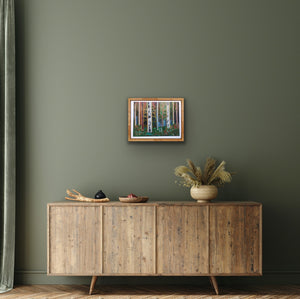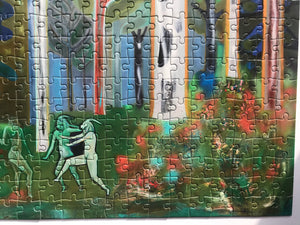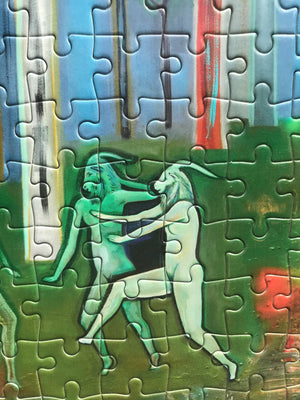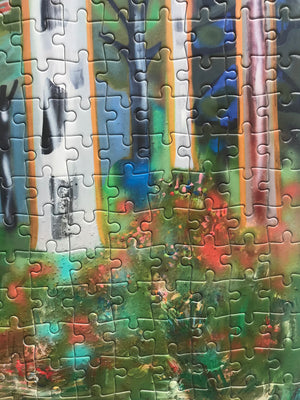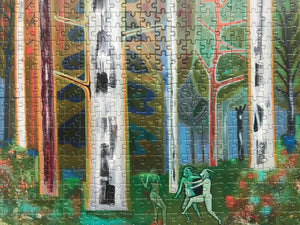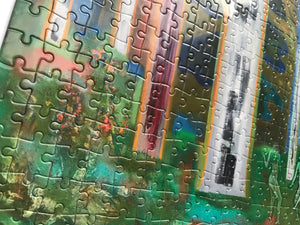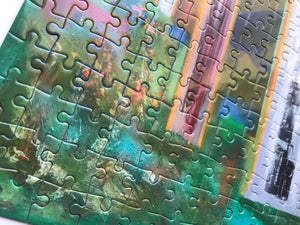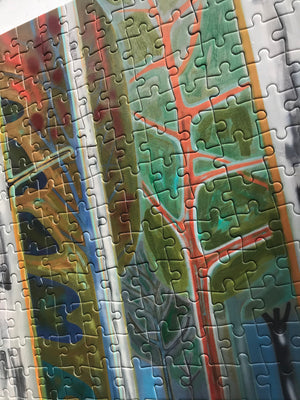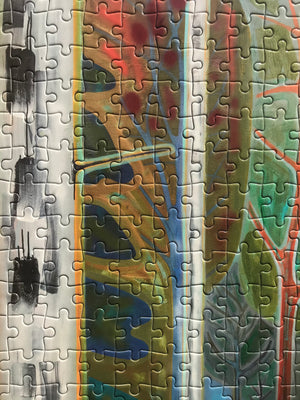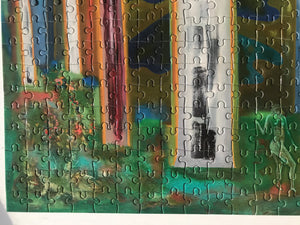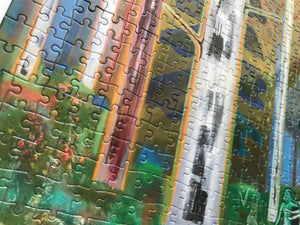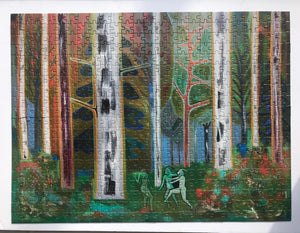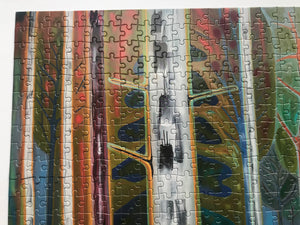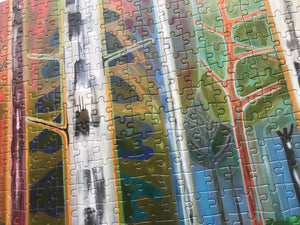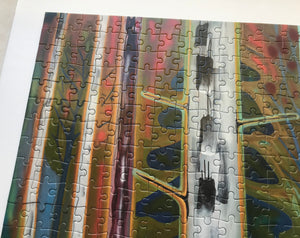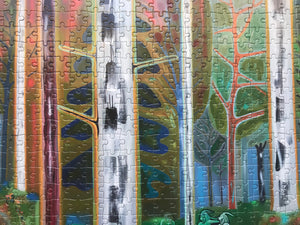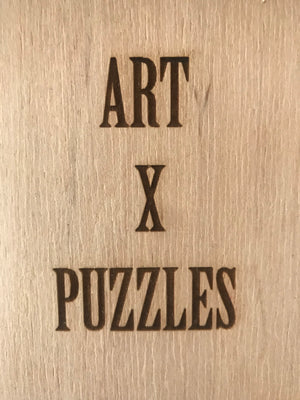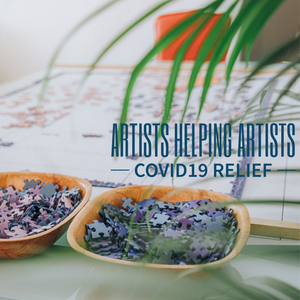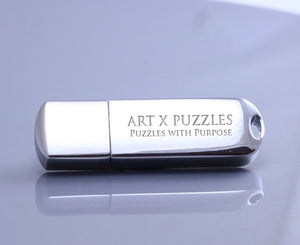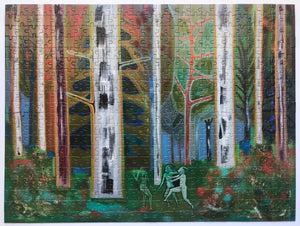 Artist Jennifer Coates Collector Edition Jigsaw Puzzle
b. 1973 Surrey, England lives and currently works in Brooklyn NY and Lakewood PA.
Title: Pan Goddesses
Live Video of Jigsaw Puzzle: Click Here
Jigsaw Puzzle Size: 18" x 24" 500 Jigsaw Puzzle Pieces, Eska Premium Board
Collector Edition of 20 + 2AP
Level: Challenging
Signature Details: Original Artwork: Pan Goddesses, Acrylic on canvas 6' x 8', 2020 | Photo credit - Alan Wiener and High Noon Gallery 
Pan Goddesses (2020) is a recent painting that reflects an ongoing investigation into the material and chromatic potential of acrylic paint within the matrix of landscape painting. Trees stretch up vertically and contain color harmonies and gestures that make them seem like paintings within a painting: each one contains an abstract expressionist idea within the bounds of the trunk. Thick encrusted paint is pitted against spray paint, wet, messy brushstrokes against carefully articulated edges. The optical buzz at these edges becomes a part of the meaning of the work as halos of light are emitted from every form and nature becomes a place of heightened, intensified sense experience. In Pan Goddesses, three green female, goat-headed figures cavort, and are completely dwarfed by the enormous scale of the forest around them. Pan is typically considered a male figure in mythology, but in Coates' world, gender is flexible. The invocation of Pan recalls the deity's depiction in art history from Ancient Greece, to Poussin, to Picasso. But also, the name Pan is the etymological root of the words panic, pandemic and pandemonium, making a crucial link to contemporary life.

Artist Certificate: Each puzzle comes with an artist certificate.
Click Articles: 
Following the Logic of Paint: Jennifer Coates Interview by Stephen Ellis | BOMB MAGAZINE
Studio Visit with Jennifer Coates: WHITEHOT MAGAZINE
Biography: 
Jennifer Coates had a solo show in early 2020 entitled "Toxic Halo" at High Noon Gallery, NYC. She has also had solo shows at Freight & Volume Gallery ("Correspondences" 2018 and "All U Can Eat" 2017). She has had two person shows with Caroline Chandler (Crush Curatorial, NYC); David Humphrey (Fiendish Plots, Lincoln, NE and Arts and Leisure, NYC); and Tom Burckhardt (Valentine Gallery, NYC). Her work has been exhibited in group shows including Zurcher Gallery, Kate Werble Gallery, Asya Geisberg Gallery, Platform Project Space, Jeff Bailey Gallery and Inman Gallery, among others. Her work has been featured in publications such as Bomb Magazine, the Brooklyn Rail, Hyperallergic, Artcritical, Whitehot Magazine and Artnews Magazine. She was the recipient of a 2019 fellowship at the Civitella Ranieri Foundation and was a 2018-2019 fellow at the Sharpe Walentas Studio Program.