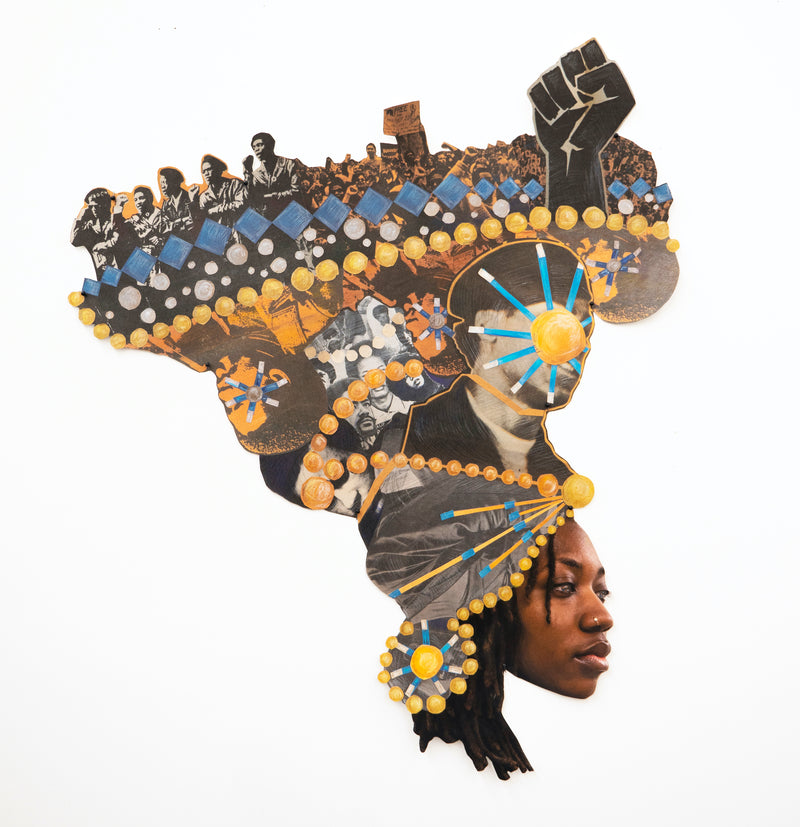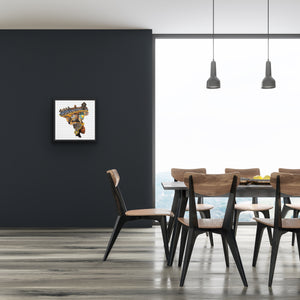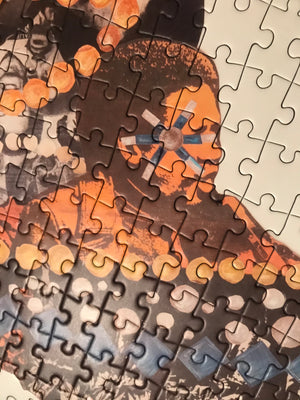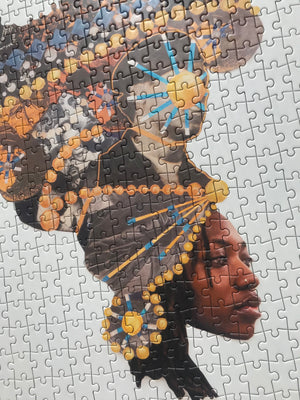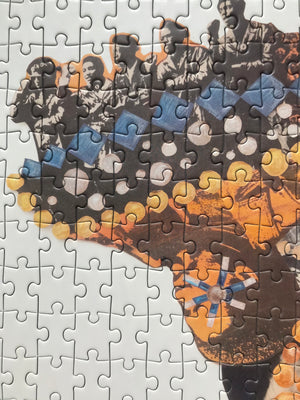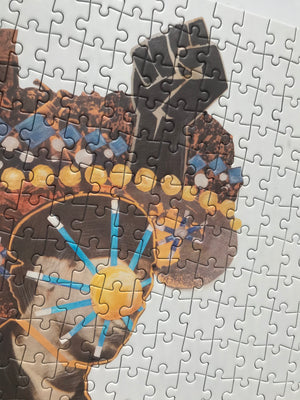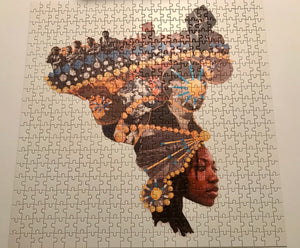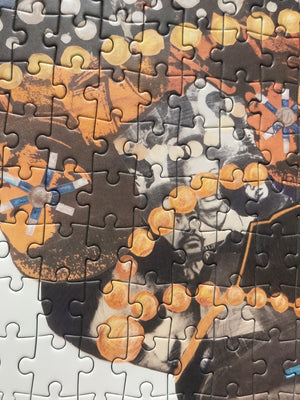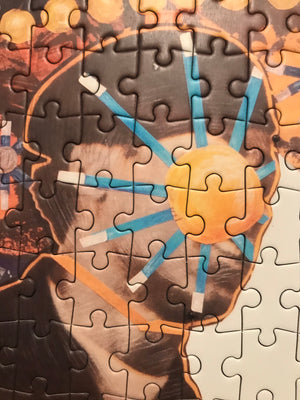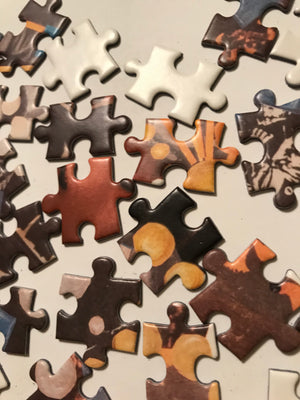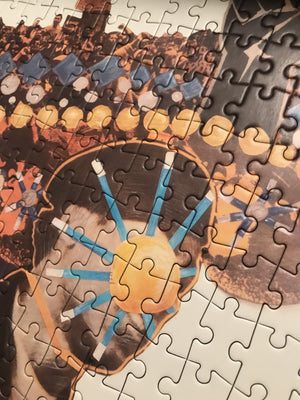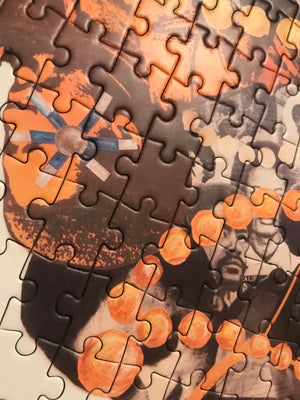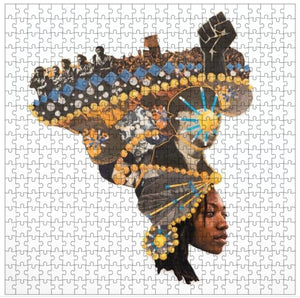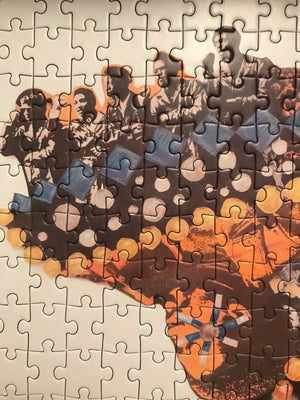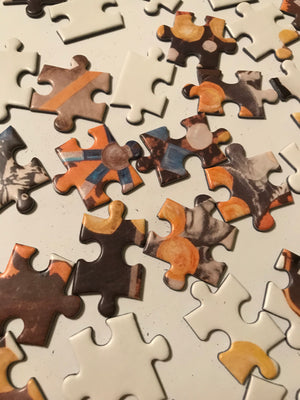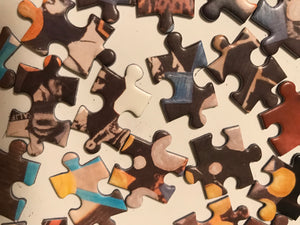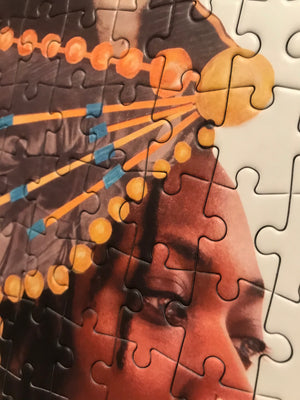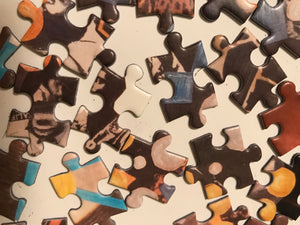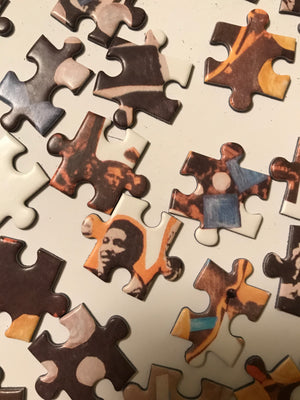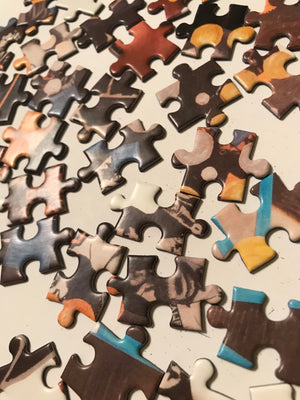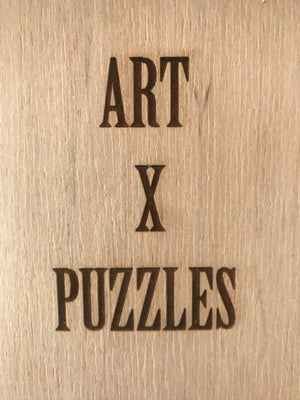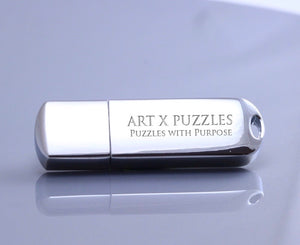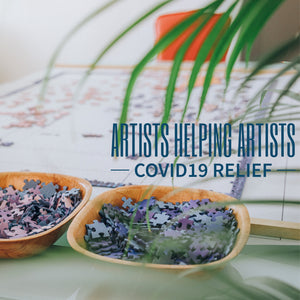 Artist Helina Metaferia Collector Edition Jigaw Puzzle
b. 1983, Washington DC lives and works in New York City.
Title: Headdress 6 
Live Video of Jigsaw Puzzle: Click Here 
Jigsaw Puzzle Size: 19"x 19" (482.6mm×482.6mm) 500 Jigsaw Puzzle Pieces, ESKA Premium Board.  FSC 100% Recycled Paper.
This Collector Edition arrives Pre-Assembled Option and separated onto 4 cardboard squares according to size. The AXP Collector Editions comes ready to slide together for a complete instant puzzle and/or to be broken down for puzzling fun and/or framing! 
Collector Edition of 20 + 2AP
Level: Complex
Signature Details: Headdresses 6 (By Way of Revolution Series), 2019, Documentation of a collage, Collaged paper 23 x 28 in. Image courtesy of artist and private collection. 
My work examines the impact of civil rights eras of the past on today's social justice movements. The project centralizes women of color as its main protagonist. It combines archival research with performative gestures to produce mixed media collages. 
My process begins with library research within Black liberation archives. This prompts me to facilitate performance workshops for those who identify as women of color at institutions around the country. The workshops deconstruct historic protest gestures in an effort to heal trauma stored in the body. I then produce mixed media collages, where images of historical activism are transformed into crowns of adornment on top of images of contemporary women, all of whom were workshop participants. 
This work feels urgent to me. In our trying political climate, where black lives are continuing to fight to matter in the eyes of white supremacy, and women are summoning the courage to speak out against sexual violence, my work seeks to combine the fiery of previous generations with the direness of today in order to imagine a better collective future. 
Curatorial Spotlight: Curator Alaina Simone's selection of contemporary artists for Art x Puzzles: Puzzle with Purpose.
Click here for ART X PUZZLES: Curator Choice  
Click Article: Coming soon! 
Artist Certificate: Each puzzle comes with an artist certificate.
Biography: Helina Metaferia (b. Washington, D.C) completed her MFA at Tufts University's School of the Museum of Fine Arts and attended the Skowhegan School of Painting and Sculpture. She is an interdisciplinary artist working in performance, video, collage, and assemblage. Her work interrogates the politics of the body in space, particularly as it relates to notions of identity and citizenship. This ongoing series created by Metaferia in 2019, By Way of Revolution Series utilizes the mediums of collage, installation, video, performance, participation, and social engagement to address the inherited histories of protest that inform contemporary social movements.

Metaferia has exhibited her work at public and private institutions including the Museum of African Diaspora (San Francisco, CA), Museum of Fine Arts (Boston. MA), Smack Mellon (New York, NY), Museum of Contemporary Art Detroit (Detroit, MI), and Modern Art Museum Gebre Kristos Desta Center (Addis Ababa, Ethiopia) among other prominent institutions. Her artist residencies include Bemis Center for Contemporary Art (Omaha, NE), MacDowell Colony (Peterborough, NH), Yaddo (Saratoga Springs, MA), MASS MoCA (North Adams, MA), and Triangle Arts Association (Brooklyn, NY), among others. She has taught in the BFA and MFA programs at the San Francisco Art Institute, (San Francisco, CA), Michigan State University (Lansing, MI), and Parsons Fine Arts (Brooklyn, MI). She is currently an Andrew W. Mellon Fellow / Assistant Professor at Brown University (Providence, RI). She lives and works in New York City.