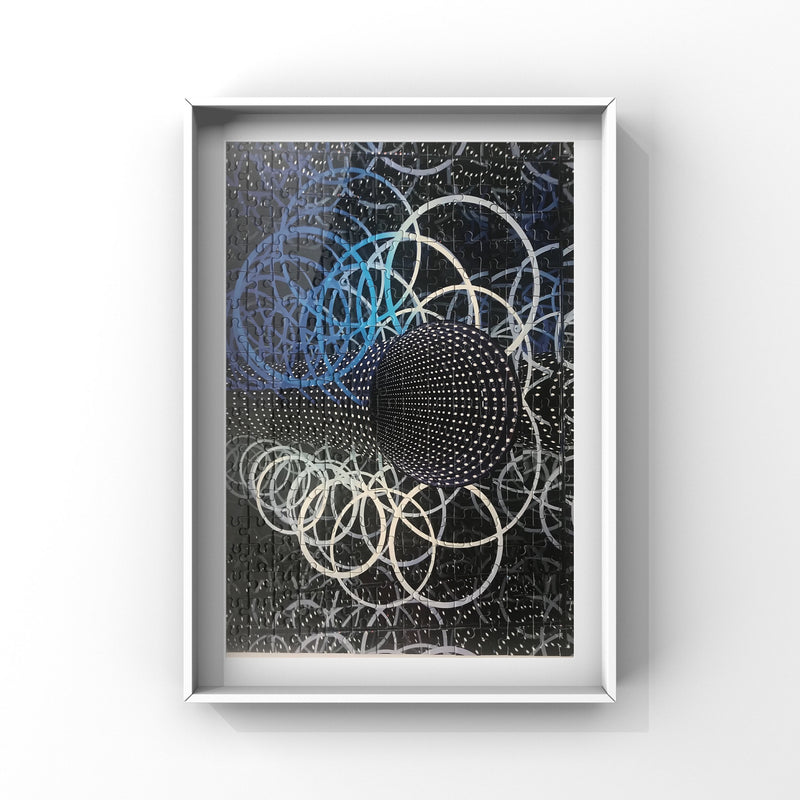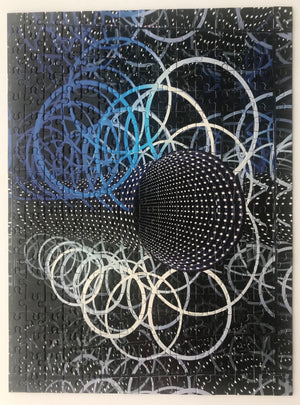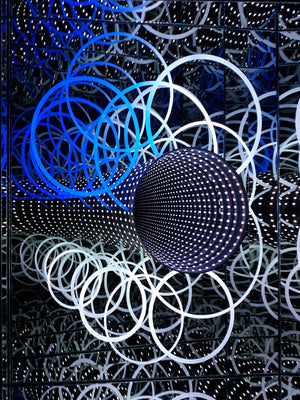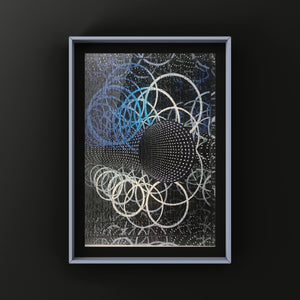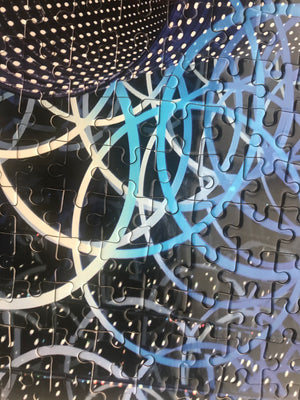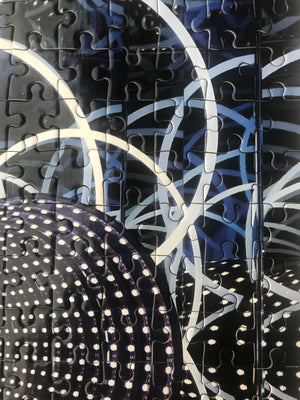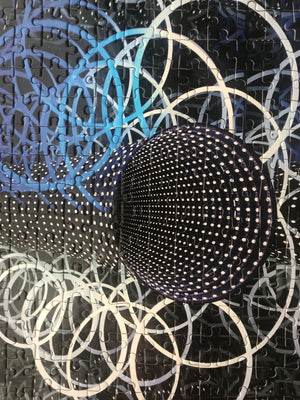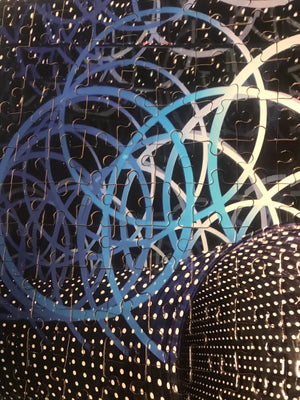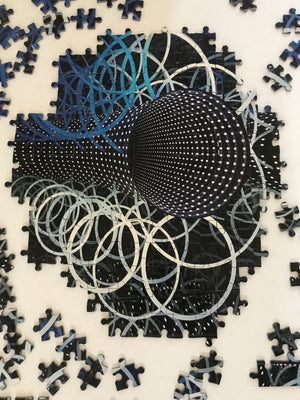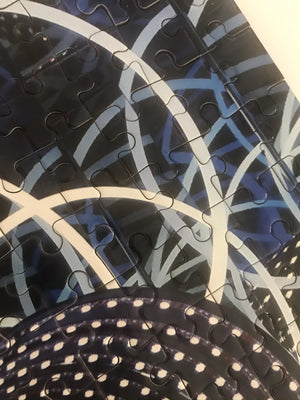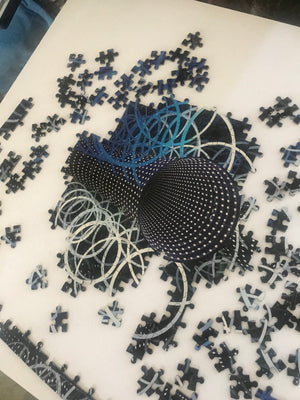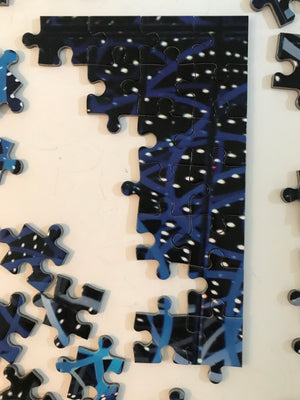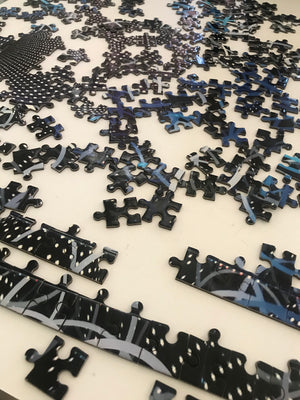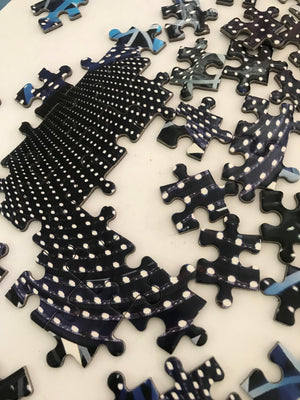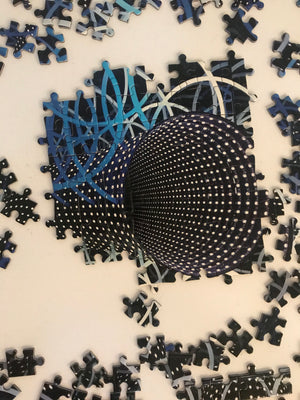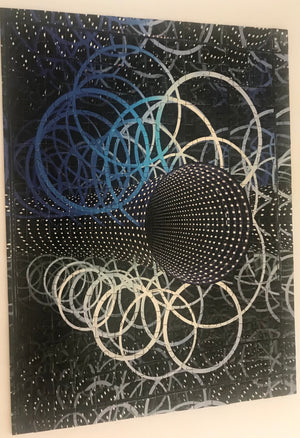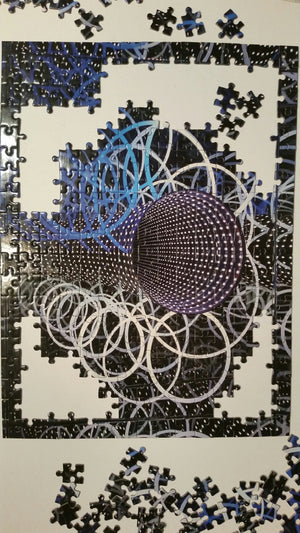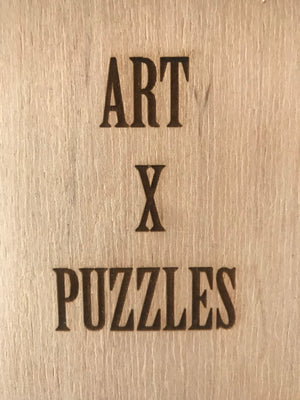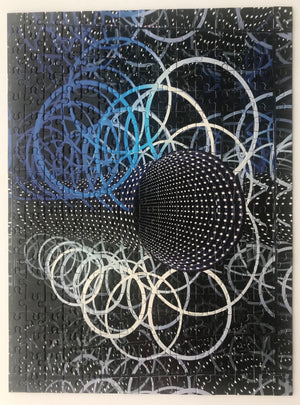 Artist Hans Kotter Collector Edition Jigsaw Puzzle
1966, Muhldorf, Germany currently lives and works in Berlin.
Title: Circles, (from the Chromatic Landscape Series)
Live Video of Jigsaw Puzzle: Click Here 
Jigsaw Puzzle Size: (Vertical) 12" X 16.5" (310mm×418mm) 285 Jigsaw Puzzle Pieces, Eska Premium Board. Magnetic Layer. 
FSC 100% Recycled Paper. Gloss Finish.
This Collector Edition arrives Pre-Assembled Option and separated onto 4 cardboard squares according to size. The AXP Collector Editions comes ready to slide together for a complete instant puzzle and/or to be broken down for puzzling fun and/or framing! 
Magnetic Layer: This superior puzzles have cleverly incorporated a very thin layer of material with gentle magnetic properties underneath all the pieces, allowing the puzzle to be more stable and secure as the puzzler puts them together.

This puzzle with beautiful light and color will keep one puzzling for hours of entertainment. Exploring the depth of unique imagery and artwork by artist Hans Kotter. The 285 piece puzzle will challenge and surprise, while providing hours of entertainment and fun for all. This collect edition will be coveted for years to come! 
The Collector Edition arrives in an especially custom-made wood box engraved with Art X Puzzles.
Collector Edition of 20 + 2AP
Level: Complex
Signature Details: Much of Kotter's oeuvre, including his Chromatic Plants series, is based upon the use of a prism, photographing the diffraction of light through it. With polished stainless steel with color-changing LEDs, Kotter's works at the intersection of photography, design, and technology, creating sculptures and installations that give physical form to light. Constantly exploring new materials and techniques, Kotter has a body of work that ranges from lightboxes of painting-like macro photography to optical-illusion-like LED sculptures to room-sized installations that envelop visitors in emotive and visually stimulating washes of color.
Click Articles: Hans Kotter: Light boxes and point of view. | Designboom
Museum Exhibition: MAKK Kunst und Design: Hans Kotter / Light-Colour-Space 
For the MAKK exhibition, Hans Kotter specially created Rise and Fall, an installation suspended in space. The monochrome LED lights are programmed in such a way that the individual elements of this light sculpture seem to hover in space and – as the name already indicates – seem to rise and fall.
Artist Certificate: Each puzzle comes with an artist certificate.
Biography:
Hans Kotter's work is an exquisite commentary on the way that light interacts with the environment. It references the minimalist neon sculpture of the 1960s and 1970s by artists such as Dan Flavin, and can be seen as part of the canon of exciting "light" work by contemporary artists such as Olafur Eliasson and James Turrell. Kotter's creations oscillate between technical perfection, naturalness, artificiality and painterly appearance, creating works of art that cannot be comfortably categorized. His light-based sculptures reflect the mutability of light due to the steady change of colors as one flows into the next, as well as a strong interest on the part of Kotter in engaging his audience. This is achieved primarily through the interactive quality of his work – the appearance of each is customizable according to viewer preference. Much of Kotter's oeuvre, including his Chromatic Plants series, is based upon the use of a prism, photographing the diffraction of light through it. The results are beautiful, unique images that seem to be amorphous forms of pure color. These images are further integrated into his sculptural work as slides composed of intricate and unique series of color segments. Throughout his oeuvre, Hans Kotter consistently manipulates light and color to invariably benefit and transform the environments that the works inhabit. Hans Kotter was born in Muhldorf am Inn, Germany in 1966. His work has been exhibited widely throughout Europe and the United States. Highlights include participation in exhibitions at Villa Datris (L'Isle-sur-la-Sorgue, France), KineticaMuseum (London), and the Museum of Contemporary Art (Zagreb). His work is in collections including the Targetti Light Art Collection (La Sfacciata, Italy), Museum Ritter (Waldenbuch, Germany), and Kinetica Museum (London).He currently lives and works in Berlin.