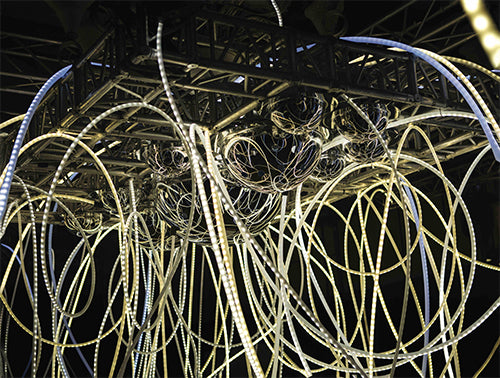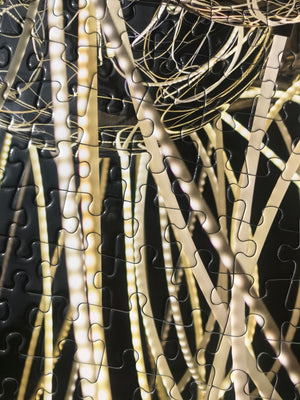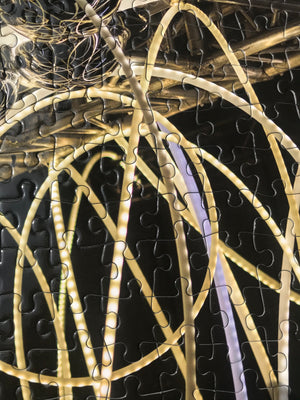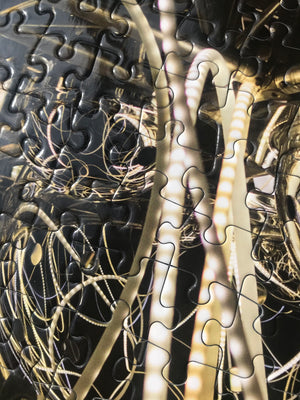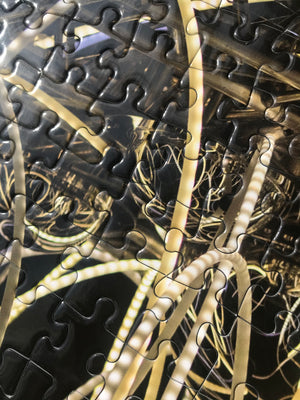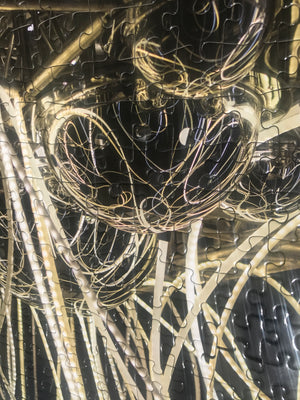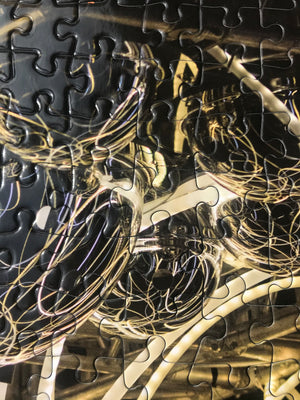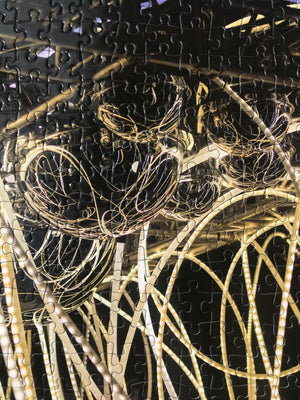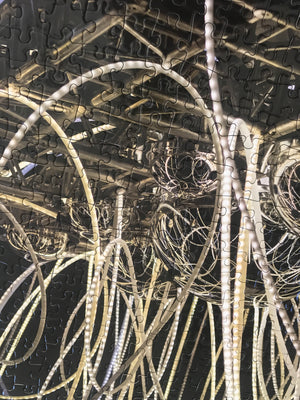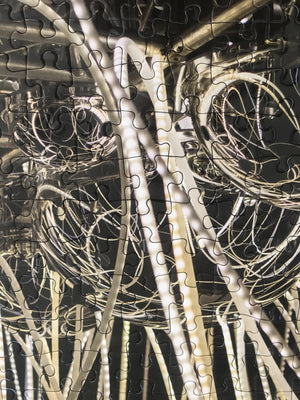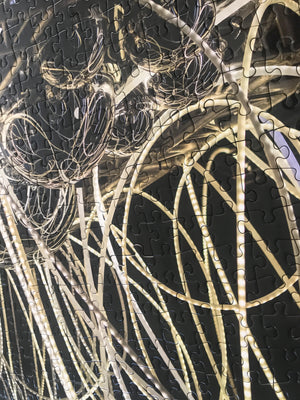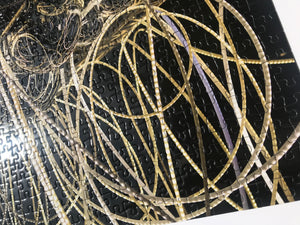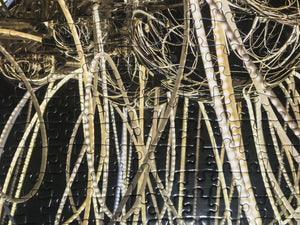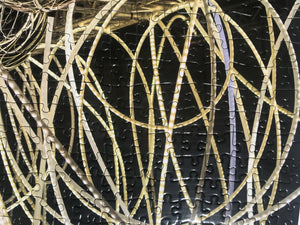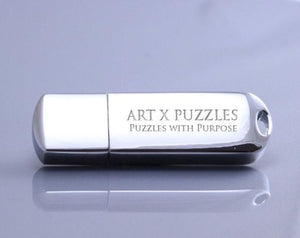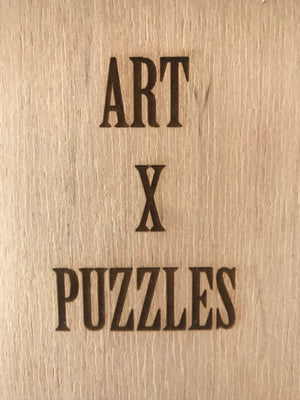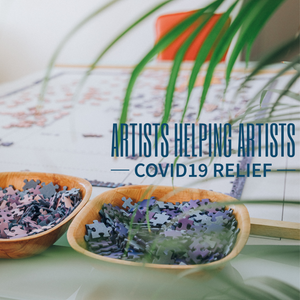 Artist Grimanesa Amorós Collector Edition Jigsaw Puzzle
B. 1962 Lima, Peru. Currently works and lives in New York City
Title:  GOLDEN CONNECTION 
Live Video of Jigsaw Puzzle: Click Here
Jigsaw Puzzle Size:  24" x 18" (609.6mm x 457.2mm) 500 Jigsaw Puzzle Pieces, ESKA Premium Board, FSC 100% Recycled Paper, Magnetic Layer.  
This Collector Edition arrives Pre-Assembled and separated onto 2 to 5 cardboard squares according to size. The AXP Collector Editions comes ready to slide together for a complete instant puzzle and/or to be broken down for puzzling fun and/or framing! 
Magnetic Quality: This extremely well-made puzzle has cleverly incorporated a very thin layer of material with gentle magnetic properties underneath all the pieces, allowing the puzzles to be more stable and secure as the puzzler puts them together.
This dynamic and complicated artist jigsaw puzzle takes advantage of your eyes, and shines day or night for any puzzler! Breathtaking imagery and puzzle pieces that seem to glow in the dark, make this puzzle a very special collector item for many years to come.
The Collector Edition arrives in a specially custom-made wood box engraved with Art X Puzzles.
Collector Edition of 20 + 2AP
Level: Complex/Fun
Signature Details: Title: GOLDEN CONNECTION Commissioned Organization: Art Basel Hong Kong | Harper's Bazaar Art Media: mixed media, LEDs, diffusive reflective material, custom lighting sequence, electrical hardware Dimensions: Ballroom Sculpture – 100 ft x 50 ft x 20 ft
Articles Click Here: Artist Grimanesa Amoros Combines Architecture And Ecology For Spellbinding Public Work by Priscilla Frank \ Huffington Post
Grimanesa Amorós Illuminates Prospect Park With Immersive Installation Hedera by Ann Binlot | Forbes Magazine
A Light Installation Inspired by the Eye in the Sky by Laura Feinstein  | T Magazine NYTIMES
Artist Certificate: Each puzzle comes with an artist certificate.
Biography: Grimanesa Amorós is a New York-based American interdisciplinary artist with diverse interests in the fields of social history, scientific research, and critical theory. Through her art, she conveys a sense of ephemeral wonder, entrancing viewers from all different backgrounds and communities. She inspires others to become agents of empowerment. Grimanesa makes use of sculpture, video, and lighting to create works that illuminate our notions of personal identity and community. She was a guest speaker at TEDGlobal 2014, a recipient of the 'NEA Visual Artist Fellowship', the 'NEA Artist Travel Grant', and has the distinction of being part of the 'Art In Embassies Program of the U.S.'.
Grimanesa Amorós has often drawn upon important Peruvian cultural legacies as inspiration for her large-scale light-based installations, which she has presented around the globe, from Mexico, Tel Aviv, and Beijing, to New York's Times Square. She continues to be inspired by Peru's history for her art, but does not hold an essentialist or nostalgic view of her subject. Grimanesa often gives talks at museums and universities where her lectures attract not only developing artists, but students and faculty engaged with science and technology. When it comes to the art of Grimanesa Amorós, one feels that the past is meeting the future. Amorós has exhibited in the United States, Europe, Asia and Latin America.
 AXP Artist Charity Choice: The Women's Alzheimer's Movement