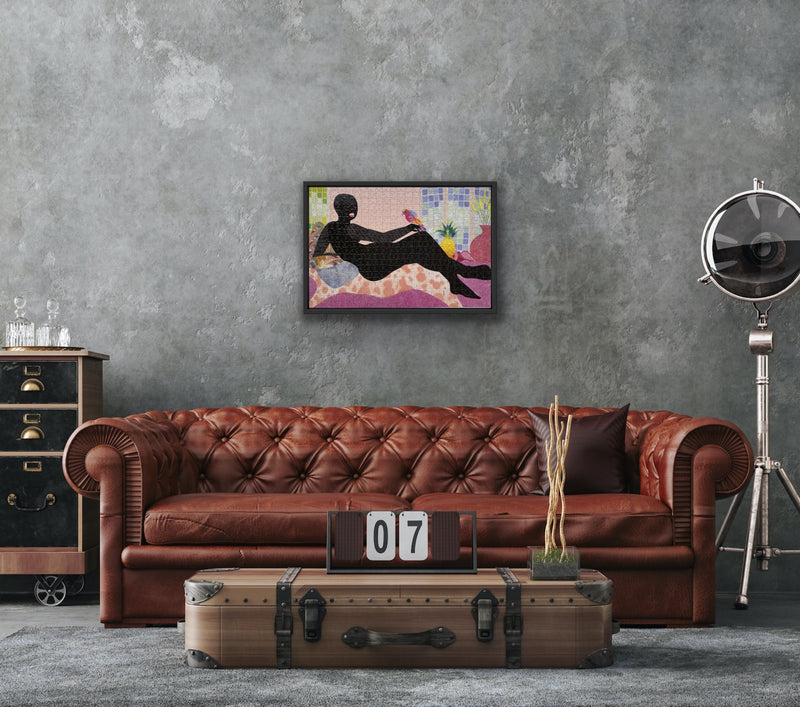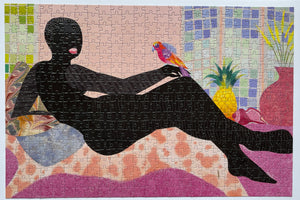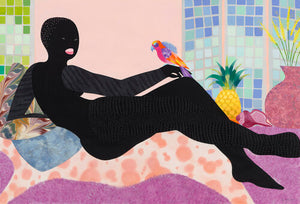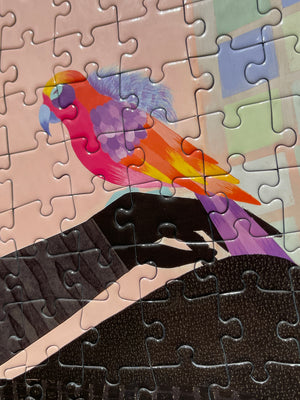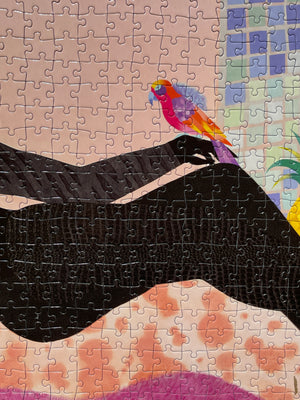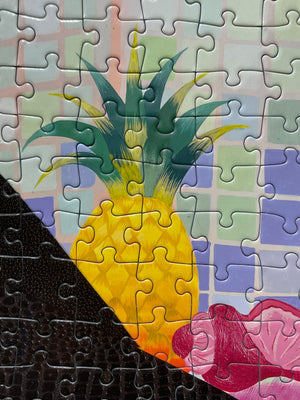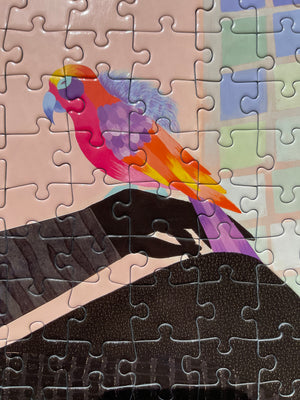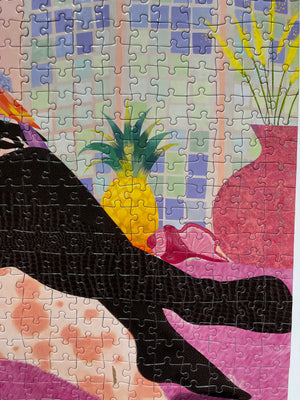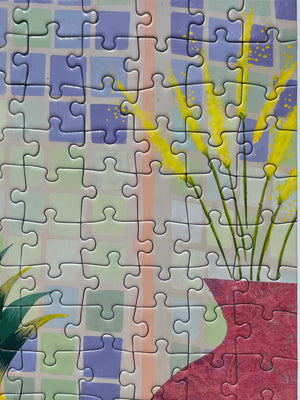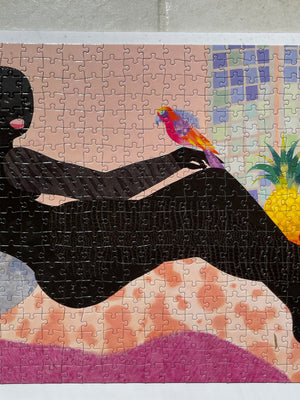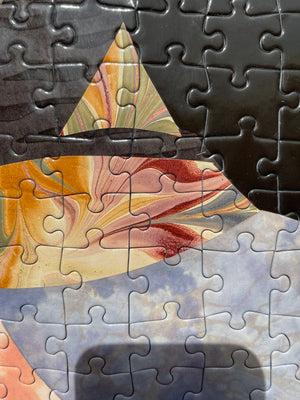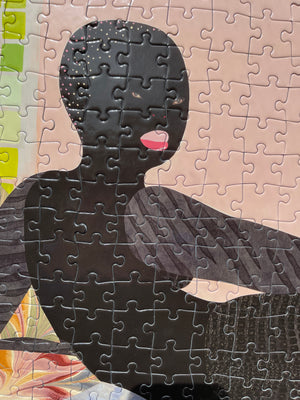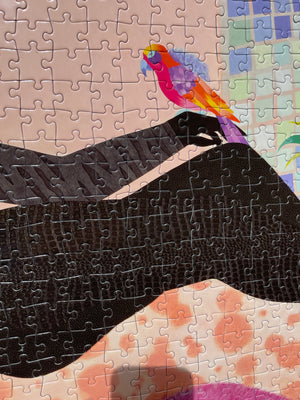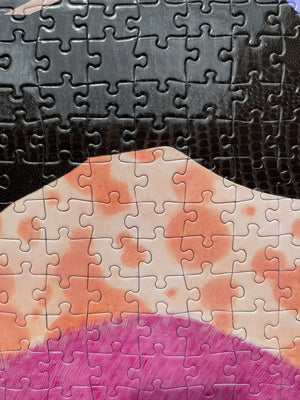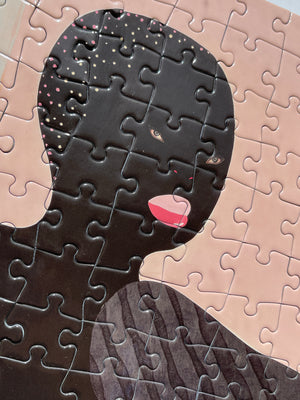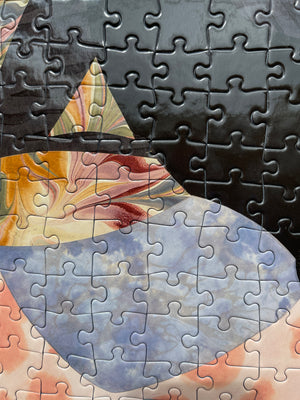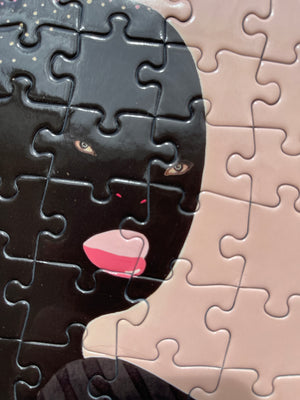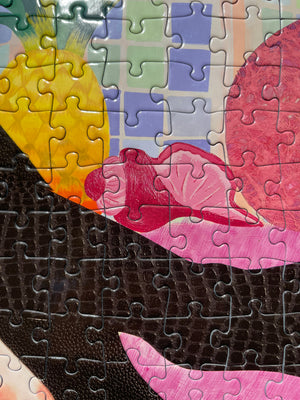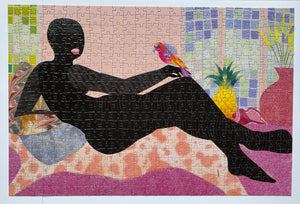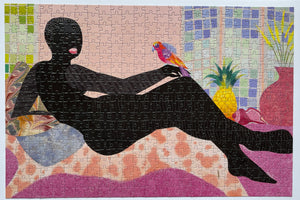 Artist Grace Lynee Haynes Collector Edition Jigsaw Puzzle X Dallas Art Fair
 b.1986 California. Lives and works In Newark, NJ.
Title: Confined
Live Video of Jigsaw Puzzle: Click Here
Jigsaw Puzzle Size: :  20"x 30" (508 mm x 672mm) 500 Jigsaw Puzzle Pieces, ESKA Premium Board. FSC 100% Recycled Paper. Magnetic Layer.
This Collector Edition arrives with a Pre-Assembled Option and separated onto 2 cardboard squares. The AXP Collector Editions comes ready to slide together for a complete instant puzzle and/or to be broken down for puzzling fun and/or framing! 
Magnetic Quality: This extremely well-made puzzle has cleverly incorporated a very thin layer of material with gentle magnetic properties underneath all the pieces, allowing the puzzles to be more stable and secure as the puzzler puts them together.
Level: Challenging

Collector Edition of 30 + 2AP
Signature Details: Confined. 2020. Credit: Artist and Luce Gallery

Haynes creates lusciously composed paintings containing bright textures and patterns. Intricate moments are juxtaposed against flat, black swaths of paint shaped to represent black female bodies. The artist's painterly devices lead the viewer to question the very nature of color and how historically symbolic meanings surrounding colors and shades, especially black, are constructed. In Haynes's work, black appears aspirational, dignified, and sublime. The result is a network of images addressing complex topics and stereotypes surrounding black femininity.
Formally, Lynne is a master of color play and conveying textural details. She showcases young women lounging in luxuriously painted patterns against washes of color. Grace portrays tender moments as the hands of her figures rest on swaths of delicately layered areas of patterning and puffy tufts of material that compose of clothing. You can almost feel how soft the textures and patterns are in each painting.
Haynes artwork has appeared in numerous solo and group exhibitions; as well as in publications, including multiple appearances on the cover of the The New Yorker.
Click Articles:
Grace Lynne Haynes Is The 27-Year-Old Painter Behind Your Favorite 'New Yorker' Covers With flat female figures in a single hue, the artist celebrates the beauty of being a Black woman by Rose Minutaglio | ELLE Magazine
Artist tells the story behind her New Yorker cover portrait of Sojourner Truth | CNN Style
Artist Spotlight: Grace Lynne Haynes | BOOOOOOOM
Grace Lynne Haynes's "Trendsetters" by Francoise Mouly | New Yorker
Artist Certificate: Each puzzle comes with an artist certificate.
Biography: Grace Lynne Haynes, an inaugural member of Kehinde Wiley's Black Rock Senegal residency, is included in the 2020 edition of Forbes 30 Under 30 in Art & Style. Her first Los Angeles solo exhibition is in March of 2020 at the Band of Vices Gallery, and she will follow it up with a solo exhibition at Luce Gallery in Italy in 2022. Haynes has exhibited at the Ontario Museum of History and Art, Untitled Art Miami, Dallas Art Fair and Paul Robeson Gallery of Rutgers University, Newark. She was a selected artist in Daily Collector's online article "20 Painter's Who Are Shaping the Next Decade", and her work has been published in LA Weekly, New American Paintings, Creative Quarterly, and Culture Type.