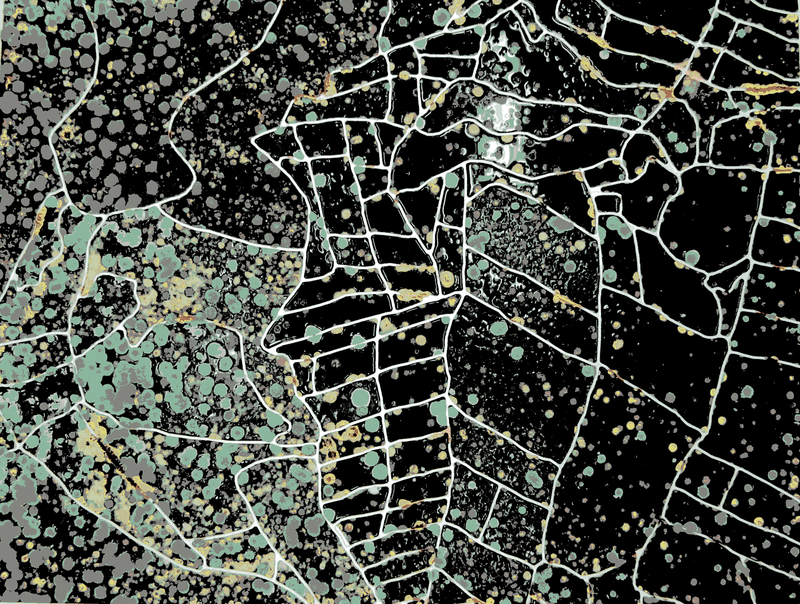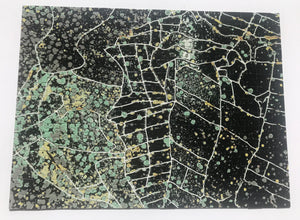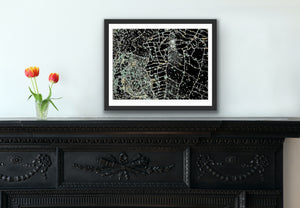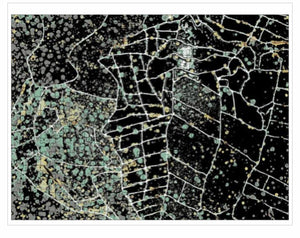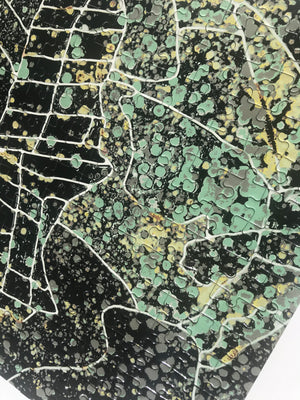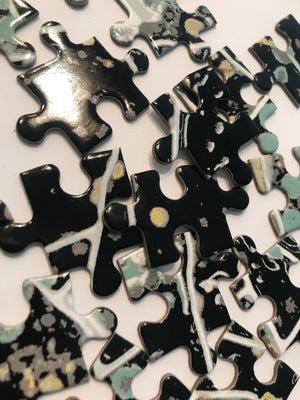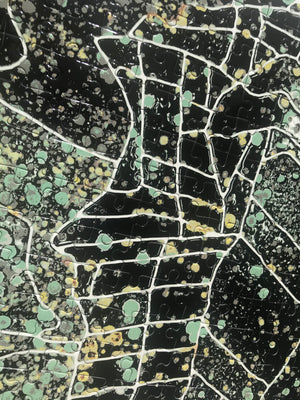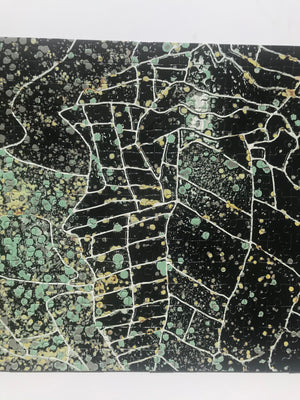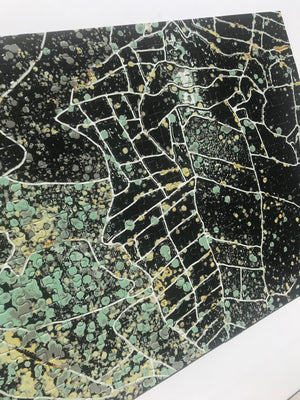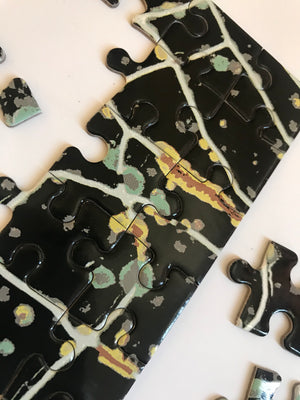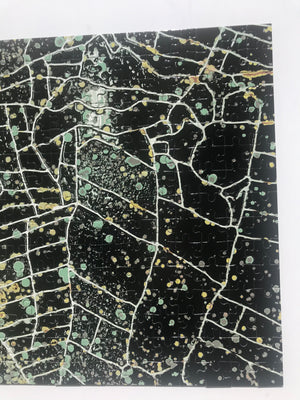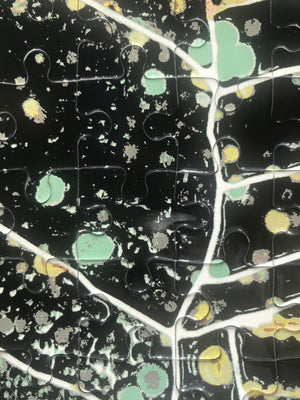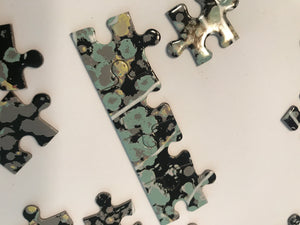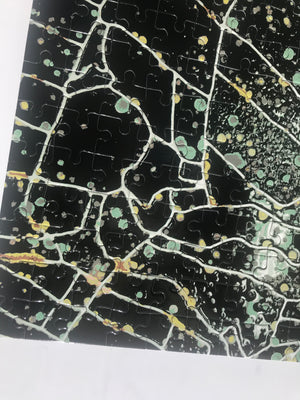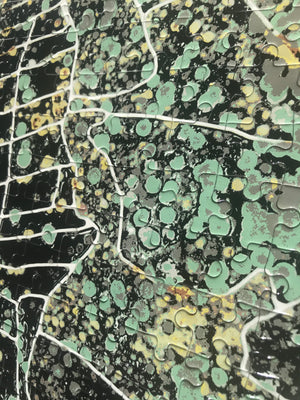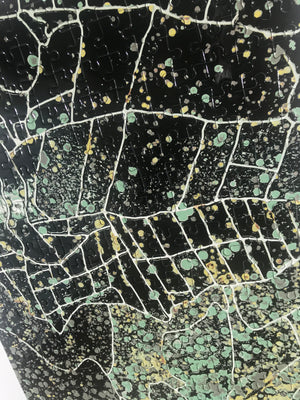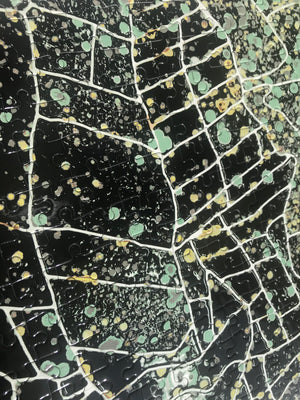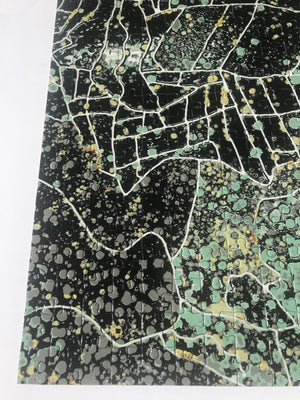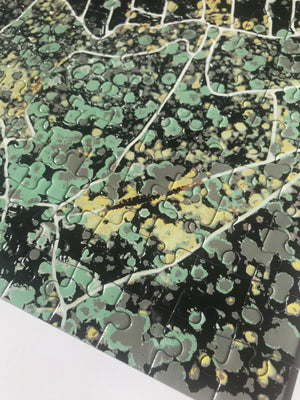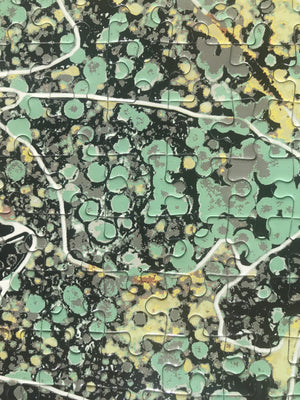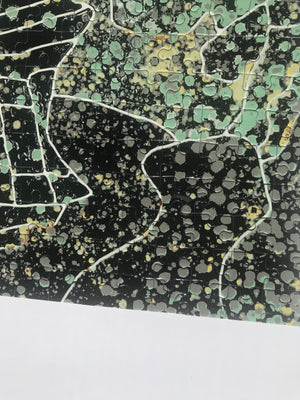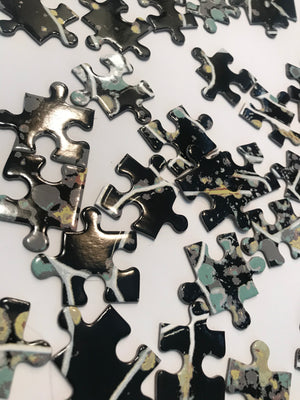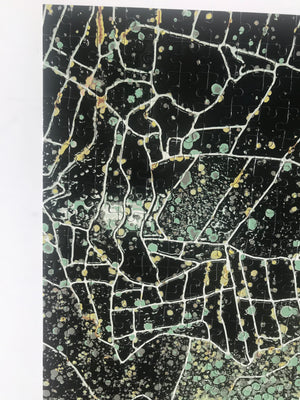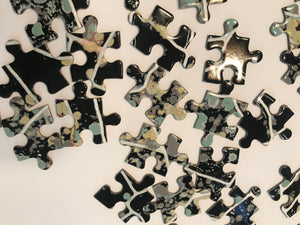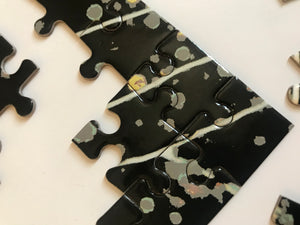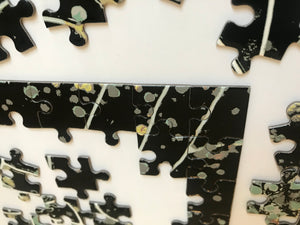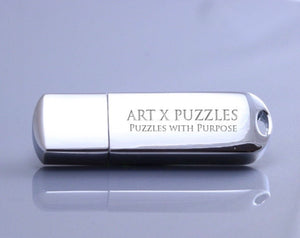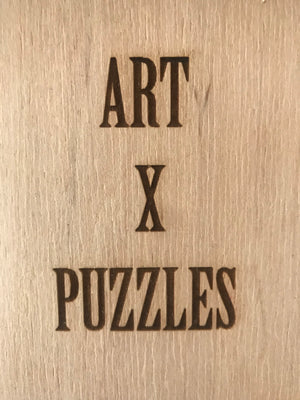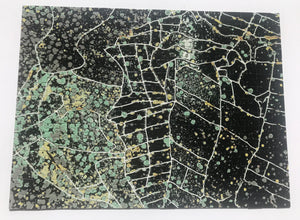 Artist Gal Weinstein Collector Edition JIgsaw Puzzle
b. 1970, Ramat Gan, Israel - lives and works in Tel Aviv.
Title: Jezreel Valley in the Dark
Live Video of Jigsaw Puzzle: Click Here 
Jigsaw Puzzle Size: (Horizontal) 12"x 16.5" (310mm×418mm) 285 JIgsaw Puzzle Pieces, Eska Premium Board. Magnetic Layer.
This Collector Edition arrives with a Pre-Assembled Option and separated onto 2 cardboard squares. The AXP Collector Editions comes ready to slide together for a complete instant puzzle and/or to be broken down for puzzling fun and/or framing! 
This extremely well-made puzzles have cleverly incorporated a very thin layer of material with gentle magnetic properties underneath all the pieces, allowing the puzzle to be more stable and secure as the puzzler puts them together.
This special jigsaw puzzle with twist and turns that will keep one puzzling for hours on end. 
2The Collector Edition arrives in a specially custom-made wood box engraved with Art X Puzzles.
Collector Edition of 20 + 2AP
Level: Challenging 
Signature Details:
Jezreel Valley in the Dark, May 2017 Polyurethane, coffee, and sugar
Weinstein's works can be distinguished by the artist's great skill and the use of heterogeneous materials, from wood to porcelain, from wax to polystyrene and steel filaments. It is precisely the simplicity of the materials from which the work is made contrasts with the significance of the themes and the images selected and with the rigor discernible in the design and realization.
The discrepancy gives rise, in Weinstein's work, to short-circuits of meaning and raises questions about the relations that can exist 'between interpretation and experience, between expression and opinion'.Only by dealing with the complexity of the present and taking responsibility for the problems, the uncertainties, the diverging expectations and the dilemmas that society presents to each one of us is it possible, according to Gal Weinstein, to avoid cultural catastrophe.
Click on Article: Venice Biennale 2017: Interview with Gal Weinstein | Gal Weinstein expounds on his developing vision in an exclusive interview by Rachel D. Vancelette \ Vogue Italia 
Gal Weinstein transforms Israel's Pavilion at the Venice Biennale into an abandoned site. Designboom Article/Images 
GAL WEINSTEIN: ISRAELI PAVILION 57TH VENICE BIENNALE by Cathy Byrd  \ The Miami Rail
Artist Certificate: Each puzzle comes with an artist certificate.
Biography:
Gal Weinstein is an Israeli artist currently based in Tel Aviv, Israel. A graduate of the Bezalel Academy of Arts and Design, Weinstein's works have been noted for its sensitivity to materials and spaces, camouflage and substitutes, and having a fundamental ambivalence for his work toward potential political content. Weinstein is also heavily influenced by the visual myths of Israeli culture and exploring the relationship between art and reality. In his earlier works, Weinstein created disruptive acts that explored the concepts of decoration and usefulness. Weinstein works in various materials, which enables him to create illusory images. Some of his most famous pieces include Fire Tire, Hula Valley, and The Song of the Dying Lake. This critical acclaim has eventually led to his representation of Israel at the 2017 Venice Biennale. Weinstein has showcased his works across the globe including the Tel Aviv Museum of Art, San Francisco Art Institute, the Haifa Museum of Art, and more.