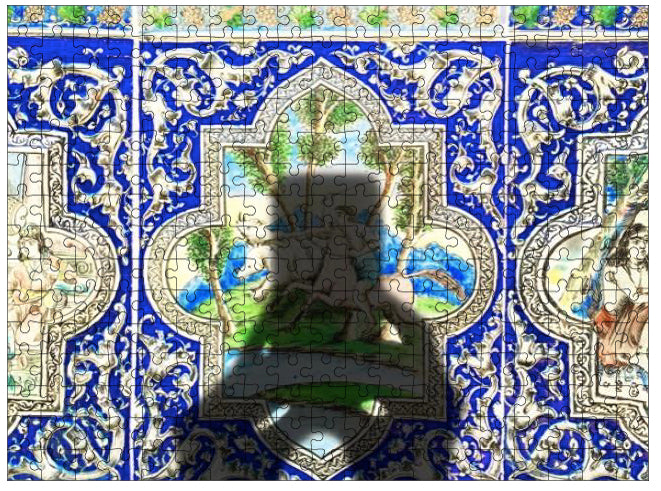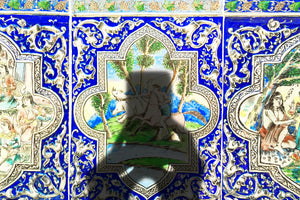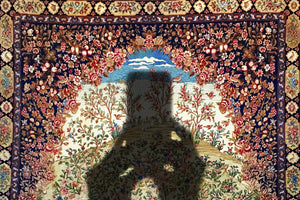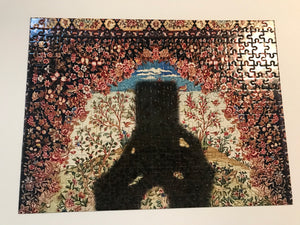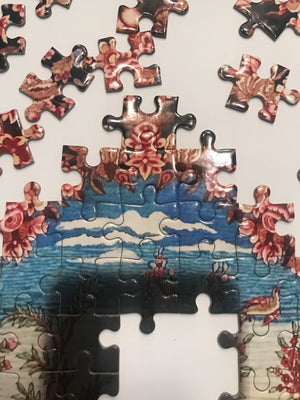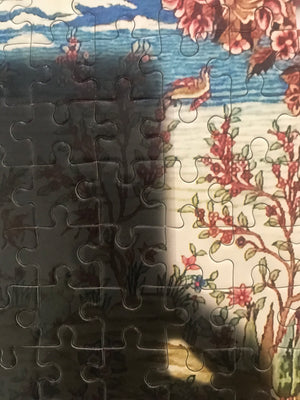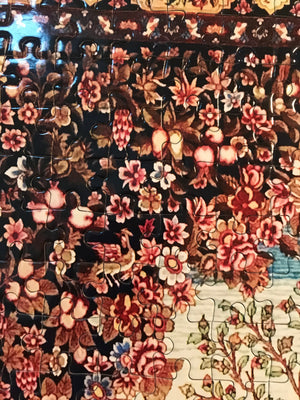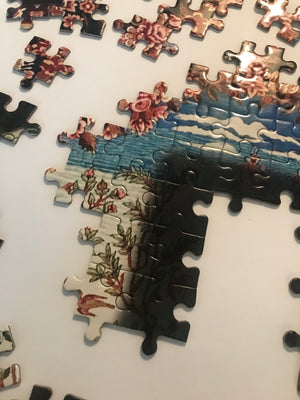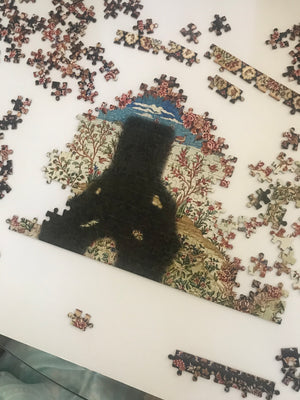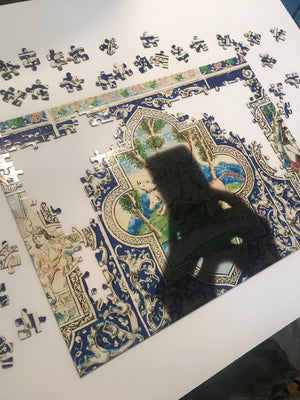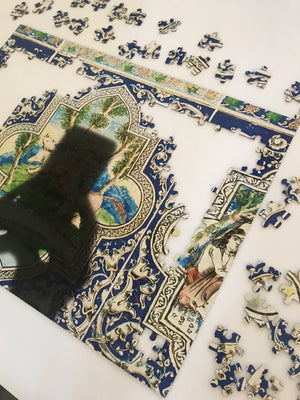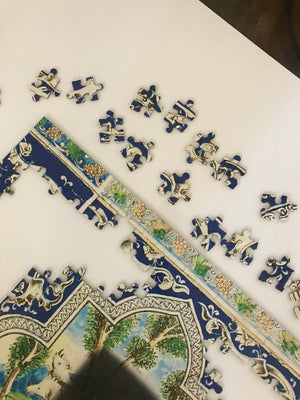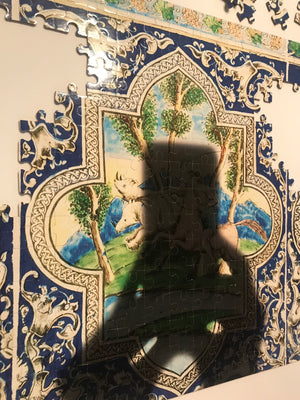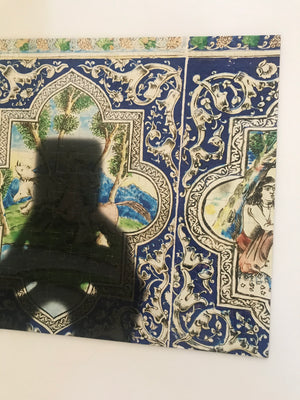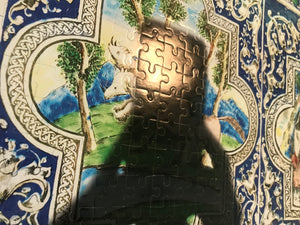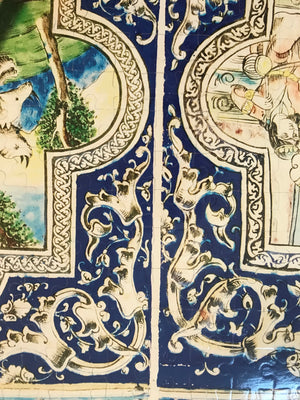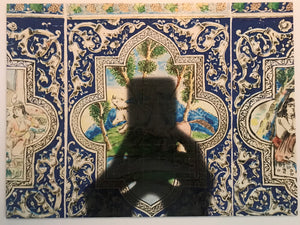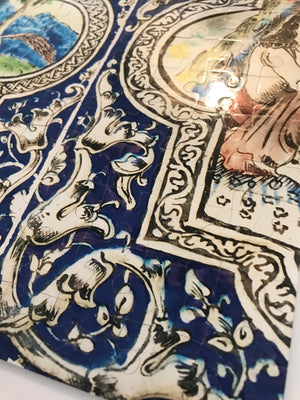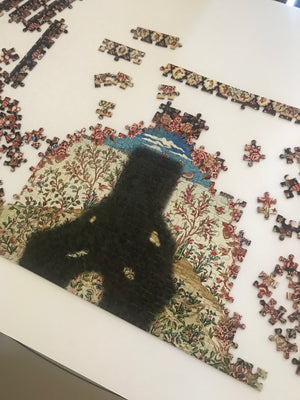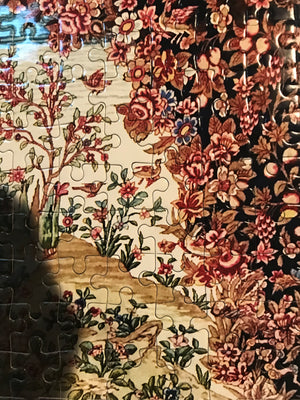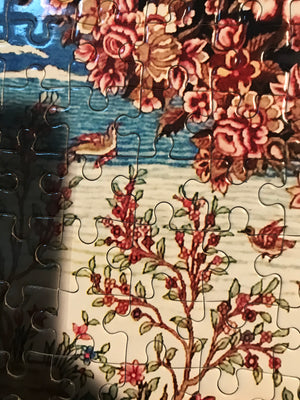 Artist Esmerelda Kosmatopoulos Collector Edition Double-Sided Jigsaw Puzzle
Website of Esmerelda Kosmatopoulos  
b. in Greece, raised in Paris, she now lives and works between Cairo, Paris and New York.
Title: Foreign shadow
Live Video of Jigsaw Puzzle: Click Here
Jigsaw Puzzle Size: Double-Sided Puzzle (Horizontal) 12"X 16.5" (310mm×418mm) (285pcs) 
This jigsaw puzzle was custom designed to provide puzzler with two-sided imagery to challenge one to complete. Dynamic artist imagery creates a puzzle that provides a dynamic, introspective view into the artist's creation. For hours of fun and entertainment, with special die-cutting and unique arrangement of puzzle pieces, this makes this collector's edition a certain one of a kind! 
The Collector Edition arrives in a custom-made wood box engraved with Art X Puzzles and the Artist name.
Level: Challenging
Collector Edition of 20 + 2AP
Signature Details:  Foreign shadow, 2016, c print, 24 x 18 in (61 x 46 cm) each. (Two photographs selected)
The work was created during a one month residency in Tehran in the Spring 2016. Kosmatopoulos took the Iranian society and her personal experience living in it as a case in point of the critical look at the ethnocentric way we, as foreigners, approach other cultures in the post-Internet age.. She defined a list of historical, cultural and economic stereotypes of how Iranian culture is perceived abroad - be it thru the mosaics of its historical monuments, the Persian carpets sold in the bazaar, or the commodities exported abroad. Accumulated photographs would be a way to emphasize these clichés. These raw images snapped during her daily explorations of the city, were then virtually transformed - beautified with photo editing filters and watermarked with an image of the shadow of her hand holding the phone - before being posted online on social media platforms. 
Click Article: The Smartphone Is Absent | Perspectives, Esmeralda Kosmatopoulos by Gita Jackson  \ Vice Magazine
Artist Certificate: Each puzzle comes with an artist certificate.
Biography 
Esmeralda Kosmatopoulos is a multi-disciplinary conceptual artist working around language and identity. Born in Greece, raised in Paris, she now lives and works between Cairo, Paris and New York. Her work investigates the definition and construction of identities, personal memories, culture and collective histories. Her work was exhibited in galleries and institutions internationally including Times Art Museum (Beijing, China), La Panacée (Montpellier, France), Gallerie delle Prigioni - Luciano Benetton Collections (Treviso, Italy), Somerset House (London, UK),  Musée Zadkine (Paris, France), Kunsthal Charlottenborg (Copenhagen, Denmark), Künstlerhaus Wien (Vienna, Austria), Kunsthal Aarhus (Aarhus, Denmark), Palazzo delle Arti Napoli (Naples, Italy), AMA | Art Museum of the Americas (DC, USA), French Institute of Athens (Athens, Greece), CICA Museum (Gimpo-si, Korea) among others. Upcoming exhibitions include the Powerlong Museum (Shanghai, China) and the 5th Istanbul Biennale (Istanbul, Turkey).
Kosmatopoulos also worked alongside socially charged entities such as the Organization of American States (Washington DC, United States), the Kayani foundation (Beirut, Lebanon), Unicef Blue Dot (Athens, Greece), One Happy Family (Lesbos, Greece) and the Museum Louis Braille (France) to create large-scale installations that raise awareness for social issues.