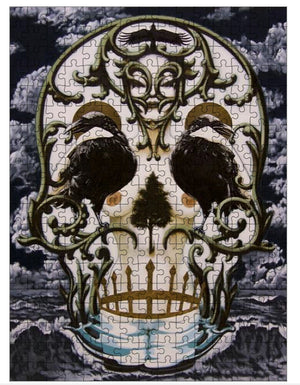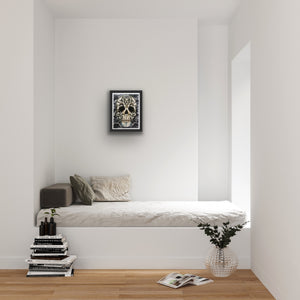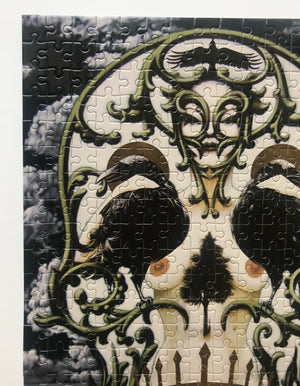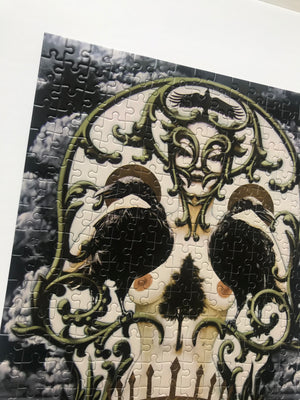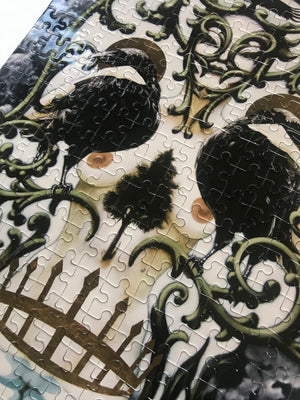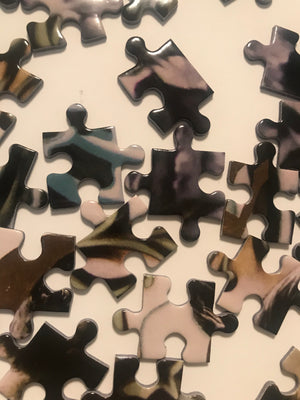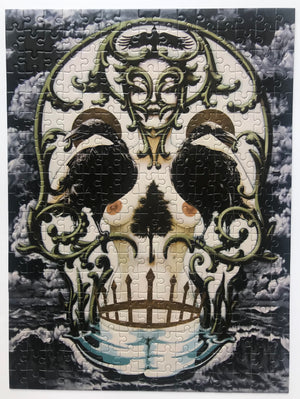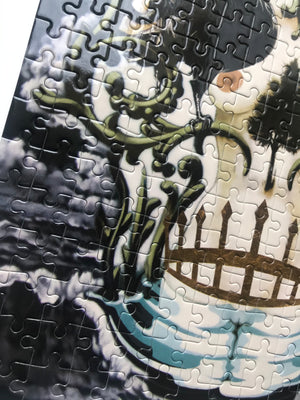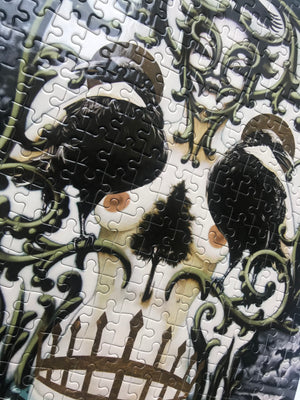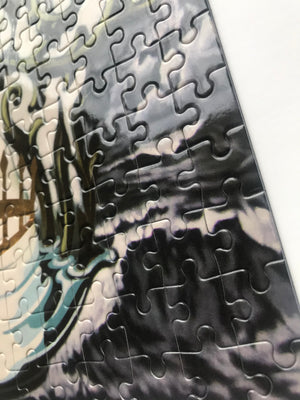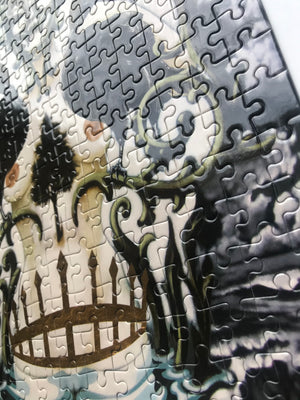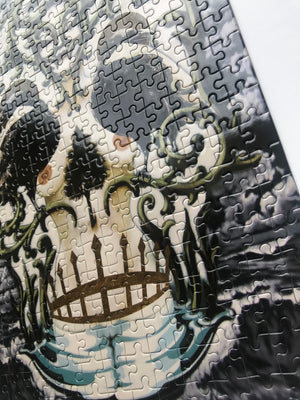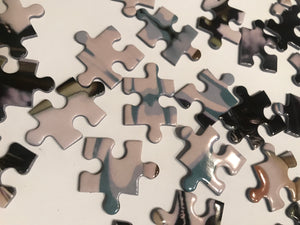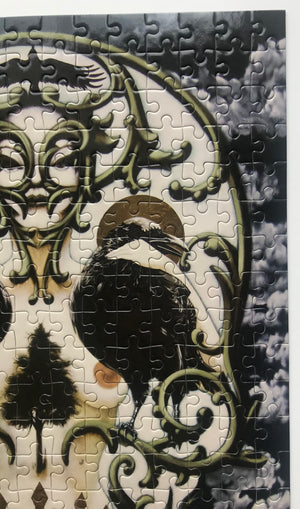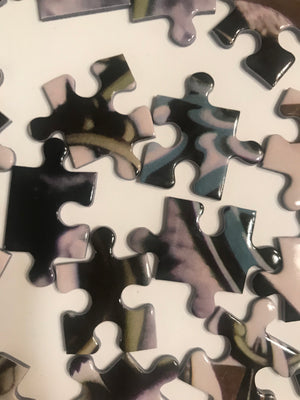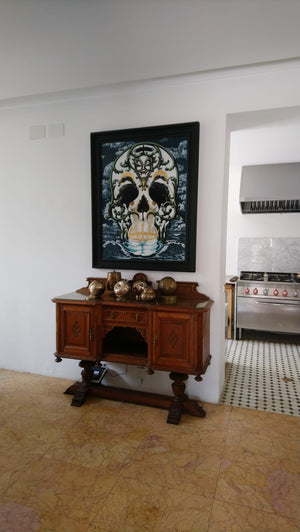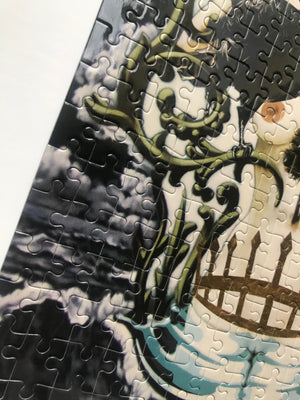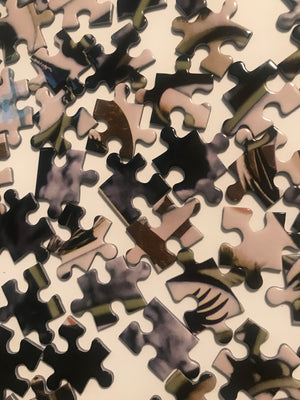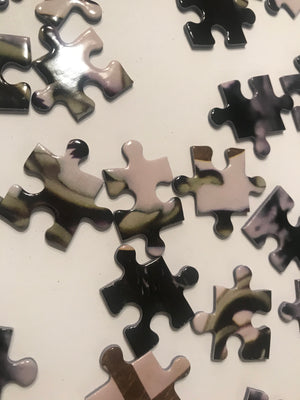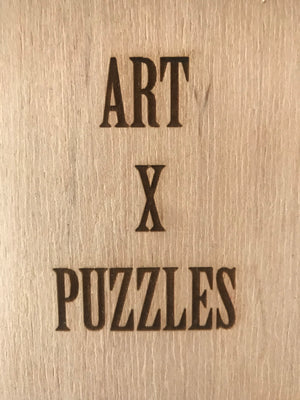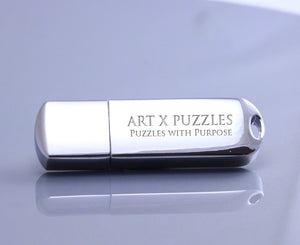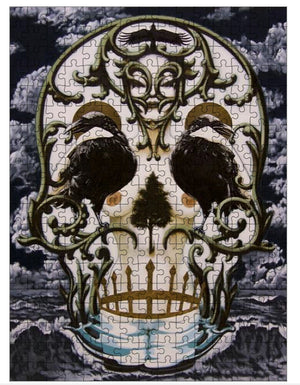 Artist Enrique García Lozano Collector Edition Jigsaw Puzzle
b. 1970 Austria born Spanish, currently lives and works in Madrid
Title: A Crown and Two Crows
Live Video of Jigsaw Puzzle: Click Here 
Jigsaw Puzzle Size: (Horizontal) 12"x 16.5" (310mm x 418mm) 285 Jigsaw Puzzle Pieces, ESKA Premium Board. Traditional Paper Jigsaw Puzzle. FSC 100% Recycled Paper. Gloss Finish.
This Collector Edition arrives with a Pre-Assembled Option and separated onto 2 to 5 cardboard squares according to size. The AXP Collector Editions comes ready to slide together for a complete instant puzzle and/or to be broken down for puzzling fun and/or framing!
The Collector Edition arrives in a specially custom-made wood box engraved with Art X Puzzles
.
Collector Edition of 20 + 2AP

Level: Complex
Signature Details: Original Artwork: A Crown and Two Crows Medium: Oil Paint With Gold Leaf on wood, 116 x 89 cm.
"This painting is based around the brain's innate necessity to make sense of what it perceives through the senses. It is an optical illusion where, by definition, nothing's what it seems to be. A whimsical take on the art of seeing, which tricks our brain into misunderstanding what we see in various interpretations, all of which are valid. Furthermore, the title of the painting; "Two Crows and a Crown" is devised as a semantic frame to further influence the brain upon perception of the image as whole." Enrique Garcia Lozano


Artist Certificate: Each puzzle comes with an artist certificate.
Biography: Austrian born Spanish artist Enrique Garcia Lozano creates striking, dramatic pieces in the figurative style. The son of renowned opera conductor Maestro Garcia Navarro, Lozano produced the exquisite Opera series in homage to his late father. The pieces vibrantly capture the intense emotional appeal of opera's great heroes and heroines. Large in scale, the works are resplendent in vivid colors and arresting metallic accents.
Lozano is a graduate of several of the most prestigious art schools in the United States and abroad. He received BFA's from Rhode Island School of Design, Ecole National des Arts Decoratifs in Pairs, and Cooper Union School of Art. He received an MFA from Columbia University.
He has worked as an Assistant Professor of Fine Arts at Columbia University and as a designer at Verve/Polygrahm Records.