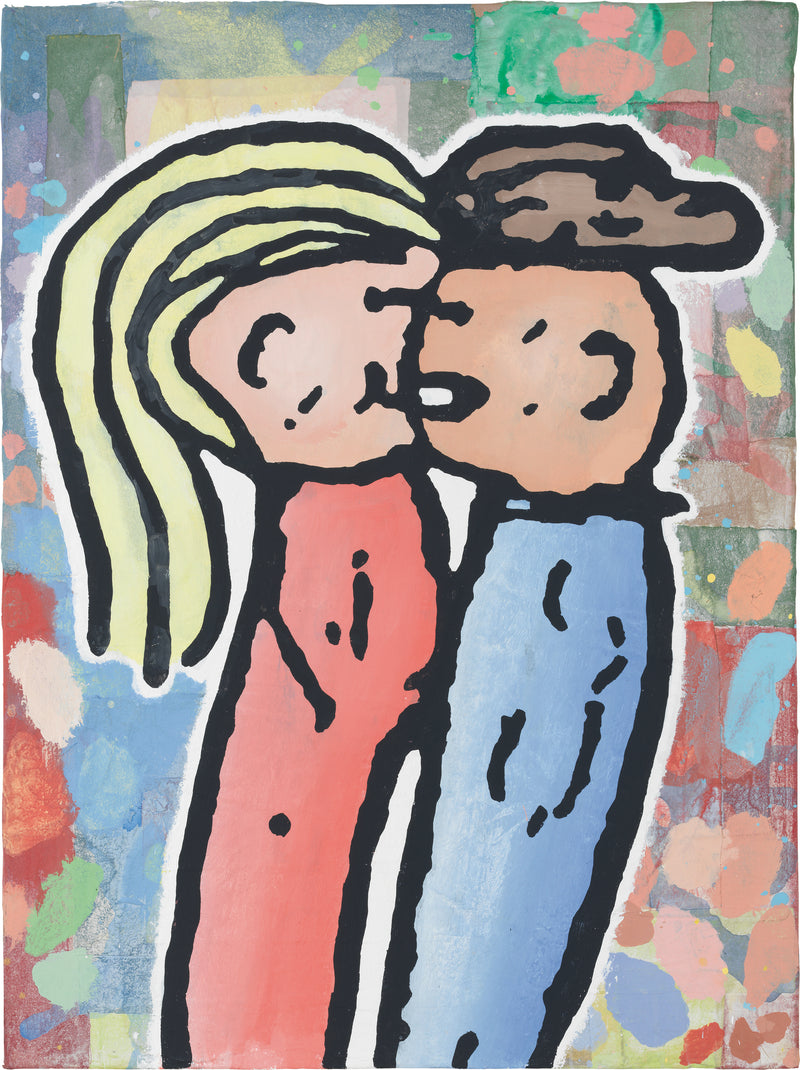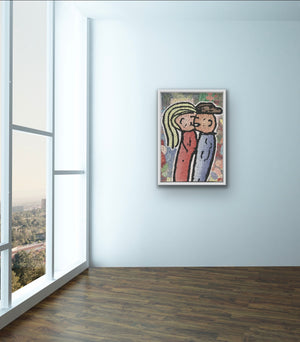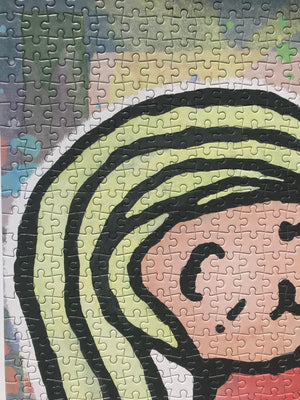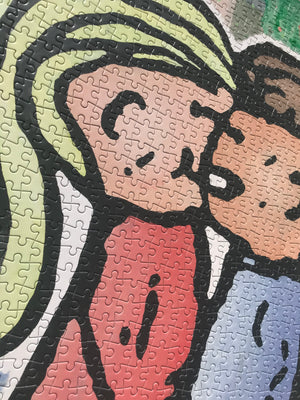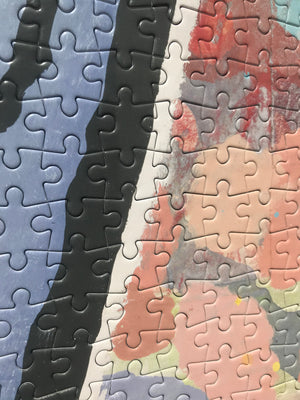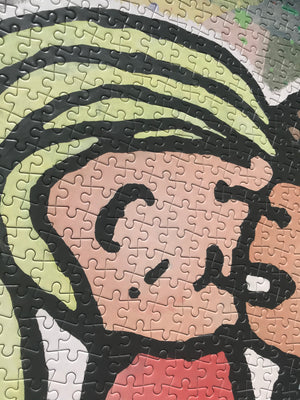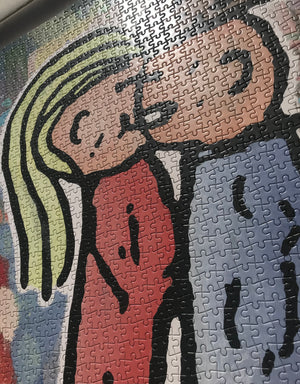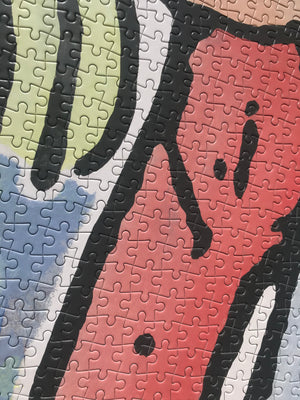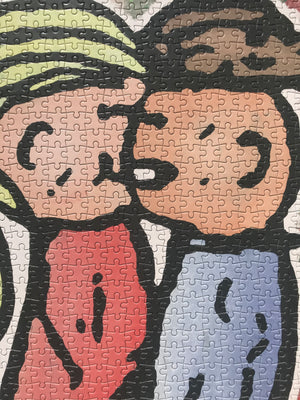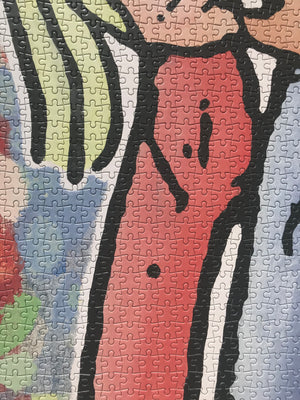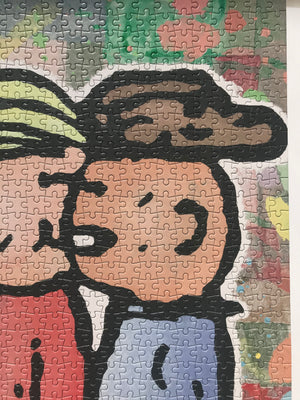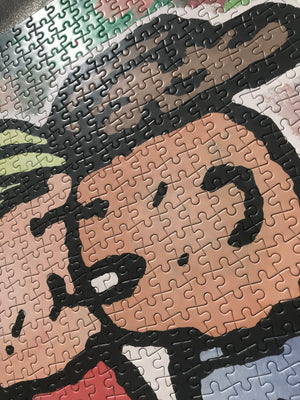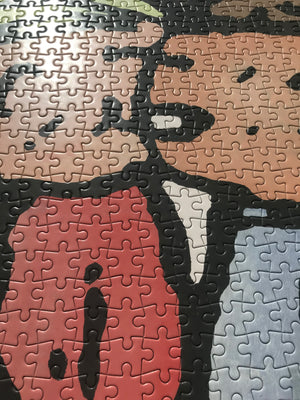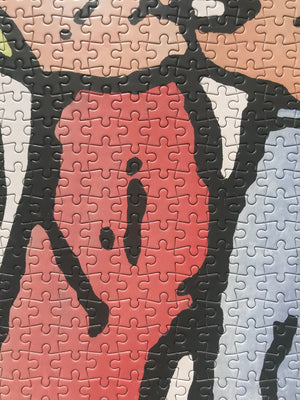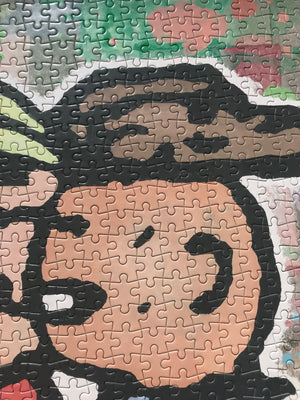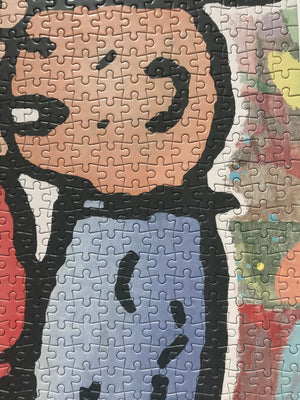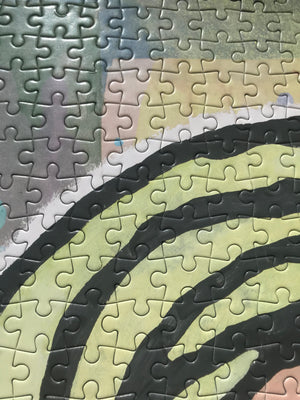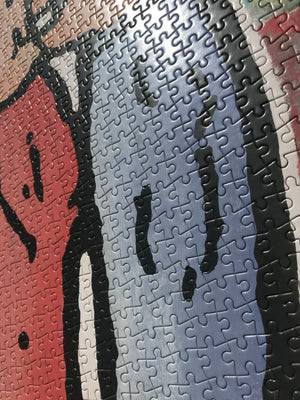 Artist Donald Baechler Jigsaw Puzzle: Unlimited Collector Edition
Title: The Kiss
Jigsaw Puzzle Size: 19.75" x 28" (502mm x 711mm) 1000 Jigsaw Puzzle Pieces, ESKA Premium Board. Traditional Paper Jigsaw Puzzle. FSC 100% Recycled Paper. Matte Finish.
Unlimited Collector Edition 
Level: Fun
Signature Details:  Original Artwork: The Kiss, 2017, Acrylic and fabric collage on canvas 40 x 30 inches
"In the same way I accumulate objects, I also accumulate images, and I find them arranging themselves into categories, too. And some images insist on being painted; others don't." Donald Baechler

Click Articles:
Donald Baechler by David Kapp | BOMB Magazine
Interview with Donald Baecher with Julie Ryan | INDEX MAGAZINE
Donald Baechler: Know an Artist by His Shoes | INTERVIEW MAGAZINE
Biography: Donald Baechler is an American artist who figured prominently in the Neo-Expressionist and Pop Art movements during the 1980s. Incorporating child-like depictions of iconic subjects, such as flowers, birds, and ice cream cones, each work conveys a feeling of memory without becoming an illustration. Culled from a huge archive of images the artist has collected, his prints, paintings, and sculpture focus more on formal attributes than narrative. "I'm drawn to silhouettes because of their emblematic rather than their illustrational quality," he reflected. "I see them as shapes, allowing an image to become an abstraction and for pure painting to take place." Born on November 22, 1956, in Hartford, CT, he grew up in a Quaker family who nourished his early artistic talent. He went on to study at the Maryland Institute College of Art in Baltimore from 1974–1977, and continued his education at New York's Cooper Union. In New York he befriended Tony Shafrazi, who in 1979 founded a downtown gallery that reflected his interest in artwork inspired by graffiti art. In this milieu, Baechler found himself amidst figures such as Keith Haring, Jean-Michel Basquiat, and Kenny Scharf. He continues to live and works in New York, NY. Today, his works are held in the collections of the Goetz Collection in Munich, The Museum of Modern Art in New York, and the Philadelphia Museum of Art, among others.