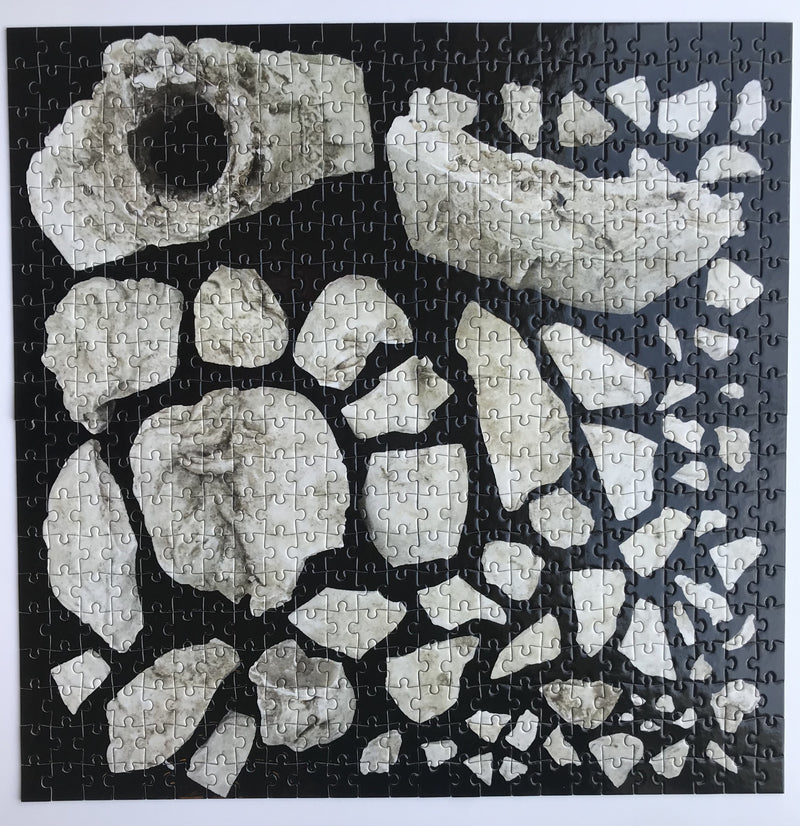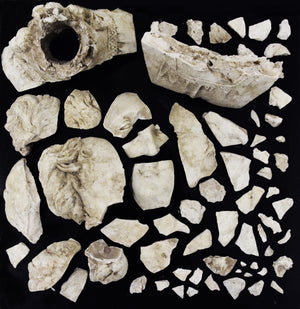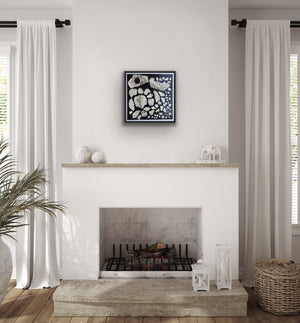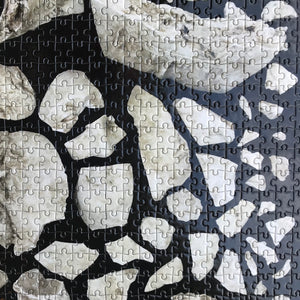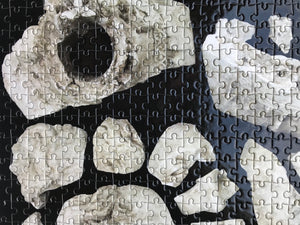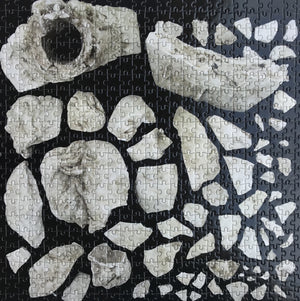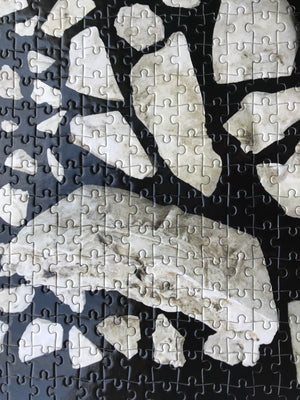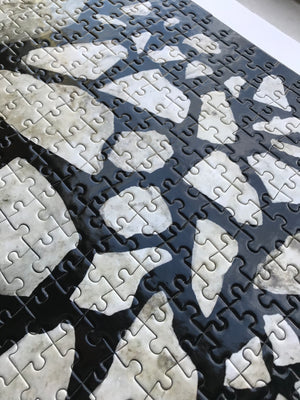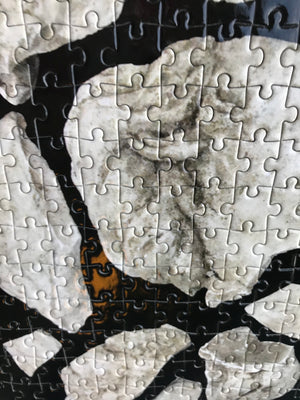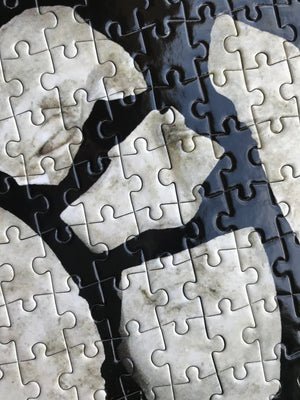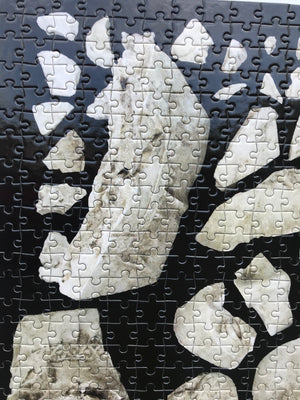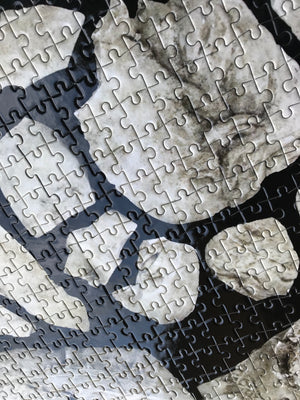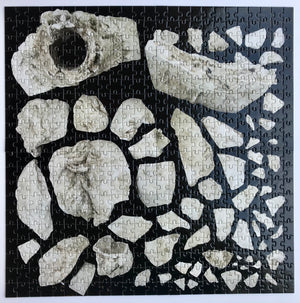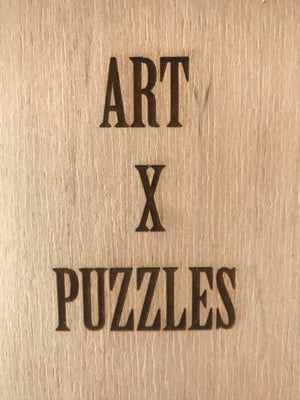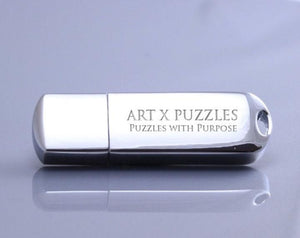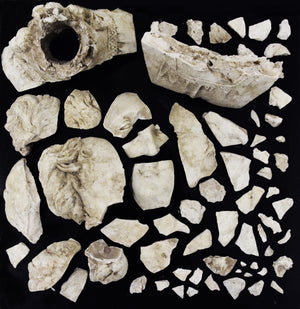 Artist Cynthia Gutiérrez Collector Edition Jigsaw Puzzle
Born: 1978  lives and works in Guadalajara, Mexico. 
Title: Promesa inmortal
Live Video of Jigsaw Puzzle: Click Here 
Jigsaw Puzzle Size: Jigsaw Puzzle Size: 19"x 19" (482.6mm×482.6mm) 500 Jigsaw Puzzle Pieces, ESKA Premium Board.  FSC 100% Recycled Paper. Gloss Finish.
This Collector Edition arrives Pre-Assembled Option and separated onto 4 cardboard squares according to size. The AXP Collector Editions comes ready to slide together for a complete instant puzzle and/or to be broken down for puzzling fun and/or framing! 
Collector Edition of 10 + 2AP
Level: Complex 
Signature Details: Original Artwork: Promesa inmortal, 2014 (DETAIL) 65 plaster fragments on black marble. 43 × 60 × 60 cm. Photograph courtesy of the artist and Proyecto Paralelo.
The work of Cynthia Gutierrez denotes a constant search for tensions that lie within concepts such as identity, memory, ruin, failure, history, and collapse. Through her practice she aims to question the established frameworks that condition our thinking and our actions. In an effort to break certain structures, dilute edges, push things to the limit, and twist or surpass borders, the impulse of her work springs from the awareness and analysis of context and memory. Her process usually stems from specific conflictive situations, from unstable and indefinite topographies where inherent vulnerability allows movement in multiple directions. By retrieving fragments that possess a particular historical weight, she attempts to re-articulate –from a different angle - their potential significance through visually attractive elements. Thus, she uses the deceiving nature of art as an instrument to alter the usual course of things. The result is sometimes a perverse reconfiguration where reality and fiction merge to reveal the inconsistencies and distortions of History.
Click Articles: 
Installation by Cynthia Gutierrez at the site of the former Lenin monument | Social Contract 
Adventures with Artist Cynthia Gutierrez by Thad Mighell | MCA Denver
The SCAD Museum of Art presents "Persisting Monuments" a solo exhibition by Guadalajara, Mexico-based artist Cynthia Gutiérrez | SCAD Museum of Art 
Omar Lopez-Chahoud Curator Choice Capsule Collection 
Artist Certificate: Each puzzle comes with an artist certificate. 
Biography:Cynthia Gutiérrez's work addresses the fissures that exist within memories and how these distortions create histories that exist somewhere between reality and fiction. Her work has been exhibited widely throughout the U.S., Mexico, and Europe. These exhibitions include Todos los siglos son un solo instante, La Tallera, Cuernavaca, Mexico; No para siempre en la tierra, Proyecto Paralelo, Mexico City, Mexico; Persisting Monuments, SCAD Museum of Art, Savannah; Viva Arte Viva, Venice Biennale, Italy; and a large-scale public project in Kyiv, Ukraine. In 2018, the artist was awarded a residency at the Museum of Contemporary Art Denver. She has a background in visual art from the University of Guadalajara, Mexico. Gutiérrez lives and works in Guadalajara, Mexico.