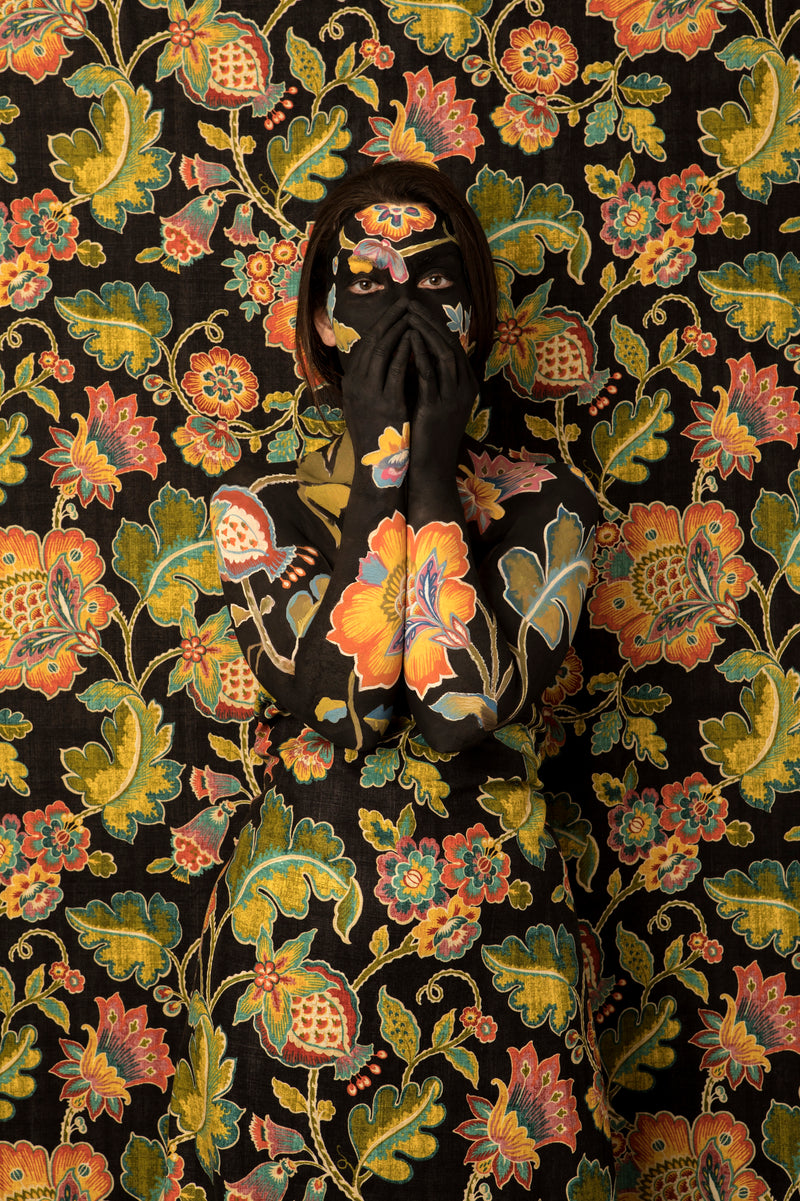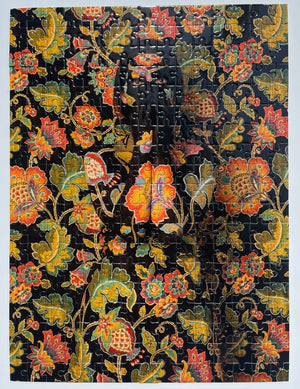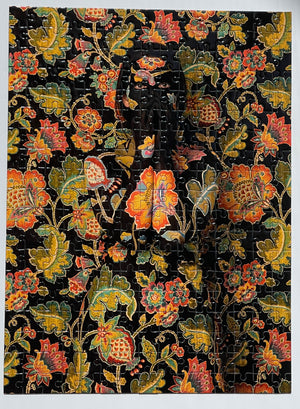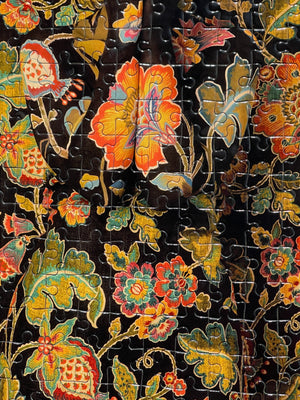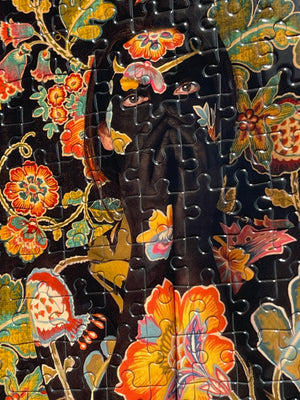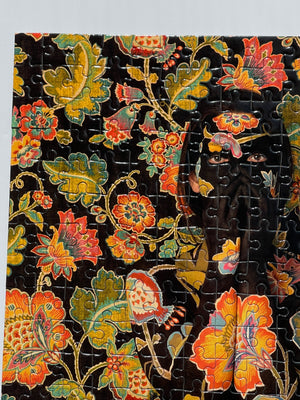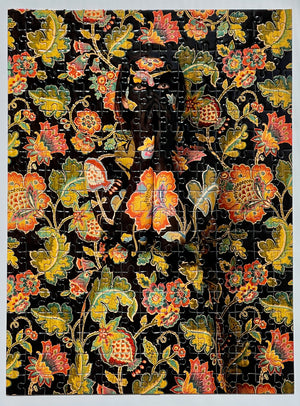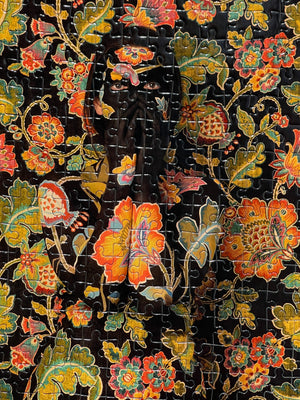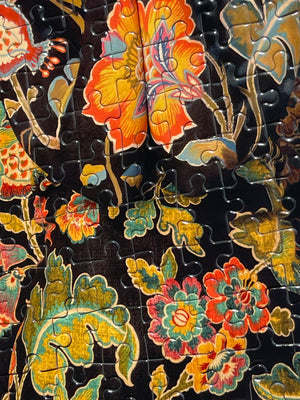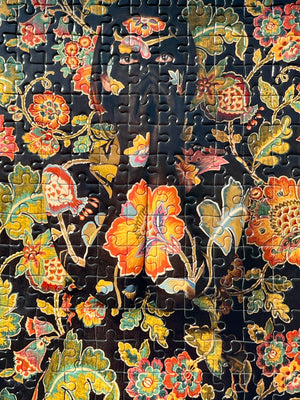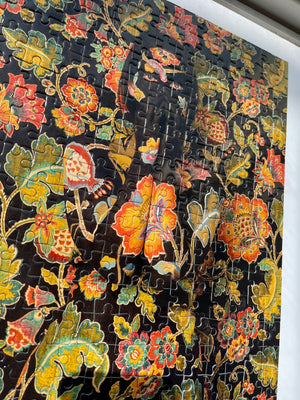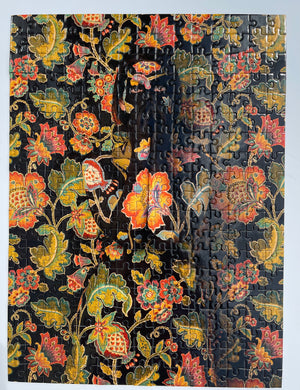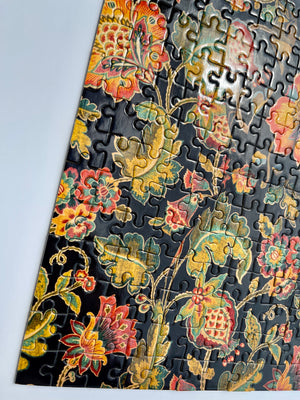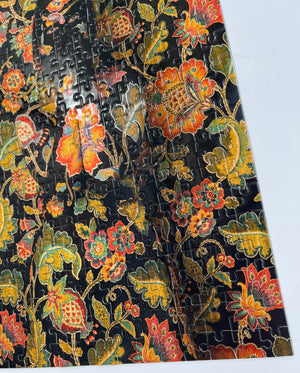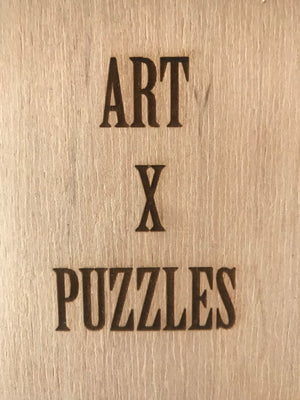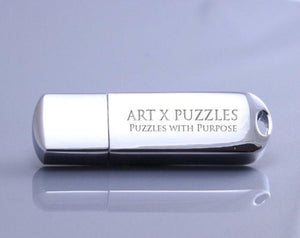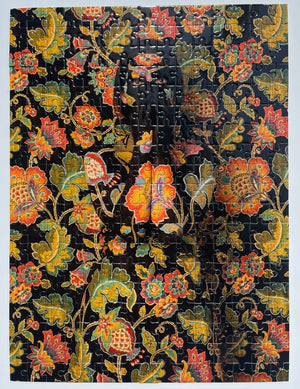 Artist Cecilia Paredes Collector Edition Jigsaw Puzzle
B. 1950 Lima, Peru. Lives and works in Philadephia, PA. 
 Title: The Whisper
Jigsaw Puzzle Size:  (Horizontal) 12" x 16.5" (310mm x 418mm) 285 Jigsaw Puzzle Pieces, ESKA Premium Board. FSC 100% Recycled Paper, Magnetic Layer.
Level: Complex
Collector Edition of 10 + 2 AP
Signature Details: The Whisper, 2021, Photo performance inkjet print, 51" x 34 in.(129.5 x 86.4 cm) Edition of 7. Credits: Artist Studio and Ruiz-Healy Art.
Paredes explores the theme of identity through ethereal "photo performances" where she camouflages her body against beautifully patterned backdrops and disappears amongst the ornamentation.
By presenting herself as part of the landscape, Paredes is building her own identity in relation to the part of the world where she lives and raises the question of how our environment influences who we are. "I wrap, cover, or paint my body with the same pattern of the material and represent myself as part of that landscape. Through this act, I am working on the theme of building my own identification with the entourage or part of the world where I live or where I feel I can call home." – Cecilia Paredes.
Click Articles:
ETERNALLY CAMOUFLAGED – CAMOUFLAGE BODY PAINTINGS BY CECILIA PAREDE  | Beautiful Life Online Magazine
Cecilia Paredes: The Wandering Flight at Ruiz-Healy Art by Page Graham And Tami Kegley  | Glasstire
ARTXPUZZLE Curator Choice: Angelica Semmelbauer: Click Here 

Artist Certificate: Each puzzle comes with an artist certificate.
Biography: Cecilia Paredes (Lima, 1950) is a Peruvian-born multimedia artist residing in Philadelphia.Her primary themes include the power of nature, femininity, and migration, which have been subjects of many of her shows. She frequently utilizes natural elements, often recycled waste materials and primarily organic ones, in her installations. One of her best-known works is "Paisajes" in which she camouflages herself and uses her own figure as a canvas for body painting. She is best known for her ongoing photographic series in which she explores the visual juxtaposition of her painted body with the patterns and surface below it: Paredes composes these photographs by selecting a patterned ground, such as floral wallpaper, and intricately paints her skin to match. The unavoidable contours of her body thus hide and reveal her form, depending on the camera angle. She has been awarded the First Mention of Honor at the Biennial Centro America in 2002 and was an international guest artist at the Ibero American Art Fair FIA in Caracas. Paredes now lives and works in San Jose, Costa Rica and Philadelphia, PA.
This edition was presented at the Dallas Art Fair. Thank you DAF for your support!