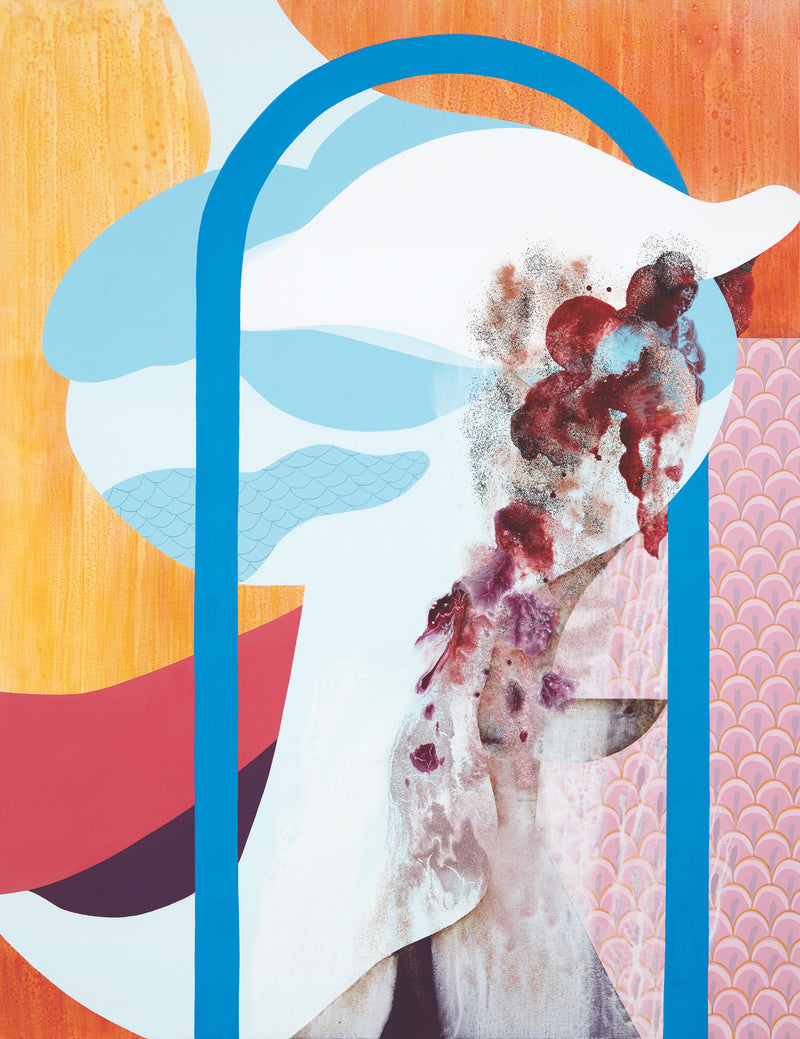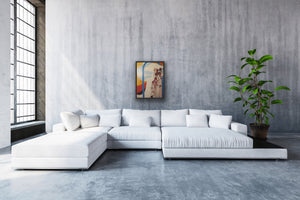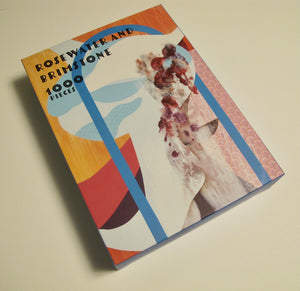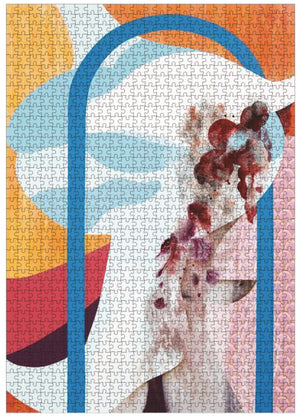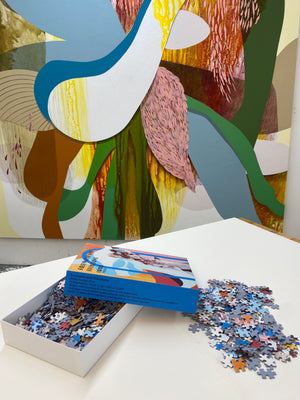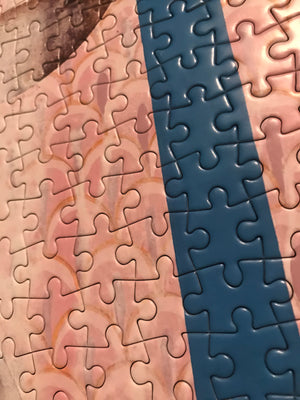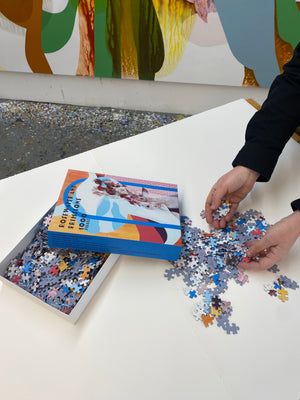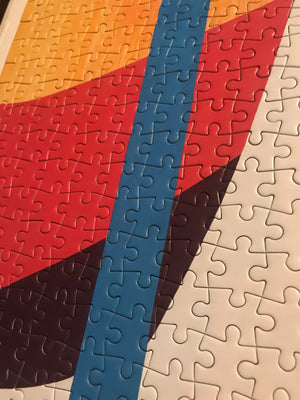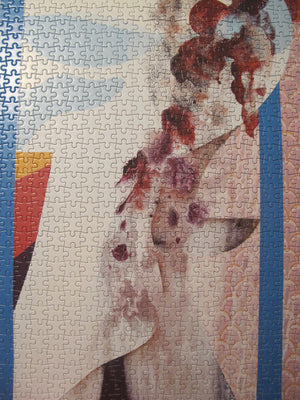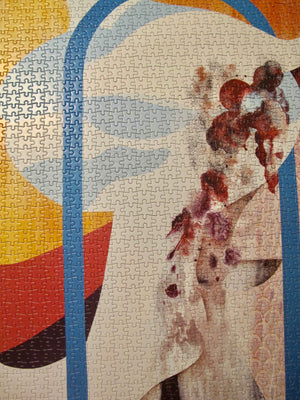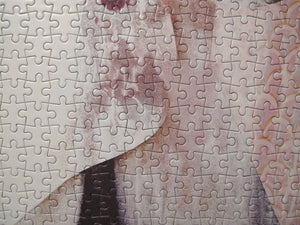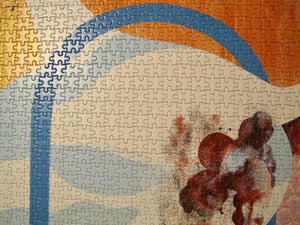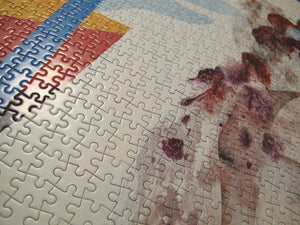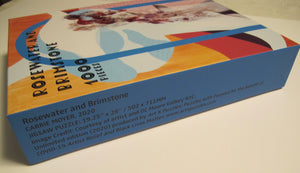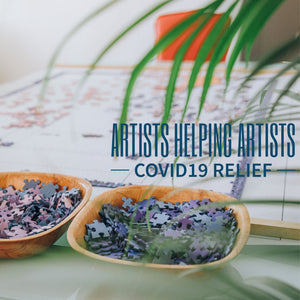 Artist Carrie Moyer Puzzle: Unlimited Collector Edition Jigsaw Puzzle
b. 1960 Detroit, MI, lives and works in New York, NY.
Title: Rosewater and Brimstone 2020 
Live Video of Jigsaw Puzzle: Click Here 
Jigsaw Puzzle Size: 19.75" x 28" (502mm x 711mm) 1000 Jigsaw Puzzle Pieces, ESKA Premium Board. FSC 100% Recycled Paper. Traditional Paper Jigsaw Puzzle. Matte Linen Finish. 
Level: Challenging
Unlimited Collector Edition

Signature Details: Rosewater and Brimstone 2020 Acrylic, graphite, glitter on canvas, 78 x 60 inches Credit: Courtesy of DC Moore Gallery New York | A very special thanks from AXP to Director Peter Luke Colon of DC Moore Gallery.
Contemporary painter, Carrie Moyer is known for her layered abstract compositions rendered in lush acrylic paint, frequently incorporating metallic or glittery surfaces. The abstract imagery in Moyer's work is derived from her background as an activist designer: beginning in the early 1990s, Moyer co-founded the public art project Dyke Action Machine (DAM!), which sought to disrupt and investigate contemporary culture through the insertion of queer and lesbian imagery into the mainstream visual environment. The group created posters, campaign buttons, and other graphics, and was active for 17 years. Moyer, over time, began merging her political graphic design work with her painting practice, evolving her own unique form of biomorphic, feminist abstraction.
Click Articles: 
How Can You Make Art for 'Trying Times'? For the Longtime Artist Couple Carrie Moyer and Sheila Pepe, It's All About TeamworkThe pair collaborated on a joint show at the Portland Museum of Art in Maine. by Taylor Dafoe \ ARTNET
Beer with a Painter: Carrie Moyer by Jennifer Samet  \ HYPERALLERGIC
Biography:  Carrie Moyer's sumptuous paintings on canvas explore and extend the legacy of American Abstraction while paying homage to many of its seminal female figures among them Helen Frankenthaler, Elizabeth Murray, and Georgia O'Keeffe. Rife with visual precedents, Moyer's compositions reference Color Field, Pop Art and 1970s Feminist art - while proposing a new approach to fusing history, research and experimentation in painting. In addition Moyer's work, influenced by a background in design and queer activism, intricately weaves together concept, research, and lived experience with a range of stylistic and physical references. With their evocative, bodily forms, transparent veils of aqueous color and flat surfaces, Moyer's paintings forge distinct traces of 20th century art — Surrealism, Color Field painting, Pop and 1970s Feminist art — into a contemporary vision uniquely her own. The subject of recent museum exhibitions, Moyer is recognized as one of the most distinctive, powerful, and thoughtful painters of her generation.
Moyer's work has been exhibited widely in both the United States and Europe. Moyer was recently included in the exhibitions One Night Only in Dallas, TX (2019), Queer Abstraction at Des Moines Art Center, IA (2019), and Carrie Moyer and Sheila Pepe: Tabernacles for Trying Times at the Portland Museum of Art, ME (2020). Her paintings were recently featured in the 2017 Whitney Biennial Exhibition. DC Moore Gallery has presented two solo exhibitions of Moyer's work Pagan's Rapture (2018) and Sirens(2016). Previous museum shows including, Carrie Moyer: Pirate Jenny, that originated at the Tang Museum, Saratoga Springs, NY and traveled to SCAD Museum of Art, Savannah, GA, and the Columbus College of Art and Design, OH (2013); and Interstellar, at the Worcester Art Museum, MA (2012). Group exhibitions include, Three Graces: Polly Apfelbaum, Tony Feher, and Carrie Moyer, at the Everson Museum of Art, Syracuse, NY; Pretty Raw: After and Around Helen Frankenthaler, at the Rose Art Museum, Brandeis University, Waltham, MA; and Agitpop!, at the Brooklyn Museum, NY, all in 2015.

Moyer earned a BFA from Pratt Institute (1985), an MA in Computer Graphics from New York Institute of Technology (1990) and an MFA from Bard College (2000). She is a Professor in the Art and Art History Department and Director of the Graduate Program at Hunter College and on the Board of Governors at Skowhegan School of Painting and Sculpture in Maine.