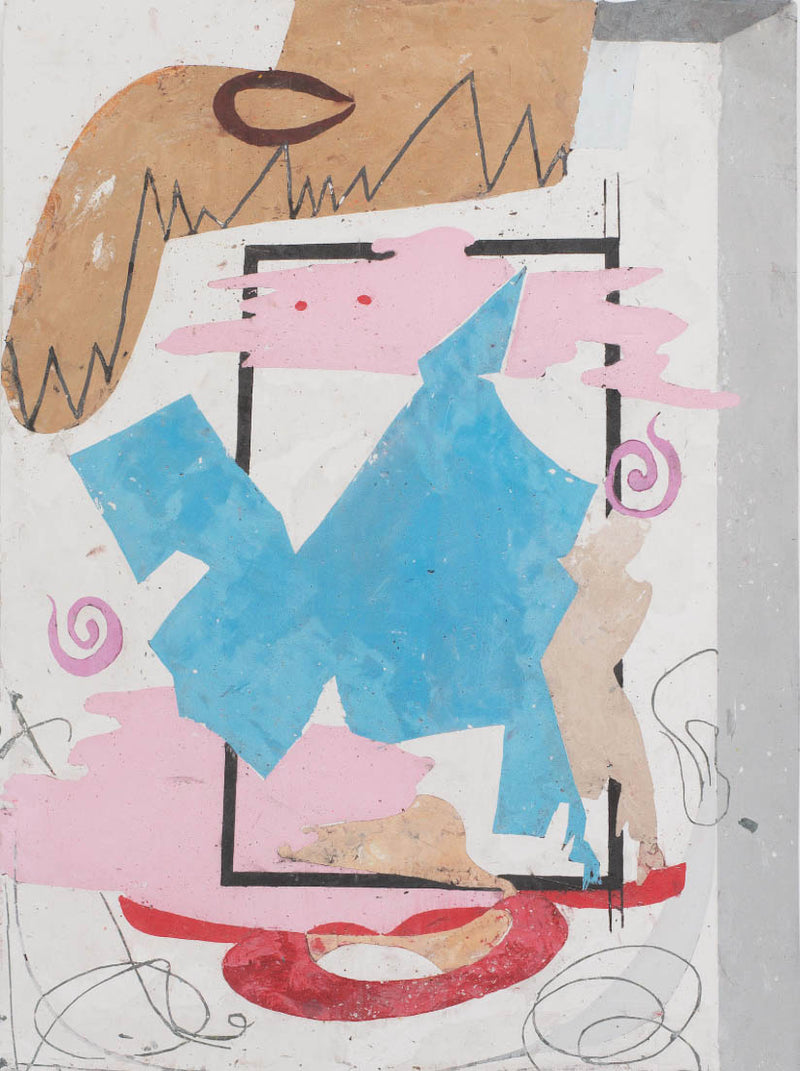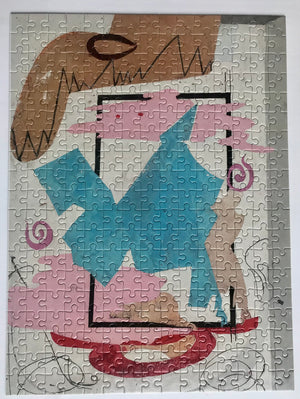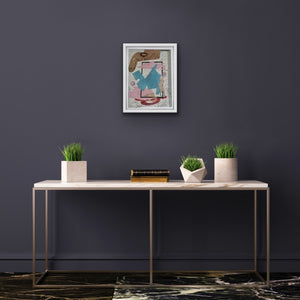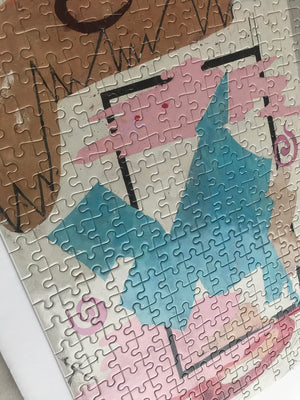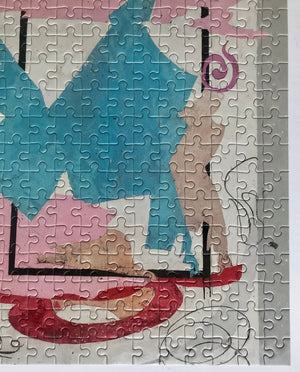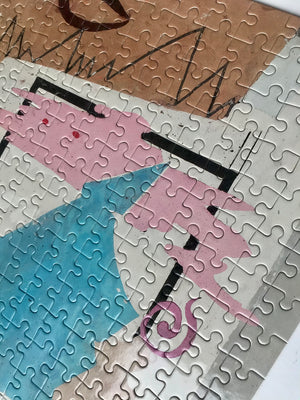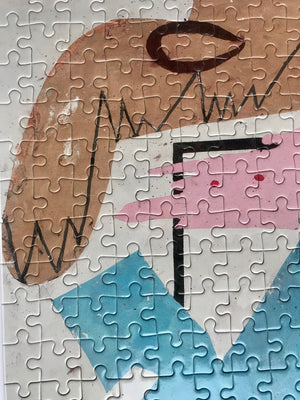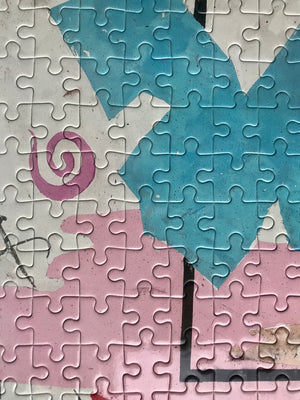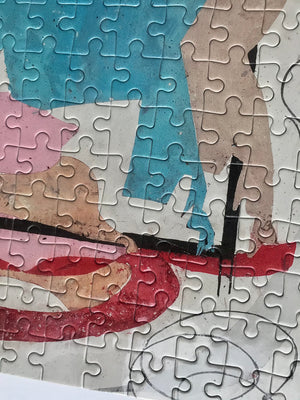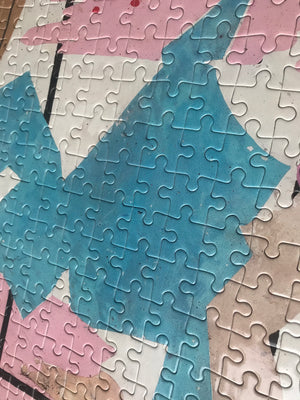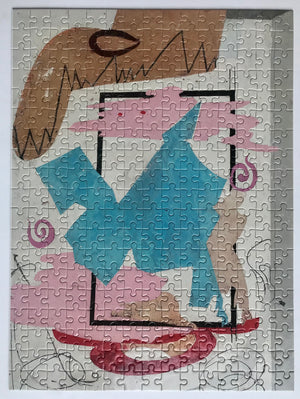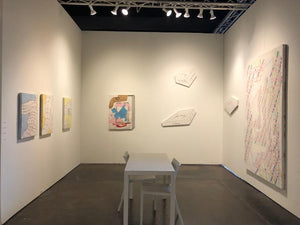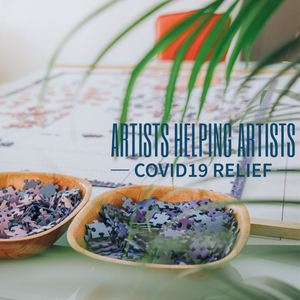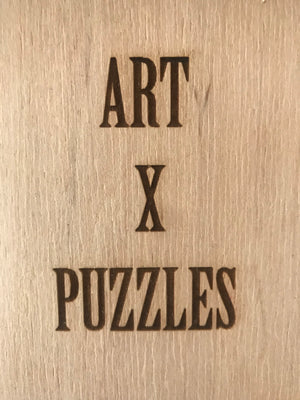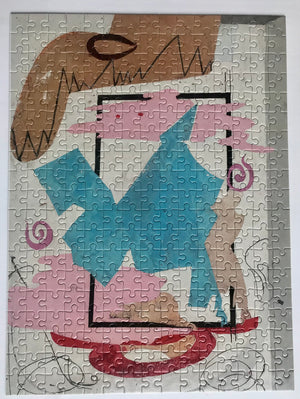 Artist Carolin Eidner Collector Edition JIgsaw Puzzle
b.1984 Berlin Germany, currently lives and works in Berlin
Title: Untitled (The Aftermath II)
Live Video of Jigsaw Puzzle: Click Here 
Jigsaw Puzzle Size: 12"x 16.5" (310mm x 418mm) 285 Jigsaw Puzzle Pieces, ESKA Premium Board. Traditional Paper Jigsaw Puzzle. FSC 100% Recycled Paper.
This Collector Edition arrives Pre-Assembled Option and separated onto 2 cardboard squares. The AXP Collector Editions comes ready to slide together for a complete instant puzzle and/or to be broken down for puzzling fun and/or framing! 
Collector Edition of 20 + 2AP
Level: Complex
Signature Details: Shelter in Sky, 2017, pigmented plaster, mounted on styrofoam, 38.19 x 27.56 x 1.18 in.
Credits: Natalia Hugs Gallery 
"On first instance, her work - which predominantly takes the form of plaster blocks pigmented in pleasing sorbet shades and then mounted on styrofoam - is playful and good-humoured due to its quirky use of form and colour. However, Eidner's work cuts through the seriousness of painting as a so-called site of self-expression. Instead, Eidner's "paintings" (and somehow quotation marks suitably describe their status as both painting and otherwise) depict kooky figures and shapes that blatantly reject the grandiose expressive and representative tendencies of painting as we know it. Eidner, who is a former student of Rosemarie Trockel, takes a refreshing absurdist approach to the painting process." Sleek Magazine
Artist Certificate: Each puzzle comes with an artist certificate.
Click Articles:
Five Female Painters Breathing New Life into the Medium | Sleek Magazine
Carolin Eidner by Noemi Smolik ARTFORUM 
Carolin Eidner's Plaster Paintings Channel our Digital Anxieties by Rosalind Duguid | Elephant Magazine
Ontologische Freiheit zum Ziel Carolin Eidner über Grenzenlosigkeit by Teresa Hantke GalleryTalk.net
Miami Beach NADA Artadia Award for 2017 Goes to Carol Eidner by Robin Scher | ARTnews
Biography: Carolin Eidner (b. 1984) has studied at the Düsseldorf Art Academy and the University of Applied Arts Vienna, under Erwin Wurm. Solo exhibitions include Vanishing Blue in Pursue of Red in Black at Aurel Scheibler in Berlin, Spring of Singularity at Natalia Hug in Cologne, Mugshot at Parkhaus in Düsseldorf, and an exhibition at the Langen Foundation in 2017.
Eidner's conceptual practice is distinguished by a broad spectrum of media, techniques, materials and her deep interest in the concept of singularity. Examining materials and resulting work processes serve Eidner as means to create enigmas from symbols, to code materials anew, and to refer to potentials that open up beyond established regimes. Eidner looks at relationships between the on-going processes of digitization and dematerialization that results from it and the explicit use of materials from ancient to modern.