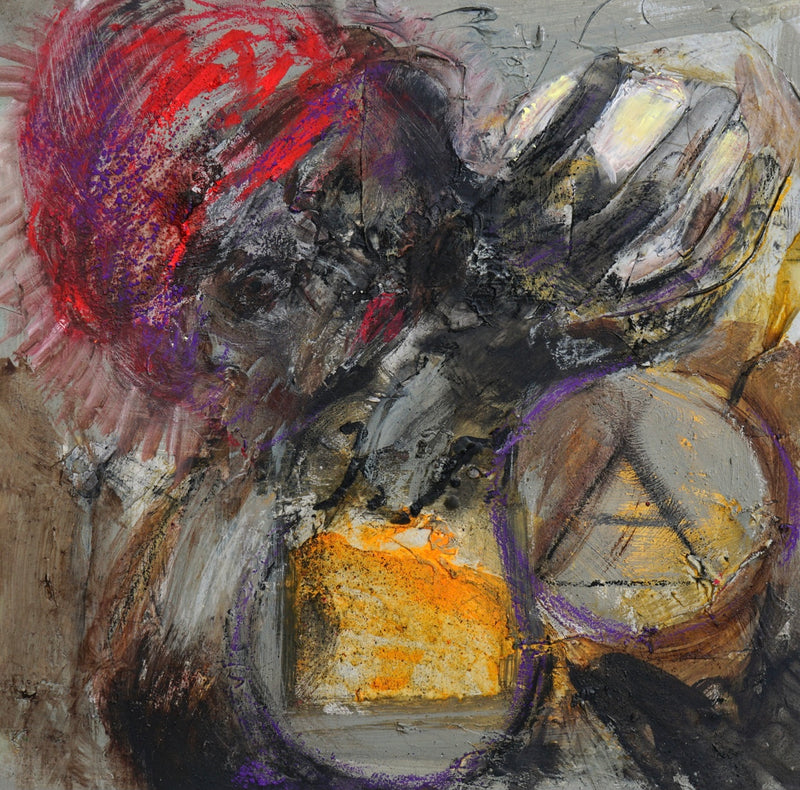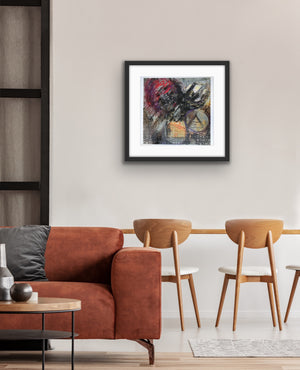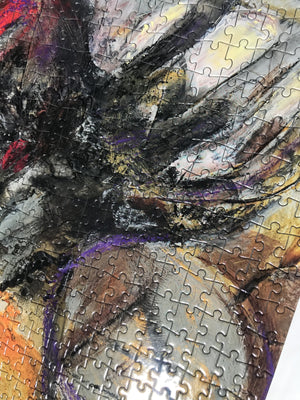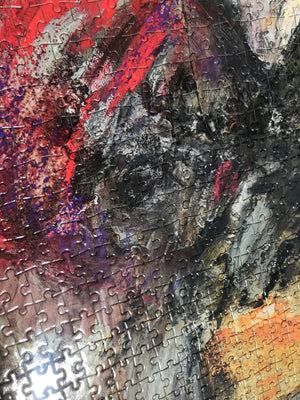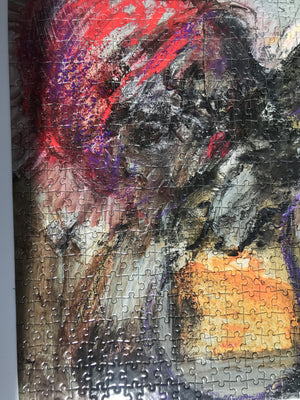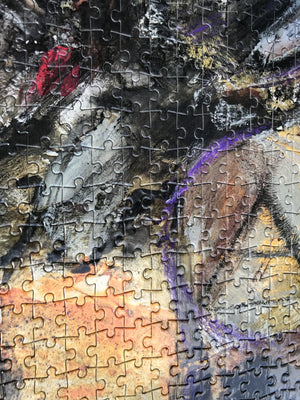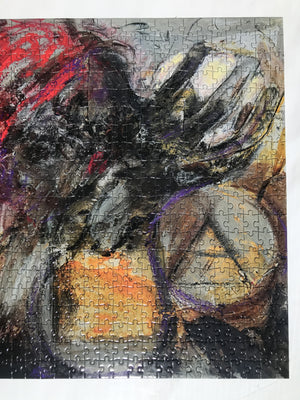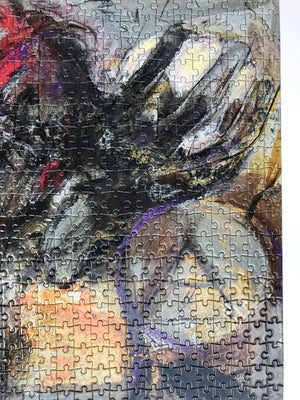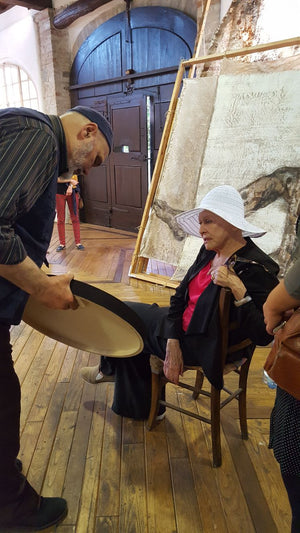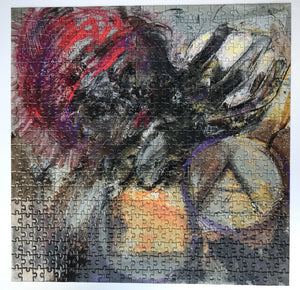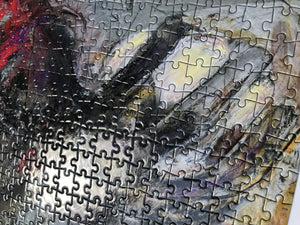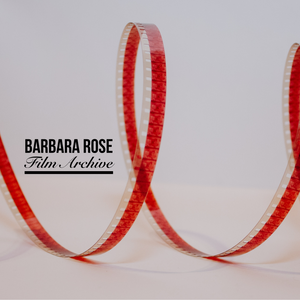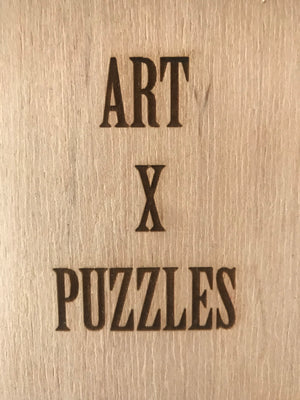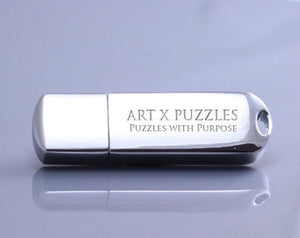 Artist Bruno Ceccobelli Collector Edition Jigsaw Puzzle
B. 1952 Lives and works in Todi, Italy. 
Title: Homage to Barbara Rose
Live Video of Jigsaw Puzzle: Click Here
Jigsaw Puzzle Size:  19" x 19" (310mm×418mm) 500 Jigsaw Puzzle Pieces, ESKA Premium Board. Traditional Paper Jigsaw Puzzle. Magnetic Layer.
This Collector Edition arrives Pre-Assembled and separated onto 2 to 5 cardboard squares according to size. The AXP Collector Editions comes ready to slide together for a complete instant puzzle and/or to be broken down for puzzling fun and/or framing! Special Gloss Finish.
Magnetic Quality: This extremely well-made puzzle has cleverly incorporated a very thin layer of material with gentle magnetic properties underneath all the pieces, allowing the puzzles to be more stable and secure as the puzzler puts them together. The edition arrives in a specially handcrafted engraved wooden box with Art X Puzzles and Artist's Name.
Collector Edition of 11
Barbara Rose AXP Summer Capsule Collection: Summer AXP Capsule Collection is dedicated in memory to art critic/art historian Barbara Rose which is part of the ongoing AXP Capsule Collection Series. Our 2021 Global Curator Choice initiative by special invitation selected eight contemporary artists who were close personal friends of Ms. Barbara Rose during her career and lifetime. Click Here
Level: Challenging
Signature Details: "Homage to Barbara Rose" 2020, 34x34 oil pastels on wood board
"Bruno Ceccobelli is an Italian painter and sculptor. He currently resides and works in Todi, Italy. Ceccobelli was one of the six artists of the Nuova Scuola Romana or Scuola di San Lorenzo, an artistic movement that grew out of the Arte Povera and Transavanguardia movements of the latter twentieth century." writes ARTLAND
In the early 1980s, Ceccobelli and other artists settled in the former Pastificio Cerere, a large abandoned industrial space located in the San Lorenzo quarter in Rome. The group, known as the New Roman School or San Lorenzo Workshop, included Piero Pizzi Cannella, Marco Tirelli, Giuseppe Gallo, Gianni Dessì, Nunzio Di Stefano and Domenico Bianchi. The Italian art critic Achille Bonito Oliva wrote that these artists were "all bearers of individual poetics and all streams towards a common aesthetic mentality and a moral vision of art".
"I do not want to be a market-fan artist, but to belong to all times, and this is why I believe in a foreseeing art, not just historical or literary or sociological or stylistic. I believe in a symbolic art, capable to offer a message and to pacify the world" Bruno Ceccobelli Wikapedia
Bruno Ceccobelli artworks reside in prestigious art collections around the world and can be found in such institutions/collections as the MoMA, Marti Art Collection, Portland Art Museum, David and Clemmer Montague and more.

"Ceccobelli who in the course of his career, has focused on theosophy, alchemy and Eastern philosophies, in search of an art of strong symbolic value."notes Italiana Magazine
Click Articles: 
ARTIST SPACES: Luca Pozzi and Brunco Ceccobelli | Ministry of Foreign Affairs and International Cooperation: Italiana
Additional Press: Click Here
Dedication to Barbara Rose: "In this work I have represented Barbara who has always grasped the most sensitive contents of art as meditation and harmony; she was like a meteor in the sky of Beauty." Brunco Ceccobelli
Artist Certificate: Each puzzle comes with an artist certificate.
Biography: Bruno Ceccobelli was born in Montecastello di Vibio (Perugia) Italy, on the 2nd of September 1952. Ceccobelli now lives and works in Todi. In his formative years, he meets different masters, among which Emma Cusani expert in Theosophy, Francesco Albanese connoisseur of cabala and alchemy, and Donato Margotta, a street antroposophist. He feels deep gratitude for his teacher Toty Scaloia, informal abstract artist, with whom he took his degree in scenic design at the "Accademy of fine arts" in Rome. Ceccobelli loves and studies artists such as Malevich, Kandiskij, Klee, De Chirico, Brancusi, Beuys, Mirò, Dalì, Tapies, Magritte, and he completes his eclectic juvenile studies by learning about eastern philosophies. From the mid seventies onwards, he is one of the young artists who occupies and restores the old pasta factory "Cerere", in the San Lorenzo neighborhood in Rome, a group of creative artists later well-known under the term "Nuova Scuola Romana" or "Scuola di San. Lorenzo" or "Officina San Lorenzo". His research starts out as performative-conceptual, reaching further towards pictorial abstractions leading to a genuine spiritual symbolism.
Italian Verison: Click Here
 Supports The Barbara Rose Film Archive