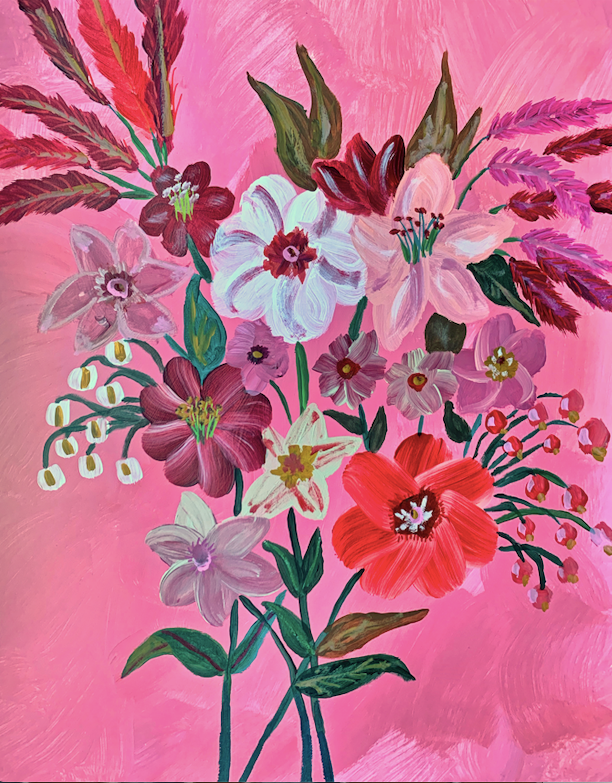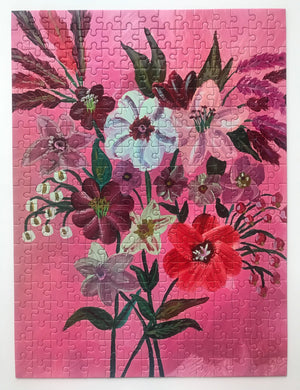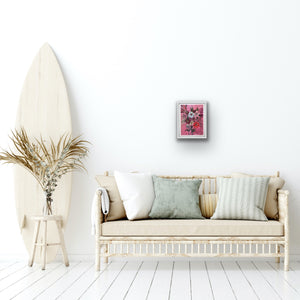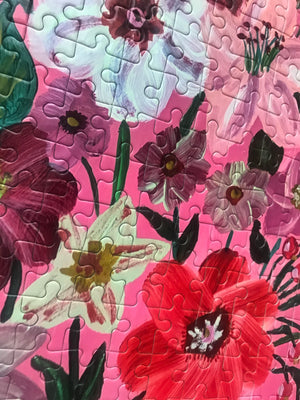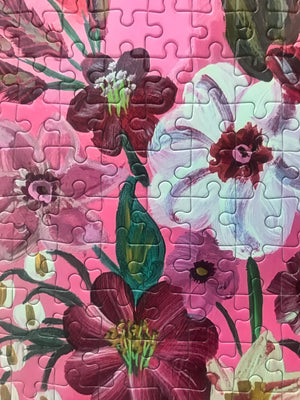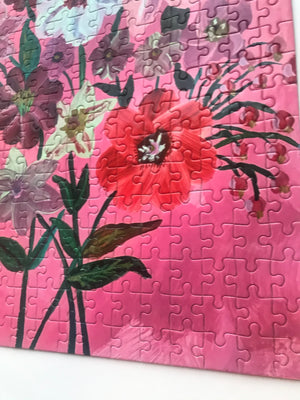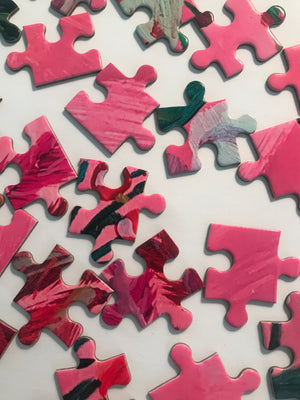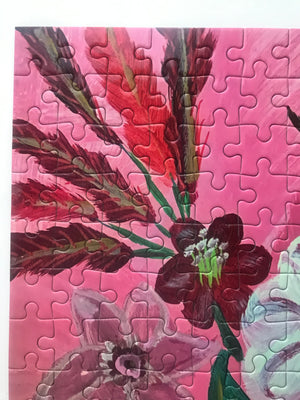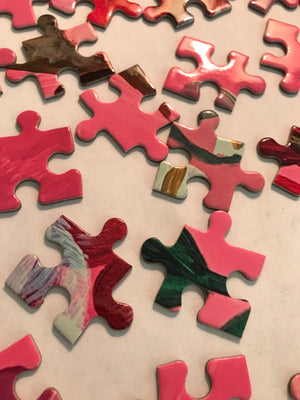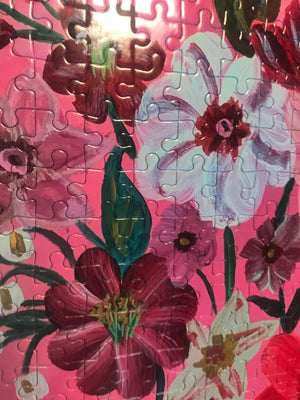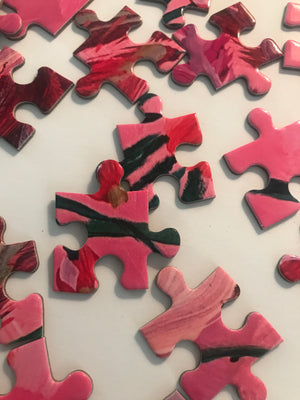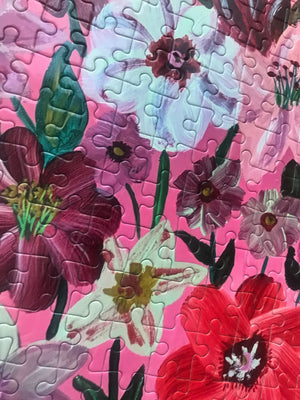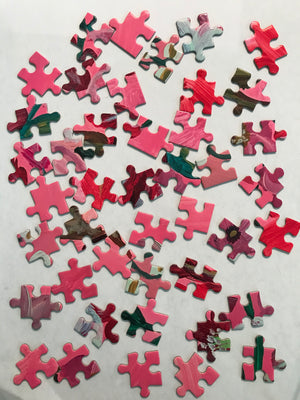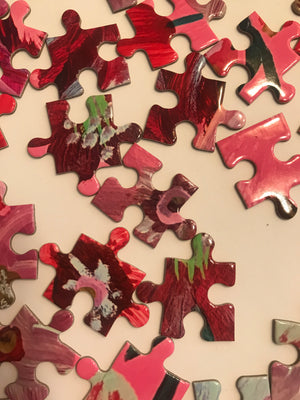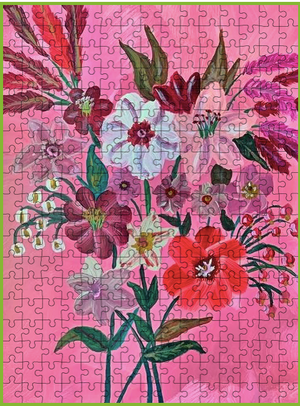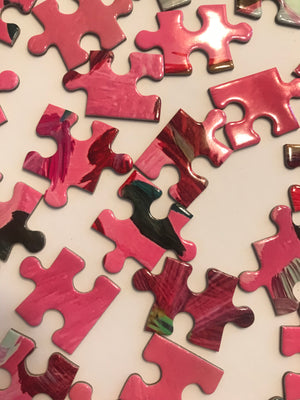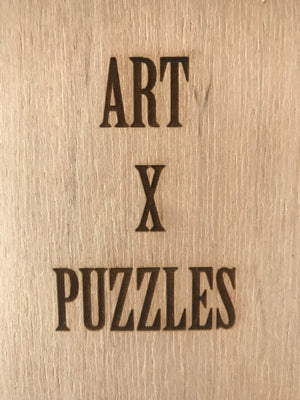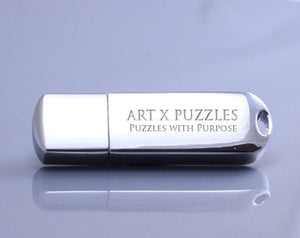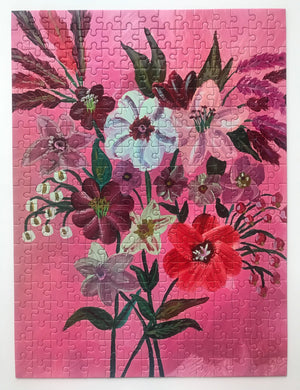 Artist Brad Walsh Collector Edition Jigsaw Puzzle
b. 1982 New York, lives and work in New York City | United States
Title: Flowers 1
Live Video of Jigsaw Puzzle: Click Here
Jigsaw Puzzle Size:  (Horizontal) 12 "x 16.5" (310mm×418mm), 285 Jigsaw Puzzle Pieces, Eska Premium Board. FSC 100% Recycled Paper.
This Collector Edition arrives with a Pre-Assembled Option and separated onto 2 cardboard squares. The AXP Collector Editions comes ready to slide together for a complete instant puzzle and/or to be broken down for puzzling fun and/or framing! The Collector Edition arrives in a specially custom-made wood box engraved with Art X Puzzles.
Collector Edition of 20 + 2AP

Level: Challenging
Signature Details: A musician with an affinity for paint. "I've been making a lot of art — paintings, drawings, mixed media collage stuff — and I've got prints available of most of the good stuff at Society6" 
Click here for article Brad Walsh Releases Deeply Personal Album ARTBREAK, by Sarah Strong | Downtown Magazine. 
Click here for article: Brad Walsh "Right Now" is the latest hit of the American Renaissance man. Pop music mixed with political affirmations with an eye on fashion by Nicolette Mason. | Vogue Italia

Artist Certificate: Each puzzle comes with an artist certificate.
Biography: An "all-around Renaissance man" (Vogue Italia), singer/songwriter, producer, and visual artist Brad Walsh is "a chameleon extraordinaire" (Grammy.com) and an influential "modern-day St. Patrick" (Village Voice) whose music is "a smorgasbord of brooding indie dance music" (Paper Magazine) and "left-of-center electronic productions that seeks to shake up the staleness of pop." (PopCrush.com)
Brad's 2019 album Artbreak is a deeply personal album of dark and ethereal pop music written in the aftermath of a tumultuous summer. The music is not shy about addressing the topics of infidelity, betrayal, self harm, and new love. There are spoken poetic tracks sprinkled throughout, performed by a myriad of guest actors including Danielle Brooks, Cheyenne Jackson, Gabourey Sidibe, Lena Dunham, Sarah Rafferty, Debra Messing, Nico Tortorella, and Heather Matarazzo.
Following his 2016 pop album Six Infinite, Brad's 2017 album Antiglot was an experimental album composed only using vocals layers and body sounds, produced by taking input sounds and producing them as though they were instruments, with lead vocals atop. There were no actual instruments used in the composition, and no lyrics. It was an equally energetic and cathartic collection of songs — sometimes meditative, sometimes invigorating — inspired in part by the American political climate.
Brad's remixes of songs by Adam Lambert (a #1 Billboard Hot Dance single), Sarah McLachlan, Britney Spears, Lady Gaga, Beyonce, Kanye West, Rihanna, and others have achieved over 15 million digital downloads to date. His music has appeared in shows and commercials on television networks including Bravo, E!, Showtime, MTV, Logo, and CBS; and he composes original runway music as well as DJ sets for fashion shows at New York Fashion Week.
Also an accomplished photographer and painter, Brad's portrait and fashion photographs have appeared most notably in The New York Times, Vogue, Women's Wear Daily, Elle, InStyle, Marie Claire, Nylon, Blackbook, Teen Vogue, and Spin; in promotion or advertisement for Christian Siriano, Victoria's Secret, TreSemme, Gibson Guitars, Payless, Kleinfeld Bridal, Lane Bryant, and J Shoes; and on the covers of books from major trade publishers. He photographed every image in Christian Siriano's 2017 book Dresses to Dream About (Rizzoli). His painted art debuted publicly in January 2019 at Bergdorf Goodman as part of the iconic retailer's first curated art show, and he shows work at art shows around the country.