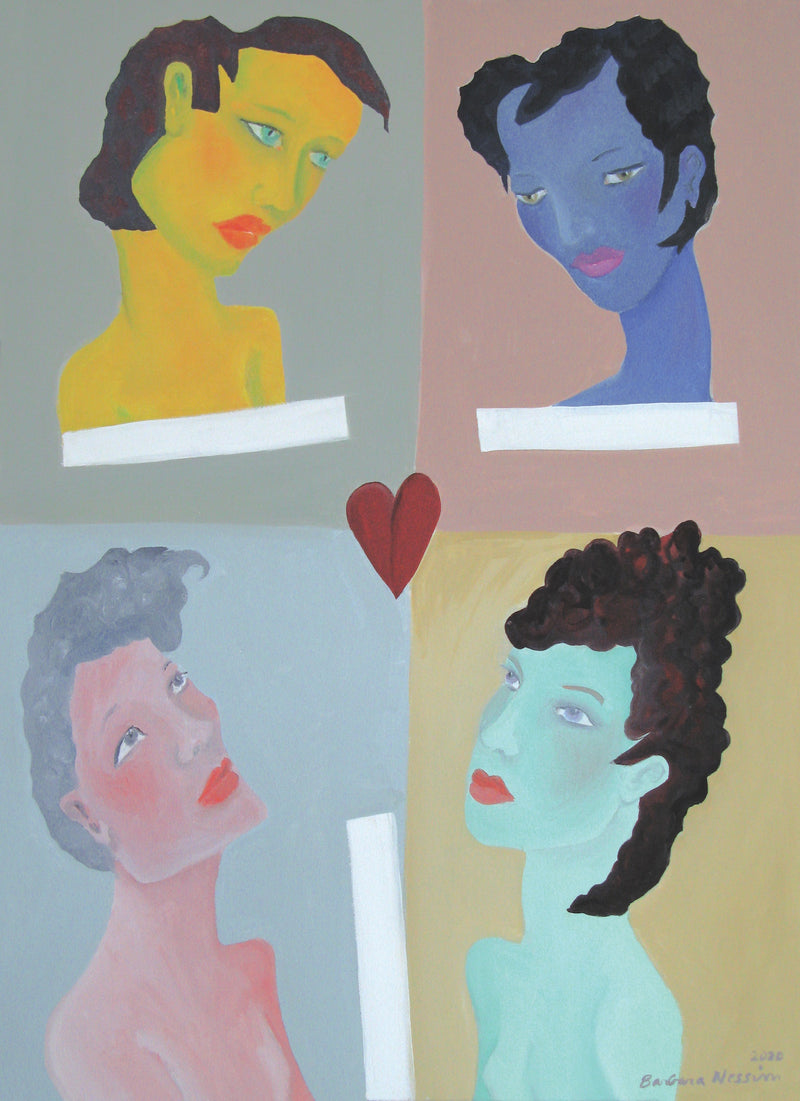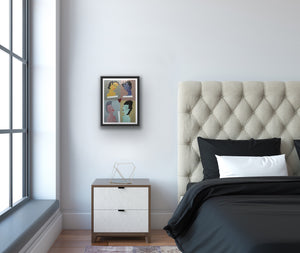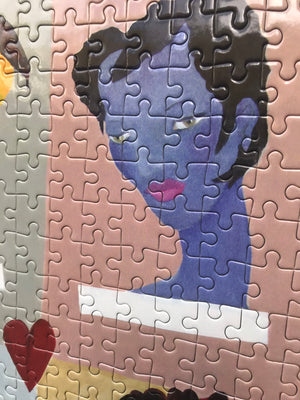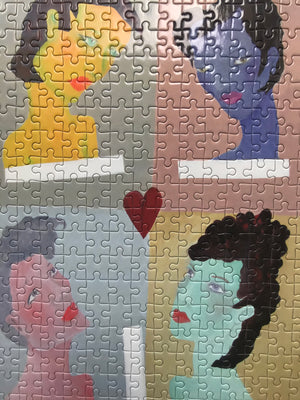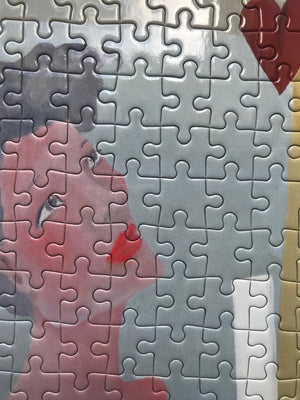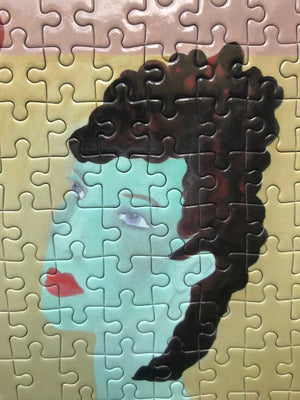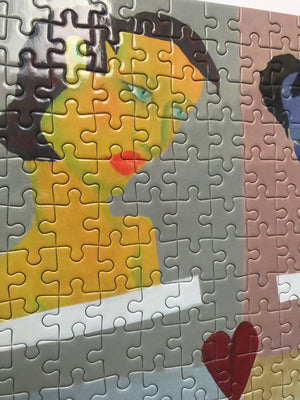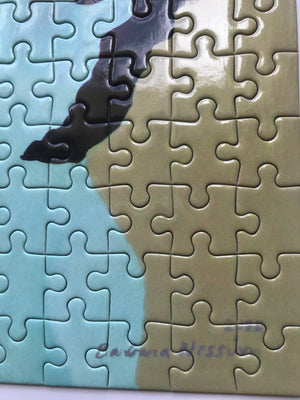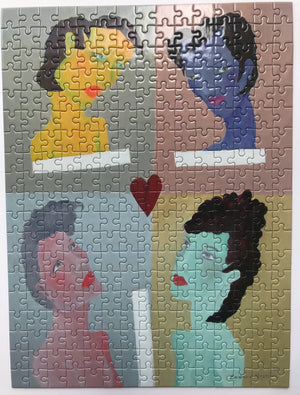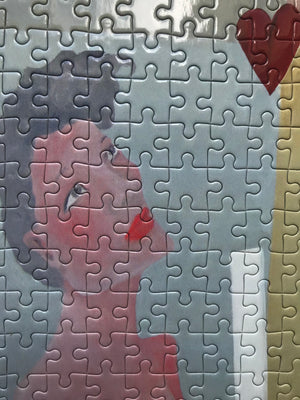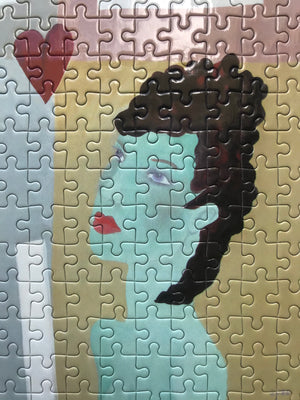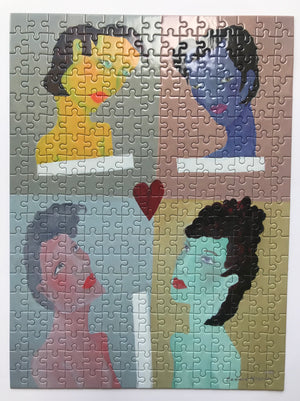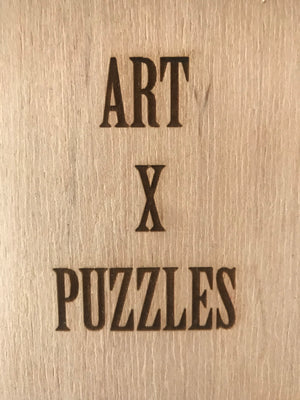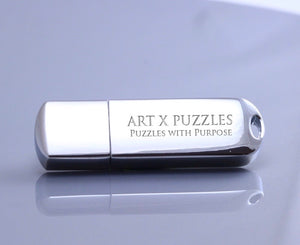 Artist Barbara Nessim Collector Edition Jigsaw Puzzle
b. 1939, Bronx NY lives and works in New York City
Title: Role Models 
Live Video of Jigsaw Puzzle: Click Here
Jigsaw Puzzle Size:  12"x 16.5" (310mm x 418mm) 285 Jigsaw Puzzle Pieces, ESKA Premium Board. Traditional Paper Jigsaw Puzzle.FSC 100% Recycled Paper.
This Collector Edition arrives Pre-Assembled Option and separated onto 2 cardboard squares according to size. The AXP Collector Editions comes ready to slide together for a complete instant puzzle and/or to be broken down for puzzling fun and/or framing! 
Collector Edition of 20 + 2AP
Level: Challenging
Signature Details: Original Artwork: Role Models, 2020, Oil on canvas, 40 x 30 inches
Image courtesy of the artist.  
Curatorial Spotlight: Curator Alaina Simone's selection of contemporary artists for Art x Puzzles: Puzzle with Purpose.
Click here for ART X PUZZLES: Curator Choice  
Click Articles: Barbara Nessim: an artful life \ V & A
Biography:
Barbara Nessim (b. Bronx, NY) attended the High School of Industrial Art (High School of Art and Design) and then Pratt Institute in Brooklyn. She taught in the MFA Computer Arts Program at the School of Visual Arts until she was appointed chair of the Illustration department at Parsons The New School for Design, from 1992 to 2004 when she left teaching completely. As an advocate of new mediums, Nessim was one of the first artists in 1982 to integrate bit-mapped computer art into her process. Her works depict the evolution of an increasingly globalized world. Over the past six decades her work traces the ever-evolving trajectory of gender equality and the role of women in a global cultural landscape. Nessim's artwork appeared within the pages of the first independent issue of Ms Magazine in 1972. Consistent themes referenced throughout Nessim's work such as migration, immigration, integration and population growth reflect the linear movement of the human condition. Her process includes traditional and digital methods utilizing line, color and form to explore medium, context and application independently. Nessim's colorful often figurative conceptual yet geometric and abstract imagery is profoundly intuitive and challenges the power of symbolism. Her strength lies in the elegant fusion of fine art and skillful technique through deep cultural engagement with pop-cultural resonance. 
Nessim was recently inducted into the Society of Illustrators 2020 Hall of Fame and appointed the first Norman Rockwell Artist's Laureate from 2009 to 2011 by the Norman Rockwell Museum (Stockbridge, MA). Her works have been exhibited and collected internationally, at institutions including the Victoria & Albert Museum (London, UK), The Phi Centre (Montreal, CA), the Bard Graduate Center Gallery (New York, New York), The Louvre (Paris, FR), Lund Konsthall (Lund, Sweden), The Kunst Museum (Dusseldorf, DE) among many others. Her work was featured in the New York Times, Rolling Stone, Time Magazine, Frankfurter Allgemeine and Artnews, to name a few. She lives and works in New York City