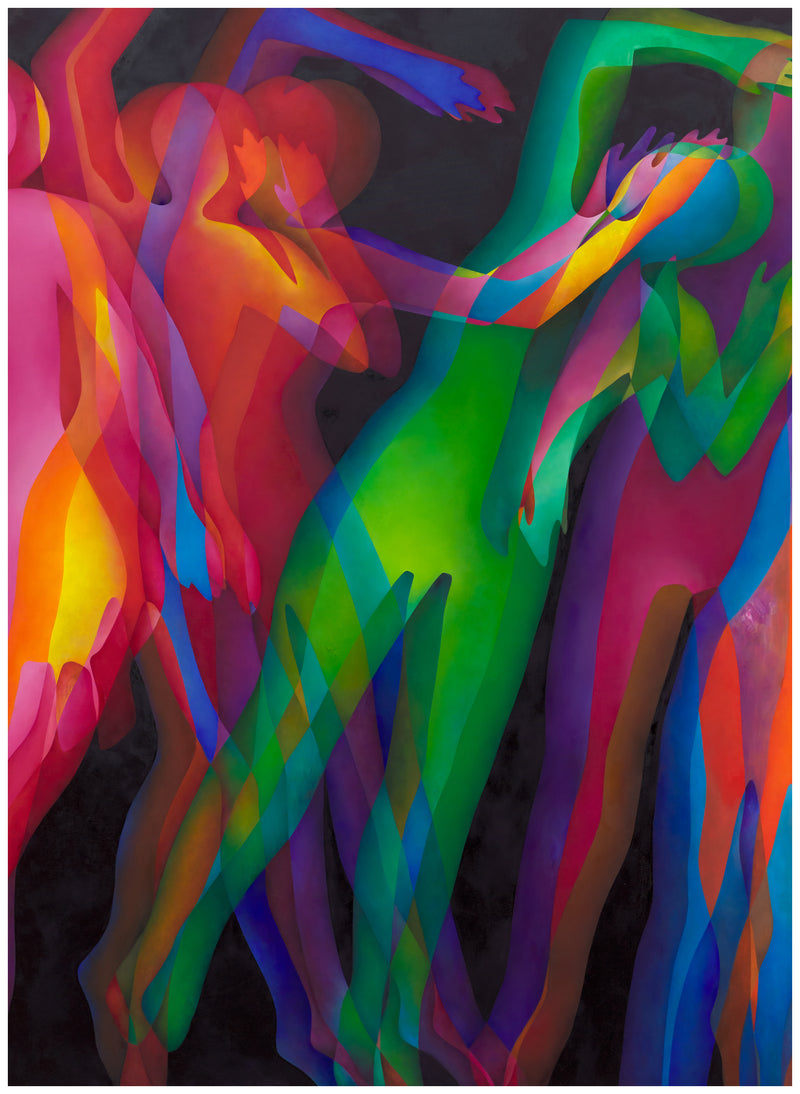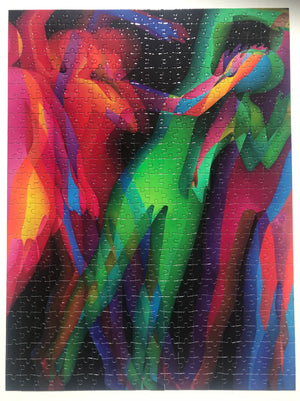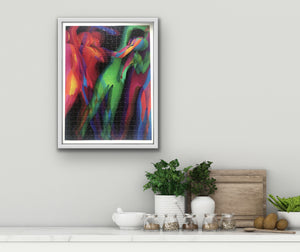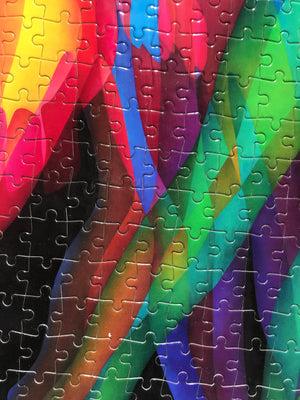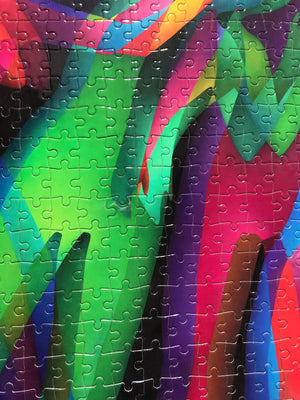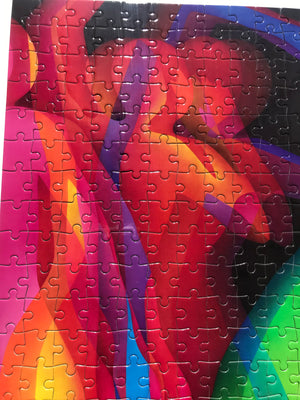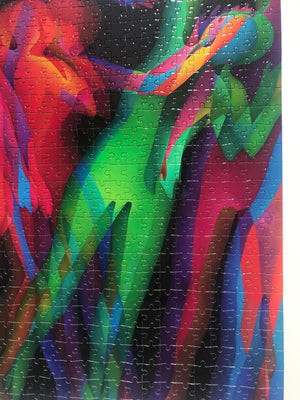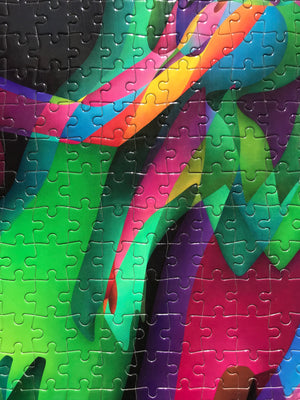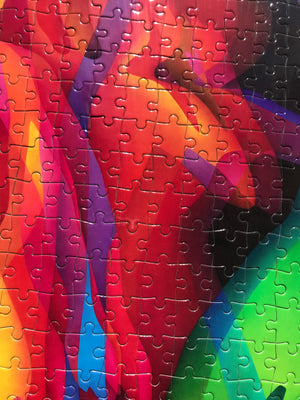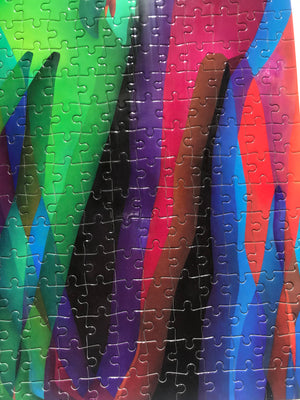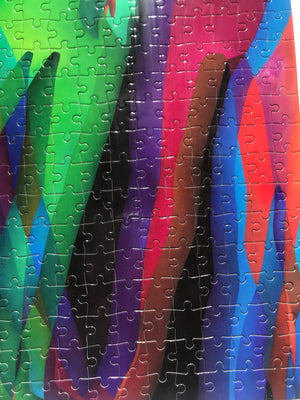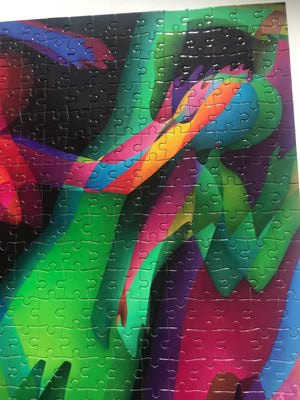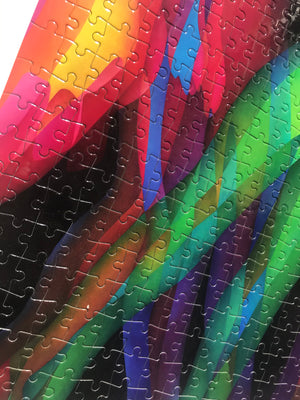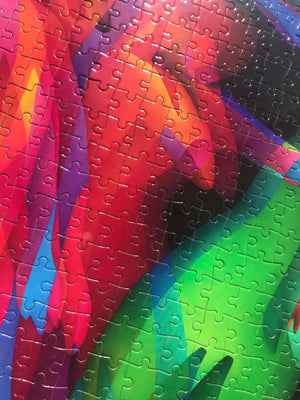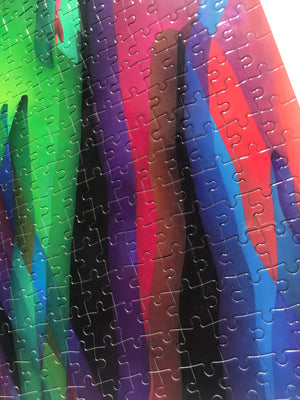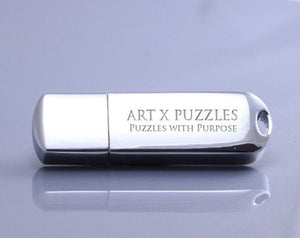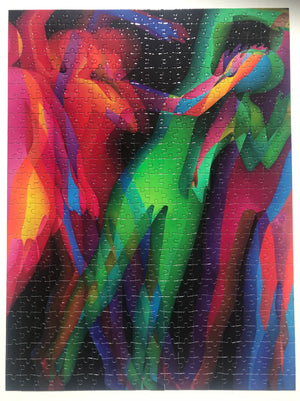 Artist Anna Ostoya Collector Edition Jigsaw Puzzle
B.1978 Kraków, lives and works in New York City
Title: Slap
Live Video of Jigsaw Puzzle: Click Here
Jigsaw Puzzle Size: 18" x 24" (457mm x 610mm) 500 Jigsaw Puzzle Pieces, ESKA Premium Board. FSC 100% Recycled Paper. Gloss Finish.
This Collector Edition arrives Pre-Assembled Option and separated onto 4 cardboard squares according to size. The AXP Collector Editions comes ready to slide together for a complete instant puzzle and/or to be broken down for puzzling fun and/or framing! 
Collector Edition of 20 + 2AP
Level: Complex
Signature Details: Slap, 2020 Oil on Canvas, 75" x 60" in/ 190.5x 152.4 cm
Courtesy of the artist and Bortolami Gallery
"Slap" began as a series of sketches of the outlines of the artist's and a model's body. Ostoya redrew these sketches into new compositions to be translated into painting. The silhouettes duplicate and overlap, creating an illusion of movement. Richly painted with strong, contrasting colors, the painting denotes an intense, nearly psychedelic, emotional state. The title refers both to the figures' action in the work as well as the effect on the viewer. "Slap" belongs to a series of paintings and collages entitled "Motions" (2018-2020) depicting figures in movement -- running, jumping, floating, fighting or falling. The series reveals Ostoya's distinct style and methods, invoking diverse art-historical traditions and alternating between a planned and unplanned creative process that freely employs painting, photography, and collage.
Anna Ostoya makes use of various media in her work: paintings, collages, objects, sculptures, texts and sounds, which make up topical series of works, intermedial installations and complex exhibitions. Her works are usually elaborate, intertextual projects, in which she creates alternative approaches to knowledge.
Curator Choice Capsule Collection by Christopher Eamon 
Artist Certificate: Each puzzle comes with an artist certificate.
Click Articles:
NYC: ANNA OSTOYA 'MOTIONS' | SHE PERFORMS

In Focus: Anna Ostoya: Mining historical works for new conceptual paths by Ara. H Merjain | FRIEZE
Anna Ostoya- Why I Paint | PHAIDON
Artist Certificate: Each puzzle comes with an artist certificate.
Biography:
Anna Ostoya draws upon 20th Century avant-garde movements, from Cubism and Dada to Abstract Expressionism and Conceptual Art, in a bid to rethink history and to reimagine the future. Her varied output predominantly incorporates painting and collage but also photography and text. The artist tackles social and political challenges, questioning the status quo as she searches for new ways to achieve personal and artistic freedom. 
Ostoya often uses found images and imposes restrictions on her process – time, materials, formats – as she explores a tension between spontaneity and control. In a striking feat of productivity in the month of February 2011, the artist began a new collage each day as a response to the day's political events; on March 1, she opened the exhibition "Exposures,'' presenting all finished 28 canvases. In an ongoing series "Autopis," started in 2009, she paired similar-looking images of greater and lesser-known artists, artworks and political upheavals to question hierarchies and dominant narratives. In her most recent 2020 exhibition Motions, Ostoya advanced the process she used in (UN)MADE (After Frenhofer) (2017), which she painted after sketching the outline of her own body directly onto a canvas. The new works began as a series of large-scale sketches which she then photographed and redrew into compositions. Groups of figures form a procession through various emotional and aesthetic universes, recalling the sequential elaborations of her earlier series, for example Transpositions (2014) in which a square moves through 10 abstract canvases. While in many of her paintings Ostoya uses solely oil in elaborate layering fashion, in others she impulsively juxtaposes various media including newsprint, metallic leaf, papier-mâché and found objects such as plastic shopping bags or pages from books. 
Anna Ostoya, born in Kraków, lives and works in New York. She has had solo exhibitions at Zacheta National Gallery, La Kunsthalle Mulhouse, and CCA Kronika. Her work has been shown in Art on the Grid organized by the Public Art Fund, at Kunsthaus Baselland, at Tate St. Ives, the 2015 Lyon Biennial, at the Museum of Modern Art, the Power Plant Toronto, the CCS Bard College, Manifesta 7 Rovereto, and the Second Athens Biennial. She studied at the Städelschule in Frankfurt/M and the Parsons School in Paris and attended the Whitney Independent Study Program in New York. In 2018, in a collaboration with writer Ben Lerner, Ostoya published the book "Polish Rider" (Mack). In Spring 2021, Mack Books will publish "Politics and Passions", an art book by Ostoya and Chantal Mouffe.