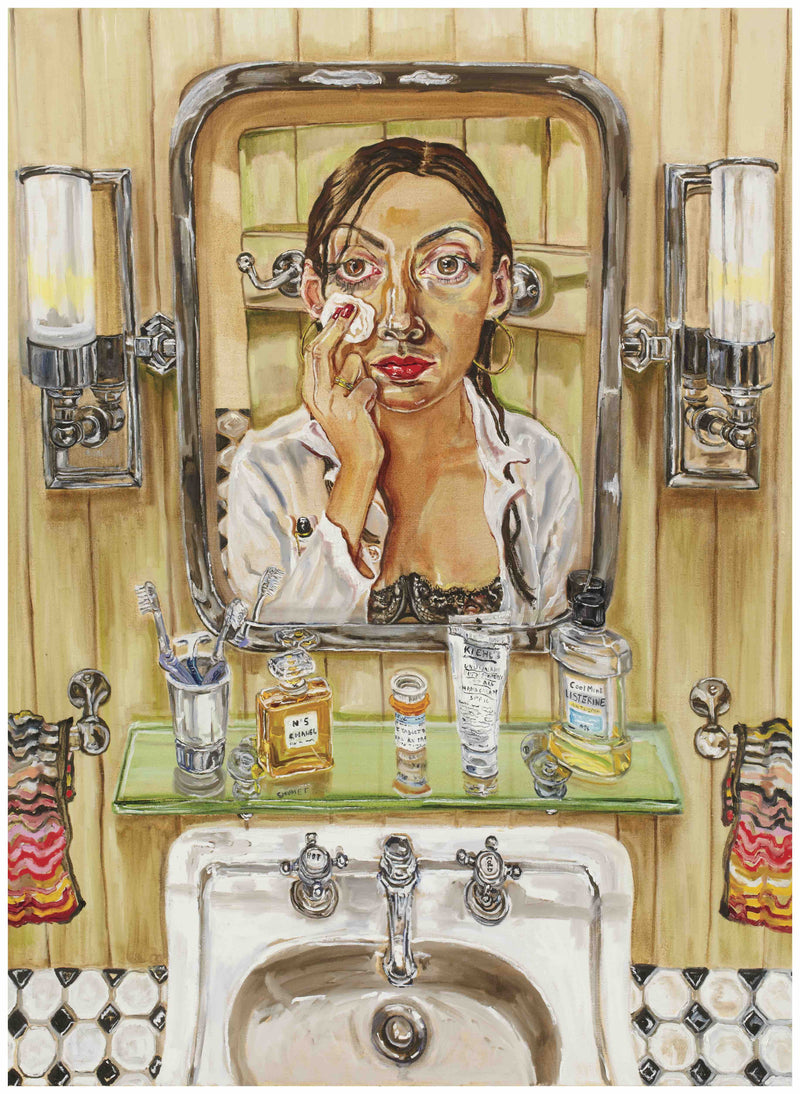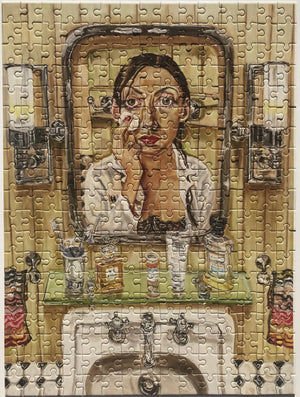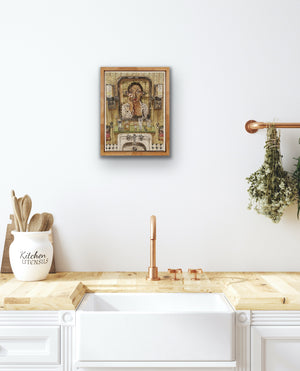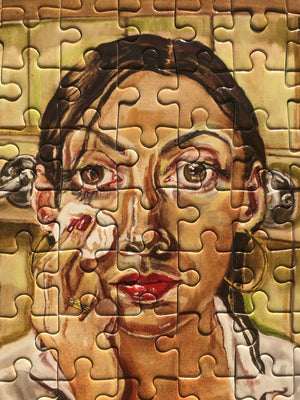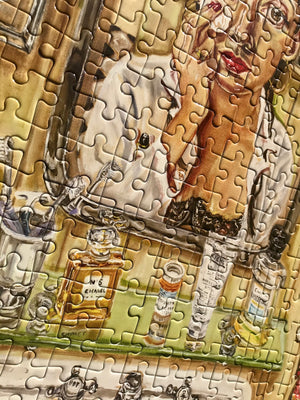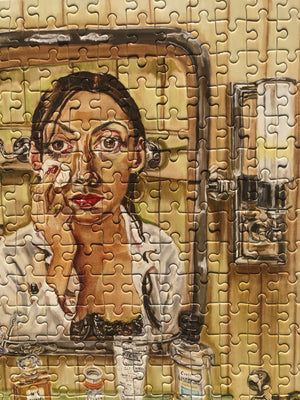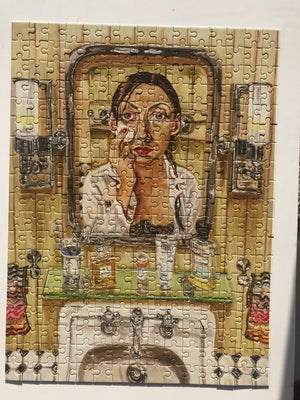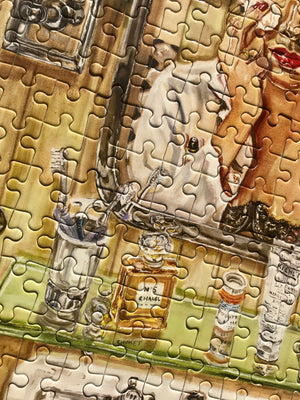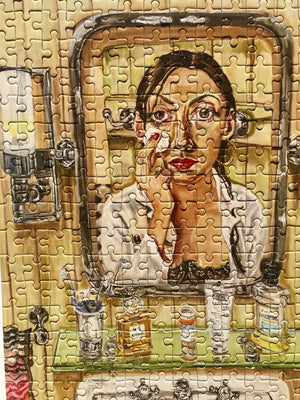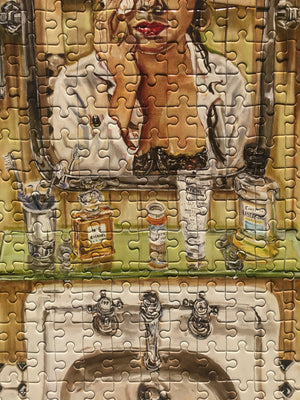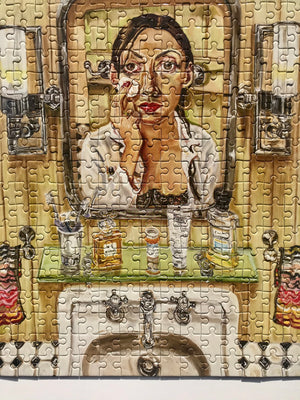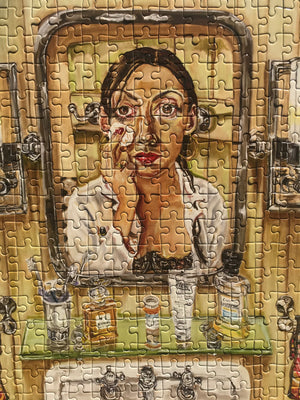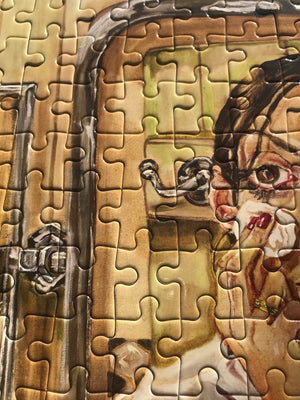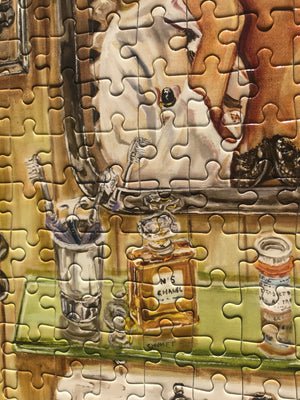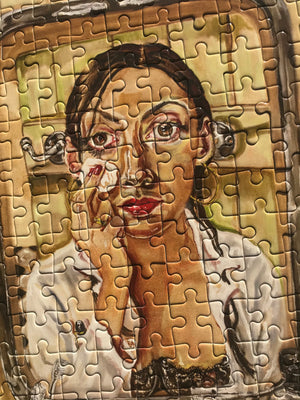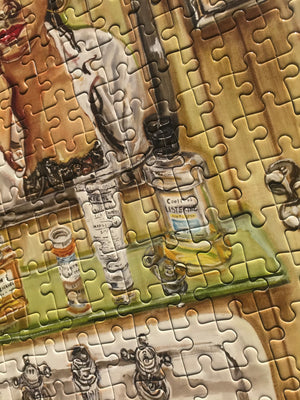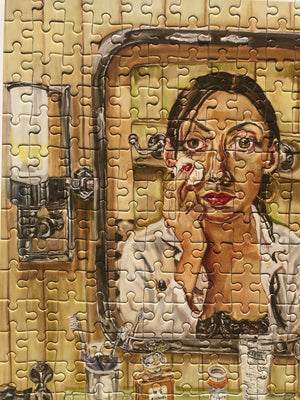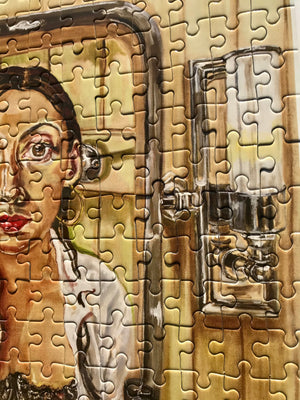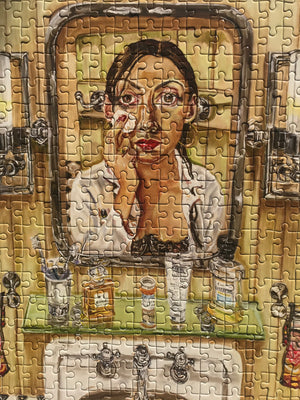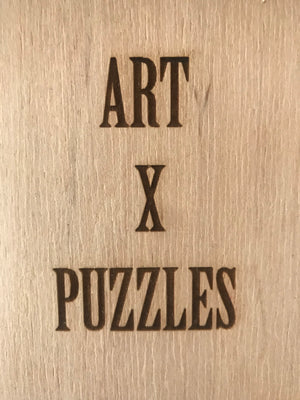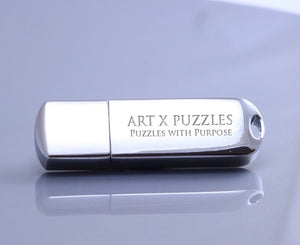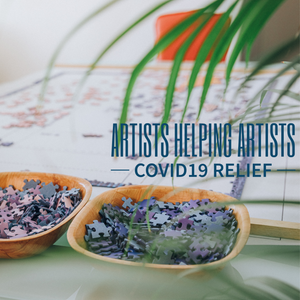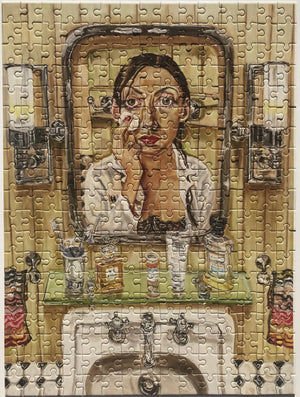 Artist Anh Duong Collector Edition Jigsaw Puzzle
B. 1960 Bordeaux, lives and works in New York City
Title: Fracture
Live Video of Jigsaw Puzzle: Click Here
Jigsaw Puzzle Size: (Vertical) 12"x 16.5" (310mm×418mm) 285 Jigsaw Puzzle Pieces, ESKA Premium Board. FSC 100% Recycled Paper. Gloss Finish. 
This Collector Edition arrives with a Pre-Assembled Option and separated onto 2 cardboard squares. The AXP Collector Editions comes ready to slide together for a complete instant puzzle and/or to be broken down for puzzling fun and/or framing! 
Collector Edition of 20 + 2AP
Level: Challenging
Signature Details:Original Artwork: Title: Fracture, Oil on Canvas, 48" x 36" 2009
There is a Giacometti phrase, "The biggest adventure is to see something new in the same face over and over."

I have painted self-portraits as a diary of an inner dialogue. They are an ongoing  narrative, a record of a psychological journey. The emotional and compositional center of this painting are the eyes. They gaze directly out of the paintings at the viewer, with an inscrutable expression, that may suggest uncertainty, vulnerability, a longing or perhaps none of these - but always with an underlying resilience and power. The face is blank and empty of affect, but there is a suggestion of raw emotion under this mask.

Every work of an artist is a self-portrait. I am more conscious of that process than most. The subject matter disappears through repetition. In the painting "Fracture" I have chosen the most mondaine and repetitive act of the daily use of the mirror when washing in the bathroom. We are used to see ourselves reversed in the reflection of the mirror and we forget to see ourselves for who we really are. Because there is only the reflection of the subject starring back at us one can wonder  Is the artist looking at herself or the viewer and becoming the reflection?  And it is the never-ending dialogue between the mirror image and the real self

As an artist, I see nearly everything as a portrait. The perfume the pills the makeup are an extension of the sitter. I am interested in the intimacy and attachment with certain objects. A story told through things that a woman can hide behind or put to the center stage, bringing comfort or release.  The painting arises from interior emotions and autobiographical moments but not literal memories. Self- portrait is more than a fixation of the memory. It is a conversation with the self-reflection where emotions can be processed through paint and analyzed in a pictorial manner.

This self-portrait is not about representing myself but embodying a woman's emotional journey. Using myself to connect with the viewer through inner feelings. I hope that people looking at this self-portrait will see passages of their own lives. 
"Most of my work is about relationships—my relationship with myself, with others, with the world, and, by implication, the relationship that women have with their own self-image." Anh Duong ARTSPACE
Click Articles:
Anh Duong on the Intimacy and Abandon of Portraiture by Andrew M. Goldstein | ARTSPACE
See How Artist Anh Duong Renovated Her Rustic Hamptons Beach House by Julie L. Belcove | ARCHITECTURAL DIGEST
Celebrating The Art and Culture Aficionado's Style Icon, Anh Duong | VANITY FAIR
Artist Certificate: Each puzzle comes with an artist certificate.
Biography: Anh Duong was born in Bordeaux, France to a Vietnamese father and Spanish mother. She studied architecture at the Ecole des Beaux-Arts in Paris and danced with the Franchetti Academy of Classical Dance. In 1988 she moved to New York City where she began painting. In 1991 Sperone Westwater Gallery featured Duong's first painting exhibition in New York. Her earliest self-portrait titled Summer in Montauk (1988) was included in a 1997 show at the PMMK Museum of Modern Art in Ostend, Belgium. Two years later (1999), the Galerie Jérôme de Noirmont prese|nted her first solo exhibition of self-portraits with more than 65 works on display. Continued: Click Here